Written by Ghjancarlu Simeoni on Thursday, February 23rd 2012
An article published on www.igeneration.fr on February 14th, echos a study published by Cisco on the same day: Cisco expects an explosive growth of mobile Internet traffic via moblie devices. In 2016, 10 billion mobile devices are expected to be connected to the net for 7.3 billion people.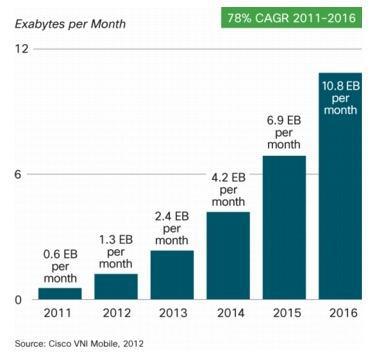 In a
study on trends in mobile data traffic
, Cisco identified 10 main trends. Cisco anticipates a monthly traffic volume of 10.8 exabytes in 2016. There have been 0.6 billion exabytes in 2011, and should be 1.3 billion in 2012. Traffic will be multiplied by 18 between 2011 and 2016; and by 2 between 2011 and 2012. The growth rate of traffic data was higher than expected in 2011. At the end of 2012, the number of mobile devices connected to the Internet exceeded the number of people in the world. In 2016, the ratio between the number of connected mobile devices and world population will be 1.4. Of the 10 trends described by Cisco, three of them particularly characterize the mobile market in our view.
Read more