How to duplicate the design of a section ?
Written by Jerome Granados on Wednesday, April 10th 2013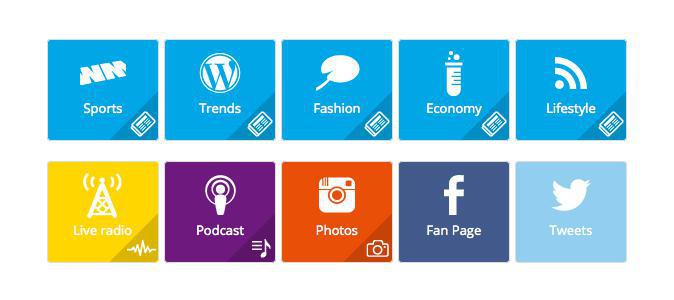 There is a cool new feature I would like to focus on in this blog post. Since last week, it is possible to copy the design of a section and apply it to another.

This helps you to speed up the process of creating your Beautiful App. It is also the best way to keep a design consistency in each section of your app. Let's see how it works.
First, of course, you need to add sections in your app. in the exemple above, there are 10 sections. Note that among those ten, I have added 5 sections of the same kind. The first row is composed by 5 Article sections.

Imagine that I am OK with the design of my first article section : the Sports section. Now, I can copy and paste its design to all the article sections of my app. To do so, I go to the Design > Section menu. Then I choose the section I want to edit. In the example below, I have chosen to work on the Trends section.

In the upper right corner of the main window, you'll see a "settings wheel" icon. Click on it, and GoodBarber lists automatically all the sections from which you can copy the design to the section you're working on.

In this example below, I am going to copy the design of the Sports section to the Trends section.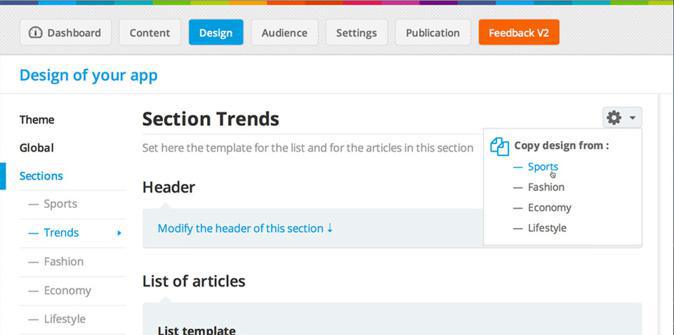 Thanks to this feature, you can focus on designing with very fine details one section. After that, rest assured that all your work will be propagated to the other section of your app, with no efforts.
We add this new feature thanks to your feedbacks, as we mentionned it during our
Friday talk dedicated to users feedbacks
.