The most powerful App Builder to create your iOS, Android app and PWA
SHOPPING APP
Use the best technology to create your shopping app
E-commerce is now carried out on mobile phones. Providing an impeccable shopping experience on smartphones has become an essential requirement for doing business online. To date, only native apps and progressive web apps make it possible to offer the best user experience to shop on your phone. GoodBarber allows you to design an eCommerce app with the most advanced mobile technologies. Stop looking for ways to create a mobile shopping app, start now.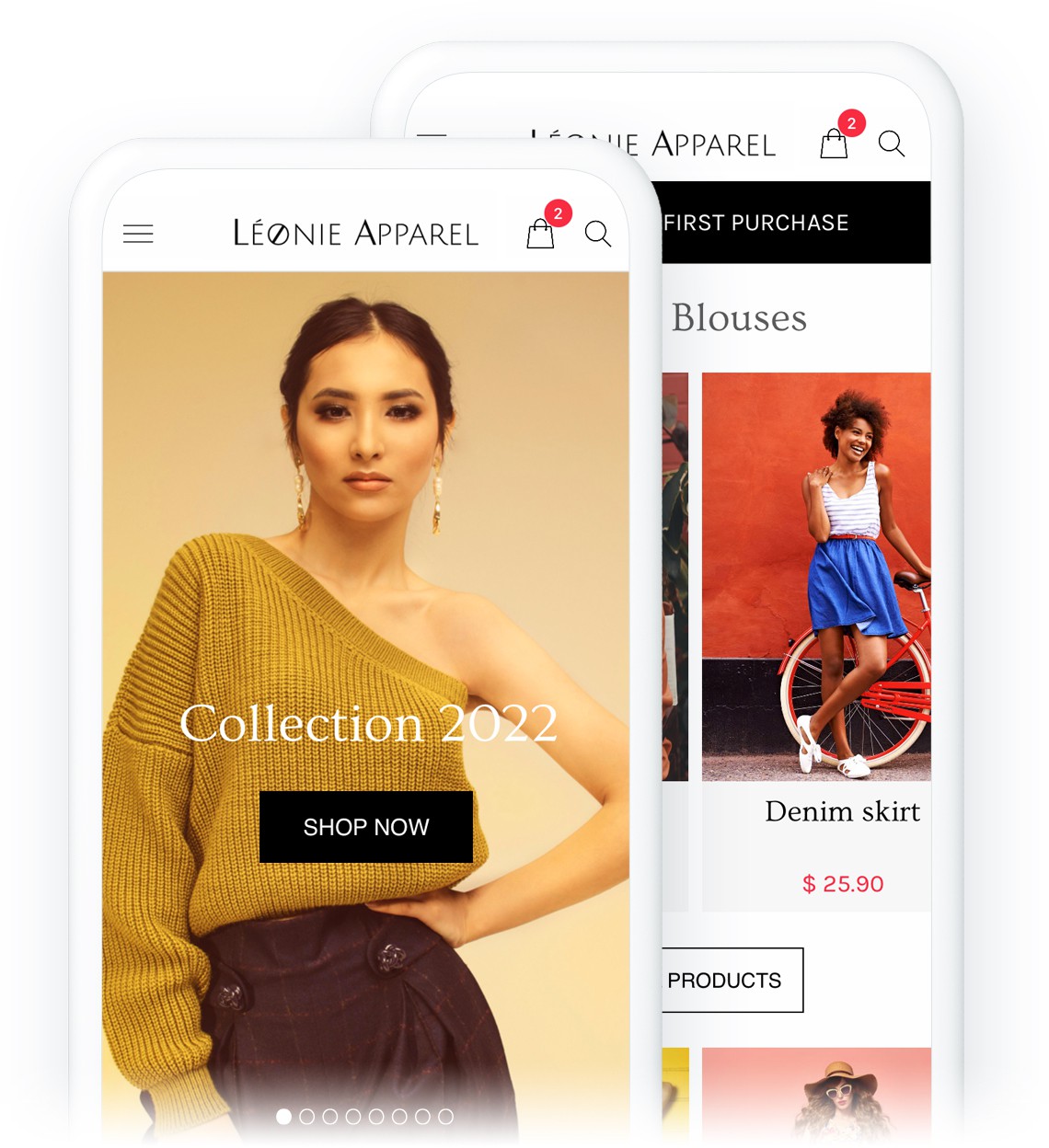 CONTENT MANAGEMENT APP
Build an app and offer your audience a quality user experience
You are a content editor, community manager or local business manager, you know that your message must be accessible from several channels to reach your audience. With GoodBarber, no matter what type of content you want to deliver, your readers will access it from a native mobile app for iOS and Android, or from a Progressive Web App from their desktop, tablet or smartphone. If you are looking for how to create a mobile app, test GoodBarber now.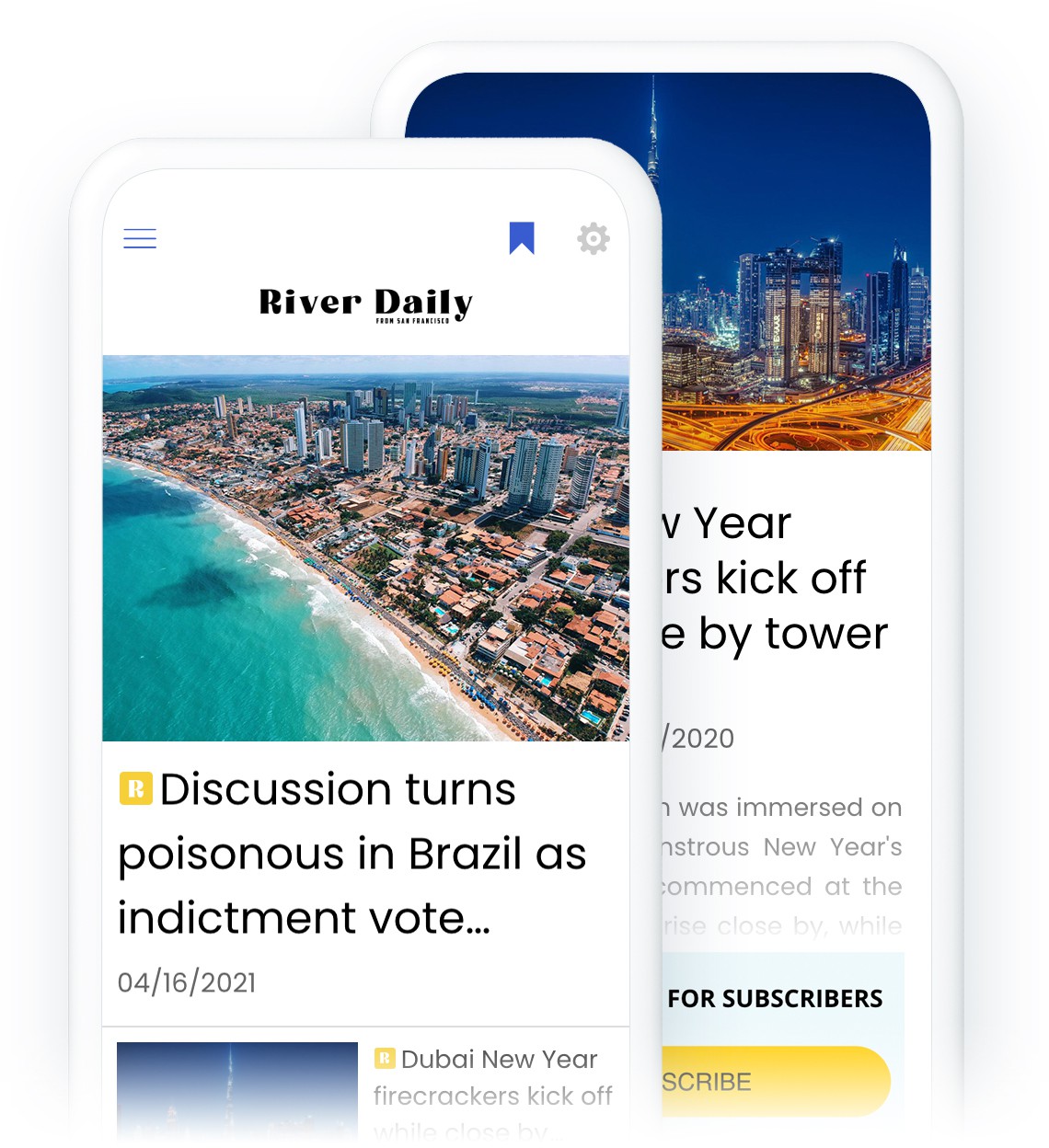 What are the advantages of using an App Builder ?
Financially advantageous, powerful and always up to date.
If you have already tried to answer the question "How much does it cost to develop a mobile application?", you have seen the many factors that need to be taken into account to get a good estimate. With an app builder like GoodBarber, the equation becomes simple. You take out a single subscription and you get, for a cost 20 times lower than a service invoiced by a development studio:
1

An iOS native app, developed in Objective-C

2

An Android native app, developed in Java

3

A progressive web app compatible with all web browsers, developed in Angular

4

A single management interface, the back office, to create your app without technical knowledge

5

A powerful and optimized app for all devices and screen sizes

6

An app always up to date, which follows the permanent evolutions of iOS, Android and the web

7

Unlimited assistance

8

A team that ensures that the architecture used to run your app runs smoothly on a daily basis
The major advantage of an App Builder is the pooling of resources. By industrializing the creation process, GoodBarber can significantly reduce the cost of owning an app. And, with more than 40 million apps downloaded each year, GoodBarber receives ongoing feedback to maintain the quality, performance and robustness of its apps at the highest level
eCommerce
Sell your products with an app
Technology

PWA technology

Native technology

Android + iOS
(iPhone & iPad)
Android + iOS
(iPhone & iPad)
Android + iOS
(iPhone & iPad)

Available in Google Play Store

Avaialble on the App Store

Capacities

Storage

$2 for 10 GB

2 GB
10 GB
50 GB
100 GB

Push notifications

$0.10 for 1000 extra push notifications

(per month)

10K
30K
250K
500K

Staff accounts

1
3
unlimited
unlimited

Number of projects

1
1
1
unlimited

Page views (bandwidth & traffic)

unlimited
unlimited
unlimited
unlimited

Variants per product

100
100
100
100

App downloads

unlimited
unlimited
unlimited

Account manager

Extensions store

Large library 90+ extensions. New extensions every month

Extend the features of your app with extensions : Automations (Zapier, Make), Analytics, Monetization, Sales optimization, Integration (Wordpress, Squarespace, RSS).

Free extensions

Up to 5
Up to 20
unlimited
unlimited

Abandonned orders

$10/month
(billed $100/year. You save 2 months)
$10/month
(billed $100/year. You save 2 months)

Delivery slots

$15/month
(billed $150/year. You save 2 months)

Products import

$25/month
(billed $250/year. You save 2 months)
$25/month
(billed $250/year. You save 2 months)

Payments

No additionnal transaction fee

0%
0%
0%
0%

Stripe, Apple Pay, PayPal, Mercado Pago, one-click payments, offline payments

Core features

NO CODE drag&drop app builder

Fully customizable design

Content Management System

(article, video, podcast, event, map, photo, live)

SEO friendly, AMP, ASO friendly

Support (Real human support, by the GoodBarber team itself)

Yearly plan subscription pricing
PWA technology

Native technology

Available in Google Play Store

Avaialble on the App Store

Storage

$2 for 10 GB

2 GB

Push notifications

$0.10 for 1000 extra push notifications

10K

Staff accounts

1

Number of projects

1

Page views (bandwidth & traffic)

unlimited

Variants per product

100

App downloads

Account manager

Free extensions

Up to 5

Abandonned orders

$10/month
(billed $100/year. You save 2 months)

Delivery slots

$15/month
(billed $150/year. You save 2 months)

Products import

$25/month
(billed $250/year. You save 2 months)

No additionnal transaction fee

0%

Stripe, Apple Pay, PayPal, Mercado Pago, one-click payments, offline payments

NO CODE drag&drop app builder

Fully customizable design

Content Management System

SEO friendly, AMP, ASO friendly

Support (Real human support, by the GoodBarber team itself)
Yearly plan subscription pricing
PWA technology

Native technology

Android + iOS
(iPhone & iPad)

Available in Google Play Store

Avaialble on the App Store

Storage

$2 for 10 GB

10 GB

Push notifications

$0.10 for 1000 extra push notifications

30K

Staff accounts

3

Number of projects

1

Page views (bandwidth & traffic)

unlimited

Variants per product

100

App downloads

unlimited

Account manager

Free extensions

Up to 20

Abandonned orders

$10/month
(billed $100/year. You save 2 months)

Delivery slots

Products import

$25/month
(billed $250/year. You save 2 months)

No additionnal transaction fee

0%

Stripe, Apple Pay, PayPal, Mercado Pago, one-click payments, offline payments

NO CODE drag&drop app builder

Fully customizable design

Content Management System

SEO friendly, AMP, ASO friendly

Support (Real human support, by the GoodBarber team itself)
Yearly plan subscription pricing
PWA technology

Native technology

Android + iOS
(iPhone & iPad)

Available in Google Play Store

Avaialble on the App Store

Storage

$2 for 10 GB

50 GB

Push notifications

$0.10 for 1000 extra push notifications

250K

Staff accounts

unlimited

Number of projects

1

Page views (bandwidth & traffic)

unlimited

Variants per product

100

App downloads

unlimited

Account manager

Free extensions

unlimited

Abandonned orders

Delivery slots

Products import

No additionnal transaction fee

0%

Stripe, Apple Pay, PayPal, Mercado Pago, one-click payments, offline payments

NO CODE drag&drop app builder

Fully customizable design

Content Management System

SEO friendly, AMP, ASO friendly

Support (Real human support, by the GoodBarber team itself)
Yearly plan subscription pricing
PWA technology

Native technology

Android + iOS
(iPhone & iPad)

Available in Google Play Store

Avaialble on the App Store

Storage

$2 for 10 GB

100 GB

Push notifications

$0.10 for 1000 extra push notifications

500K

Staff accounts

unlimited

Number of projects

unlimited

Page views (bandwidth & traffic)

unlimited

Variants per product

100

App downloads

unlimited

Account manager

Free extensions

unlimited

Abandonned orders

Delivery slots

Products import

No additionnal transaction fee

0%

Stripe, Apple Pay, PayPal, Mercado Pago, one-click payments, offline payments

NO CODE drag&drop app builder

Fully customizable design

Content Management System

SEO friendly, AMP, ASO friendly

Support (Real human support, by the GoodBarber team itself)
Yearly plan subscription pricing
Content
Share content with an app
Technology

PWA technology

Native technology

Android + iOS
(iPhone & iPad)
Android + iOS
(iPhone & iPad)
Android + iOS
(iPhone & iPad)

Available in Google Play Store

Available on the App Store

Capacities

Storage

$2 for 10 GB

2 GB
10 GB
50 GB
100 GB

Push notifications

$0.10 for 1000 extra push notifications

(per month)

10K
30K
250K
500K

Staff accounts

1
3
unlimited
unlimited

Number of projects

1
1
1
unlimited

Page views (bandwidth & traffic)

unlimited
unlimited
unlimited
unlimited

App downloads

unlimited
unlimited
unlimited

Account manager

Extensions store

Large library 90+ extensions. New extensions every month

Extend the features of your app with extensions : Automations (Zapier, Make), Analytics, Monetization, Sales optimization, Integration (Wordpress, Squarespace, RSS).

Free extensions

Up to 5
Up to 20
unlimited
unlimited

Authentication

$12/month
(billed $120/year. You save 2 months)

Chat

The Chat extension requires the Authentification extension to be installed

$20/month
(billed $200/year. You save 2 months)

In-app purchase

Offer paid subscriptions to your users to access your content. Purchases are easily made from their Apple / Google account

$49/month
(billed $490/year. You save 2 months)

Core features

NO CODE drag&drop app builder

Fully customizable design

Content Management System

(article, video, podcast, event, map, photo, live)

SEO friendly, AMP, ASO friendly

Support (Real human support, by the GoodBarber team itself)

Yearly plan subscription pricing
PWA technology

Native technology

Available in Google Play Store

Available on the App Store

Storage

$2 for 10 GB

2 GB

Push notifications

$0.10 for 1000 extra push notifications

10K

Staff accounts

1

Number of projects

1

Page views (bandwidth & traffic)

unlimited

App downloads

Account manager

Free extensions

Up to 5

Authentication

Chat

The Chat extension requires the Authentification extension to be installed

In-app purchase

Offer paid subscriptions to your users to access your content. Purchases are easily made from their Apple / Google account

NO CODE drag&drop app builder

Fully customizable design

Content Management System

SEO friendly, AMP, ASO friendly

Support (Real human support, by the GoodBarber team itself)
Yearly plan subscription pricing
PWA technology

Native technology

Android + iOS
(iPhone & iPad)

Available in Google Play Store

Available on the App Store

Storage

$2 for 10 GB

10 GB

Push notifications

$0.10 for 1000 extra push notifications

30K

Staff accounts

3

Number of projects

1

Page views (bandwidth & traffic)

unlimited

App downloads

unlimited

Account manager

Free extensions

Up to 20

Authentication

$12/month
(billed $120/year. You save 2 months)

Chat

The Chat extension requires the Authentification extension to be installed

$20/month
(billed $200/year. You save 2 months)

In-app purchase

Offer paid subscriptions to your users to access your content. Purchases are easily made from their Apple / Google account

$49/month
(billed $490/year. You save 2 months)

NO CODE drag&drop app builder

Fully customizable design

Content Management System

SEO friendly, AMP, ASO friendly

Support (Real human support, by the GoodBarber team itself)
Yearly plan subscription pricing
PWA technology

Native technology

Android + iOS
(iPhone & iPad)

Available in Google Play Store

Available on the App Store

Storage

$2 for 10 GB

50 GB

Push notifications

$0.10 for 1000 extra push notifications

250K

Staff accounts

unlimited

Number of projects

1

Page views (bandwidth & traffic)

unlimited

App downloads

unlimited

Account manager

Free extensions

unlimited

Authentication

Chat

The Chat extension requires the Authentification extension to be installed

In-app purchase

Offer paid subscriptions to your users to access your content. Purchases are easily made from their Apple / Google account

NO CODE drag&drop app builder

Fully customizable design

Content Management System

SEO friendly, AMP, ASO friendly

Support (Real human support, by the GoodBarber team itself)
Yearly plan subscription pricing
PWA technology

Native technology

Android + iOS
(iPhone & iPad)

Available in Google Play Store

Available on the App Store

Storage

$2 for 10 GB

100 GB

Push notifications

$0.10 for 1000 extra push notifications

500K

Staff accounts

unlimited

Number of projects

unlimited

Page views (bandwidth & traffic)

unlimited

App downloads

unlimited

Account manager

Free extensions

unlimited

Authentication

Chat

The Chat extension requires the Authentification extension to be installed

In-app purchase

Offer paid subscriptions to your users to access your content. Purchases are easily made from their Apple / Google account

NO CODE drag&drop app builder

Fully customizable design

Content Management System

SEO friendly, AMP, ASO friendly

Support (Real human support, by the GoodBarber team itself)
Yearly plan subscription pricing