A fast and efficient service
GoodBarber publishes your apps on the App Store and Play Store using your own developer accounts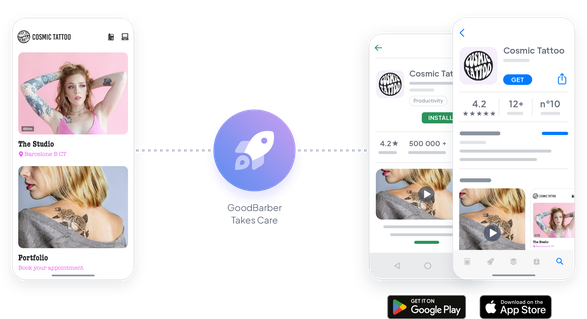 A team of specialists makes your life easier
Publishing an app on the Stores (App Store and Play Store) is not as easy as putting a website online. Even using a tool as easy to use as GoodBarber, once the app is created, you will have to follow a tedious and sometimes restrictive process to submit it to the Stores. Since the launch of GoodBarber, we've been helping our clients distribute their apps to the Apple App Store (for iOS apps) and the Google Play Store (for Android apps). Thanks to the "GoodBarber Takes Care" service, our top team does the job for you. They are solely dedicated to this task, so they know perfectly well the best practices regarding the publication of apps on the Stores
Save time with the "GoodBarber takes care" service
Submitting an app to the stores is a journey full of pitfalls, as there are many steps to go through and especially pitfalls to avoid. Whether you are a beginner or a seasoned user in app creation, this process takes time. By subscribing to the "GoodBarber takes care" service, we take care of the tedious steps to get your app published, while you devote your energy to promoting it to your potential users. Moreover, thanks to our expertise, we save you even more time by avoiding the famous "beginners' mistakes". Your time is precious, delegate your submission process to us.

Using your Developer Accounts
To publish an app, you must first create Developer accounts. These accounts allow you to publish on the App Store and the Play Store. Indeed, even if you create the app with our No-Code tool, we use your own accounts to publish it. This is a good thing, because it assures you the ownership of the app and the users who downloaded it.

Subscription from your Backoffice
When it comes to publishing the app, you will choose directly from your admin interface (the Backoffice) if you want to generate and publish the app yourself or if you prefer that we do it for you. If you choose "GoodBarber takes care", the process is simplified to the maximum. You will only have to fill in some information and we will take over.

Your arguments, our expertise
Our forms, integrated in your Backoffice, allow you to provide all the mandatory information requested by the Stores regarding your app. These forms were built to help you deliver quality content, so that it can be used on the Stores to convince your future users to download the app. We help you with instructions on how to be most effective. We give you all the guidelines and valuable tips along the way. Let us guide you.

Screenshots
You need to add screenshots (and possibly a video) for your app's listing on the stores. If you don't have the time or the tools to do it, you can delegate this task to our team. We are fully equipped to make quality screenshots in all sizes requested by Apple and Google.

Apps rejections
Even though we verify that your app meets the requirements of the Stores, it may happen that the app is rejected by the Apple or Google verification teams. In this case, our experts process the rejection and decipher for you the reasons why the app was rejected. They will also give you a list of changes to make to bring the app into compliance. Once you have implemented the changes, they will resubmit the app.

Service pricing
"GoodBarber takes care" works on a "credits" principle. You are charged $50 for 5 credits of submissions. For example: you have just created your app with GoodBarber and you submit it on the 2 stores at the same time, you will be charged 2 credits. Other example, your app is already published on both stores, but you decide to update it on Android only, "GoodBarber takes care " will only take one credit for this action.