Your customers want to order your food on an app
Even though they still enjoy the atmosphere of restaurants, consumers have changed their habits in recent years and now aspire to enjoy your food at home too.
Click & Collect
Offer your customers to order their dishes online and pick them up directly at the restaurant. They will be able to pay their order on the app or on site when they pick it up . An extremely flexible solution for all your customers in the area who prefer to order their food in advance. It's also an ideal solution for you to open up to a wider customer base without having to invest in a delivery service.
About Click & Collect
Home delivery
You want to deliver your customers to their doorstep? We allow you to organize your own delivery service. No money or time wasted on logistics, everything is managed so you can focus on what's important: cooking and delivering your food to your local customers. Delivery areas and rates, you decide everything to create the formula that best suits your organization and the comfort of your customers.
About home delivery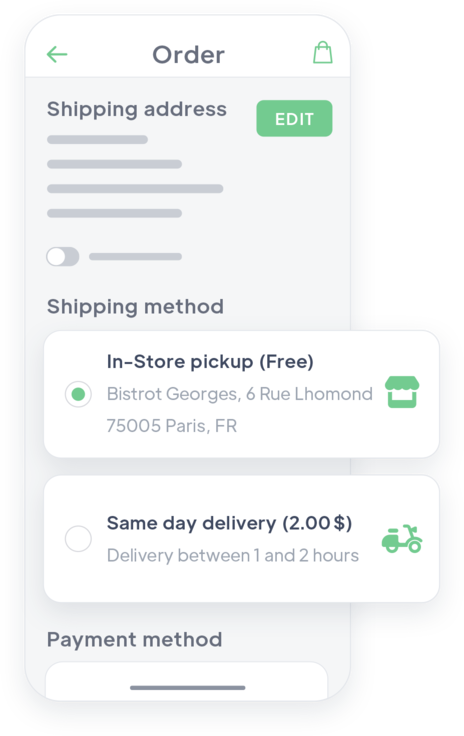 Create an app for your restaurant
Don't settle for the big delivery platforms
Your branding
Having your own app allows you to match your restaurant's branding. Type of cuisine, style of decoration, particular concept... you put all your heart into your restaurant. Give it an app that reflects its image: your customers will relate to it, and you'll have an effective tool to set yourself apart from the competition.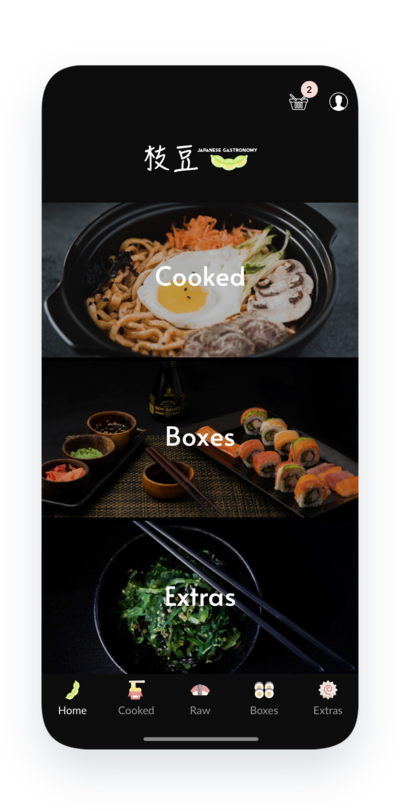 Your communication
You can use your app for different purposes: display your menu, highlight specific dishes or events, offer discounts, display photos, share recipes... everything is possible since you' re in charge.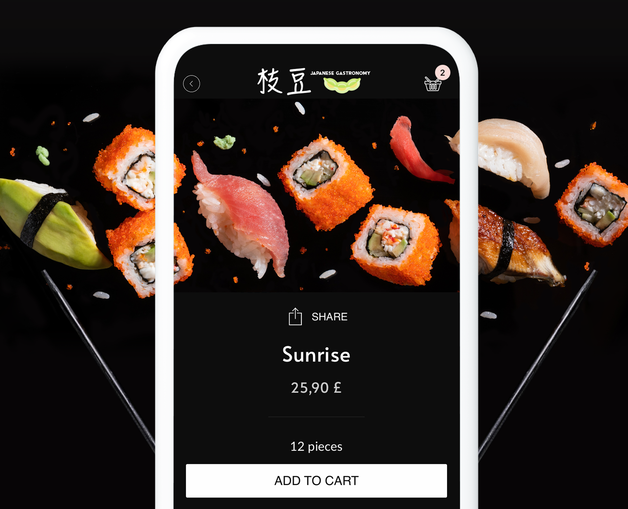 Your earnings
Unlike external delivery platforms that you may join, GoodBarber does not take any commission on sales made in your restaurant's app. All payments collected in the app are yours.
More than just an ordering service
A simple and all-in-one back office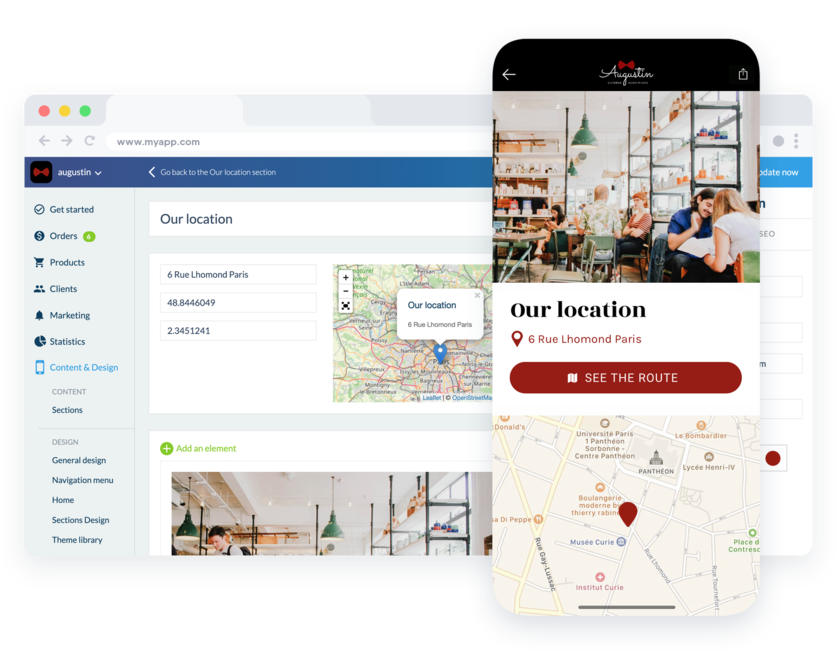 Content & Design
The back office is the space where you manage of course your menu, but also all the additional content you would like to add to your app: photos, videos, articles, information about your restaurant... You create and modify your content instantly.
Customer files
All the information about your customers and leads are in your back office. Contact, addresses, number of orders, purchase frequency, average cart, order history, everything is listed in a dedicated menu in your back office and you can even annotate your customers' files. This information is precious and allows you to know your customer base and to adapt to it.
Marketing tools
Discounts, push notifications, QR code, discover many tools in your back office that will allow you to make your app more accessible, to interact with your customers or future customers, to attract them and especially to build their loyalty.
A flexible and lightweight ordering system for you and your customers
Take it easy: your app adapts to the way you work, not the other way around
Order management
Your App takes orders for you: once your customers have chosen their dishes and validated their cart, an order is created on your side. You are instantly notified and only have to worry about what is happening in the kitchen. You can change the status of each order in one click: pending, processed, delivered or even cancelled. Your customers are also notified of the change in status of their order. No pressure for you, no frustration for your customers!
Time slot organization
To help you organize your business and offer your customers even more comfort, you can define the time slots during which your customers can pick up their order or be delivered. They can choose their time slot and be sure not to wait too long for their food. On your side, you define the duration of the time slots, and the maximum number of orders per slot. You can also choose the minimum time between an order and its delivery or collection. In short, everything is done to allow you to control the management of your orders without affecting the organization of your kitchen.
My Shop Companion
Because as a restaurant owner you are not often sitting at a desk, the management of your orders can be done directly on your smartphone thanks to the My Shop Companion app. It allows you to view all your current orders, sorted according to their delivery or pick-up times. You can directly change the status of your orders to inform your team and organize yourself, and warn your customers who are waiting for their food. If you offer a delivery service, the My Companion app can also be very useful to manage the communication between you and your delivery staff: they will be able to notify you as soon as an order has been delivered by changing its status on their smartphone.
Offer several payment solutions and adapt to a wide range of customers
1-click payment or in person, offer a shopping experience as smooth as in a restaurant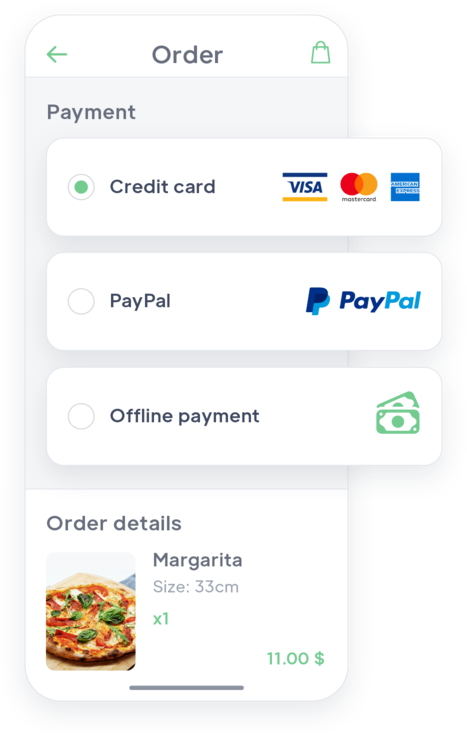 Accept all types of payments
When your customers order via the app, they can pay directly online. Bank cards, Paypal, Restaurant vouchers... Everything is possible! Also offer the fastest payment method on the web: 1-click payment with Apple Pay (Digital Wallets).
Receive payment in person
For your customers who want to, offer payment outside the app, at the delivery or at the restaurant in case of click and collect. No need to enter their credit card in the app, your customers can validate their order and then pay it, in full transparency.
Discover more about offline payment
Make your customers' lives easier
Your customers are there to eat, not to spend hours on your app looking for your products or entering their payment information. Simplify the checkout process by removing unnecessary steps: your customers will only be asked for information specific to their chosen delivery method. No time wasted filling in unnecessary details.
Discover more about fast checkout
Increase your restaurant's revenue
Tools to really boost your sales

Discounts
Create discounts for your customers to attract them or to increase their average spend. You can define whether the discount applies to the entire check or to specific products, in a fixed amount or as a percentage. You can also create discounts for specific customers and add conditions of use. Discounts can be used to reward your loyal customers or to boost the sales of a particular dish.

Abandoned order reminder
What if you could chat with those who compose their meals with your dishes but don't validate their order? It's possible with your app. You have access to all the abandoned orders of your restaurant and to the corresponding customer file. Of course, you can send a reminder to encourage your customers to finalize their order.
Discover more

Push Notification
Don't wait for your customers to think about your restaurant, but instead generate their interest by sending them a notification from time to time. Your customers are employees who order lunch from you but your orders are not as high on Tuesdays? Consider sending them a notification next Tuesday at 11:45 a.m. to tell them about your mouth-watering special of the day, results guaranteed.

Recurring orders
Make life easier for your regular customers. They know your dishes and have their own preferences. Save them time by allowing them to renew an order they've already placed with one click. An option that can be very useful when they are in a hurry or very hungry.
Discover more

Loyalty program
Offer your customers a loyalty card enabling them to save money. You'll increase customer satisfaction and encourage repeat purchases. Each time they order in your restaurant, they'll earn points that will give them an advantage to accumulate. It's the best way to build customer loyalty.
Read more
Increase your visibility and build customer loyalty with the same app
Publish your app on the web and on the Apple and Google stores
App Store and Google Play
GoodBarber apps are specially designed for iOS and Android. They benefit from GoodBarber's expertise in Native Apps. Your app is available on the Apple App Store and Google Play Store. Your App benefits from a referencing on the Stores (ASO) and customer reviews give it visibility. The native features and the incomparable user experience they provide will allow you to keep your customers loyal and to maintain contact with them.
PWA: On the Web
The Progressive Web App is the web version of your app, which means that it works like a website: referenced by Google, it allows you to gain visibility and reach new customers for your restaurant. Thanks to it, you can optimize your digital presence and take advantage of Google My Business to promote your restaurant. Multi-platform, the PWA can be viewed by your customers on any device and ensures the traditional referencing of your content (SEO).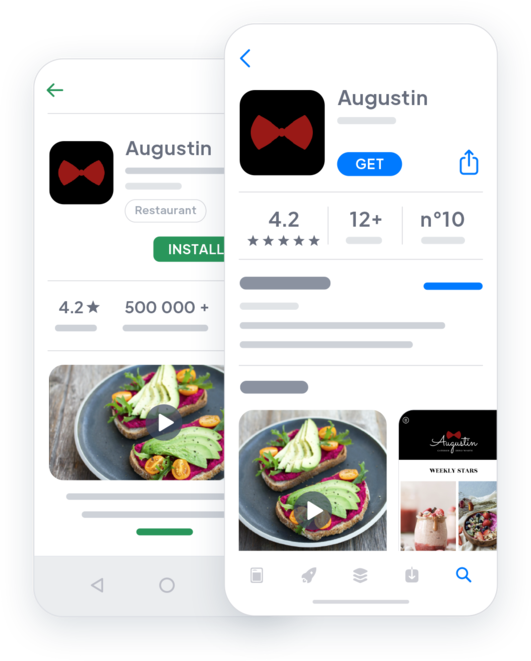 Store locator
Display your restaurant(s) on a map and help your customers find you instantly. Points are detailed with text, photos, videos or sound to help you describe your establishment. A button allows your customers to generate an itinerary automatically from their location.
Contact form
Integrate a contact form to your app that will allow you to answer your customers' questions or concerns. You can customize the form fields according to your needs.
Automatic login
With the integrated login, your customer identifies themselves only once. Then, they are immediately recognized each time they launch the app. Nothing like this to meet your customer's expectations.
Order instruction
Your customers have the possibility to add details to their order thanks to a free field in the checkout screen. A good way to tell you about an allergy, the number of dishes they want to have, a particular cooking...
Cart reminder
If a customer has left your app with dishes in their cart, a pop up will be displayed on their next visit to allow them to finalize their order directly.
Quick Buy Button
It allows your customers to easily add dishes to their cart from the Home of your app or by browsing the list of your dishes. They will never have to leave the page they are viewing to add a dish to the cart.
Why restaurants need an app?
Offer take-out and delivery
The pandemic has significantly changed consumer habits. In the U.S., 68% of consumers say they are more likely to order takeout today than they were before the pandemic. And this trend continues to grow. Beyond the health crisis, digital channels are becoming increasingly popular with customers who demand convenience and flexibility. An app is the best way to offer an ordering service to your customers.
Be independent of delivery platforms
Even if there are many advantages to be present on delivery platforms such as Uber Eats, Doordash or Deliveroo, especially in terms of the visibility they will bring to your restaurant, nothing will replace your own app. A presence on these platforms is not incompatible with having your own app for your restaurant. The latter will allow you to retain your customers and maintain a bond with them. Remember that in 2020, a study conducted by Square showed that 2/3 of American customers preferred to order their meals directly from their favorite restaurants than via a third party.
No commission on sales
With your app, you decide everything for your restaurant. You manage your menu, your orders, your time slots, your cash flow. You benefit from the best technologies to facilitate your sales and cash in quickly (Apple Pay, PayPal, credit cards, etc.). And of course, no commission is deducted from your sales. Everything you collect in your app is yours.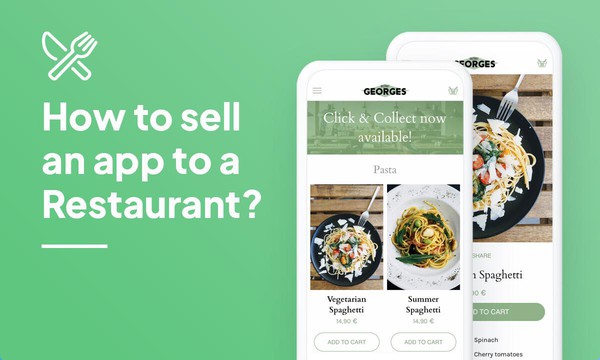 With GoodBarber you can create a lot of different apps, we offer over 500 features. So as a Reseller, you can target many different sectors.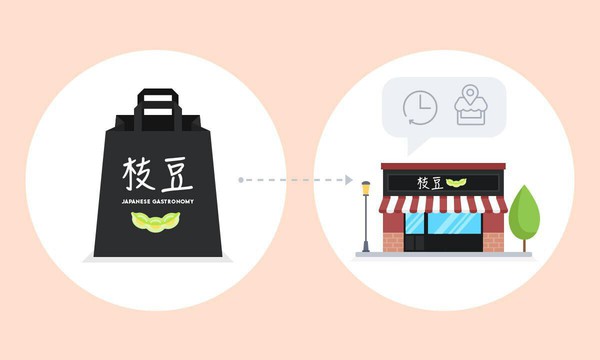 The period we just went through proved it: consumer habits are changing, and businesses must adapt. In the food industry, like catering, the change in consumption patterns had already begun long before the onset of the health crisis.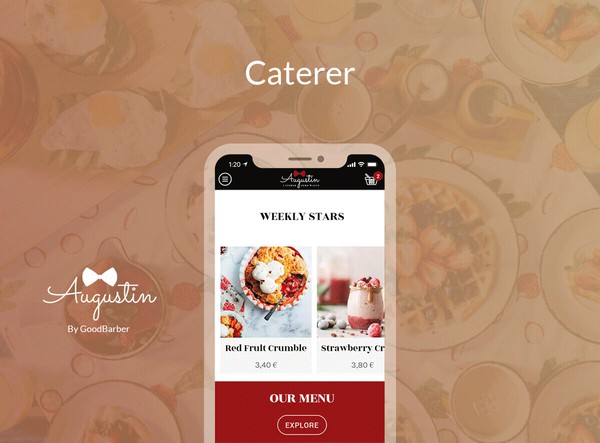 Many brick-and-mortar shops had been facing a tough situation these past few months due to the lockdowns imposed in many countries by the Covid-19.
Frequently asked questions
How to create a Restaurant app easily ?
GoodBarber Restaurant App Builder allows you to build a mobile app for your Restaurant in a very easy way.
Follow these steps to create your own Restaurant app :
Get everything you need ready for your app
Start your Restaurant app on GoodBarber
Add your food products to your app
Design your Restaurant app
Add your Restaurant business information to your app
Customize your transactional emails and push notifications
Add app extensions to deliver the best shopping experience on mobile
Test and publish your Restaurant app
It can be an app to share your best pictures, videos through Social Media to promote your Restaurant as well as an e-commerce app for selling and delivering food.
How much does it cost to make a Restaurant app?
You can start running your Restaurant app for free with our 30 day free trial. Then it is up to you to subscribe to the plan that best fits your needs: the basic plan to make a Restaurant App starts at $40/Month. Note that additional costs apply to publish iOS apps on the App Store.
What solutions are provided by GoodBarber to a Restaurant ?
You will get your own Restaurant app, at an affordable price.
Very simple Stocks update via Back-office or "Shop Companion" app.
Easily update opening hours and delivery slots in one click.
Build a Customer base you would use for communication purposes and promotional campaigns.
A ready-to-deploy solution for selling online
A destination for Facebook and Google ads
Online ordering management (Click and Collect, Local Delivery slots)
Create and update restaurant menus easily from your app
What are the advantages to building a Restaurant app using GoodBarber App Builder ?
1-click shopping experience
Promotional offers via coupons
Push notifications to boost sales
Many payment options (credit card, Apple Pay, PayPal, cash, meal ticket)
With Shop companion, no new orders via the app will go by the wayside
Click&collect and local delivery add-ons to open up new sales channels and deal with the crisis
1 tool for the 3 essential mobile platforms
A team of experts to guide and help them
An easy to use NoCode App builder
A purchase workflow designed to enhance Buying Experience
Several options to customers to pay for their order
Configurable time slots for Click and Collect with maximum number of orders per slot: we ensure a smooth service without overloading the restaurant team.
Restaurant app design customization allows to create an app perfectly matching the visual identity of the restaurant
How can I customize my Restaurant app design and User Experience ?
With over 200 layout options, an impressive theme collection and modular design, you can create a unique app reflecting your Restaurant app branding There are many options and levels of customization. You can choose different "Global Styles" to customize the app all in all or may just customize a given section. Our Restaurant app builder offers 9 templates for listing pages and 4 templates for stand-alone pages. You will be able to customize headers, fonts, background colors and navigation menus.
Will my Restaurant app be available in all countries ?
Yes, it can be available in all countries. You will decide about Geo-distribution, selecting those countries where the app will be available in the app stores, before publication on Apple's App Store and Google Play Store.
Do I need technical skills to build a Restaurant app ?
Thanks to GoodBarber No-Code App builder, you don't need any programming skills to create your app. You can create your app for Android, iOS or a mobile website using a Progressive Web App (PWA) without a single line of code.
Do you provide any support and After-Sales Assistance ?
Yes, indeed! GoodBarber Support and Assistance program provides for:
Free support
Unlimited Number of support tickets
App Lifetime support
Support in 5 languages
4 offices in 3 countries
3 time zones support
Who is the Developer of my Restaurant app ?
You are required to purchase your own Developer account from Apple and Google. Therefore, you are the developer of your app. GoodBarber is simply the tool to create it.
Can I sell my Restaurant app?
Yes, you can sell your Restaurant app. To do this, you need to transfer the ownership of your app to the new owner, on each app store. In addition, you must transfer the ownership of the GoodBarber back-office to the new owner. To do this, you will need to contact the GoodBarber support team.
Start for free
Starting as low as $40/month
Free 30-day trial. No credit card required