How to create your own Pickup & Delivery app
Written by Marie Pireddu on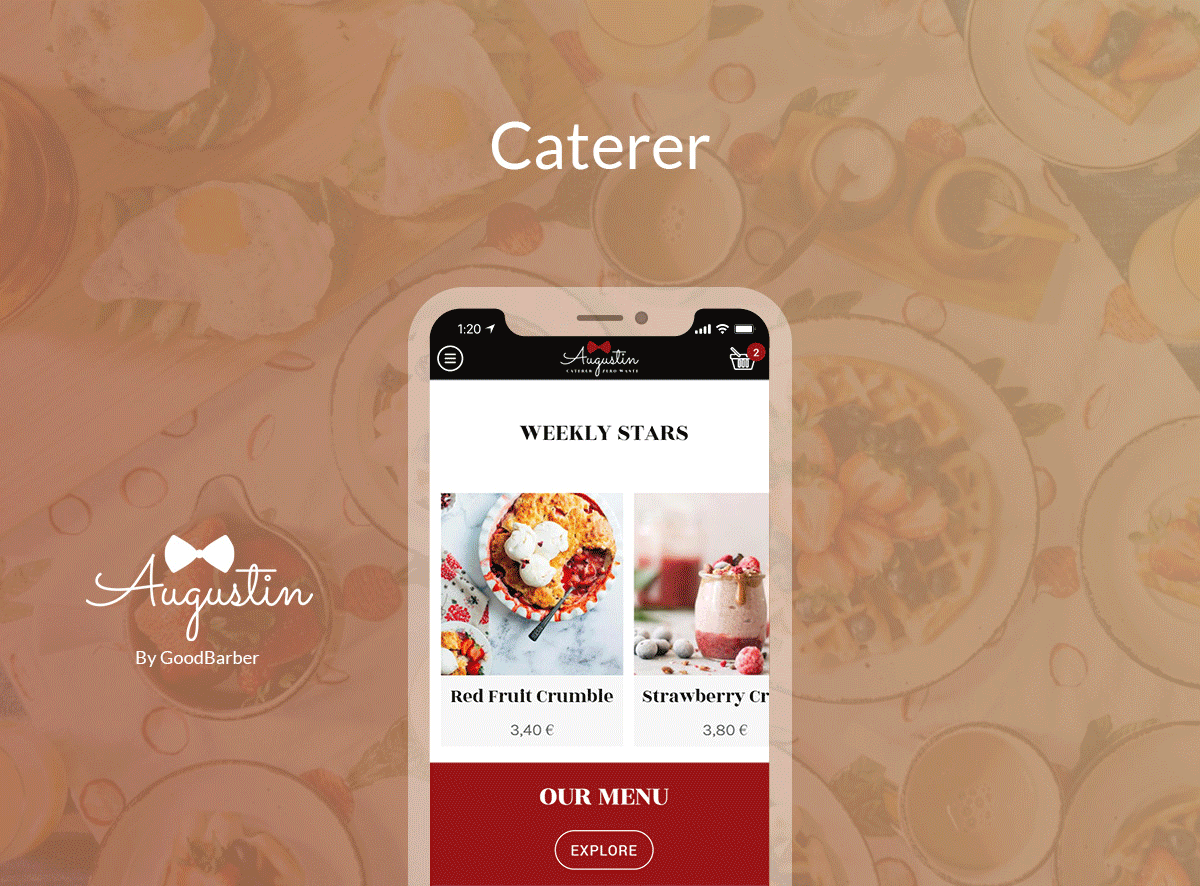 Many brick-and-mortar shops had been facing a tough situation these past few months due to the lockdowns imposed in many countries by the Covid-19.

Groceries, Restaurants, caterers, retailers, drugstores are some example of those small businesses that had taken the right decision to move their business online. Their online shops allowed them to keep selling their products and stay in touch with their clients.

But as we mentioned in a previous article, e-Commerce is a tough competitive market. So how can your independent business compete? By becoming your neighborhood champion and taking advantage of your actual physical location.

By offering a fast local delivery option and a convenient in-store pickup, you provide your clients with the flexibility and convenience they need.


With the idea in mind, GoodBarber is now offering an app builder to create a Pickup & Delivery app, with key features dedicated to boost your sales and grow your local client base.

How to create a Delivery app and in-Store Pickup
This guide is mainly directed to people who already have a shop (physical or online) and wish to go bring their business to the next level with an app.
If you are at the very beginning of building an app, you may want to refer to this article to learn about how to create an app .

For this article, we'll use the example of a caterer, St Augustin, who wants to become the food champion of their neighborhood. So, let's build the app together.

Follow these steps to create your own Delivery app:

Get everything you need ready for your app
Start your Pick-Up & Delivery app
Add your products to your Delivery app
Design your Delivery app
Add your business information to your Delivery app
Customize your transactional emails and push notifications
Add app extensions to deliver the best shopping experience on mobile
Test and publish your Delivery app
Step 1: Get everything you need ready for your app
Your logo is designed


Your product catalog is in a .csv file


You've written your product descriptions


How about the images that will accompany your products?


And last but not least your business admin info (contact email, phone, address, hours of operations, etc )

Step 2: Start your Pick-Up & Delivery app
Go to
GoodBarber.com/create
, select
Pickup & Delivery
. Then, follow the steps to create your account.
You benefit from a 30-day free trial to familiarize yourself with the platform, test your app, and make sure everything is ready for the publication.
You will also have full access to our support team, a detailed online help guide and video tutorials to help you along the way.
Step 3: Add your products to your Delivery app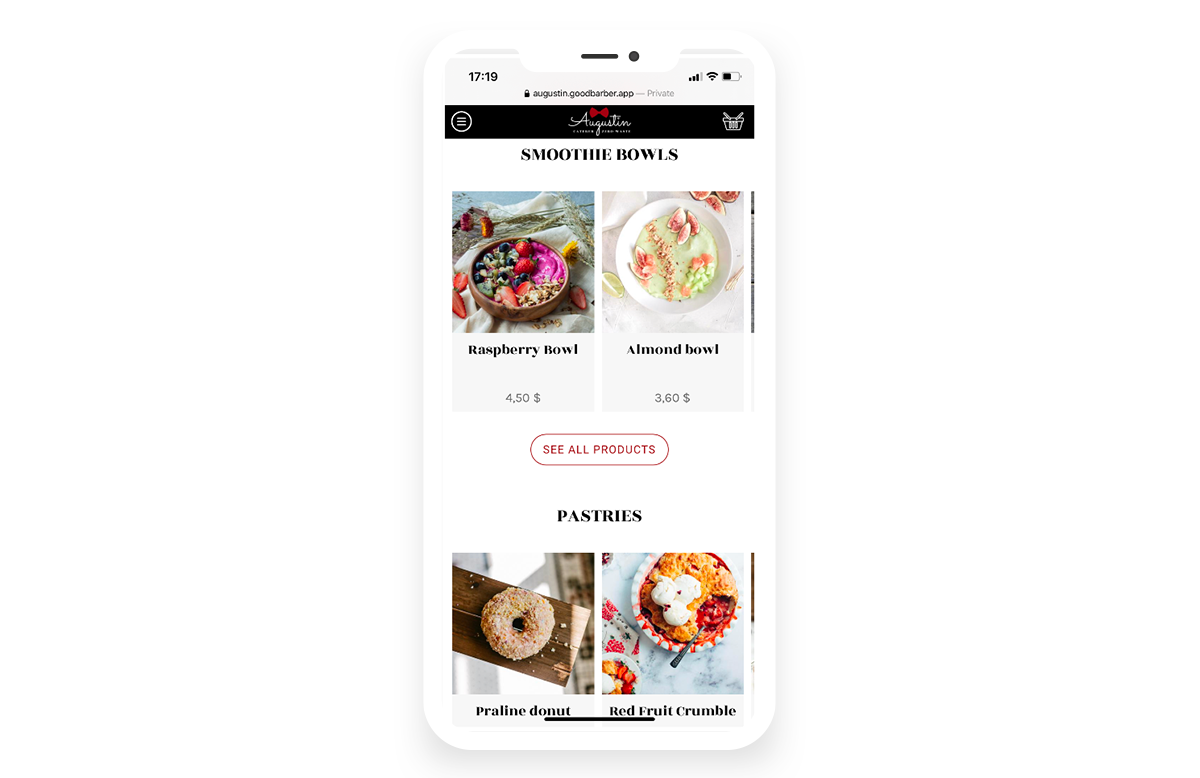 You can now start adding your products to your shop. There are two different way to add products:
Add products manually: from the back office, in the menu Products > Add. you can then enter all the info needed (title, description, pricing, variants, etc)
Import your products from a .csv file. Which is very helpful if you have an important catalog.
Once you finished adding your products, you can now create your
collection
. A collection is a group of products that belong to the same category. In our example, your collections are Pastries, Salads, Smoothie bowls, etc.
A product can be added to multiple collections: your yummy croissant can be part of the breakfast, pastries or dessert collections.
Step 4: Design your Delivery app
You can now choose your theme, add your logo, launch screen, design your sections, and product pages. Don't forget to pay attention to the design of your checkout page.



Step 5: Add your business information to your Delivery app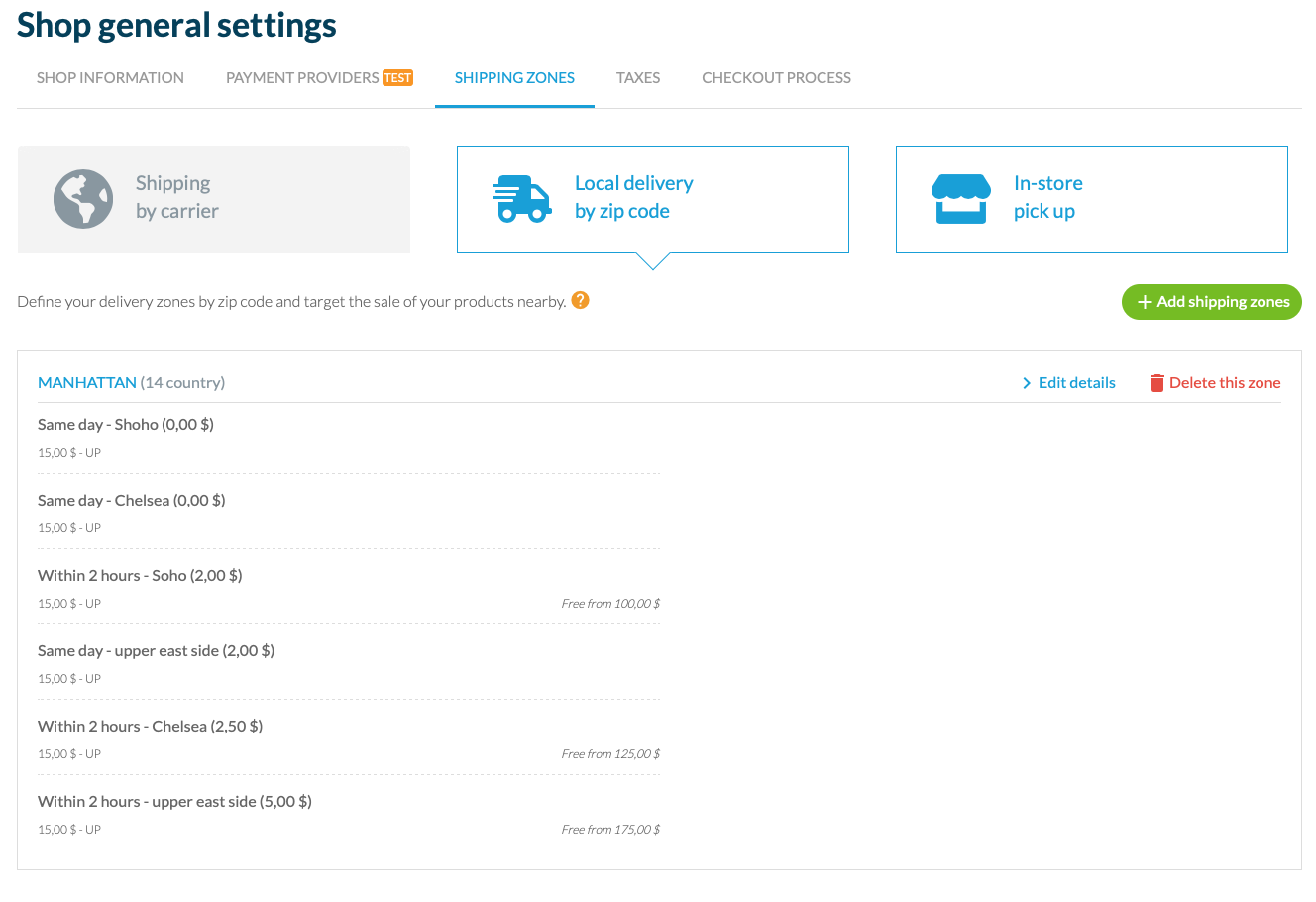 You need to first add the
general info
of your shop to unlock the other blocks (shipping, payment providers, and taxes).
Shipping: This is where you will set up your local delivery and pickup. From the add-on catalog, activate the two related add-ons.
In-store pickup : enter a name and define the conditions under which this option will be available to your clients.
What are some advantages of In-store pickup?
It helps you boost your sales. By implementing a Buy-Online-Pickup-In-Store strategy, you get your clients into your shop. Once there, it becomes much easier to persuade them to purchase additional products, through strategically-placed products for example ( a few desserts or small bite items by the register are always tempting).
It's personal. Perfect for the catering business. You want to build a relationship with your clients, show your personality. It is your chance to offer a great customer service.
Delivery is the last step to getting your products to your clients and is just as important as the shopping process. Offering the right delivery option for your online shop enhances the experience and helps clients retention.
This option allows you to become the go-to caterer for business and events in your neighborhood. As we the In-Store pickup, it also allows you to make the service more personal and meet your clients.
You will soon be able to createtime slots for which you want to allow deliveries. Stay tuned!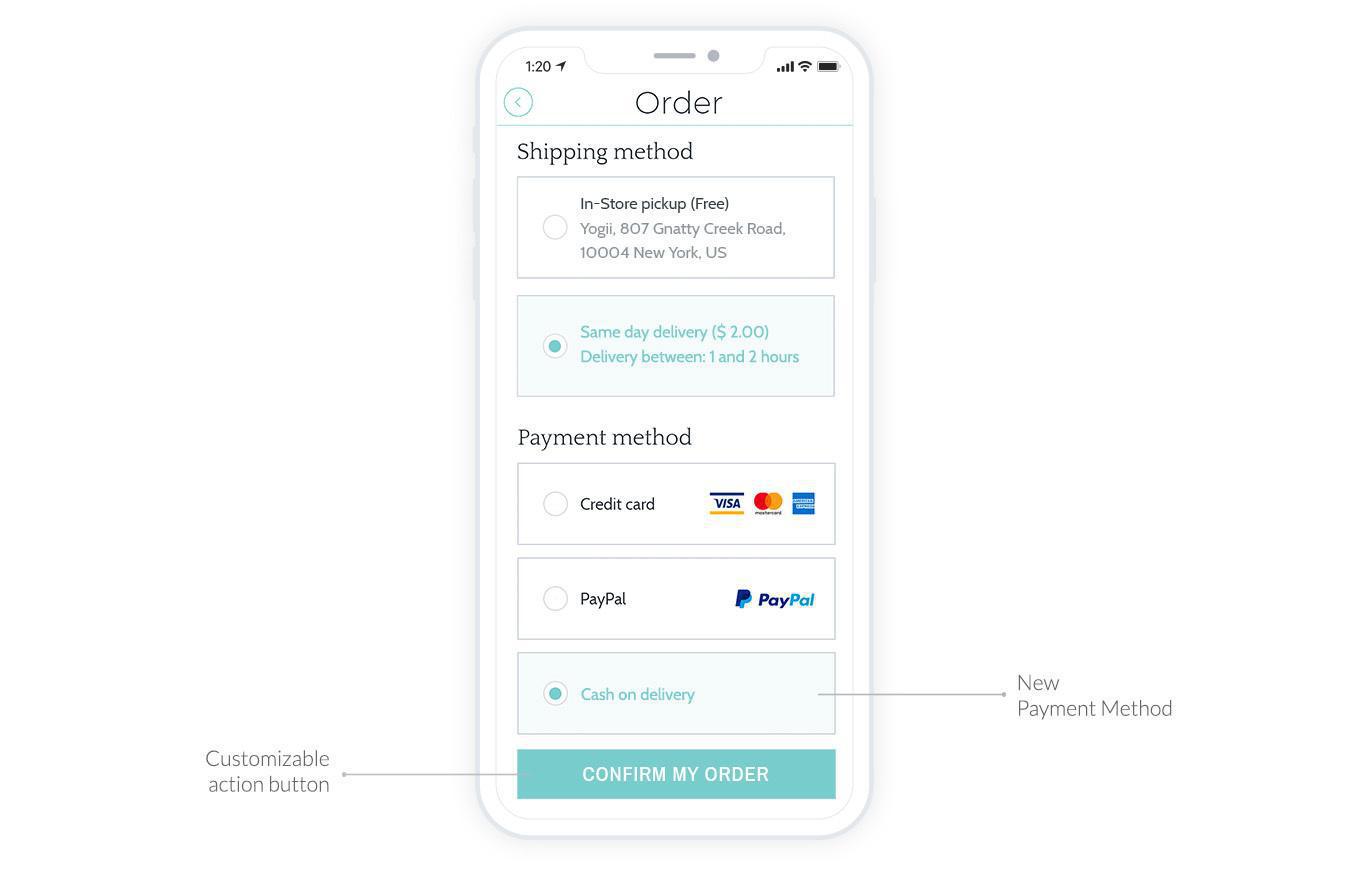 2.
Payment options:
Activate the Offline Payment add-on: Offline payment remains a preferred method of payment for local shops.
Indeed, it builds trust around your brand. Around the globe, a lot of people still prefer to use cash or even checks for their daily money transactions. Being a more traditional method of payment makes them more trusted.
Also, not everyone feels comfortable giving their credit card info online and therefore might refrain from purchasing products from your app.

It helps boost your sales: Offline payment is easy to use and understand. Some people still face difficulty with the online mode of payment. By offering an offline mode, you will reach a wider audience and boost your sales.

You avoid payment gateway fees: You can easily have an online presence and offer your clients to purchase your products online without the hassle of setting up Stripe or PayPal accounts. Moreover, Offline transactions are easy and transparent with no extra fees

​3. Taxes: Tax is automatically calculated depending on the origin and destination of the delivery by TaxJar.
You can define the way taxes are calculated for your shop.

4. Checkout process: Choose if you want your customer to create an account when they check out and add your terms and conditions, refund policy, privacy policy, and which the visibility of certain fields that your clients will have to fill in when ordering.
Step 6: customize your transactional emails and push notifications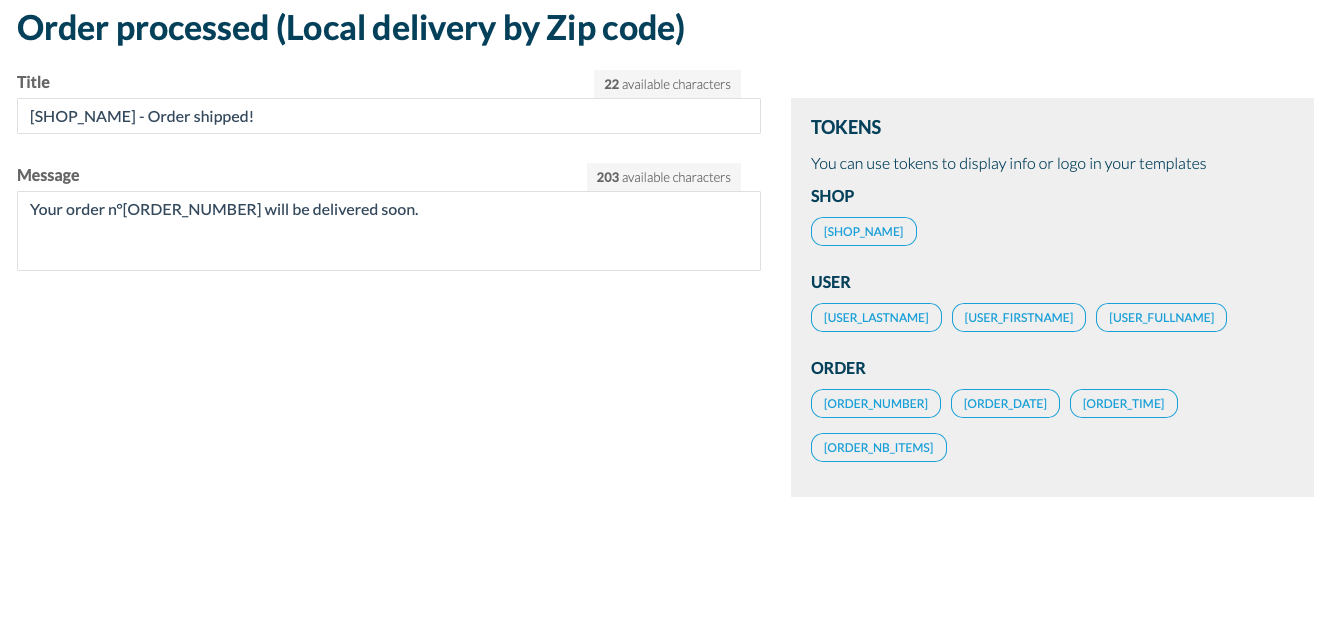 In your GoodBarber back office, you can access the templates of several automated transactional emails and push notifications. You can and want to customize them to reflect your brand image.
Step 7: Add app extensions to deliver the best shopping experience on mobile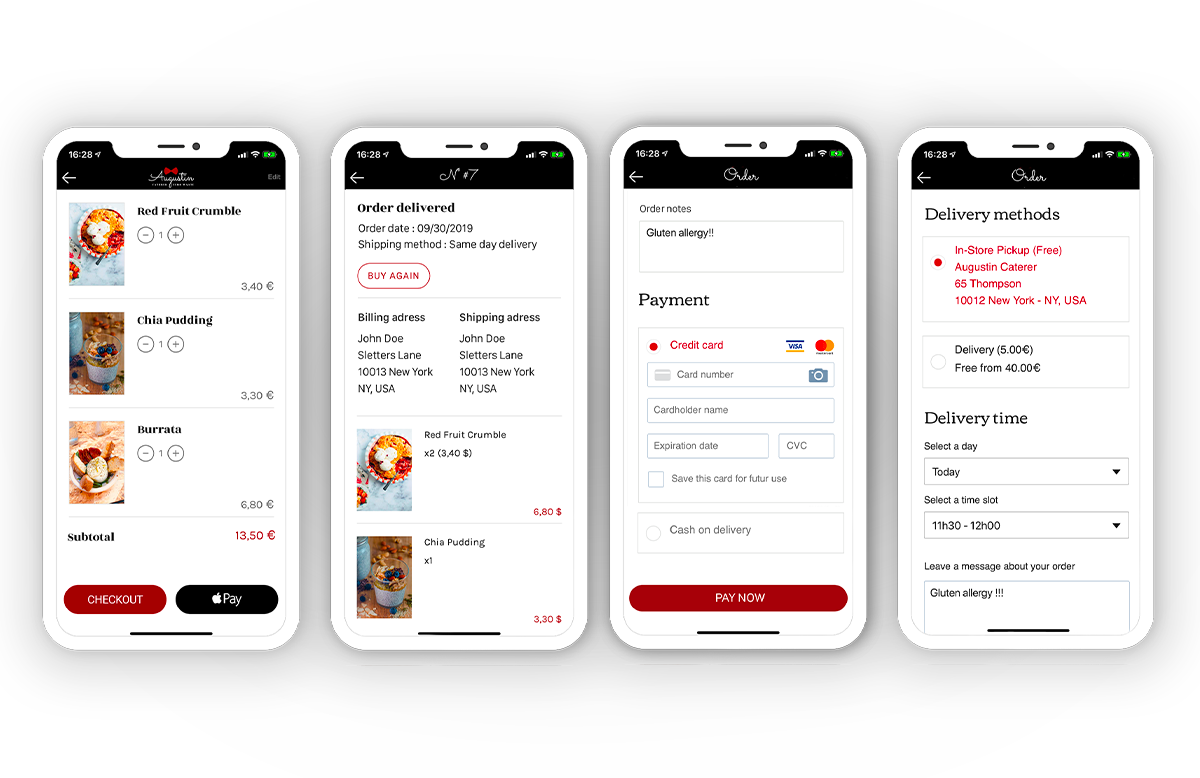 To complete your catering Local Delivery + Pickup app, don't forget to add :
Buy again button: it allows your clients to add to the cart all the products from an existing order with one click. A great add-on to build recurring orders and boost your conversion rate.
Keep an eye out for the launch of two new add-ons very soon. The Fast Checkout will simplify the checkout process and remove unnecessary steps. The Time Slots will allow your clients to select a specific time frame for their delivery.

You also benefit from integrated features such as :

Client note: very useful! Your client can now leave specific instructions regarding their order. For our catering example, it's an easy way for clients to mention any allergies or delivery instructions so you don't waste any time trying to get to them.
One-click payment: Digital Wallets are the most efficient checkout on the web. A perfect payment option if you get to cater a large lunch or meeting for a corporation.
Auto-login: Your clients only log in once. Then they are immediately recognized every time they launch the app.
Step 8: Test and publish your Delivery app
But first, you need to build and test your app.
Testing an exact copy
of your app (called the AdHoc version), in the same version as the one which will be released on the stores, is a very important step you shouldn't overlook. With GoodBarber, you will find in your back office dedicated online helps to generate the AdHoc version, for both the iOS and the Android version of your app.
Once happy with your app you can move on to the publication of your app.
You can find more info on the publication process in this article:
how to publish your app on the App Store and Google Play
Don't forget to publish your PWA and install a domain name. A PWA is a great
marketing tool
to help you promote your app.
-
You now know how to
create a Delivery app + In-store Pickup.
But the work is not over. You now need to promote your app.
You can find a lot of resources and tips on how to promote your app, boost your downloads, and increase your sales on our
blog.