App builder: create top design iOS & Android apps without coding
Written by GoodBarber Team on

GoodBarber is a complete and extensible platform to build native apps and PWAs without coding.
Thanks to its expertise, GoodBarber App Builder is recognized as the best visual design app maker on the market for Android/iOS/PWA apps.
GoodBarber allows everyone to build their own mobile apps via an easy visual editor.

Create apps faster and easier without coding, right now.
No code required, no technical skills: everyone can use it!

✅ Use pre-built templates or start a custom app from scratch.
✅ Build Android, iOS and PWA apps seamlessly.
✅ Create professional apps with stunning design and UX without a single line of code.
✅ Designed for for small and medium businesses, freelancers, and content creators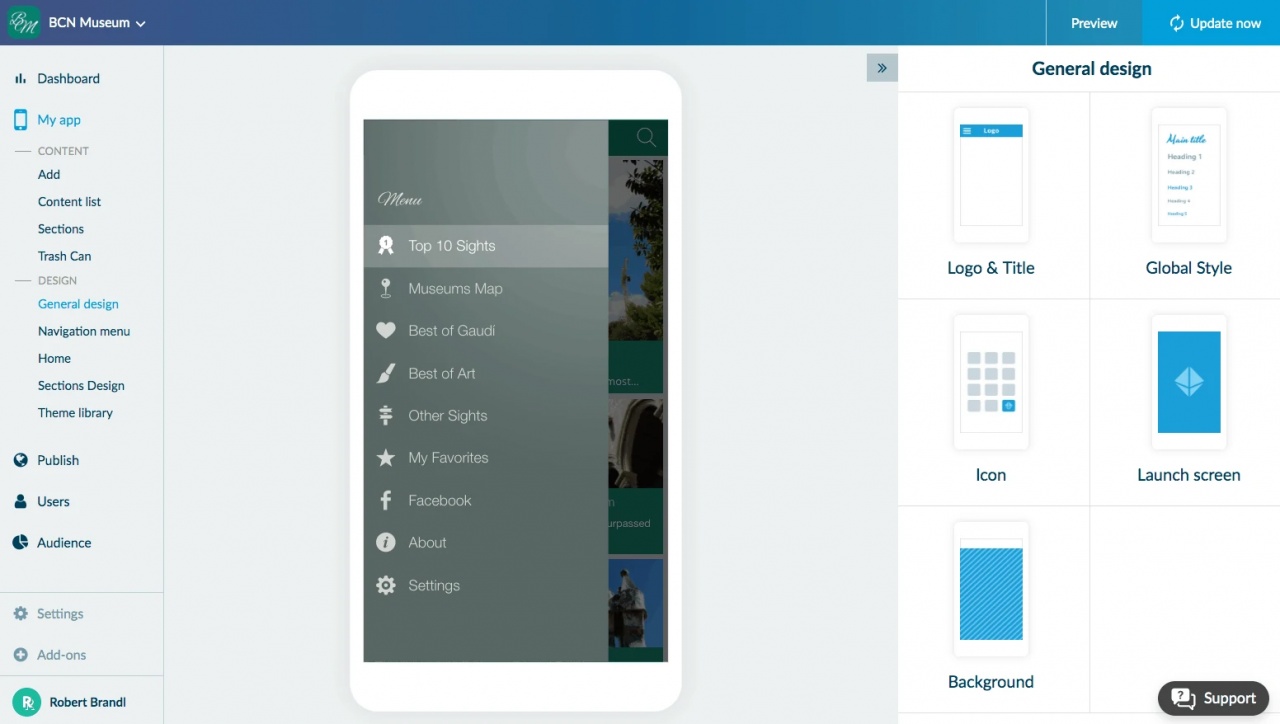 Get the most out of mobile apps with an app builder
Flexible and reliable mobile app builder, GoodBarber is the tool you need to build apps faster, with a top-notch design out of the box. You'll benefit from an easy-to-use online tool and outstanding customer support:
✓ Easy DIY App builder with Drag and Drop Visual Interface
✓ Time and Cost saving
✓ Integration with Third-party tools
✓ Tasks Automation
Turnkey development platform to cover the entire app lifecycle
Research and development

An extensive team of international and highly skilled developers organized by technology:

CMAs / Backoffice / PHP team

Android Team

iOS team

PWA Team

GoodBarber has proven expertise focused to build a solid cross-platform, scalable and secured infrastructure to face over 40 Millions mobile apps and Hundreds of Thousands users connections, since 2011. Our developers ensure the evolution of platform's technologies following latest mobile app industry standards. Our R & D team is constantly involved in the design of new connectors to ensure interoperability with third parties. A cloud-hosted software platform secure a 24h/day access and high availability.
UX/Design

A team of UX/UI designers is dedicated to constantly improving the CMS user interface, app templates and graphical elements. Up to 30 customizable themes and styles, GoodBarber is recognized as the best app builder for app design and style on the market.
Marketing Services

The Marketing Department offers an holistic approach to deliver best Monetization features, Analytics tools, tailored acquisition strategies to enhance your Brand awareness and boost sales conversions.
Customer Success /After Sales

A dedicated international team, operated in 5 languages, available 24 hours/day to respond to our customers issues and troubleshooting. Collecting customers ideas and suggestions, we and our customers, we build GoodBarber mobile app creation platform together. We are able to propose business solutions tailored on your needs. We assist you in Submission Process on the App Stores.
✅ What is an app builder?
An app builder is an online software tool that allows everyone to create and publish apps for mobile devices without code development. It's a turnkey solution to make mobile apps for people who don't have technical knowledge, by using a simple visual editor. So then, everyone can create their own app without outsourcing.
An app builder is a DIY tool to create mobile apps and designed for novice users with no programming skills. Therefore, it must keep easy to use and intuitive.
Based on automated tasks and routines, an app builder provides a very productive design environment to help users making their own apps without coding. Indeed, app makers are designed to perform repetitive tasks faster and accurately. In this sense, they are reckoned to be a smart technology to build mobile apps.
From a UX perspective, app builders provide a WysiWyg visual editor and Drag and Drop features helping users to visualize their app as they go, in real time. This makes it easier pushing edits and successive iterations.
An app builder is typically designed to deliver cross-platform apps allowing users to make mobile apps that work seamlessly on most operating systems available in the market. Additionally, the back-office includes built-in tools for development, testing, debugging and deployment that are workable by any developer using its own software and hardware.
Technically, app making software is hosted on a cloud platform which ensures high availability, security appliance and scalability.


GoodBarber App builder
GoodBarber is one the most acclaimed and trusted no-code app builder for mobile apps, primarily due to the high quality design and user experience offered by its apps.
Its Graphical User Interface backed by a Wysiwyg editor and Drag-and-Drop functionality makes app building easier for everyone, regardless of technical knowledges. A user-friendly CMS helps to provide apps with a personalized and smooth user experience, enabling features such as push notifications, one-click payment, QR codes and much more.
GoodBarber app builder is also reputed for its ease of use and exceptional experienced customer support. Cloud-based platform, the app making software is always available and accessible from any type of connected device from anywhere: this allows everyone to create professional apps at anytime.
With GoodBarber App builder you can start building an app for free: test native app features and publish a free PWA for 30 days.
Build Native and Web apps to leverage mobile business
Mobile app builder for Native Apps and PWA without coding

With GoodBarber No Code App Builder, you're able to create native apps (iOS and Android) and Progressive Web Apps seamlessly.
Cross-platform app development aims to reduce costs by delivering a single project that will run on all operating systems. It is very common that a company wants to make a mobile app targeting as wide an audience as possible. Therefore, that business app should be ideally available on iOS, Android and Web browsers to be accessible on both Desktop and Mobile devices.
Native apps

Native apps are designed and coded specifically for each type of device and its operating system. They allow access to 100% of the capabilities and hardware resources of the device. Offering a native application to your users means offering them the best value for money for their mobile device.

iOS Apps

Designed for Apple iPhone devices, our iOS mobile apps are developed with the native Swift and Objective-C languages for iOS, using UIKit framework.


Our iOS apps meet high quality standards required by Apple's App Store Review Guidelines.

Android Apps

Designed to work on all Android devices, our app making software delivers Android apps developed with Java and Kotlin native languages for Android, using Android Studio framework and Android SDK.


GoodBarber Android app builder ensures interoperability on all mobile devices, tablets and smartphones from all manufacturers around the world.
GoodBarber's No-Code development platform is designed to comply with legal and technical requirements in force on Google Play Store.

Progressive Web Apps

Progressive Web Apps are a cost effective way to build mobile apps. Our PWA are developed with Angular JS and designed to work with all web browsers, on all types of devices: desktop, smartphone and tablets. Their main advantage is to provide an exceptional user experience, including many features such as push notifications, offline mode and direct access, without downloading or installing any app. With GoodBarber, building a PWA becomes very easy and affordable.
Build your app in 4 easy steps with GoodBarber:

1. Create Your Account:
choose App name and App template
2. Create Content and App Design:
follow the "Get Started" step-by-step Menu in your new Back-Office
3. Test your app:
use "My GoodBarber" app or the back-office preview for your PWA
4. Submit your app to the stores:
click on "Publish my app" button
Test for Free:
GoodBarber for Design: create beautiful apps

without a single line of code
The design of GoodBarber App Builder has never stopped evolving and has recently succeeded in adopting a user-centric design based on a
Design System
with a double result:
✓ optimize creation workflow for its users
✓ ensure top quality design of outgoing mobile apps
App Design objectives:
Guarantee a smooth and optimal user experience
Ensure visual consistency between the pages of an app across different platforms.
Streamline template customization and apps UX overall, by implementing clear and easy design principles.
Monetization
GoodBarber App builder provides with advanced monetization features through a large number of extensions, customizable and actionable at will.
Among several monetization strategies, Advertising and In-app Purchase are the two main ones available within GoodBarber's app making platform:

Advertising

External ADs:

Connect to third-party ads networks like AdMob, Ad Manager or Facebook.

Selling AD slots

This feature allows you to create your own ads for advertisers.
In-App Purchase

In-App Purchase provide you with a recurring, reliable income as well as a more loyal and engaged audience.
Integration & Automation
GoodBarber app builder is an extensible platform designed to interface with many tools via connectors: integrate your apps with best third-party tools available on the market. This will help you to simplify the workflow, automate tasks and routines in order to save precious time. The R&D team ensure socket evolution and new connectors development.
Zapier is a no-code tool that you can use to connect apps and automate different tasks.
With Make add-on, connect your eCommerce app to thousands of other online services. Build workflows, automate repetitive tasks within your Shopping apps. Make your work easier.
Public API

Scale up your eCommerce app with our Public API. Endless automation possibilities for logistic management. With our Public API, upload your catalog inside your Shopping App and Facebook shop.
Choose the most powerful app builder
While opting to build an app with an app maker software has many advantages, the choice of the best platform boils down to your business rules and goals. What may be the best solution for one app may not be the ideal choice for another. So, once you've decided to go with an app builder platform, choose the one that offers multiple features, adapt to all devices and all kind of business: GoodBarber is made for you!
Shopping apps for your eCommerce store
White Label app reseller program
Use Pre-built templates or build from scratch: more than 500 features to customize your app

Boost your Online Store with a Shopping app. Start eCommerce App Builder
GoodBarber is a fully functional Ecommerce App Builder, designed for mobile devices! Deliver the best Customer Experience within a Shopping app: seamless navigation, fast loading, one-click payment, push notifications.
One-Stop-Shop eCommerce development Platform:
Manage your PWA, Android & iOS Shopping apps from a unique back-office
Benefit from dedicated eCommerce features you will find in our Extensions Store
Connect your Shopify Store with your Mobile app
Simplify your workflow trough your Shopping app with external automations tools: Zapier, Make
Online Store Management | Local Delivery + In-Store PickUp | Built-in eCommerce payment solutions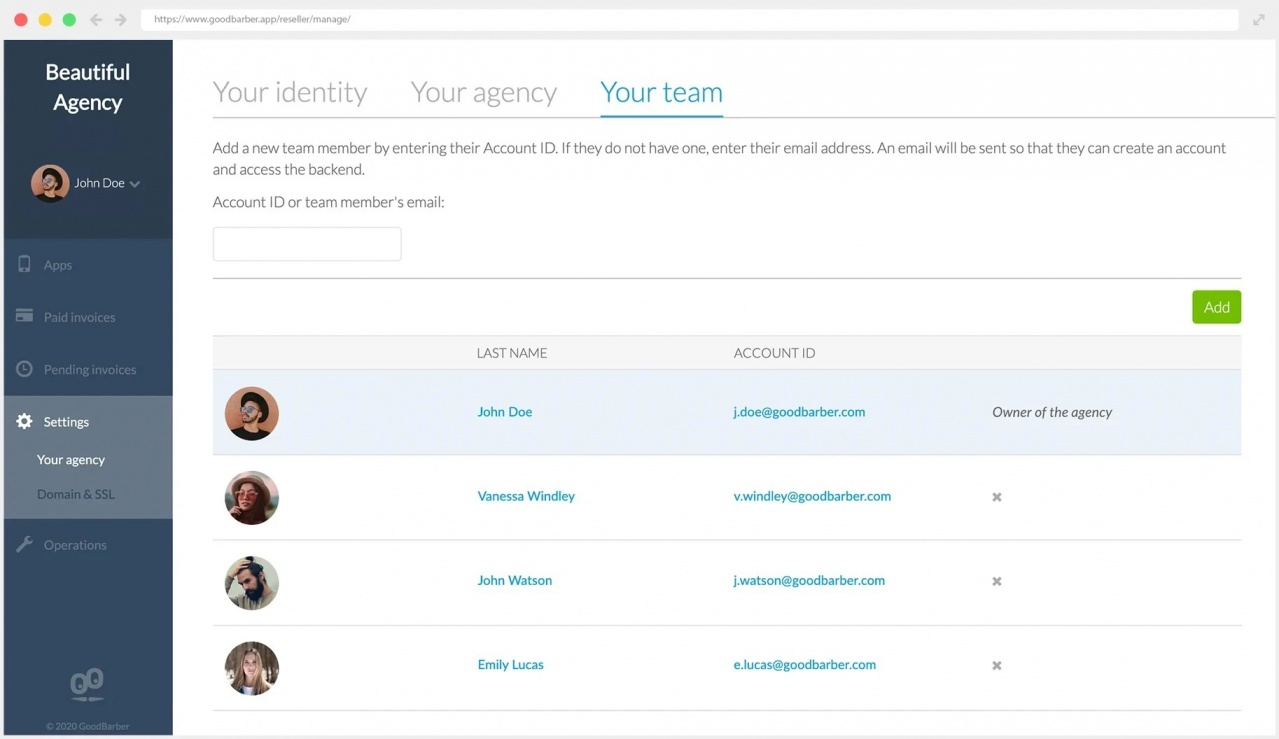 Start your App Business. Try White Label App Builder for Resellers
GoodBarber's App Reseller program allows you to build and sell mobiles apps easily. You are enabled to create an unlimited number of apps and publish them on the Web (PWA), on Google Play Store (Android apps) and on the App Store (iOS apps). You have access to a dedicated management interface from where you build your apps. The GoodBarber brand is hidden from the projects you create and display your brand instead.
White Label Apps | Unlimited apps builder | Dedicated Support & Assistance
Over 500 features to build your own app the way you want
Whether you start building your app from scratch or using pre-built templates, with GoodBarber you'll take advantage of more than 500 features and extensions to make custom apps for iOS and Android that perfectly match your needs and ambitions. Some picks:
✅ Best app builders for mobile apps
There are many no code development platforms for mobile apps available on the market, making it harder for users to select the right one. Therefore, we have crafted a benchmark of some of the best app builders to help you choosing the one that fit your needs and expectations.
GoodBarber assists users in creating iOS and Android apps without coding. Its app builder is easy to use and intuitive. It's a DIY tool for novice users with no programming skills that gives you access to all the features you need to create dynamic mobile apps without difficulty, using a cloud-based drag and drop editor within a WYSIWYG visual interface that eliminates the complexity of coding.
Its app making software allows you to add products, forms, widgets, Ads and your branding to your app that will be available on both iOS and Android app stores and usable from desktop, smartphone and tablet.
It also enables to complement your apps with best third-party tools to simplify the workflow, automate tasks saving precious time.
Finally, GoodBarber app builder is the best solution for anyone who wants to create professional apps with the best design, quickly and securely: everyone can use it!
To date, over 30,000 apps have been published through GoodBarber, and the number continues to grow, making GoodBarber an authority in the app builder industry. The platform is built in France but has expanded its roots in Portugal and the United States of America.
Moreover, GoodBarber has been reported as an highly trusted No-Code platform by many prestigious product reviews out there.
Appy Pie App Builder claims to offer a free plan that allows users to develop and test applications for personal, non-commercial use. Actually, we tested the free plan: it returns that it's just a "Free 7 Days Trial". You need to provide your bank account details to start the trial and you are not able to publish native apps. However, you can experience back-office features and themes layout. Key features include offline capabilities that help users access their apps even without internet connectivity, comprehensive customer support, and AWS security. It is one of the biggest app maker platforms based in the United States of America.
The BuildFire application development platform helps organizations of all kinds to create custom plugins, or use inbuilt plugins to build their mobile apps. The app-builder is interactive, and requires no coding to create apps. Buildfire is based out of the United States of America and has over 10,000 apps under its belt.
Based in the United Kingdom, AppInstitute is a cloud-based application development platform that offers support for Native apps. Users can create stunning applications as per their business needs without code. AppInstitute offers a drag and drop editor with multiple premium templates available for users to build mobile apps.
Andromo is mobile app builder for Android apps, but it has now ventured into the iOS space as well (still in beta). The platform helps you create apps with its long list of features, templates, and no coding skills. Andromo is still in its early stages, and based in the Netherlands.
Builder.ai helps non-technical entrepreneurs and businesses build custom apps and software, while providing guaranteed pricing and timelines. Many users found Builder.ai's drag-and-drop app builder easy to use and versatile. The large selection of popular app features makes it easier for people without a technical skills to bring their ideas to life.
Thunkable is a highly beginner-friendly platform that makes building an app accessible for anyone, allowing students to learn and apply programming in all-in-one environment. The platform provides an intuitive drag-and-drop interface that enables users to design and develop their mobile apps easily. Thunkable offers a wide range of pre-built components and supports integrations with many APIs.
Glide is a builder platform for creating useful data-driven web applications supported by a large choice of tools integrations, an active community of contributors and the regularity of new upgrades. AI integrations, API functionalities and databases integrations make Glide a powerful app builder.
✅ Top benefits of using an app builder
Here are some of key benefits of using an app creation software:
No Programming Knowledge Required: the main advantage of using an app building platform is you can make your own app, regardless of your programming skills. A good app builder makes the development process straightforward and seamlessly for users, operating through a drag and drop interface.
Cost-Effective Solution: when you use a mobile app maker to build your own app, the app development costs are way lower than hiring a professional development team or a mobile apps development agency.
Fast Speed To Market: With an app builder, you can get your app up and running at an accelerated pace, as the app development time is very short. However, this does not include the time it takes to publish the app to app stores, which depends on the submission process, including app store rules and policies.
Pre-Built Architecture: Another silver lining of using app making software is the availability of pre-built architecture that can help many users create their apps in no time. A ready-made architecture providing pre-built wireframes and design can be extremely helpful in making the development process more manageable. Moreover, themes and templates often follow the best User Experience criteria in terms of navigational elements and icons, helping users have a stellar experience while on your app. Unless you are creating something incredibly unique that requires advanced features and customization coding, the architecture can reduce the time to market and help you create apps with the best UI & UX standards.
Rapid prototyping: App builders make it easy to prototype your app, which means you can test out different ideas and features before you launch your app. This can help you avoid costly mistakes and ensure that your app is successful.
Customer Support: many app builder platforms offer extensive customer support that can help you before and after creating an app, including stores submission process.
Available Online, 24 hours a day, an app making software doesn't require any installation nor local technical resources
✅ Who should use an app builder ?
​
An app builder is for everyone.
At GoodBarber, we believe app maker platforms are designed for everyone who wishes to create a mobile app. However, you should definitely choose a no-code app builder when you are in one of these situations:
You have no technical knowledge
You are a solopreneur or a small startup
You wish to reduce development time and costs
You want to leverage the potential of an app maker to build your app, which would otherwise require an app development team
✅ How much does it cost an app builder in 2023
GoodBarber offers custom pricing solutions based on your business needs. Moreover, you can create and publish a free PWA which will stand available on-air for 30 days. Then, you'll have to choose your plan to keep it alive.
If you need an e-commerce mobile application, you can opt for a Standard plan (30€/month) which offers features such as one PWA, 30 themes, payment gateway integration and more. The Premium package (€55/month) provides all the features of the Standard, plus native Android and iOS app and 20 extensions included. The PRO plan (€105/month) contains all the features of Premium, plus unlimited apps and extensions. Similar payment structures are available for classic/content apps.
GoodBarber also offers great deals for app resellers .


Conclusions
App builders have significantly reduced the development time required to build functional apps. The speed and efficiency offered by app builders allows companies to quickly bring their ideas to market, enabling faster product iterations and a competitive advantage. Furthermore, the accessibility and ease-of-use provided by app builders have democratized app development. This trend has lowered the barriers to entry for entrepreneurs, small businesses and startups, allowing them to leverage app technology without deep technical skills or large budgets.
At GoodBarber, we are noticing an even better collaboration between developers and Citizen Developers : our app creation platform promotes interaction between professional developers and citizen developers, encouraging knowledge sharing, enhancing creativity and leveraging the strengths of both groups, resulting in innovative, feature-rich app designs.
App building software companies are now focusing on integrating APIs, customizing platforms, and developing complex features that become achievable with the latest advancements in AI technologies across the globe.
App builders developers become facilitators working alongside end-users and citizen developers to create scalable, robust platforms and deliver even more tailored business solutions to their customers.
With Goodbarber App Builder, you're sure to get the most out of the expertise of professional app developers and designers who have been there since the early days of app building technology and are now at the cutting edge of the latest advancements in mobile apps development.
Premium app design, features richness and ease of use make of GoodBarber the best app builder currently on the market.
Everyone can use it!

| | |
| --- | --- |
| Product Name: | GoodBarber App Builder |
| App Platforms: | iOS/Android/PWA |
| eCommerce: | Available |
| Complexity: | Very Low |
| Test for Free: | 30 days |
| Paid plans: | from $25/month |
| Start Your test | |
The Ultimate GoodBarber Guide
Discover how to create beautiful apps thanks to our eBook.