Long Live The App Maker Profession!
Written by GoodBarber Team on
Last week, TechCrunch published two interesting articles that taught us a thing or two.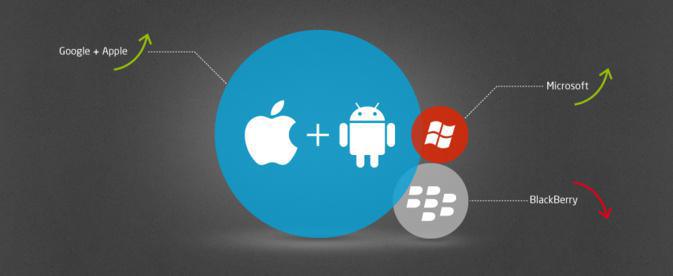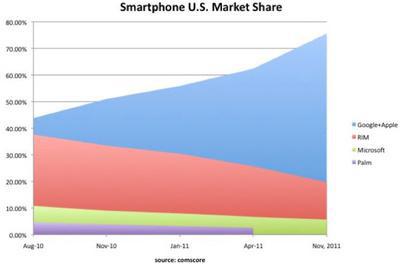 The first article is entitled
"

How Google And Apple Won The Smartphone Wars

"
. With graphic support; the article shows how in less than a year and a half, the combined market share of Google and Apple has literally crushed the market for smartphones. The BlackBerry in particular, a flagship device of the 2000s, has been completely overcome. According to the
author
, within 15 months, the market share including Google and Apple has risen from 43.8% (August 2010) to 75.6% (November 2011). Over the same period, the BlackBerry's market share dropped from 37.6% to 19.6%. Nevertheless, we should keep in mind that this is a rapidly growing market. Still, the sales remain significant even for a company like RIM while faced with such tough competition and a falling market share.
On the same day, in another article, TechCrunch spoke of the
1.2 million applications downloaded in stores between Christmas and New Year's Day
. Earlier in December, the rate of downloads was at around 750,000 per week. Around 7 million new iPhones and Android devices were activated on Christmas Day (data provided by
Flurry
). According to the
article's author
, a user downloads many applications shortly after receiving their new device. Later, their rate of downloads decreases and becomes steady based on new app discoveries.
These articles inspired two reflections.
We stand by the idea that native technology combined with the store's ecosystem is a true breakthrough in IT history. Downloading native applications from the store is popular with users. It is routine and is an integral part of the paradigm of mobile use. In this sense, interest from the major platforms Apple, Google, etc. seems to be aligned with the user interests. The debate between native versus mobile web (HTML5) is very present in the realm of IT. It's certainly interesting and deserves to be addressed, but in a positive way, from our point of view. We've already had the opportunity to discuss this debate in this
blog
. The technologies are far from opposing. Rather, they complement each other and will continue to recombine in the near future. For example, native technology will benefit from the flexibility of HTML5. We are convinced at GoodBarber that native technology has a lot of substance, driven by its suitability to the user both in terms of usage (interaction, functionality, ergonomics and speed) and in terms of marketing (one-stop-shopping in stores). Native apps will be the main way to get access to content.
Our other reflection that was inspired by TechCrunch concerns Microsoft. It appears that Microsoft's market share has declined over the analyzed period. Between August 2010 and November 2011, Microsoft's market share fell from 10.8% to 5.7%. But sales volumes have grown; and Microsoft really does take third place behind Android and WP7. At GoodBarber, we made a bet in 2010 that Microsoft would take third place for the mid-term future. Even if our idea isn't true quite yet, we believe that the shifting trend has already begun. TechCrunch's article doesn't address tablets. The market is still in its early stages, and is ultra-dominated by Apple. Apple is a pioneer and therefore has a huge market share. In this domain, Microsoft can grasp a prominent place.
2012 will probably be a pivotal year. Will a tri-platform market materialize?
Related Contents