How to choose an app builder?
Written by GoodBarber Team on
Mobile apps are the perfect option to retain and convert customers
by connecting and engaging with them
. When you want to
create a mobile app
there are several ways you can go about: there are some questions you should answer before starting to create an app with an
app builder
Do I really need an app?
It could be strange to hear that, but it is important to understand if
an app can help your business
. Don't build an app just to build one. Do it if you have a need to communicate with your users/customers/fans on their mobile devices. Build an app if you have great content you want to distribute on mobile devices. Most of all, build an app only if you plan on maintaining it!
I'm saying that because creating and maintaining an app can become very expensive. Upon this subject, just a few weeks ago, we wrote an article about "
How much it costs to create an app
". Read it to have a clear vision of app building expenses, and also of the difference between
working with an agency
or with an app builder.
Build or Buy?
Mobile apps are a fast-growing industry. The App Store and Google Play are believed to be the two largest stores, where users can choose from millions of apps: 1.5 million apps for iOS and 1.6 million apps for Android (
Statista
).
With these numbers in mind, it's up to you to decide if you want to hire a developer or an agency, learn to code yourself or choose an app builder. As you can imagine, learning to code doesn't come easy and takes time. So, unless you wish to add this skill to your resume, you might want to focus your attention on the second option.
Today I'm only going to discuss app builders and I will try to explain what elements you should be looking for when choosing yours.

With lots of choices, take the time to do some research. Do not overlook this step, you will make up for "lost" time thanks to the time these development tools save.
There are app builders for all sorts of requirements. Some platforms are even specialized in specific types of apps: choosing the one that meets your needs requires benchmarking between different app builders.

Follow these 10 criteria to choose an app builder:
Quality first
People tend to immediately think about pricing, but actually, quality comes first. If you want users to notice your app and keep coming back to it, don't neglect user experience and design.

To ensure high quality for your product, design matters but also, simplicity of use, seamless integration with social networks, multi-platform options, CMS and a set of engaging features to choose from. These are all elements your app builder should have to start with.

And now, let's take a closer look at each one of them.
Templates Design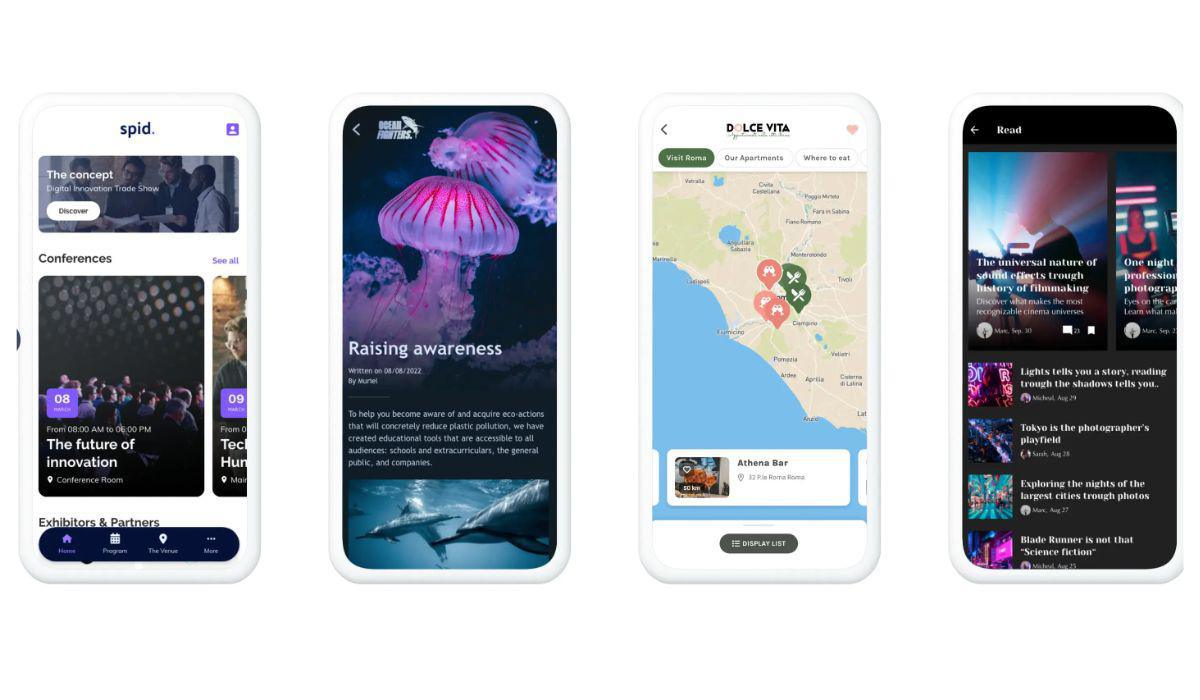 The world of apps is a creative and visual environment. So that your app doesn't go unnoticed, you need to find an app builder with an outstanding choice of templates, top notch design and above all, the possibility to customize as much as possible the appearance of your app. Your app should represent your style and the identity of your brand/website.

GoodBarber offers more than 50 beautiful inspirations, all 100% customizable. You can edit the templates, the navigation mode, colors, fonts, etc., for every section of your app, so as to choose the best design to make your content shine.
Simplicity of use
The platform should be easy to use and intuitive. App builders are an efficient DIY solution for people that don't have developing skills, so make sure the promise is kept and that you can navigate the interface smoothly. For instance, you should be able to
connect your content easily.
Think about the user experience too. Using the app must be easy not only for you but for users as well. The best way to know if the app builder provides a good user experience is to download one of their apps and play with it for a little while. Do you like how it looks, how it feels? If you don't, why would your users?
GoodBarber puts a strong focus on providing its subscribers with a back office that is as intuitive as possible
. If you would like to view and download some of the Beautiful Apps made with our platform, you can start by downloading the
GoodBarber News app
or visit our
Succes Stories
section
.
App Builder's CMS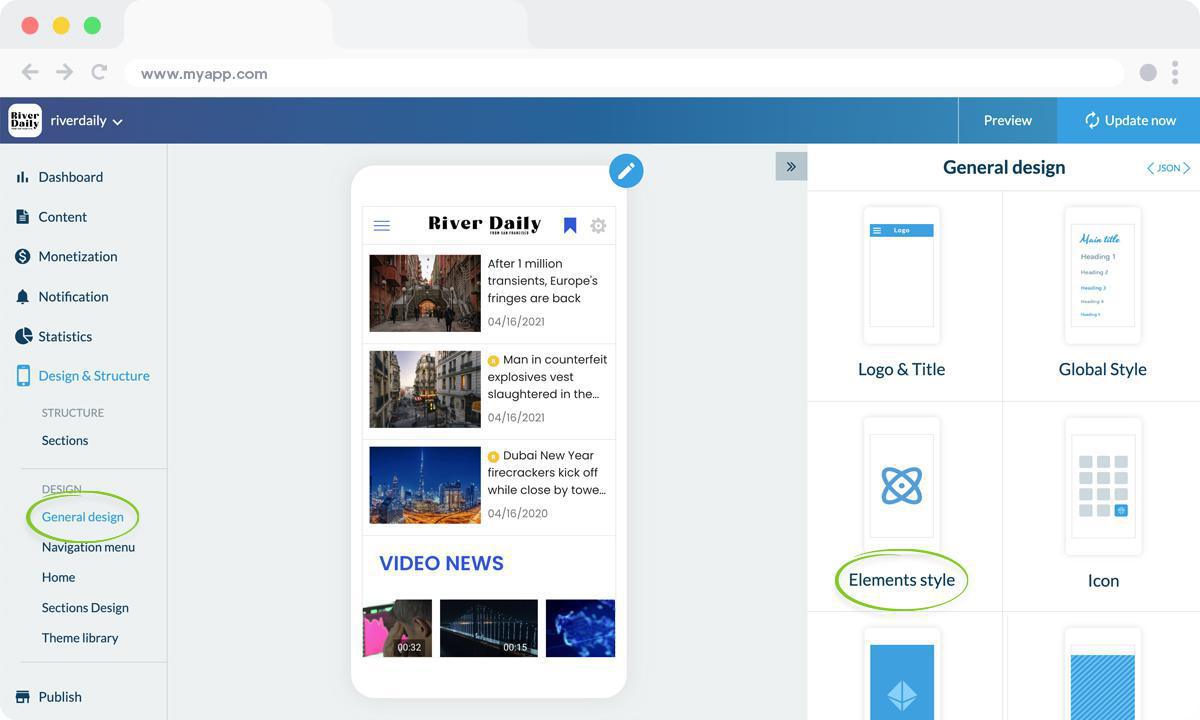 Do you have access to a Content Management System to update your content? A CMS makes a huge difference when it comes to managing content. If you don't have external sources to pull your content from, such as a blog or a website, make sure that your app builder provides a solution to create content directly from the back office, through an
internal CMS
. That being said, the more connectors your app builder provides on top of their CMS, the easier it will be for you to gather all your content inside your app, such as social networks integration.
GoodBarber boasts a powerful CMS.
With our built-in mCMS you can create articles, post videos, photos, advertise upcoming events, all directly from your back office. This is the perfect tool for those who don't have any third party solution to publish content, and want to create their own app from scratch, with an all-in-one solution. You can also use it to offer exclusive content, available only for the users of your app (by password protecting it, with our
Authentication Add-On
).
Sharing features
Spreading the word about your app is crucial. Your users should be able to share your content on social networks. It's important to give people the option to create a conversation around your app and its content. It creates brand awareness and ultimately,
more app downloads
. Look if you can add a section in which users can give feedback, submit content or recommend your app. The more viral options the better.
GoodBarber apps come with social sharing features
, a rating pop-up... What's more, you can add a "Submit" section to retrieve User Generated Content (text, videos and pictures). With UGC, users become contributors instead of only readers.
Push notifications
Push notifications are a pivotal element of your mobile communication strategy. These messages are the perfect way to reach out to your users directly and keep them informed about the latest news, updates, promotions, you name it! So the question is, how does your app builder handle them? Are there any limitations? Does it support
scheduled push
?
Can you manage your user base
and target notifications accordingly? Push notifications are a
good marketing channel, make sure you have the freedom to make the most of it.
GoodBarber lets you filter and target your users
by time zone, country, language, etc. You can also schedule push notifications, personalize ring tones and a lot more. With these options and detailed statistics, you can craft relevant messages and generate more conversions. We provide you will all the tools necessary to
make smarter notifications
.
Mobile app available platforms
It is important to start out with a clear vision of your end product. Do you want a progressive web app (PWA) or a
native app
? An app for iPhone (iOS) or Android, or maybe both?
Native apps are very advantageous because they can access the phone's capabilities, they deliver more fluidity, speed, interactivity, allow for a more refined design and an overall incomparable user experience. On the other hand, PWAs work on all devices and allow for more market penetration. The best is thus to have both if you can ;)
That being said, it is also better to have your app on both platforms, iPhone and Android. The best advantage of app builders is definitely that, with many of them, you create you app once, for a fraction of the price of custom development, and have it available for both OS.
GoodBarber provides you with the iOS, Android and PWA versions of your app.
You can use the progressive web app for a mobile version of your website, linking it to
your own domain
.
Analytics Tools
Tracking your app's analytics gives you valuable information, helps you
get to know your users
and their preferences. It's possible to identify which pages are most viewed by visitors, where the users are coming from, etc. This allows you to create different target groups based on location, demographic information, language, device used, etc. With this information, you can offer better content, target push notifications... Choosing an app builder that provides such data, with a built-in tool or the option to connect external services is key when it comes to monetization and cost efficiency.
With GoodBarber, analytics are directly available in your back office.
Our analytics will tell you who your users are. You can also plug external analytics services, like
Google Analytics
and Flurry.
Monetization features
At last, check if you have the opportunity to monetize your app. It is not fair to build an app and not have the opportunity to make earnings off of it. For instance, having the option to handle the submission to the stores, lets you choose to make a free or paid app, at the price of your choice.
Besides, some app builders offer the opportunity to enable advertising inside the app, with external ad network or internal servers, to circulate your own campaigns.
Just check if the app builder takes a percentage off the revenue generated by your app.
GoodBarber integrates the SDKs of AdMob, Facebook, AdManager, AdSense and more.
You can use also our internal ad server to
display your own ads
, splash screens and banners. The revenue is yours 100%. You also publish your app to the stores with your own developer accounts.
Cost efficiency
Now it's time to talk about pricing. But watch out, even then you shouldn't look at numbers blindly. It's easy to fall for low prices, but pay attention to possible hidden additional costs. That's why, if it's possible, it's always best to try the service
before completing your purchase or subscription
. If a free trial period is offered, take the opportunity! Test every feature and check all the points mentioned above.
App builders can publish your app under their company's name or let you publish it in your name. Some offer different types of plans, monthly or yearly. Some also offer free plans, but be careful because, usually, with this type of pricing strategy, features are very limited and mandatory ads can be displayed inside your app.
One more thing, if the great advantage of app builders is that you do not need a team of experts to make your app evolve in time, make sure that you can modify your app after its initial submission, without having to pay for each submitted update.
GoodBarber offers 3 simple plans for each platform (Classic and Shopping): STANDARD, FULL and PREMIUM
, with monthly or yearly subscriptions. Apps are always published under your name
.
Beautiful Apps made with GoodBarber are also free of ads, it's your choice to enable some or not, with an external ad network or using the internal GoodBarber ad server. Our free trial period lasts 30 days. You can create your app, and start to pay only when you are ready to publish it.
Is your app builder doing everything for you?
You shouldn't experience a lot of setbacks, after all, these tools are designed to be simple, for beginners. But, technology can be unpredictable. Moreover, more often than not, app builders rely on external sources to pull content, such as blog platforms, social networks, music programs, and so on... A lot of parameters are at play. In any case, your app builder should provide you with a guide, like an online help to walk you through the set up of your app, and direct support, to address more specific issues.
If an app builder wants to offer a complete service, it most likely also has a blog. If you are
creating an app for the first time
, chances are you will also want to learn about the potentiality of using an app, beyond its creation. Blogs of app builders should help their clients (with features' tutorials for example), but also serve as a resource for a larger audience, with general advice such how to market your app, monetize it, engage users, etc.
The GoodBarber team is here to answer all your questions and in several languages (English, French, Spanish, Italian, Portuguese and Turkish).
In the back office the initial steps are clearly identified, plus, you can find a detailed online help to assist you with the set up of all the sections and features. You can also follow the GoodBarber blog, on desktop or mobile (download the GoodBarber News App → on the
App Store
or
Google Play
), and keep up with our updates on
Facebook
,
Twitter
,
Google +
,
Linkedin
,
Pinterest
and
Instagram
.
You are now ready to jump in the app builder world, and find your sidekick!
The time has come to create your Beautiful App! :)
PS: if you have some difficulty understanding app creation terminology, we've got you covered with our dictionaries, a very useful addition to our starter guide ;) :

Related Contents