A versatile builder
We've designed GoodBarber to let you create the app you need, without constraints.
Content app or eCommerce app
GoodBarber lets you create apps to deliver all kinds of content: editorial, community or loyalty features. If you're a retailer, you can also easily create your own online store, and sell your products across all channels (Apple Store, Google Play and Web). Enhance your products with a professional-quality app and maximize your profits.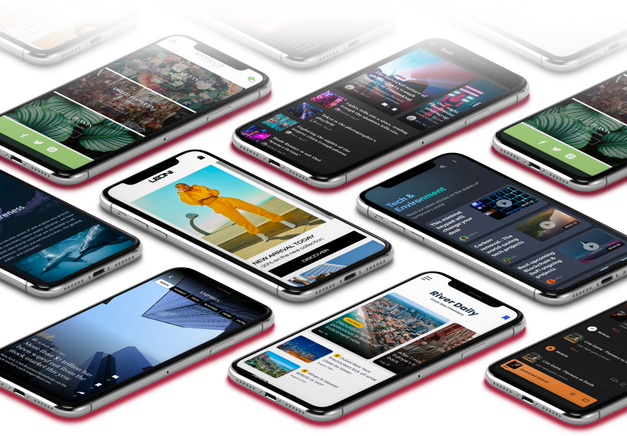 Extensions Store
Over 160 advanced features can be added to your back office from the Extensions store. Select the business features you need and organize your workspace as you see fit.
The best look for your app
Create a beautiful design for your app with the best no-code app builder on the market
A professional tool
You can manage the overall style of your application from a single menu: color theme, typography, action buttons, hover effects, and additional elements. Set your design settings and apply them to your entire application, with just one click.

The diversity of templates, options, and customization possibilities lets you create an app tailored to your intended use. Hundreds of options are available to help you create your perfect app: display images in the background, customize margins, add hover effects to texts and photos... The sky's the limit. The GoodBarber back office includes a change log, so you can view the history of changes made to your project. Updates to the design of your project do not require you to recompile your application. Once validated, they are automatically taken into account and visible to your users, with no further action required.
In pictures and in color
Store images in your personal library for easy access and future use. Thanks to the image editor integrated into the GoodBarber back office, you can add a monochrome, blur or zoom effect to any of your images. You can also easily integrate color gradients into the design of your app by choosing from a comprehensive library (connected to the service https://uigradients.com). Once chosen, the gradient is automatically generated and applied to your app's design.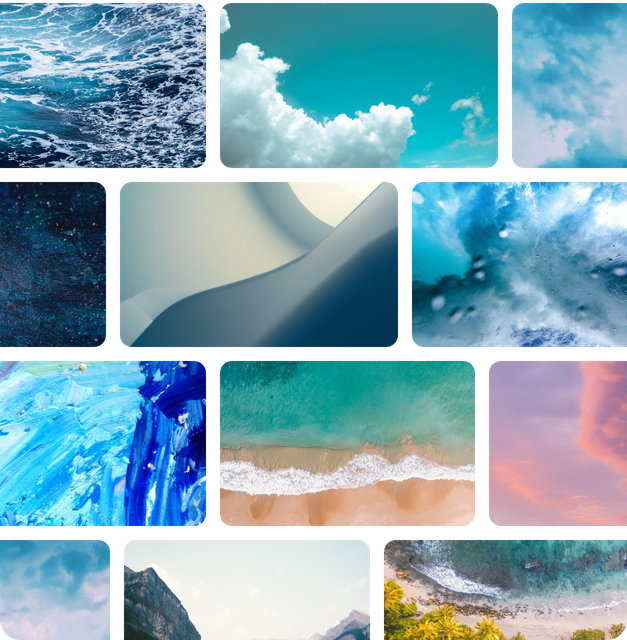 Our priority is to put the user experience at the heart of the design process. GoodBarber is the first app builder to respond to a Design System, offering a set of harmonious construction rules that apply by default to every page of your app.

Thanks to our Design System, you can guarantee a fluid, optimal user experience and maintain visual consistency across all your app's pages. This means that every element, every button and every interaction is carefully designed to deliver a seamless, intuitive experience for your users. You no longer need to worry about design details, as our system guides you through the entire process.
Good font and color management

Clear hierarchy

Good space management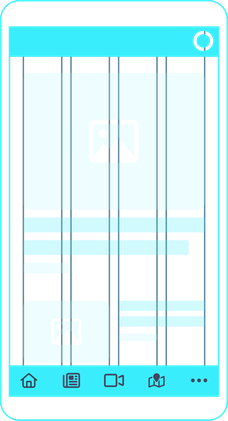 The Header
The header or NavBar is a strategic place in your app. So you have total control over its design and features. Choose from 3 header zone heights (Small, Medium, Large) to display your logo, title, or description. The NavBar can host up to 6 links used as shortcuts to key sections of your app or external resources. The design of each shortcut is customizable. Access a library of over 1,000 vector icons, add your own icons, and customize your link labels. Apply transparency, blur, or disappearance effects to the header. These discreet effects raise your app's level of finish and give you an edge over the competition. The application of these effects is automatically managed by GoodBarber according to the device and OS on which the app is consulted. A specific header and associated NavBar can be set for each section of your app.
The home
The Home section is the first section of your app, made up of widgets and fully modular. Thanks to the wide variety of widgets available, the Home section will enable you to structure your project and make it an app unlike any other. You can choose to enable or disable the Home section of your app. If you deactivate it, navigation will be exclusively through the navigation mode you've chosen. You can choose from 77 widgets (content, navigation, eCommerce, promotional, semi-dynamic...) to organize your app's home. The number of elements displayed by a widget is configurable for each widget, to guarantee maximum flexibility. You can also manage the order in which items are displayed in your content widgets: by date, by popularity, alphabetically, randomly, etc.
Menu & secondary navigation
GoodBarber offers a Menu section that lets you add an extra level of navigation to your app. Choose your own from 10 templates where each menu entry is a high-resolution image, so you get a perfect design whatever the size of the screen displaying your app. Apply gradient and blur effects to images. Adjust the position of texts and the choice of logos for your menu entries. Depending on the number of entries in your menu, GoodBarber will automatically arrange them so that the layout is always harmonious.
Sections
GoodBarber offers you 30 types of sections that you can use to build your project. For each section, choose the information to be displayed, such as date and author for an Article section. Choose the actions that will be available in the toolbar: comments, shares, text size, item bookmarking...Allow your users to access the comments page from each content item. Add direct sharing links on social networks to each content page. Intuitive gestures allow users to display additional content, on demand, when viewing a section. This speeds up display speeds and enhances the user experience.
Design resources
A collection of over 8,600 icons, specially created by our design teams and divided into 3 different sets, is available in the back office. Create your own icon collection by uploading your icons or images directly to your back office in .png format, size 260px x 260px. GoodBarber offers a set of over 400 Google Fonts, which can be used directly from the back office without the need to add embed codes. GoodBarber customers can access the Pexels photo library integrated into the back office. Over 500,000 high-resolution images. This library features an advanced search engine, allowing images to be sorted by theme, keyword, or color.
The best back office on the market
Benefit from the most sophisticated management interface on the market. The intuitive GoodBarber back office lets you build a project using the most advanced technologies, without any programming knowledge. As a creation, management and analysis tool, it's the key to your project's success.
Accessible to all
The GoodBarber back office is available in 10 languages: French, English, Italian, Spanish, Catalan, Portuguese, Turkish, Japanese, Arabic and German. All translations are carried out by native speakers. It features a Creation Wizard to guide you through the key stages of creating your application. When you first log on to your back office, an explanation screen reviews the main back office functions, making it easy to get started.
A collaborative space
Give access to the back office of your application to an unlimited number of contributors. Owner, administrator or user, choose the status of each member of your team and precisely select the menus and content to which each will have access. Each contributor can configure the language of their back office, the default date format, their time zone, as well as edit their personal information or their password at any time. Consult the history of connections to the back office of your project for each of your collaborators.
A creative area
The instant preview module present in your back office provides you with visual feedback on each of the changes made to your project. It allows you to control the rendering of your modifications on all types of screens: smartphones, tablets, laptops and desktops. The toolbar used to configure your project is built dynamically according to the operations you are performing. It will always provide you with the right tool at the right time. Filter your sections by type or search for them by name from the search engine in the context toolbar. At each stage of setting up your project, icons, titles and meaningful visual effects allow you to easily understand the results of your actions. GoodBarber offers an option to duplicate a project, including its sections, content, all of its data and design.
Language and text management
GoodBarber apps are available in more than 30 languages ​​including English, French, Italian, Portuguese, Turkish, Finnish and Japanese. From a dedicated interface, it is possible to modify all the generic texts of your application. Use the search engine to identify the text to personalize. An explanatory text tells you in what context they are used. In the case of a large number of modifications, the tool for exporting and importing text variables in .csv format allows simplified modification management. The text management interface is equipped with a search engine and the text variables are classified there according to the sections of the application in which they appear in order to allow you to find them more easily.
My GoodBarber
The My GoodBarber app allows you to test the native version of your project in real time, before it is published on the stores. You can send push notifications to your users at any time, directly from the My GoodBarber app. My GoodBarber allows you to communicate with our technical support teams and keep an eye on your performance thanks to direct access to your app's usage statistics. It allows you to easily manage multiple user accounts.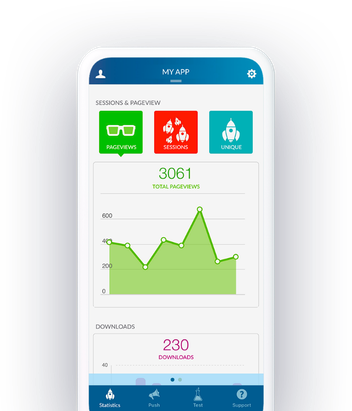 Create eCommerce apps for your stores
Take advantage of all the power of GoodBarber apps to create your online store. This is the new generation of eCommerce totally dedicated to mobile.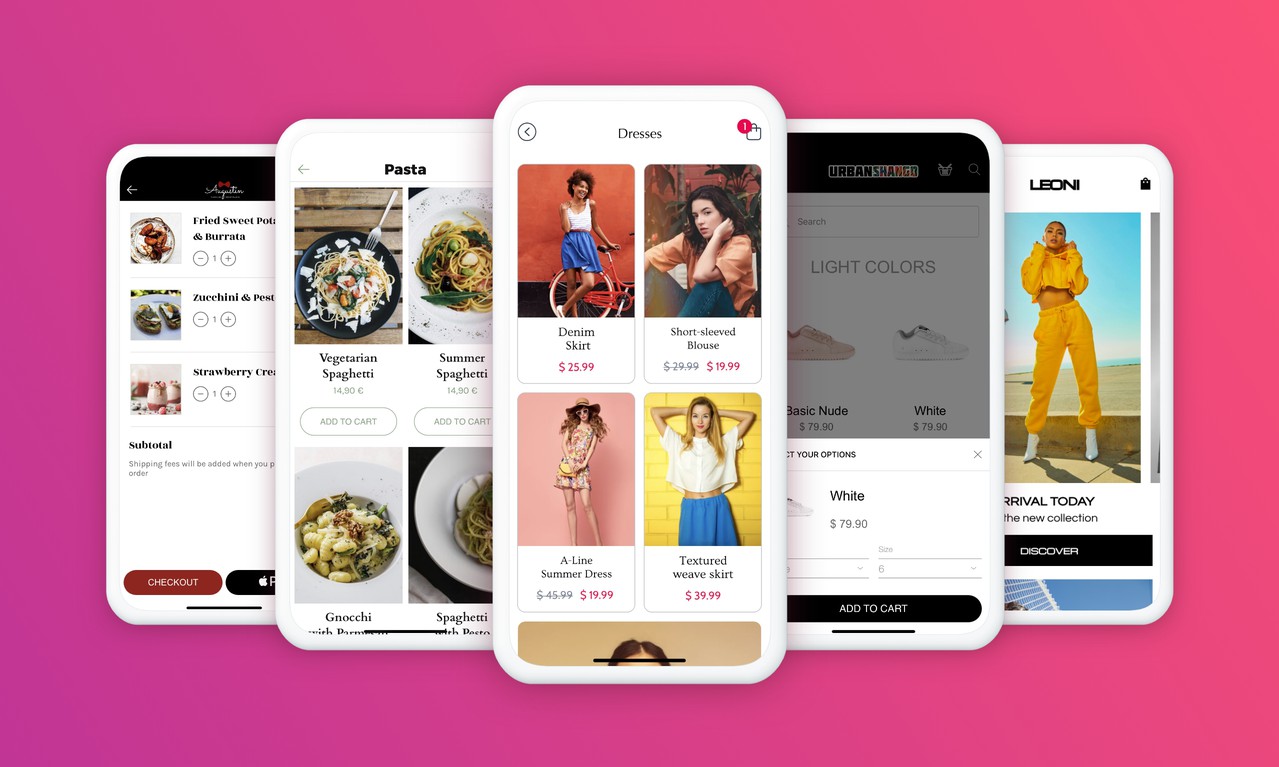 An all-in-one solution
Available in native apps (iOS and/or Android) and PWA, eCommerce apps address all target customers and leads. Native apps bring the best of technology to your loyal customers. PWAs and their adaptive format make it possible to be present on all types of screens (smartphone, tablets, desktop). The native apps are referenced under the Apple and Google Stores (AppStore, PlayStore). PWAs are accessible via URLs that can be referenced like a classic website. You benefit from exceptional visibility on all sales channels.
An impeccable product catalog
Your catalog can contain 10 products or several hundred. You can manage everything at the click of a button: variants (size, color, material, etc.), stocks with automatic decreasing, images and descriptions, prices (base price, sale price), product references. And collections offer an intuitive way of grouping and presenting your products. Track and follow-up with your customers directly from your app's back office. Visually, center your product images exactly where you want them. A simple drag and your image is centered. The operation is carried out directly on the product page. Product thumbnails are created automatically from your default image. You can modify this choice simply by selecting another illustration and declaring it as the source for the thumbnail. You can quickly create variations of each of your products. Size, colors, materials or any other variation. Each variation has its own characteristics (images, reference, stock, price). You can create up to 100 variations per product. Each product variation has a corresponding selling price. This is the selling price displayed in the store. You can also define a crossed-out price to be used as a reference price.
Stock management tools
Manage your stock via your admin interface. For each product and variant, you specify the starting stock. When a sale is made, the stock is reduced by the quantities sold. You can also leave this field blank, in which case the quantities available for sale are unlimited. At the bottom of each product page, you can display similar products to suggest other purchases or alternatives to the product you're looking at. You can maintain the display of out-of-stock products in your catalog by adding an "Out-of-stock" label. This option ensures that your customers always have access to your complete catalog, even if a product is temporarily out of stock.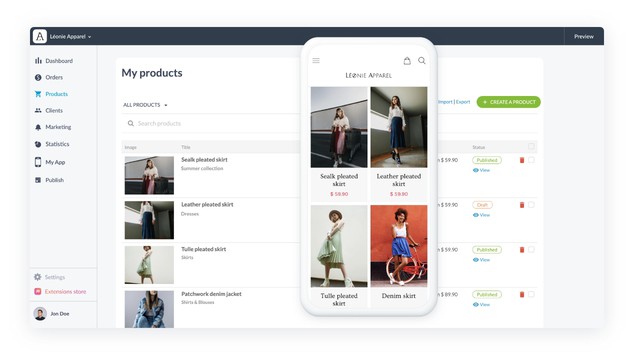 Options for maximizing sales
By using a PWA, all your products can be referenced by search engines. Each product has a title tag and a meta-description tag. You can also customize the product url (slug).

From the back office, you can offer discounts to your customers by choosing an amount or percentage, their scope of application, their validity date and their usage limit. See at a glance the list of discounts you've created, whatever their status: past, current or future. The list also includes the number of discounts used, useful for calculating your campaign's conversion rate.

The back office also lets you send notifications to your users manually, so you can communicate with your customers and leads on an ad hoc basis, targeting them by name or in batches to create an ever more personalized communication strategy.
An up-to-date ordering process
GoodBarber offers several options to facilitate the ordering process. Thanks to auto login , your customers are automatically authenticated after the first connection. They are recognized as soon as the app is launched. This is a powerful argument in favor of a faster purchase on your store. With auto-login, the shopping cart becomes permanent: your customer can add products to the cart, leave the app and come back to continue ordering later. They'll find the same items in their shopping cart and can finalize their order. Just like on Amazon. You can set the order process to resemble your eCommerce. You can choose to make the creation of an account mandatory for all orders or, on the contrary, authorize purchases without creating an account. You can test, compare and modify your settings at any time.
From order to delivery
The GoodBarber back office is designed to support your sales from A to Z. Once an order has been validated by your customers, its status change is just a click away. Just click on the order's current status. The other possible statuses appear. Choose the new status and you're done. Modifying an order status generates an automatic e-mail to your customer. This keeps them informed at all times of the progress of their order. If they tell you they haven't received anything, simply look at the order's event history. An action button lets you resend the notification without having to re-enter it.

A notes area is available in your interface. Add any preparation instructions and/or remarks. These are visible only to your teams and not to the customer.

Choose the geographical zones you wish to serve. For each zone, you can create the appropriate carriers. Deliver locally, to specific countries or worldwide: everything is planned and can be set in just a few clicks. For each delivery zone, you determine the carriers used and their delivery times. In this way, you offer a genuine value-added service that customers can choose to activate when placing their order. Free deliveries are very popular with customers and trigger purchases. Set the conditions for triggering free deliveries (maximum weight, minimum basket value, chosen carrier) to limit costs while satisfying your customers.

Configure your store's opening hours, click-and-collect, delivery and closing times. You can even define the number of time slots available per day, and the minimum time between an order and the first available slot, to leave you enough time for preparation. When your customers choose local delivery or in-store collection, they can choose from the available time slots.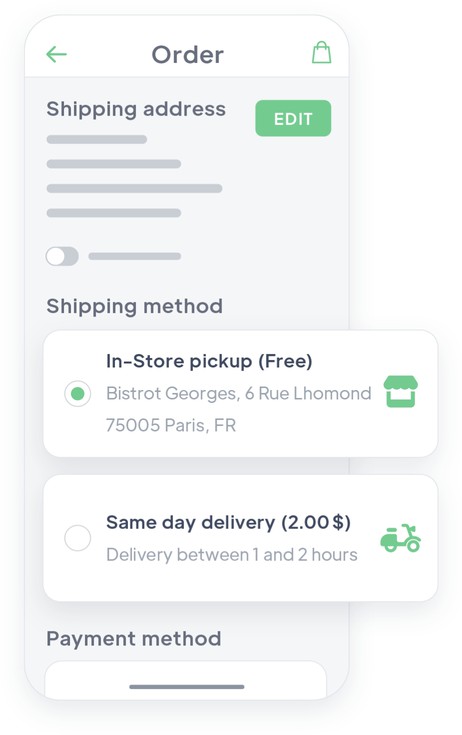 A relationship based on trust
By choosing GoodBarber for your project, you're building a lasting partnership.
You are the owner of your app
GoodBarber is the technology that lets you create, organize and distribute your content to your audience: images, logos, videos, audio files, text, and any other content. You are the sole owner and will remain so. You are the sole owner of your project, and GoodBarber is only the tool that enables you to realize it. There is no reference to GoodBarber in your app. The content produced from GoodBarber is yours. If you wish to change technology and continue your project elsewhere, we can provide you with an export of your data.
No funny business
GoodBarber does not and will never display ads for its account in your app. When ads are shown, they are set by you to generate your own revenue. GoodBarber takes no commission on your sales. All profits generated by your store are yours, whatever the amount. It's easy to change your subscription, whether you opt for monthly or annual billing, or upgrade your offer.