An app: the best way to present your event
Discover a multitude of formats to present your concept, your events, or the amenities around you
Whether you run a venue or organize temporary events, presenting yourself is crucial to attracting an audience to your events. Choosing an app is to offer you the possibility to tell more about yourself, in the form of articles, photos, videos or even sounds! Use our CMS to create the content you need to introduce yourself, the people involved in your events, the amenities around you, or talk about your past events. Your future visitors will be more inclined to attend your future events if they know a little more about you, your approach and your values. For even greater fluidity, integrate an app Walkthrough and ensure perfect immersion from the moment users open your application. Customize the steps and guide them through your app. Rest assured they won't miss a thing!
Present your program clearly and facilitate the attendance
Offer your visitors all the best features to view your events and get to them
A clear event list
Thanks to the Calendar section, you can present your program as clearly as possible. Your events are sorted by date and several options are available to best fit your schedule: The Calendar section design allows you to display several events on the same day, and display of events happening on the same day with a mention of Now or the starting time for example. Thanks to these features you can manage events that take place on several days or on a single day.
Several event presentation templates
You can choose from 3 templates for the detail view of your events. You can of course add more or less long descriptions, photos, videos or even embed code to describe and promote each event in your program.
Event geolocation
It is essential that your audience can easily find their way to your shows, conferences or other workshops. That's why each event can be geolocated. Your users can see the location of each session, which can be particularly useful for a festival or a trade show that takes place in huge venues or in different locations. The list of geolocated events can also be displayed on a map to give a global view to your audience.
Itineraries and ticket sales
On your event details page, you can add a buy ticket button that will redirect your users to your ticketing service. Contact buttons and directions to your event are also available to your users. Everything they need to get to your event is on this page.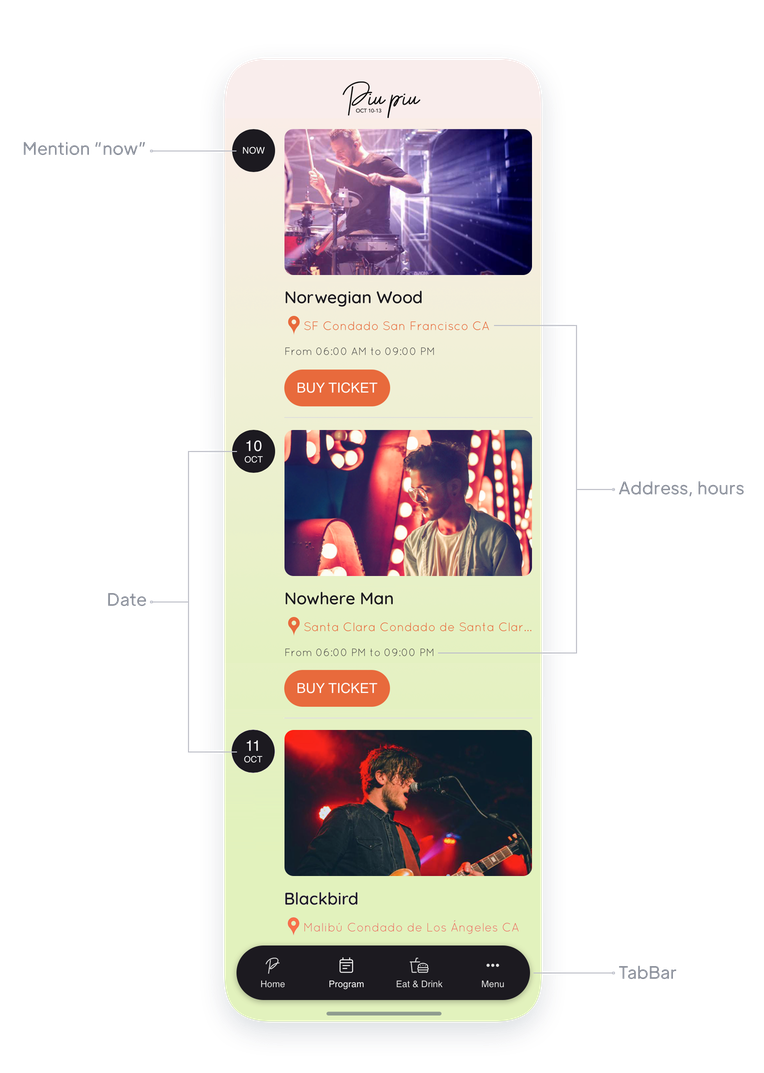 Bring life to your event
Encourage interaction and create a buzz around your event
List and categorize your users
Display in your app the list of your attendees, your speakers, your artists, your exhibitors... No matter what kind of events you organize, allowing your attendees to create a profile and view the profiles of others will only increase the engagement around your event. User groups will allow you to clarify your user list and provide specific content and communication for each type of user.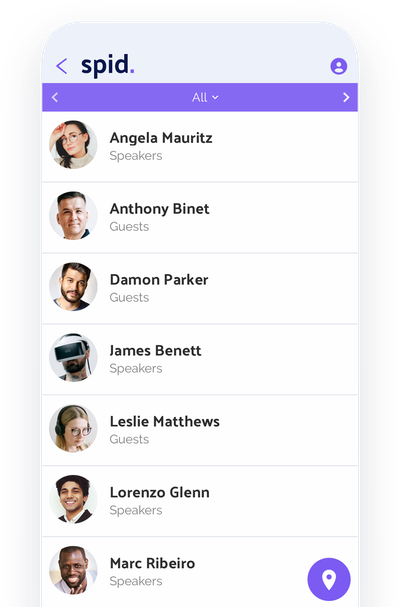 Chat
What better way to encourage interaction than with a chat tool? In the context of a trade show or conference, chat is particularly useful to encourage networking and allow your audience to get the most out of your event.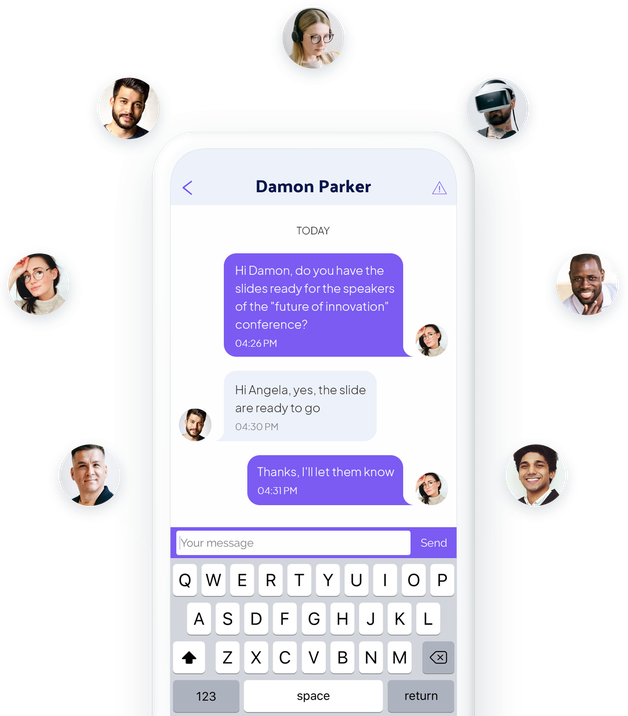 Broadcast your event live in your app
Live features to go beyond the physical and reach a maximum number of people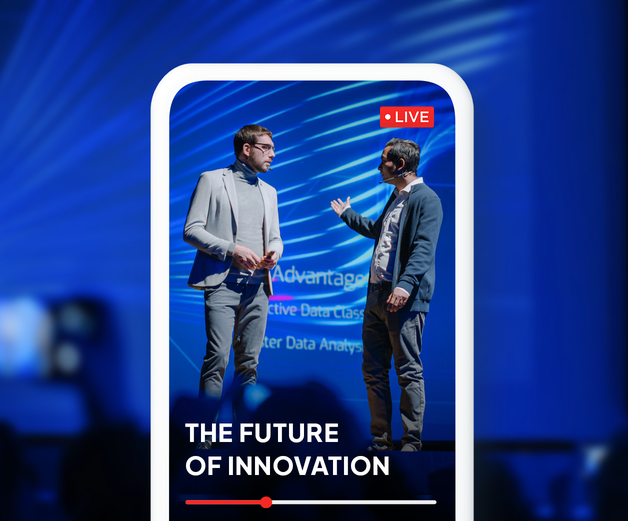 Stream your event live on your app as video or audio with our advanced features. Offer your audience to follow your conferences, concerts, performances, game sessions... directly on their mobile from a great player. You can use the scheduling feature to give access to your live sessions only at the right time. The rest of the time, you can promote your upcoming live sessions.
Create your own ads
Use them to promote your partners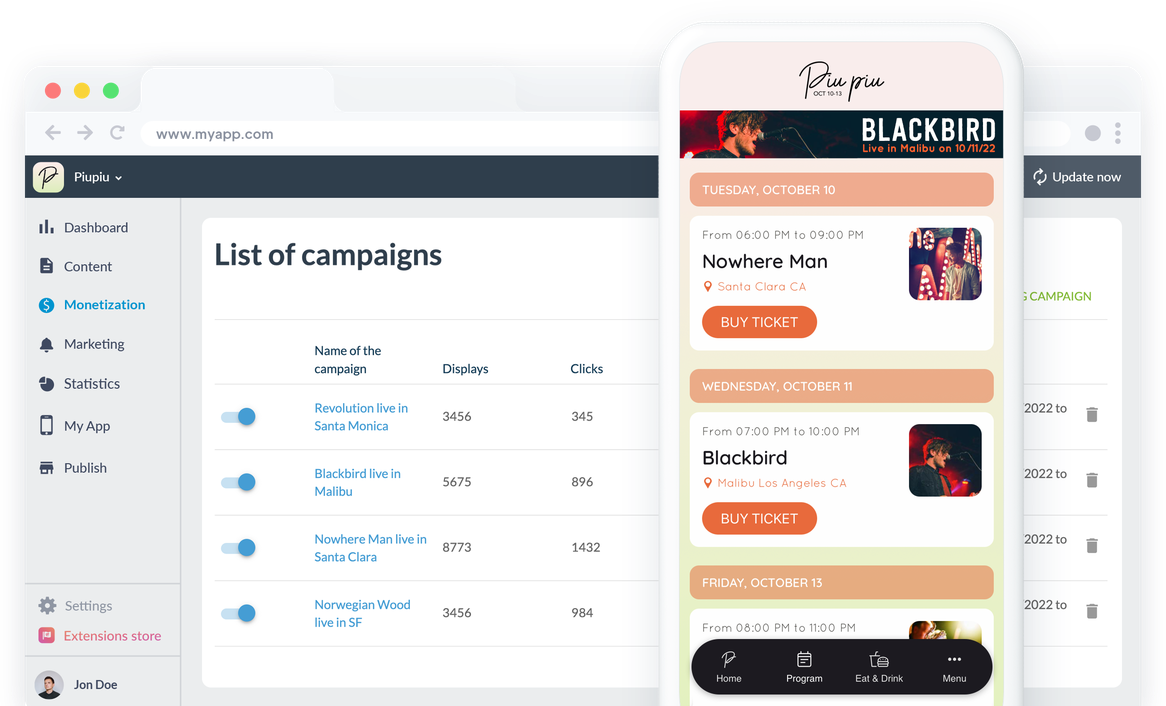 Integrate an internal ad network into your app to create your own personalized ads. Launch screens or banners, use the advertising spaces of your app to highlight your partners who sponsor your event. GoodBarber's internal ad network allows you to create customized campaigns according to several criteria: show dates, priorities, number of clicks, platforms, etc. In addition to being a major negotiation element with your partners and sponsors, the ads can be used to promote your upcoming events (next concerts in your venue, next conference in your trade show for example).
Manage the hazards of going live
Be responsive in all circumstances and keep your audience engaged
Push notifications
Push notifications are your best ally to communicate instantly with your audience. Use notifications to inform your audience of possible changes or to promote your events. Depending on your needs, you can target the recipients of your notifications according to your audience's behavior (frequency of use of your app, new users), or even their geographical location, which can be particularly useful if you only want to contact your users on site.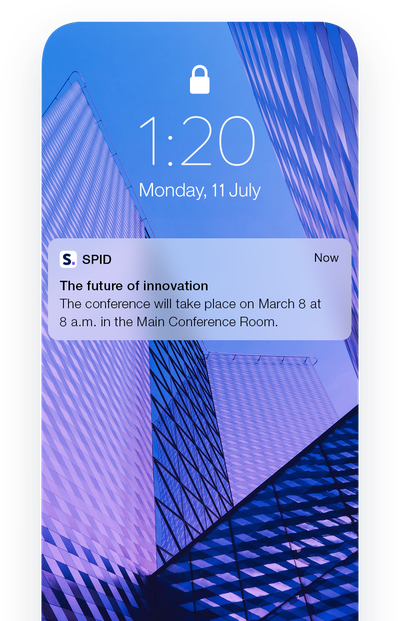 Instant content update
A change in your program? No worries, your app content can be created or updated in a few clicks from your GoodBarber back office. Once you publish your changes or new content, it will be instantly displayed in your app.
Submission Section
If you want to give your audience the opportunity to interact with you, you should add a Submission section to your app. It will allow your audience to send you different types of content: photos, videos and texts. In one click their message is sent, which can be useful in many situations! This user-generated content will not be automatically published in the app, you will have to publish it manually from the backoffice, so you can keep an eye on the content sent and decide what you want to display or not in your app. Discover this extension and its main features.
Stay in touch with your audience
Benefit from your event after it closes
Make the most of the attendee list
During your event, your visitors have created their user profile and filled in the information you asked them for. Once your event is over, think about exporting your user list (available in .csv format) in order to use it: offer discount coupons for your next events, targeted communication around specific interests. The user list allows you to create a database around your audience that can be very relevant: you decide what information you will ask your audience when creating their profile, and therefore the information present in the export of the user list.
Collect feedback
Your app can also be a great way to collect feedback from your participants in order to improve and make your events even more attractive. Use 100% customizable forms to collect this valuable information: 16 types of fields are available to meet all your needs. Once your forms are distributed and your answers collected, you can export them in .csv format to process them in bulk. A representative survey of your audience is the best way to improve.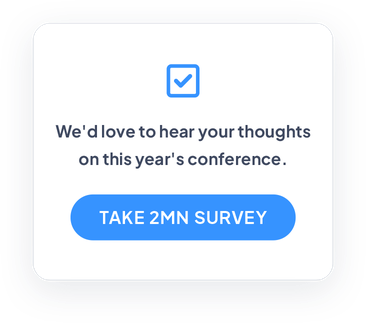 Share your memories of the event
To keep your event engaged and make your audience want to come back, or talk about it, use our CMS sections to publish your event recap or memories. Photos, videos, articles or even podcasts, choose the formats that suit you best.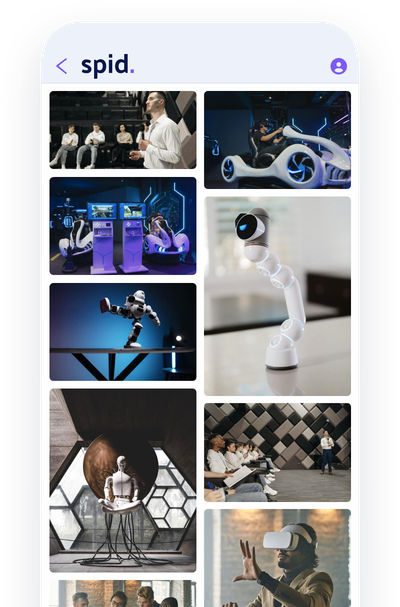 Extensions Store
Extensions that might interest you
Time zones
Your users' time zones are respected: events are displayed on your app according to the time zone of the user who views them.
Date display format
You can choose the format of the dates displayed on your events to best suit the habits of your audience.
Grouping of events by date
The Calendar section has been designed to allow you to display events that last a whole day as well as several events on a single day.
Categorization of events
You can create categories in your calendar sections to classify your events and make navigation easier for your users.
Contact
Add a Contact section to your app and add all your contact information. Your users will know how to reach you in one click.
About
Tell more about yourself and your your concept with the About section. You can structure the content of this page thanks to different styles of blocks (text, photos, videos, quotes).
Favorites
Your users will be able to create their own personalized program through the Favorites section. They will be able to save all the events that interest them and view them easily .
Why is an app useful for events?
Hybrid events: the new trend
Since the pandemic, event organizers have had to reinvent themselves. If 100% digital events don't meet all needs, a hybrid half-digital, half-physical event seems to be the perfect solution today. It combines the warmth and authenticity of a physical event with the ease of organization, the possibility of detailed analysis and the global reach of a digital event. An app is definitely the best way to communicate with your audience on site and remotely.
A versatile and affordable communication tool
With an app, you meet all your needs in terms of communication. For event organizers, the app will be useful before the event to inform, during the event to animate and after the event to retain and analyze the audience. For cinemas or theaters, your app will be used to share your show times, but also as a ticket office or a loyalty card. You save time, money and resources.
The best solution to encourage interaction between the participants
Whether it's for entertainment or business events, it's crucial to create a buzz around your events in order to engage participants and build loyalty, even turn them into ambassadors. And what better way to encourage networking than with social features? With an app, your participants will be able to view each other's profiles, locate each other and even chat via a chat service. Your app can be used to connect with people while your events are taking place, but also to create a community beyond your events.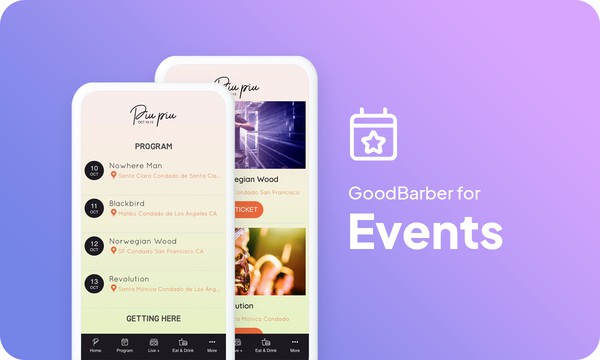 Discover how to create an app for an event in 4 easy steps
You are in charge of hosting an event, running a festival? Have you thought about creating a mobile app to promote it?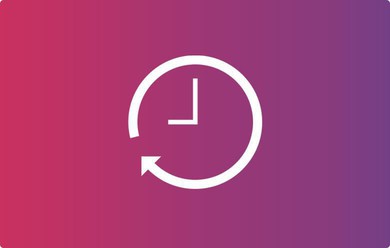 In the list view of your Calendar, it is possible to display the start time of your events. This is particularly useful for events such as conferences or festivals, where there are usually several events on the same day.
How to create an Event app easily?
GoodBarber Event App Builder allows you to build a mobile app for Event planning and management in a very easy way.
It can be a content app to share event schedules, locations, events stories and videos through Social Media and promote your upcoming events, event planning services and companies.
How to create your event app in 4 steps:
Choose the visual identity of your event app

Centralize all your event information on your app

Add content to your app to promote your event

Test your event app before publishing it!
Who are Event management apps for?
Event Apps are generally used by:
performance halls /Concert halls
conference/convention hall centers
shows/conferences organizations and managers
traveling shows and exhibitions organizers
What are the solutions and advantages to create an Event app using GoodBarber App Builder?
An app is a multi-faceted tool that allows to inform your customers and event attendees before, during and after the event
Display Event program and schedule shaped as an agenda planner
Use push notifications, geofences, beacons, QR codes to establish communication strategies during the event and keep your attendees updated.
After the event, you can broadcast reports and event highlights using pictures, articles and videos
Manage app users: create user groups and content access rules
Export / import of users listings
Manage private/public content
Our Event apps allow instant content updates
Ensure your presence on both the Web and the App stores with a unique app
Favorite Events bookmarking
List of speakers, participants
Live Chat
Upcoming events notifications
Advertising management
Live video / Live audio sections for events live coverage
Map section to indicate best directions to event venues
How much does it cost to make an Event planning app?
You can start running your Event app for free with our 30 day free trial.
Then it is up to you to subscribe to the plan that best fits your needs: the basic plan to make your Event app starts at $30/Month.
Note that additional costs apply to publish iOS apps on the App Store.
How to monetize my Event app?
There are many strategies out there to make money with an Event App:
Premium content: sell your best pictures and video highlights within subscription plans, using the In-App Purchase feature.
Monetize your Event app with Advertising features. We recommend 2 strategies:

Generic Large Audience: monetize your Event app with third party advertising services: activate Third Party ADs Networks (Facebook, Google Admob, Ads Manager, Google AdSense) to display Ads and get paid
Qualified Small audience: activate GoodBarber Internal Ad Server: The internal ad server is the simplest way to promote your Event mobile application and display tailored, customized splash screens and ad banners. You also will be able to select one or more platforms for distributing your campaigns: iOS and/or Android.

Sell your Event app on the Stores for a fee.
How can I customize my app design and Event planning app User Experience (UX)?
With over 200 layout options, an impressive theme collection and modular design, you can create a unique app reflecting your Event app branding.

There are many options and levels of customization. You can choose different "Global Styles" to customize the app all in all or may just customize a given section.

Our Event app builder offers 9 templates for listing pages and 4 templates for content pages.

You will be able to customize headers, fonts, background colors and navigation menus as well.

Furthermore, you will be able to enrich your Event planning experience using audio, video, articles and live video streaming for your audience during courses and conferences.
Would my Event app be available in all countries?
Yes, it can be available in all countries. You will decide about Geo-distribution, selecting those countries where the app will be available in the app stores, before publication on Apple's App Store and Google Play Store.
Do you provide any Support and After-Sales Assistance for Event sharing apps?
Yes, indeed! GoodBarber Support and Assistance program provides for:
Free support
Unlimited Number of support tickets
App Lifetime support
Support in 5 languages
4 offices in 3 countries
3 time zones support
Who is the Developer of my Event management app?
You are required to purchase your own Developer account from Apple and Google. Therefore, you are the developer of your app. GoodBarber is simply the tool to create it.
Can I sell my Event app to another developer?
Yes, you can sell your Event app. To do this, you need to transfer the ownership of your app to the new owner, on each app store.

In addition, you must transfer the ownership of the GoodBarber back-office to the new owner. To do this, you will need to contact the Goodbarber support team.
Start for free
Starting at $30/month
30-day free trial. No credit card required