How to create an app for an event
Written by Angelina Casanova on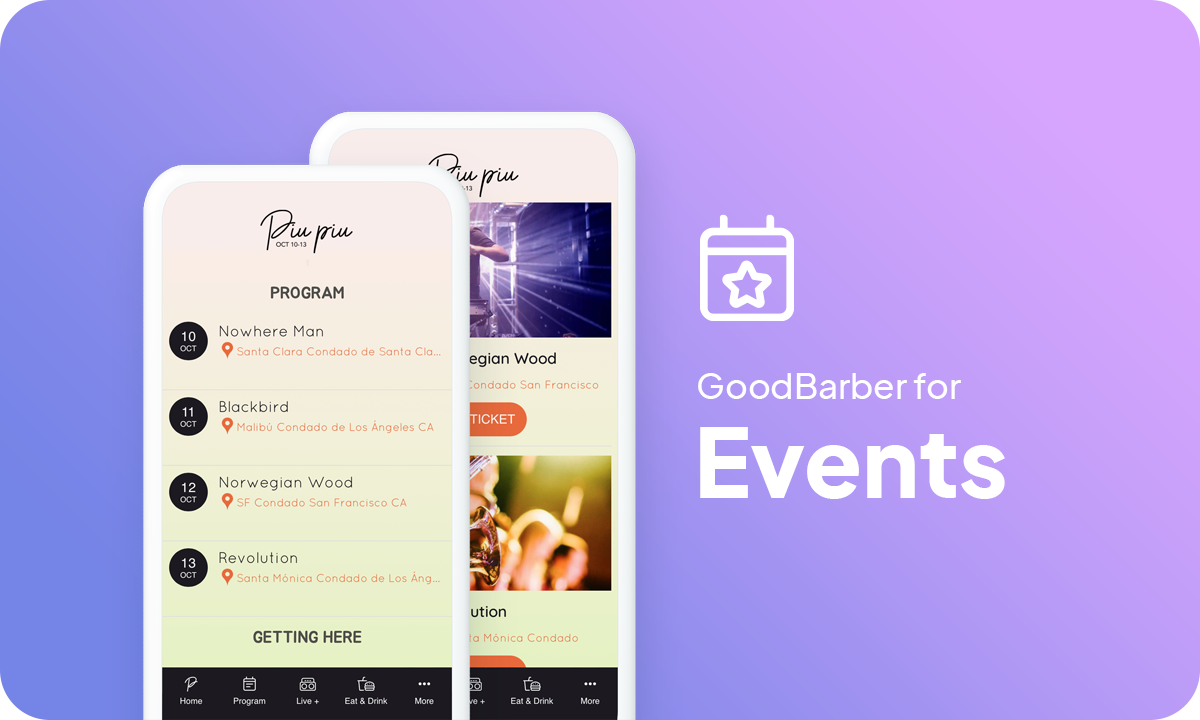 Is the place of the event industry still the same despite the many changes in society in recent years? Indeed, following the numerous crises that have appeared in the last decades: ecological, sanitary, or simply socio-economic; interactions and behaviors have been altered. Human contact is deteriorating as the place of digital technology is becoming more and more important: How can the event industry renew itself and adapt to a new audience? The answer is probably in the title of our article, through which we will explain why creating an app for an event is a viable solution to get ahead in this competitive environment.
Create an app to meet the challenges of a changing industry
The term event management is used to group together a whole community of specialists:
Communicators, caterers, planners, photographers, artists, and service providers ranging from the self-employed to companies of all sizes. Even if each one has a well-defined role to play, all those involved in the creation of an event face common issues.

Like all sectors, the event industry has had to face challenges to continue to grow. Following the health crisis, social interactions have become increasingly limited. Faced with a society that needs more than ever to share, exchange, and conviviality, the event industry still has its place, and it is even very important.

In this particular context, companies must adapt their strategies to meet these new needs. Events must be digitalized, the real stakes are now at the heart of a connected and 360° communication: digital tools, content production, and creation of a committed community; all these elements must be combined for a perfect event.
Why create an app for your event?
As an actor in the event industry, creating an app allows you to respond to the issues previously mentioned, and to propose a
complete communication strategy, digital, and easily accessible. An app has many advantages:
first of all, it is an excellent means of communication, which allows a company to
easily reach its target.
It is also a very appreciated solution since the use of apps is now anchored in the consumers' habits, it is almost an automatism. The public is now more receptive to an
intuitive interface,
designed to ensure
an immersive user experience,
rather than traditional communication such as billboards.
Using an app also allows you to collect information related to user behavior, and adapt your strategy accordingly. This is valuable data that helps a company to improve.
Finally, an app allows you to
gather all the information
related to your event or your business, it is a
real-time saver for you and your customers.
You will no longer have to enter your information on different platforms since
everything will be centralized on your app
, and users will find the answers they are looking for much more easily.
Here is how to create your event app in 4 steps:
Choose the visual identity of your event app
Centralize all your event information on your app
Add content to your app to promote your event
Test your event app before publishing it!
1. Choose the visual identity of your event app
The first step to designing the perfect app for your event is to work on the visual. This is what users will see first, and they should immediately get hooked on your app's design!

Choose your app's theme from our library of over 25 templates, or create your own theme, customizing colors and typography. You should focus on the details, add images, and choose the design of each section of your app, nothing should be done at random to match the identity of your event!
2. Centralize all your event information on your app
Whether you want to create an app for an occasional event, an app for an event venue, or an app for an event agency, your objectives remain the same: Facilitate, Promote, Inform.

Creating an app should be a time saver for you as well as for the users, that's why centralizing all the information on a single platform is probably the best idea.
Your app should gather all the practical information: the date, the place, if it is a one-off event, but also the price if the entrance is not free. The services available on site: catering, activities, but also a schedule to explain the course of the event. All the information that you have at your disposal
3. Add content to your app to promote your event
To do so, you just have to click on: "Add a section" in the Right Menu of the backoffice of your app, and choose which section you want to integrate. If you want to add a schedule, choose the Calendar section, if you prefer a geographical map of the event, choose the Map section. Once you've chosen all your sections, all that's left to do is to integrate your different contents: Locations, events, articles, etc. You can also add content that is more marketing than informative, such as an image gallery or promotional offers.
4. Test your event app before publishing it!
Once your app is up and running, you need to perform
a series of tests before publishing
it on the stores and making it accessible everywhere! It is important that you test each of the versions you want to publish: native iOS and Android, PWA, etc. using different operating systems and browsers.
Our tool provides a test app, which you can use to perform your checks before publishing your app. However, the most optimal way to test an app is through its AdHoc version, which represents the real file that will be submitted to the stores. Other solutions are also possible, like TestFlight for native iOS apps, and other alternatives for the native Android version. Once the tests are done, if you think your app is ready to be published, you just have to start this last step!
Publishing an app can be a complicated step. First, you must register as a developer on iOS and Android. The Apple developer account costs 99€ per year. The process of submitting an app to the App Store is quite complex, Apple reviews all apps before they are published, so careful preparation is essential. The Google Publisher account costs 25€. Regarding the submission to the Google Play Store, you will have to register the information displayed on Google Play after creating your app on Google Play Console. Publishing a Progressive Web App is a much easier process, hosting is included in your GoodBarber subscription!
If you are new to app creation, you can find a detailed guide to the process in our article:
how to create an app
. Other tips are also available on our
blog
to help you in your project. Now that you're all set, check out our top tips for designing an event app.
An app for every type of event
1/ An app for a temporary event
Piu Piu is an app created for a one-time event, taking place over several days. It is a music festival with a colorful and modern look, aimed at a young audience, which combines concerts, food outlets, and an immersive and memorable setting.
The design of the app reflects the artistic direction of this event,
festive, colorful, and friendly. The choice of colors is based on pastel orange and green tones, placed in the background on a gradient, the whole structured by black and white elements, as well as immersive images with impact.
The visual is very important
for an app like this, it is a reflection of what the target expects regarding the final event, a target used to the aesthetics of social networks such as Instagram and Pinterest.
The app's Home is colorful but also structured
so that users can easily access the information they need. The program is highlighted to show the progress of the festival. Then there is the
Map
section, providing additional information about transportation and hotels available in the vicinity, followed by the Eat & Drink section, which presents the various food outlets. Finally, we can see the images of the
Gallery,
which offer a taste of the Piu Piu event.
The Navigation Menu chosen is the TabBar model, located at the bottom of the screen, and featuring the Home of the app, as well as 3 sections:
The Program section, in which we can find the course of the event over the days. The time and date of the concerts are indicated so that users can know the schedule of the festival.
The Live+ section broadcasts a live audio stream so that users can listen to different sounds. It's an unexpected but relevant section since it allows to tease the event beforehand, by making users discover the participating artists, and thus make them want to buy their tickets.
The Eat & Drink section, lists the different food and drink outlets of the event, and gives indications about the different dishes and drinks offered, or the prices.
By clicking on "More" at the bottom right, users will see an
additional menu
with the other sections of the app, such as the Festival Image
Gallery
, or the
Couponing section
, where they can find various promotional offers related to the event. They can also find key features such as the
Profile
tab, or the Settings of the app.
2/ An App for an event venue
Guet Apens is an app for an urban theater, it addresses different targets since several performances are offered: concerts, theatrical performances, as well as different shows.
The design of the application takes up the codes of the urban scene:
The choice of the Header went for a large format,
which fits perfectly with the structure of the Home, in the form of square and rectangular blocks, almost reminiscent of record sleeves. Black is predominant, but the colors of the logo are judiciously placed in the application to bring a pop touch and attract the eye.
The home alone would be enough
, it shows the essence of the app. It's an informative app, which aims to present the different performances found in this event venue. It is concise, the shows are divided into 3 categories so that the user can find the show he is interested in quickly and easily. Two widgets concerning the venue's information are located at the bottom of the Home :
The Useful Infos Widget directs the user to two sections: The Find Us section, provides access to the location of the event venue on a map, making it easy to find the address. The "Contact Us" section provides the venue's contact information so that users can contact the venue by phone, email, or Whatsapp.
The "Discover Le Guet-Apens" widget, links to the venue's description. This page gives details about the history of the venue, in order to explain the concept to the users of the app, and thus to future visitors.
The navigation mode chosen is the Little Swipe template
, which appears when you click on the top left corner. There are
complementary sections to the home,
which optimize the user experience in addition to the essential information of the home:
A search bar to facilitate access to information
The Program section, for a more detailed overview of the shows. It is divided into 3 categories: Concerts, Theater, and Shows. The Concerts category itself includes several categories, each corresponding to a musical genre: Jazz, Rap&Rnb, Rock, etc. so that users can instinctively find the concert they are looking for and want to attend.
A Contact section with the venue's contact information
A Favorites section, where users can pin different shows
And finally, links to Guet Apens' social networks, to encourage interaction and create engagement with users.
Guet Apens is an application with a pronounced visual identity in order to immerse users in the universe of this event venue. It also has an informative purpose, since all the necessary information about the shows (artists, dates, etc.), as well as the venue itself (history, address, contact) are gathered through this unique interface.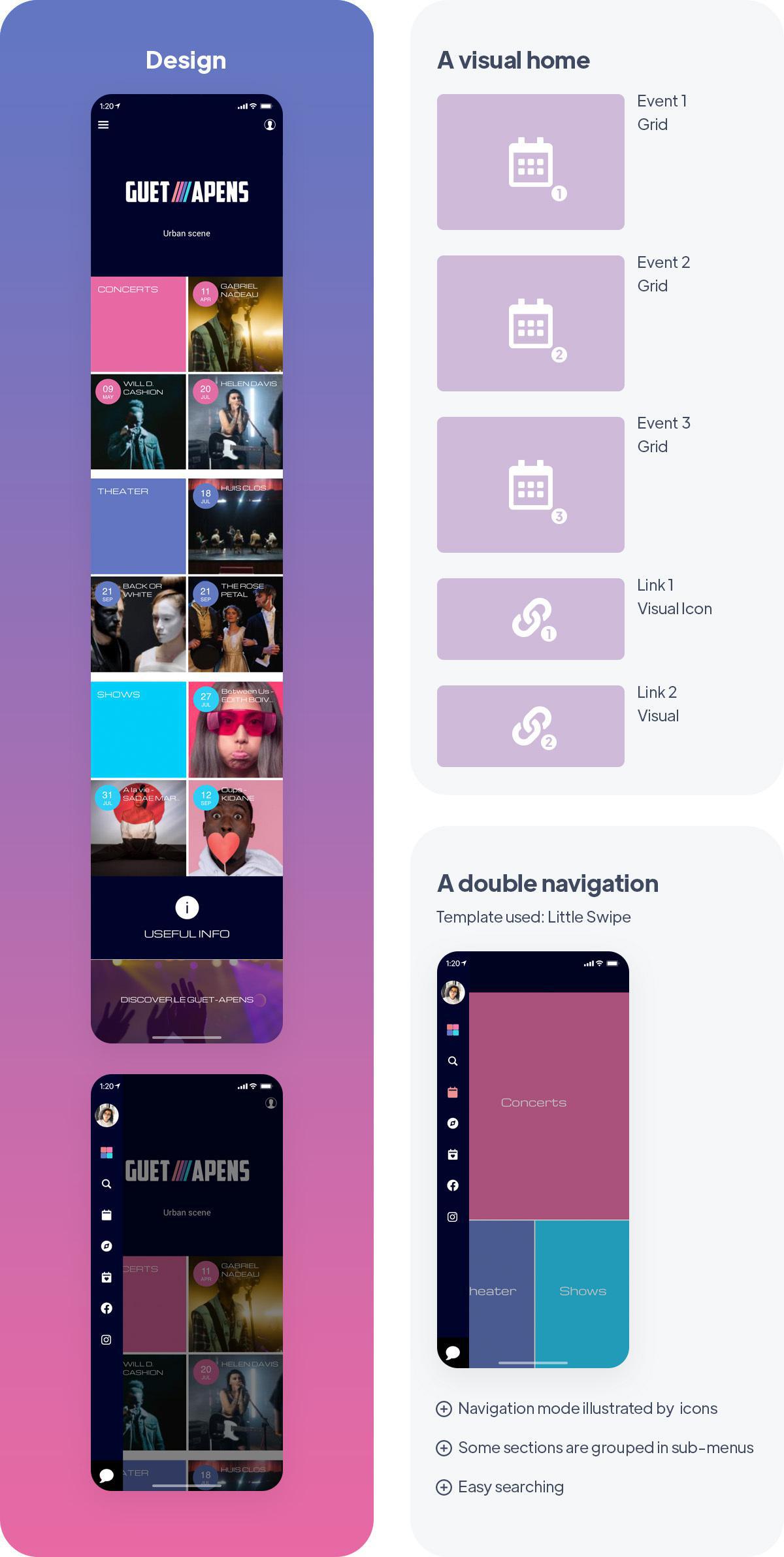 Key features for a great event app
Informative tools to present the event

Whether you want to create an app for a one-time event or an app for an event venue, you will in all cases need to integrate informative features. Your app should allow you to centralize all the data your customers need. It should be as complete as possible and gather all the details of the event.

First of all, you need to define the concept of your event so that it is clear and comprehensive. To do this, you can create an About section, where you can explain the concept of your event and even add photos; this is the case of the Guet Apens application, which has a Discover the Guet Apens section to introduce the venue.

Once the concept is presented, users need to know about the event: How is it structured? Who's participating? What will the activities be? Your app must answer all these questions to be complete and effective.
In the Calendar section, you can create a schedule for your event. You can enter the time, date, location, and other links for each of your shows or conferences for example.

Your users will also need to know additional information: Presentation of the different workshops (concerts, conferences, shows) or speakers; list of places to eat near or inside the event, etc. This is information that you can gather in a Blog section for example, as it is the case for the "Eat & Drink" section of the Piu Piu application.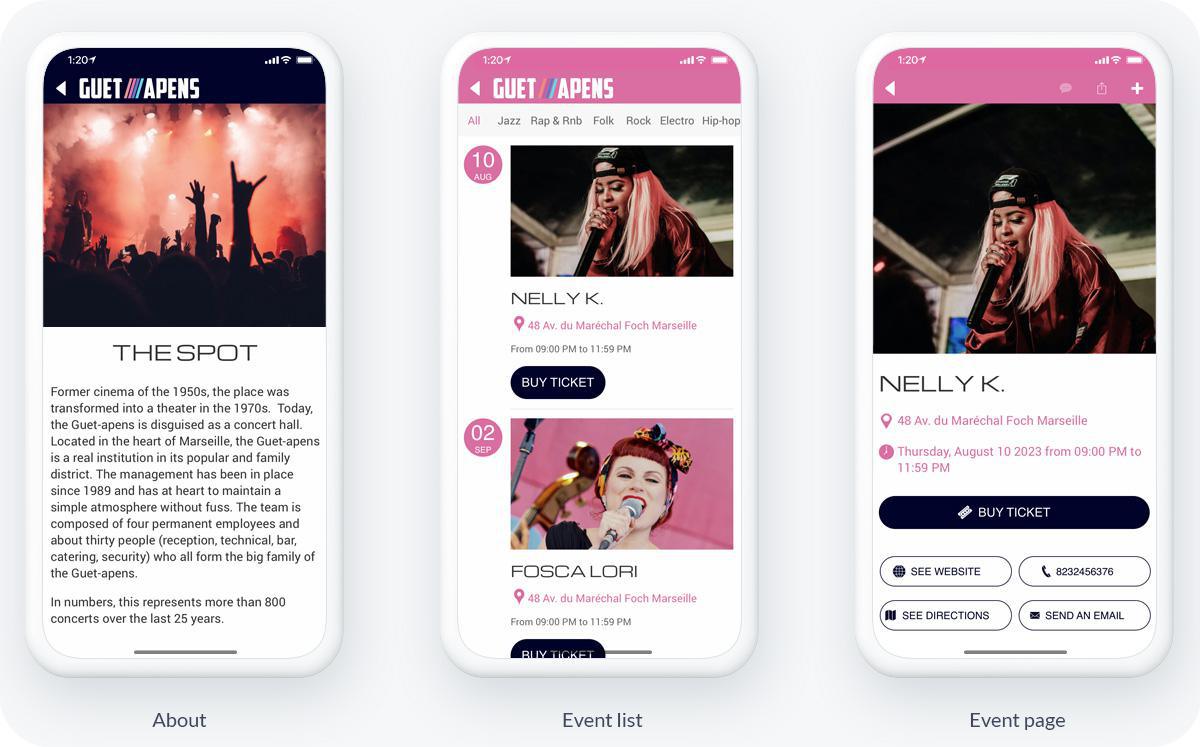 Tools to find your way around, facilitate access to the event

Your app can also be used as a guide, it must allow users to easily access the event and find their way.

The Map section allows you to integrate geographical points on a map: you can add practical information, such as public transport, accommodation, or parking nearby, as in the Access section of the Piu Piu app; or simply the address of your event, as in the "Find Us" section of Guet Apens.

It's important to include elements in your app that allow users to reach you in order to foster communication. GoodBarber's Contact section allows you to include your contact information in your app: phone number, email address, as well as all your external links like your social networks, your website, or your ticketing service.

Other simple, yet very effective features make navigation easier and allow users to better find their way around the event. The Favorites section, where users can save their favorite content, or the Search section, are essential navigation tools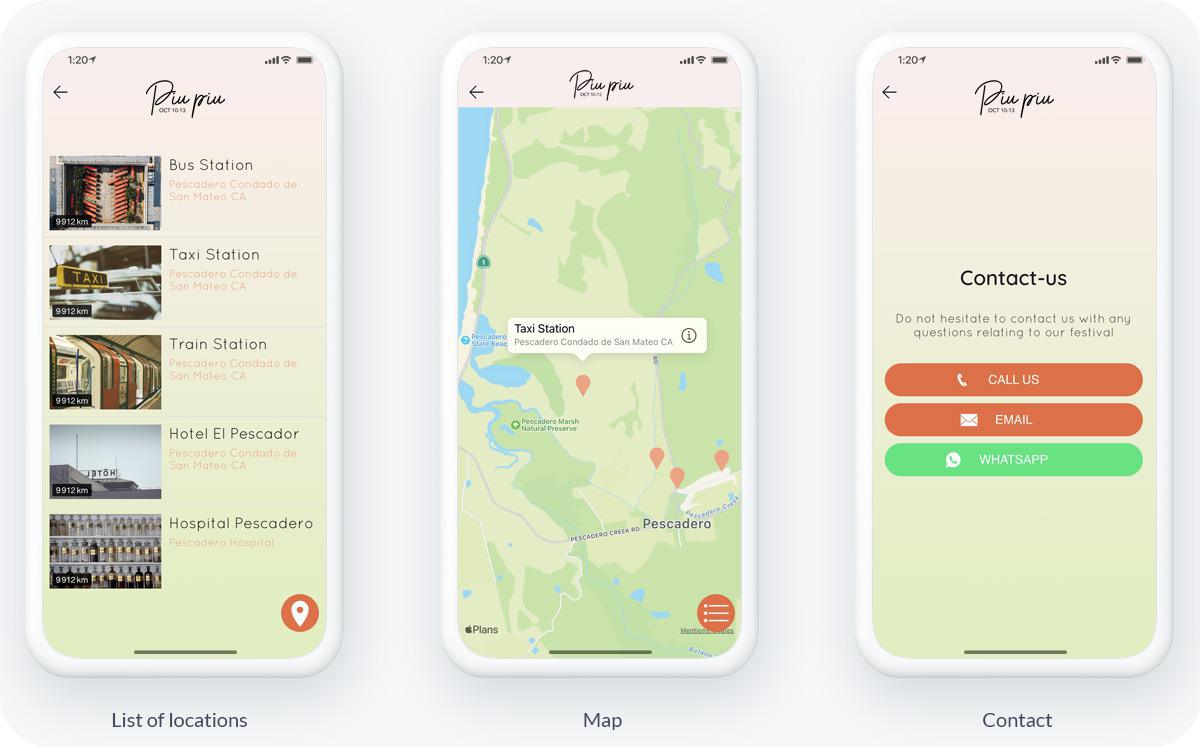 Best practices for a successful event app
This is a strategy widely used in traditional communication but also in digital communication. Nowadays, the
need to belong is more and more present
, and consumers need to feel involved, to create a link with brands.
GoodBarber provides many tools that allow you to
create engagement around your app
, and of course your event. Our
Extensions Store
has a
Membership and Login category
where you will find many features related to user communities: By enabling
authentication
on your app, your users will be able to identify themselves with an email address and a password and will have a
public profile
, on which they can add a profile picture and a description to make the app less impersonal.
By enabling authentication, your users will be able to interact with the content of your app and
post comments,
which is a great way to create engagement with your community and create interest in your event.
You can also allow your users to
publish their own content
on your app through the
Submission
section: Thanks to this feature, your community will be able to share text, photos or videos around your event. These user-generated contents will not be published automatically, they will first appear in the back office of your app, so you can validate them and choose if you want to publish them or not. With this extension, you invite users to share. This authentic content around your event can only be appreciated by your community. Feedback and consumer reviews are a goldmine in terms of marketing,
your users are your best advertisement!
To further strengthen the bond between your app users, you can integrate a
chat
, so that your community can
communicate and create a real bond.
Make your event a lasting and memorable concept
If you decide to create an app for an ephemeral event, there may be several editions of it in the years to come, that's why your event must remain in memory. For this, you can implement several techniques to make your event memorable through your app.
If it's not your first edition, you probably have photos of your past events that you can share with users through the
Gallery
section. This is probably the most effective and easiest way to tease people!
You can also integrate
Videos
for an even more immersive result. Don't hesitate to
enable the comments
in your app so that participants can give their opinion on the event, it's also great publicity.
If your app is rather intended to promote a permanent event venue, you can also follow this process by integrating images and videos of your events throughout the year, in order to show your users the atmosphere and the universe of the events you offer.
Moreover, don't forget that
social networks are nowadays the key to successful communication.
It is through social networks that you can make your events last, thanks to your publications but also those of your community.
GoodBarber allows you to highlight your social media:
they can appear on the Home or the Menu of your app as links so that users can access them directly, or as a section by integrating them directly from the back office! Don't hesitate to consult our
online help
page if you need it.
Conclusion
Offering an app for an event or for an event venue represents both an advantage for the actors of the event industry and for their target customers. An app is first of all an excellent marketing tool that allows you to promote your activity, but it is also a real-time saver since it allows you to centralize all the information related to your event. Digital technology is the future of the event industry and you will be able to meet new demands and reach your target. Thanks to the creation of an application, face the social upheavals of the last few years and make the most of your competition.