Centralize your internal communication
Cover all your communication needs in a single 100% customizable platform
A powerful CMS
The integrated CMS allows you to create or connect any type of content directly from the back office.
Create directly content from the CMS and manage every step of content publication, or use our catalog of more than 30 external connectors to sync your different content sources (YouTube, WordPress, RSS feeds and much more).
Company News
Share your company's general information and news with a Blog! Create as many Blog sections as you want and/or categorize them to make it easier for your employees to navigate and access information.
A dynamic working tool
Take advantage of our Video sections to offer lively and engaging content to your employees. Whether it's online courses, meeting reports or seminar replays, videos are a great way to deliver content in a light-hearted, fun and memorable way to all your employees.
A clear calendar
Use our Calendar sections to clearly display all the important dates for your company. Create different levels of calendars to show key roadmap deadlines as well as departmental meeting agendas. Add content to each event so that everyone can read about it and have a clear vision of the global and daily progress of the company.
Coaching & Training
Provide your employees with a complete onboarding and training process to successfully welcome your new employees and ensure that your teams are constantly up to speed. Use the different types of content available such as videos, podcasts or editorial content.
Showcase your company
Take advantage of your company app to spread the image you want of your business. Use our About pages to anchor your company's core values and history. Your employees will always have this information in the back of their minds. Our Maps sections will also allow you to locate your offices in space and create routes to each of them.
Communicate in a secure and confidential space
Only your collaborators will have access to your content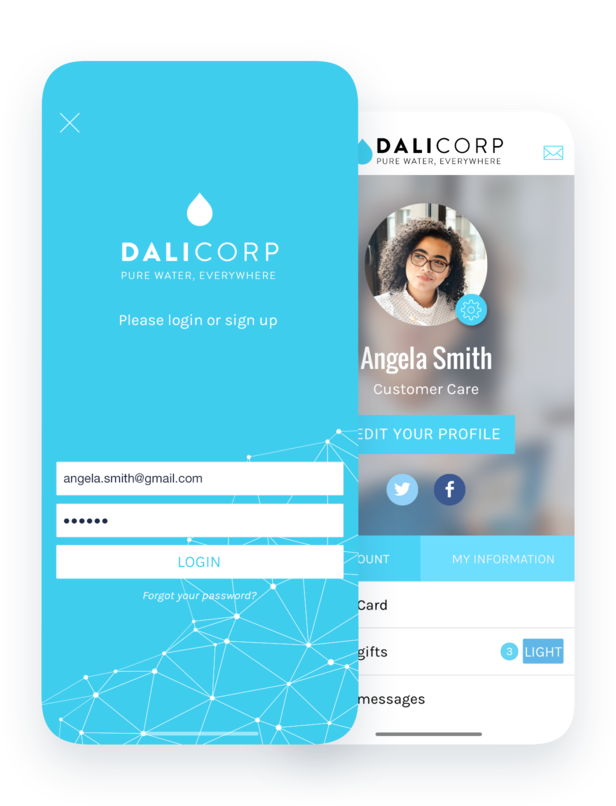 A modular authentication system
Secure your app by adding an authentication module that allows your collaborators to identify themselves and access your content. Decide to let your collaborators create their own account on your app, or on the contrary create their own profile in order to keep 100% control on the identity of your audience.
Target your audience in one click
Easily communicate the right information to the right people
Targeted notifications
Send your push notifications cleverly using the different targeting criteria available: according to the behavior of your collaborators (number of app openings during the last 30 days, app version, or only users who have never received a push notification), their geographical location or the device they use.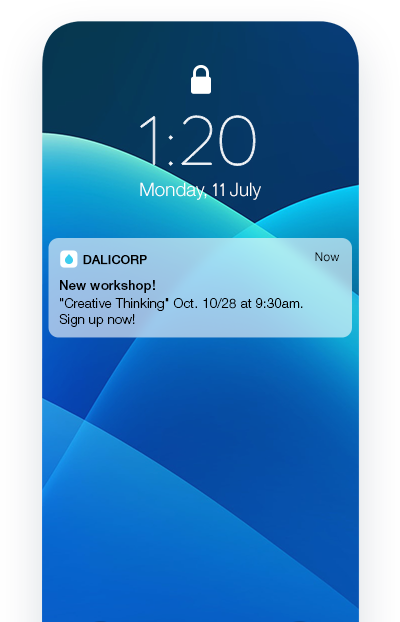 Distinct groups of collaborators
Classify your employees into different groups (by department, by accreditation level or by seniority) and communicate differently with each group. Manage access to different sections of your app for each group, and use them as an additional way to target your push notifications.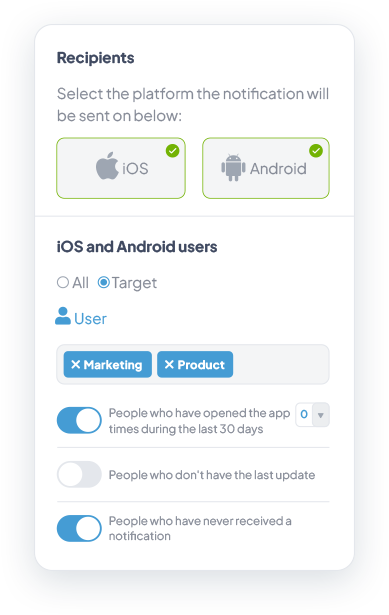 A collaborative space for interpersonal communication
Promote collaboration and communication within your teams
An intuitive directory
The User List section will be perfect for creating your directory in a blink of an eye. Choose your user list display template in list or card mode. It allows you to display users according to 3 criteria: all, most recent connections or closest geographically.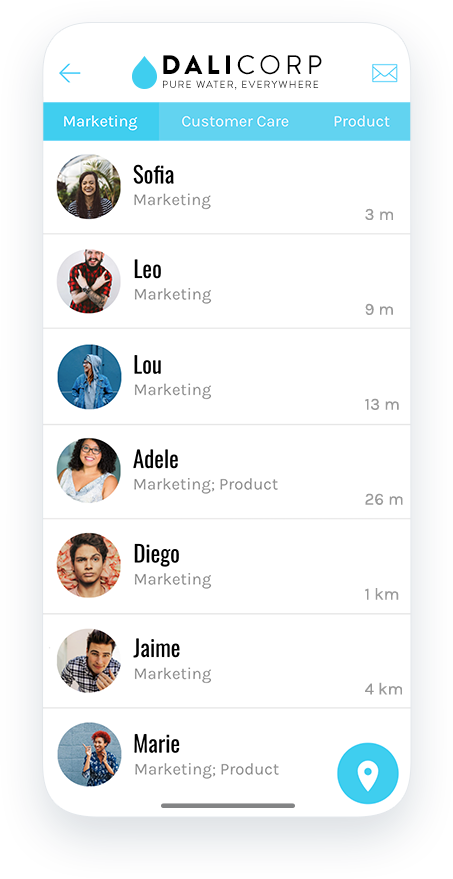 Feedback features
Use the Form and Submit sections to gather information from your audience. From survey responses to suggestion boxes to direct communication with HR, the possibilities are endless to give your employees a voice and show them that their opinions matter to you.
Always more interaction
Help your employees connect with each other by adding a chat to your app. They will be able to contact each other via the user list, and exchange text messages in total security.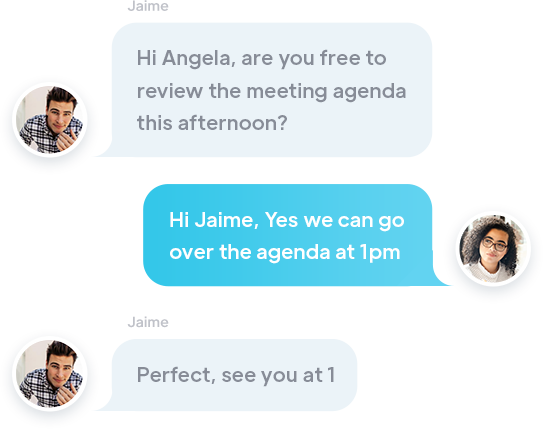 Customizable domain name:
You can customize the address where your users access your web app by installing a custom domain name. All domain extensions are supported.
Customizable profile:
Each user has a public profile visible to other users of the app. You can customize the profile fields of your users according to your needs and the information you want to display to other employees. Make these fields mandatory or not with one click.
Manage an editorial team:
Entrust the management of your application to different members of your team. Manage the rights and accesses of each member and gain productivity while securing your work.
No-Code platform
Take advantage of GoodBarber's power and more than 500 features without having to write a single line of code. No need for a technical team or specific resources to manage your intranet. Save precious time in the creation of your app and communicate with your collaborators in all simplicity.
Automations
Thanks to GoodBarber's connectors for Zapier and Make, you can automate and simplify your workflow. With thousands of online services to connect to, sharing company news or onboarding new employees has never been so easy.
App walkthrough
Simplify your employees' experience right from the start, without effort or wasted time. Create an app Walkthrough for a smooth start and an optimal use of your app. You define the explanatory steps and ensure that your app is used correctly.
Why your company needs an app to communicate with its employees?
Accessibility
A vast majority of employees are not behind a desk every day. In fact, according to LinkedIn, 80% of the workforce is in this category. A company intranet limits accessibility to information. With an app, you can communicate with your teams anywhere ensuring your messages reach them.
Productivity
Employees spend 9.3 hours per week on average searching and gathering information*. With an app, you can consolidate and centralise information so your employees always have it at their fingertips. Source McKinsey
Foster engagement
A app offers you the tools and the space for your employees to communicate in a safe environment and create connections between them. They can also comment on company news. This transparency will in return create a positive work environment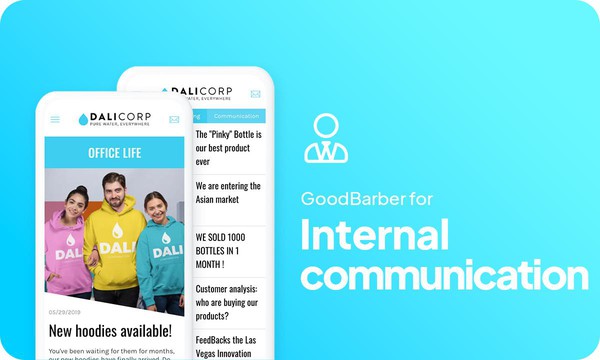 Digitalization, which is increasingly present in our society, has revolutionized the field of internal communication in companies.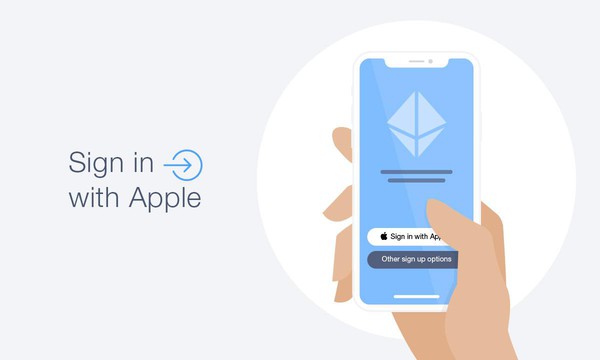 With the release of iOS 13, Apple introduced a new way to sign up for accounts in apps and websites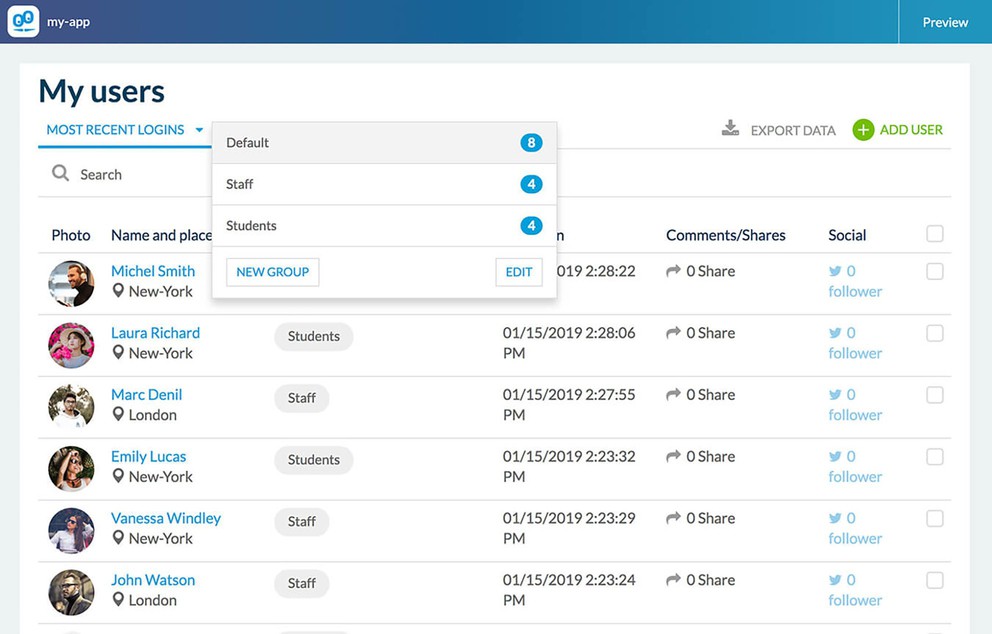 The Add-On "User Groups" gives you the possibility to categorize groups of users and to restrict the sections of your app to specific groups (one or more for each section).
Frequently asked questions
What is Employee Communication app ?
An Employee Communication app is a mobile application aimed to communicate news and updates through the company instantly and at scale. It's generally considered as a communication tool used by teams to improve productivity and ensure the message is received at the right time, by the right person.
Who is the Employee Communication app for ?
Employee Communication apps are generally used by the HR department, Corporate Communication Dept, Social Responsibility Managers in any size Companies, to easily communicate with Headquarters and Frontline workforces, efficiently.
Which are the best features for Employee Communication mobile apps?
Targeted Push Notifications
Distinct users groups management
Feedback gathering features, like forms and surveys modules
Calendar
What skills are required to build an Employee Communication app ?
Although with GoodBarber Employee Communication app Builder you don't need any technical/programming skills to build your app, you should have some soft skills such as:
Ability to communicate efficiently
Sharing aptitude
Intellectual curiosity
Will to build a strong community around Company values
However, the success of an IC mobile app is strongly tied with:
Good UX / Design
Respect Brand design and graphic chart
Enhance interaction level
How much does it cost to make an Employee Communication app ?
You can start running your Employee Communication app for free with our 30 day free trial.
Then it is up to you to subscribe to the plan that best fits your needs: the basic plan to make your Internal Communication app start at $30/Month.
Note that additional costs apply to publish iOS apps on the App Store.
How can I customize my app design and User Experience (UX) for my Employee Communication app ?
With over 200 layout options, an impressive theme collection and modular design, you can create a unique app reflecting your Employee Communication branding
There are many options and levels of customization. You can choose different "Global Styles" to customize the app all in all or may just customize a given section.
Besides 30 generic themes, Employee Communication app builder offers 9 templates for listing pages and 4 templates for stand-alone pages.
You will be able to customize headers, fonts, background colors and navigation menus.
Furthermore, you would be able to enhance communication and interactions with you users through some dedicated sections and features:
Chat Add-on
Form Section: it allow you to create a form that users will fill in from the app to send data and information you had requested
Submission Section : it allows users to submit content directly from your application
Contact US section: provides to your users all your contacts in a dedicated section. In this section, you can create direct links to:

Facebook
Twitter
Instagram
WhatsApp
Skype
Email
Your phone number (Call us link)
Your app store URL (Recommend in the Store)
Internal sections of your app (Internal link)
Websites (External link)
Send a message (SMS)
Would my Employee Communication app be available in all countries ?
Yes, it can be available in all countries. You will decide about Geo-distribution, selecting those countries where the app will be available in the app stores, before publication on Apple's App Store and Google Play Store.
Do you provide any Support and After-Sales Assistance for Employee Communication app ?
Yes, indeed! GoodBarber Support and Assistance program provides for:
Free support
Unlimited Number of support tickets
App Lifetime support
Support in 5 languages
4 offices in 3 countries
3 time zones support
Who is the Developer of my Employee Communication app ?
You are required to purchase your own Developer account from Apple and Google. Therefore, you are the developer of your app. GoodBarber is simply the tool to create it.
Can I sell my Employee Communication app ?
Yes, you can sell your Employee Communication app. To do this, you need to transfer the ownership of your app to the new owner, on each app store.
In addition, you must transfer the ownership of the GoodBarber back-office to the new owner. To do this, you will need to contact the Goodbarber support team
Start for free
Starting as low as $30/month
Free 30-day trial. No credit card required