How much does it cost to make an app?
Written by Marie Pireddu on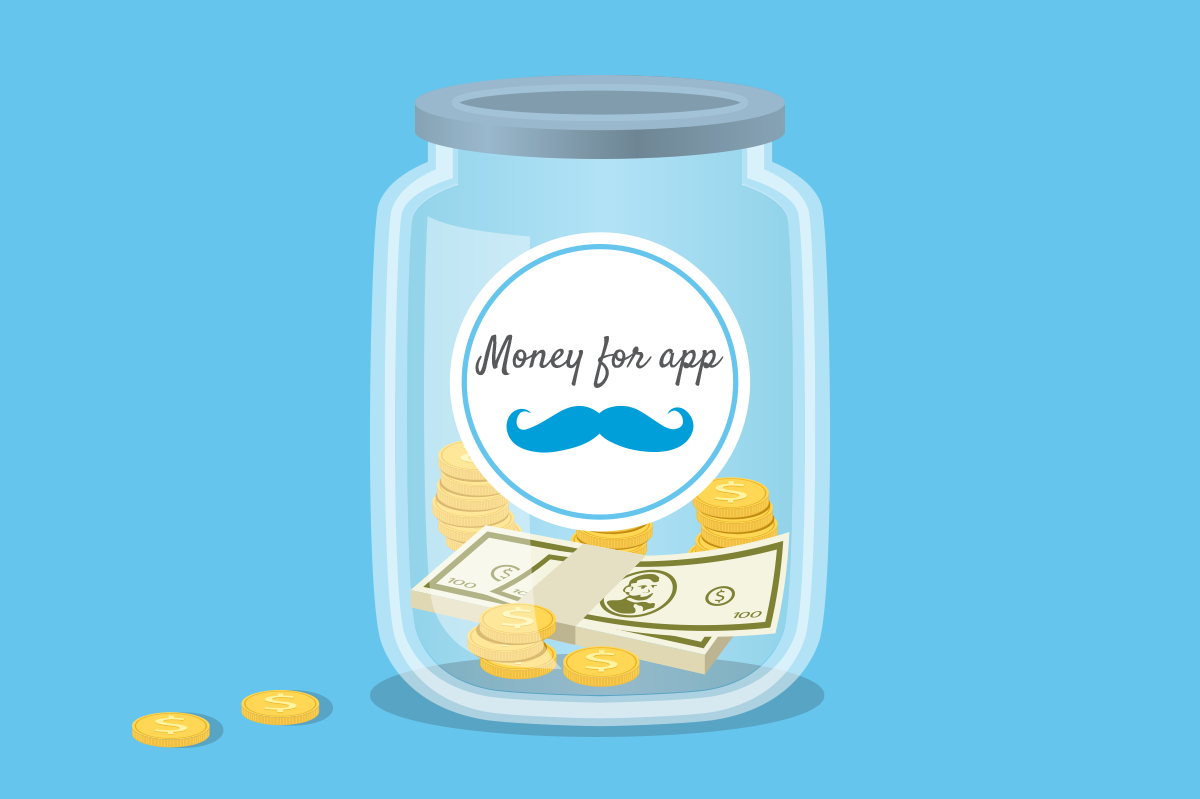 This is one of the biggest questions these days: how does it cost to make an app?
And let's be honest, the answer is not easy as the price will depend on multiple factors.
Different app developer rates, project complexity, and the time it takes to
create an app
will impact its cost. The more things you want, the higher the price! That is why we couldn't stress enough the importance of defining your concept well before you even start developing your app. Knowing beforehand what you want inside your native app will help with budgeting. The price of your app development will indeed depend on what your project entails and how you want to achieve it.
5 key phases in creating a mobile app
1. Set your goals:
The first step should consist of making a plan and determining the requisites of your future mobile app, its features, the user experience you want to provide. Then ask yourself whether your project meets a user's need, does it fill a lack in the mobile app market? This is a crucial step for your design and development brief. Make sure you've got every aspect of it covered, read this
article
2. Design:

The second step is more on the creative side. As we say time and time again,
design is very important for an app
. A good interface, esthetically and in terms of UX, is a must for any mobile application. The two should work hand in hand, a gorgeous app is useless if users can't figure out how to work it.
3. Put your idea on paper:

Third step: the mock-ups. A preview version of your project is an essential step, one that can help identify and fix usability issues before the actual development stage.
4. App development:

The development will create the backbone of your app. Coding from scratch can be a long and complicated task, depending on the scope of the project. The more advanced the features (API integration for example), the more expensive and lengthy development will be.
5. Test your app:

Now that your app has come to life, it's time for a testing phase. Testing your iOS or Android app through and through is crucial to improve its usability before the final publication to the stores. You can find out more about how to publish your app here.
Once your app is live, it's actually just the beginning. As you must have gathered,
creating an app
solo involves a lot of multitasking. Now's the time to put on your marketing cap and imagine a
promotion strategy to make your app a great success

.
Marketing can even come in before the launch of your app, with
a pre-launch strategy and the use of
social media
for example
. But the most important part is to stay committed for the long haul, which includes submitting regular app updates, monitoring your
statistics
,
getting to know your users
, engaging them with push notifications, and so on.
Relying on an agency
The reason why it is very difficult to give out a fixed price for mobile apps is that each project can be different from the next. With something completely customizable, as you can imagine,
agency pricing strategies
can vary a lot. Besides, when entrusting your app project with an agency, you have to consider that you are going to pay for the work of several people: a project manager, developers, designers... They will base their workload on the specifications of your project, for both coding and design, so the more detailed and accurate your brief, the less surprise added costs in the process.
Moreover, if you want to publish both an
iOS
and
Android
app for instance, with custom app development, you will pay twice as much, because the native code of the two applications will be entirely different, as well as the design, to adapt to each operating system's requirements. And with a tailor-made native app, whenever you will need to submit updates or apply changes, costs can add up, so take this into consideration when choosing a service. In general, always think about the cost of your app maintenance.
How much does it cost to make an app with an Agency?
The complexity of a custom made app and also, obviously, the reputation of the agency make for prices which can range from 4.000 to 50.000 euros. For small businesses it can be quite an investment. Fortunately, the rise of app builders has democratized app development, with affordable and reliable DIY options to create a mobile app online.
Choosing an app builder
App builders
facilitate the creation of an app with no coding skills required. They are also a significantly cheaper solution. For a fraction of the price of working with app developers or agency, you can have your own app and manage it first hand, before and beyond publication.
If you are wondering whether to
choose an app builder
or an agency, it really depends on the project you want to accomplish. App builders are cheap, fast, and easy online solutions, but even the most flexible ones sometimes can't meet the demand for very specific projects.
Nevertheless, your app builder should leave you with enough room for customization, so that your app can stand out in the stores, from uploading your own design elements to match your visual identity to publishing native content or even creating custom sections. These are important parameters, along with checking that you are not locked into anything! The possibility to
switch app builders
, should your business model evolve, is another determining factor.
What GoodBarber has to offer
To make an app with GoodBarber means creating a Beautiful App. From the start, we wanted our app builder to be different, with an emphasis on design and the possibility to customize apps 100%. This way, our users can, not only create an app that meets their expectations in terms of usability but also one which fits their style and personality, creates great user engagement, and is available on iOS and Android mobile devices. With a dedicated back office, you are the project manager of your mobile application. You can apply modifications as you go, both functional and graphical, adding sections, editing their design, can be done in a few easy steps. And, it's all included in the subscription price. No hidden costs.
So, how much does it cost to make an app with GoodBarber?

We are budget-friendly too, with a Standard plan starting at $30 per month, up to $115 per month for our Premium plan (which includes a PWA, An Android app, and an iOS app). No matter the plan you choose, we always include a Progressive Web App (PWA), on which you can install on your own domain to unify your mobile presence. If you want to create more than one project, we have an Unlimited Apps offer for Resellers . It's an open secret now that more and more agencies are using app builders to deliver clients' projects faster. Why not do it yourself? You can learn more about this trick of the trade and how to start your business reselling apps withour free ebook :
With a clutter-free interface, you can expect to generate your app very quickly and publish it in a matter of days, using your own developer credentials, which makes you the owner of your app on the stores. After the launch of your app, your back office becomes a powerful marketing tool to monitor your
promotion strategy
: send push notifications, even geo alerts, discover our business menu with
loyalty options
,
and more engaging features in
our Add-Ons store
. Our internal statistics as well as the possibility to plug in your favorite services (Firebase for Google Analytics, Flurry) will help you
get to know your users
, an important asset to make your app cost efficient, to better target your
in-app advertising
campaigns for example.
Last but not least,
how much does it cost to try it out
? Not a thing!
For 30 days you can take advantage of our free trial, no strings attached. Use this free month to
create your app
and just pay when you're ready to share it for the world to see.
Related contents