The Ultimate Guide to Promote Your App: make your app a great success
Written by GoodBarber Team on
Ok, you've just finished creating
your app
and it's now time to get it into the market and start promoting. There are several ways you could get users to download your app, but bouncing from one strategy to another can be confusing. So, we prepared this ultimate guide plus an infographic on how to promote your app!
How To promote a mobile app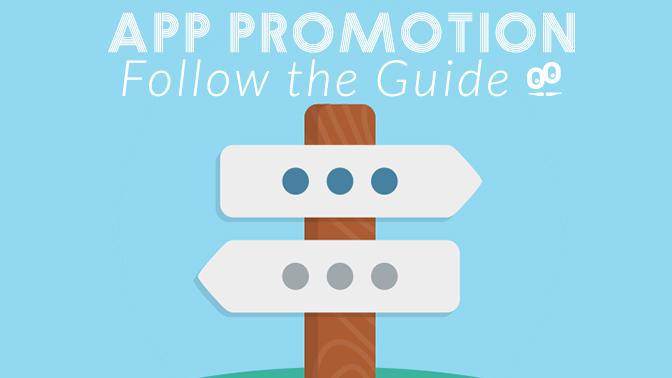 To promote an app, follow these tips:
Optimize your app for the app store
Calculate it to success
Bring your website to the game
Master your social media
App reviews and Banners
PR & Endorsement
Invest and get known
Empower your current customer base
When offline meets online
A sky of 5 stars
#1 - Optimize your app for the app store
This may seem very obvious but actually has a huge impact on your download results. Choosing the right name, adding the perfect description and icon, and picking the right category are a few of the silly things you must do to optimize your ASO. Moreover, you must figure out what type of copywriting your target audience connects best with.
Also, the presentation of your app is vital for its success. Having great screenshots and an awesome demo video may be the key factors in a user's choice to download the app or not. So make sure you get some eye popping images that make the users feel an urgent need to download your new app.
#2 - Calculate it to success
This is always a touchy topic during an app's debut in the stores. A high price will reduce your download volume, but undercharging may hurt your revenues, so you have to make sure you are asking a suitable price for what you are delivering.
Launching an app for free, even as a promotion, will bring you the best results, since it reduces barriers for users to download it. Further, there are a few websites and blogs sharing these kinds of Free Launching promotions, so this may even be another way to promote your app.
#3 - Bring your website to the game
Combining your app store strategy with a website is a great option to increase your download stream. A webpage is a field that you can play a lot with, showcasing your app with no limitations, adding download links and even using all the marketing techniques a website can offer.
If you didn't have a website before you can consider building a microsite. The main goal here is to maximize the channels you provide your users information and ways to download you app with, so a well designed layout with great copywriting presenting how awesome your app is, will do.
#4 - Master your social media
This aspect works on so many levels and you have to carefully take care of all the activities here. Build your social profiles to be an extension of your app, a place where you can engage with your audience on a personal level and allow them to share content they like or have created in your app. This will increase your brand awareness with other potential users.
You can also explore social media to achieve viral results, making use of contests, referral campaigns, content promoting your app or brand, or any other innovative thing you come up with to make people engage and become familiar with your app. The only thing to bear in mind here is to always stay true and cohesive to your app's identity and to your audience.
#5 - App reviews and Banners
Getting people who relate to your target audience to talk about your app is a crucial factor in your success. Finding blogs and forums that review apps from your specific niche can be a great way to generate buzz about your app and also collect valuable feedback about it.
Here you can also consider getting banners on the websites that your potential audience can relate to. They can either be on the sites that are already talking about you or other pages that you consider interesting to your target users. Making beautifully designed banners and assets that really integrate with the hosting website are more likely to bring traffic to your download page.
#6 - PR & Endorsement
This is not easy work but has proven to be a very effective way to get new apps to shine among the stars. Making press releases to broad mediums and blogs that have huge audiences explaining and showcasing why your app is amazing, is a powerful way to reach out to the crowd and lead them to your pages. This might even be a super cost effective alternative, as you can get featured for free, depending on how compelling your release is.
Getting celebrities and authorities to endorse your app is usually a pricey strategy, but has shown in many occasions to lead to tremendous success. Picking the right ambassador, as they are often called, is a fundamental factor here, so chose between people that have strong influence among your target audience.
Also, every week we showcase one beautiful app built with GoodBarber, so you can write to us here and we will be more than happy to check out your app and perhaps share it with our community.
#7 - Invest and get known
There are a few ways that you can pay to get featured on other apps and websites, and actually might be a good alternative to increase your traffic and number of downloads. Some websites are dedicated to showcasing new apps in the market, charging per visitor they lead to the download page. Also, you can make use of marketing spaces inside other apps, generating potential downloaders and more brand awareness.
This is actually a very good paid strategy you may apply to your app, as most of these tools charge less per visitor lead to your page than most of the traditional PPC tools do.
#8 - Empower your current customer base
If you already have a business and the contact info of your clients, it's really important to tell them you have a new app available for download. Using mail marketing tools and even your business newsletter, you can invite your customers to try your new app.
This is a very cheap strategy and you can also gather important responses from people who won't be too harsh on you.
#9 - When offline meets online
For those who have a physical space where you get the chance to meet your potential downloader, there are big opportunities here. Be sure that during this encounter your customer notes that you have a new app available and make them eager to have it in their mobiles.
QR Codes are an interesting way to lead you audience to the download page, but you can also have different sorts of signs and even personally tell them about this big news!
#10 - A sky of 5 stars
Having better ratings in the app stores make you rank higher in the search and users will trust your app more, which will lead to more downloads. There are many ways that you can use to ask users to rate your app and it's even possible to narrow down an audience who engages more with your app, and is more likely to give a great score.
But keep in mind that anyone who has ever downloaded your app can rate it, and there are no guarantees that the ratings will always be good, so you should commit to being a maniac in solving bad reviews. Doing this will give you not only better ratings but great customer care recognition.

We hope that these strategies help your apps make it to the top of the
charts
and have an awesome impact on your business. The last pro tip we can give you is to make sure to have these techniques (or as many as possible) up and running at the same time your app is being launched, in order to leverage your exposure and give your app maximum momentum.