6 questions to ask yourself when choosing an app builder
Written by Jerome Granados on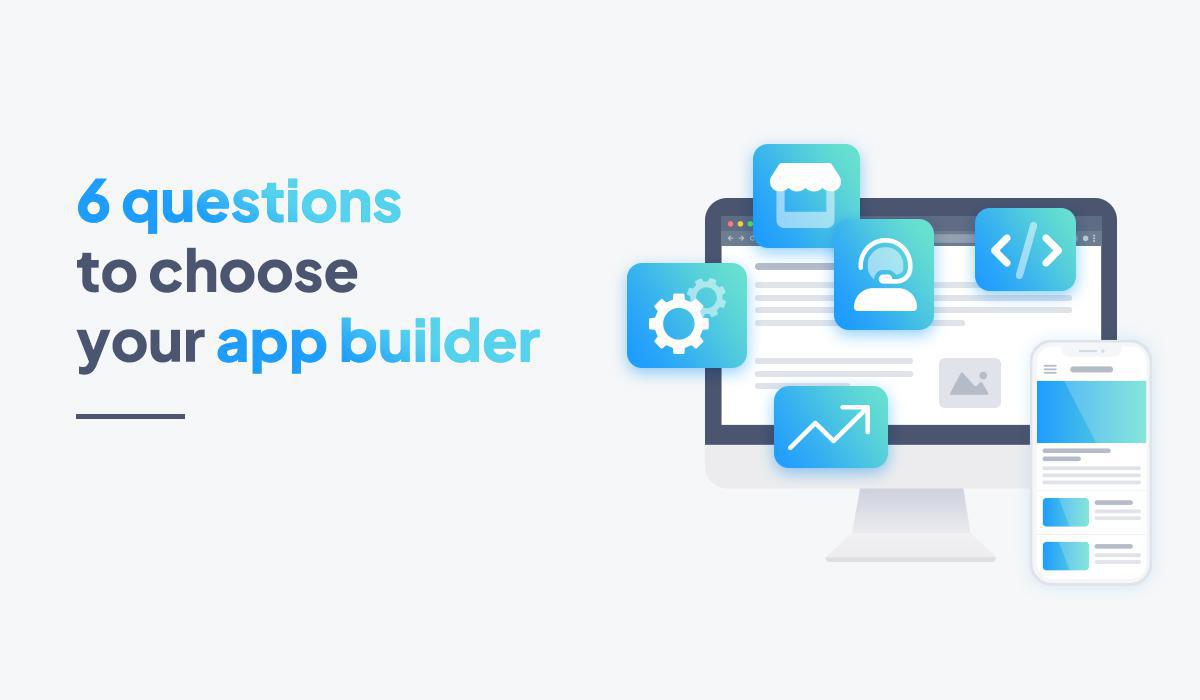 App builders are great tools to use when you want to create by yourself your app. There are many kind of app builders. Some of them answer developers needs, others are for non-developers.
In this article, we are going to focus on app makers for non-developers. Here are 6 questions you should ask yourself when it comes to choose such a tool to
create your app
.
1 - What's my first impression when I land on the product website?
In many situations, first impressions are the most lasting ... After having spent a few minutes on the website of the product you've just landed on, take the time to step back and analyse your first impressions.

How is the portal? Do you like the tone, the design? Does it answer all your questions about the product?
If you have a good feeling, maybe it's time to go further and test the product.

You can check also who is behind the product. Do they post regularly on their blog? Are they active on social networks? Is their community active? What do they say?
It will give you hints about how dynamic the team is and you'll discover the spirit of the company who developed the tool.

Do you want to work with those people? :)
2 - Would I like to spend time in this backend on a day-to-day basis?
You are looking for a product that is going to create your app, ok, but remember that you are also going to use this product regularly. Once your app is published, many things happen. People download, comment, share, like bookmark, etc. You are going to check stats, to send push notifications, ... you need to feel at home when you are in your app builder backend.
When users call me to get more informations about GoodBarber, if they don't have created a trial yet, I always advice them to do so. When they land in the backend, the first thing I suggest them to do is to assess if they like where they are.
Your user experience in the backend is as important as the user experience in your app. If UX in the backend is great, it's a good hint that the
app maker
your are testing is going to deliver a good experience to your users, when your app is finished.
3 - Will my app stand out from the crowd?
The weakness of many app generators is that, for most of them, every app created is similar to the other. Look for the tool that will allow you to create a very distinctive app.

How to know? Well, first you can look at the showcases associated with the product. Do you see a common pattern in each app featured? If not, that's a good point.

Then, take the time to test customization features. Is it possible to go very deep? Are there any hidden tricks for savvy users? That's always a good point because, in the future, you could have the opportunity to make very cool stuff as you improve your skills using the product.
4 - Who is identified as the developer in the stores?
In the stores, an app is always associated to a developer. Some app builders will allow you to release your app under their developer name, other will ask you to create your own developer account and publish your app under your name.

I prefer the second option, even if it will cost you some money to open your developer account. I think it is worth paying those hidden fees. I call them hidden fees because this money is taken by the store owners, not by the app generator.

Why is it important to be identified as the developer in the store ?

1/ from a marketing point of view, it's always better to have your name or your brand next to your app name. It brings trust to your app.

2/ from a technical point of view, being the developer means you are the true owner of the app. If you want to switch from an app generator to another, it will be far much easier. You will just have to build a new app with the same certificates as the one done with the previous app generator. For your end users, when you publish the app, it will be transparent since they will make an update of the app they already have installed on their phone.
5 - Do I get support when needed?
When I discuss with customers, they always tell me that the quality of the support was one of the reason that led them to choose GoodBarber as their app generator.

Being able to get help from a good support team is key in order to succeed in creating your app. It's quite easy to determine if the support will be here to help you when you will need it. Just ask a question during your trial period and wait for the answer ... do you get one? How long does it take to get the answer? Is it an accurate answer?

You should also have a look at the online help. Is it clear and well detailed? Is there any screenshots to guide you step by step? If the answer is yes, it means that you will be able to create by yourself your app, at your own pace. You will learn a lot and it will be easier and quicker to master the product.
6 - Is it possibile to extend the core features of the tool?
App makers target non developer. Nonetheless, some of them offer features for developer and I think it's very good point.

It means that the app your are going to make can evolve beyond the constraint that are, by essence, associated with app generators.

Check if the tool provides a developer section. Are they any interesting APIs? Is it possible for developers to create plugins in order to extend the core features of the app builder?

Even if your not a developer, you should anyway consider those options. As your project evolves, you may have to hire a developer at some point. Be sure he or she can build on top of what you have already created ;)
What about you?
Do you ask yourself additional questions when you are looking for an app generator? Feel free to share them in the comments below.
Related Contents