Best practices for using a no-code app builder to create your mobile app
Written by Marie Pireddu on
No-code development platforms have become increasingly popular in recent years. Their user-friendly interface and affordability make them a go-to tool for people who don't have the normally necessary technical knowledge. These platforms enable these individuals to create mobile apps, websites, and web apps without having to hire a developer. Thanks to these tools, small business owners can access this technology and compete with the big fish. While no-code development platforms are cost-effective and user-friendly, it is still important to have a plan and utilize the tool effectively for success.
We share here our tips and best practices for using a
no-code app builder
and increasing your chances of success.
How to choose the right app builder for you
First and foremost, you have to
take the time to choose the right platform
for your needs. Nowadays, there are plenty of no-code development platforms out there, each with its own set of advantages and disadvantages. So, make sure that you know exactly the type of app you want to create to select the appropriate platform.
People tend to immediately think about pricing, but actually,
quality comes first
. If you want users to notice your app and keep coming back to it, don't neglect user experience and design.
To ensure high quality for your product, design matters but also, simplicity of use, seamless integration with social networks, multi-platform options, CMS, and a set of engaging features to choose from. These are all elements
your app builder
should have to start with.
Next, look at the cost associated with using each platform and the level of support provided.
One of the primary advantages of no-code app development is the ability to create and launch an app quickly and at a low cost. However, this is only possible if the right platform is selected. If a platform is too complex or has limited features and customization options, it may hinder the development process and not give you the desired outcome. Choosing the right platform, one that suits your requirements will make the process much smoother and more efficient.
So, take your time. Don't rush this step. Research and try out several platforms. Most of them offer free trials that will let you test most of their feature, giving you the chance to get a feel for how their interface will work for you. You can find more tips on
how to choose your app builder in one of our most popular posts.
Follow their design templates
The world of apps is a creative and visual environment. So that your app doesn't go unnoticed, you need to
find an app builder with an outstanding choice of templates
, top-notch design, and above all, the possibility to customize as much as possible the appearance of your app.
The top-rated no-code platforms usually offer a collection of
pre-built templates and design elements
that you can tailor to your brand needs. Utilizing these templates can help you save valuable time and effort in the design process, allowing you to focus on the core functionality of your app.
When selecting a template, it's crucial to choose one that complements the overall look and feel of your app. Ensure that the template is mobile-friendly and visually appealing, as it can enhance user engagement and improve the user experience.
These templates are flexible
and can be modified to
r
epresent your style and the identity of your brand/
website: modify the color scheme, add custom images, and rearrange elements to create a unique and personalized design.
As we said previously, here too take the time to a no-code platform that provides a broad range of templates suitable for your app type. Their templates should provide an easy solution for you to create an app that is user-friendly, appealing, and reflect your identity. it should be simple tweaks and modifications that don't require you to have the skills of a graphic designer to achieve the desired look.
Make the most of their build-in features
Built-in features are the core of no-code app builders.

With the right platform, you'll have access to a large library of features allowing you to easily create an app with all the key features you need. Most app builders will offer features such as push notifications, maps, authentication, or blog as a built-in option. The top-rated ones will offer a larger library where you should find the ones that will provide the most value to your users. Use your trial period to really look at all their features.
For example, do you have access to a Content Management System to update your content? A CMS makes a huge difference when it comes to managing content. If you don't have external sources to pull your content from, such as a blog or a website, make sure that your app builder provides a solution to create content directly from the back office, through an internal CMS. That being said, the more connectors your app builder provides on top of their CMS, the easier it will be for you to gather all your content inside your app
Select your key features
A large selection of features is great but it's essential to focus on your app's key features and objectives. The goal is to publish your app quickly and gain insights and data from your users' behavior. You can always expand functionality and add additional features as needed in the future.

When defining your objectives, consider the following:

✔️ Do market research and define your target audience by understanding their pain points, needs, and motivations to use your app.
✔️ Then identify what sets your app apart from other market competitors. Does it fulfills a specific need or solves a particular problem.
✔️ Lastly, as we saw in the paragraph above, prioritize development by focusing on the core features and objectives that provide the most value to your users. These features will define your app's success and help you expand functionality and add additional features as needed in the future.

When all this is done, you can focus on creating your app and publishing it on the Stores.
Plan your monetization strategy
Like most people, your goal with your app is to make money. Whether you're selling products or sharing knowledge, the app builder should provide solutions to generate revenues.
The most common
monetization
solutions are
Advertising: Display ads within your app and earn revenue based on impressions or clicks, or sell ad placements to partners.
Subscriptions with in-app purchases: Charge users a recurring fee for access to premium content.
eCommerce: Sell products through your app.
Paid App: Charge users for downloading and using your app.
When choosing your monetization strategy, consider your target audience, the value you are providing to your users, and the competition in your app's marketplace.
You don't have to use all these solutions to monetize your app, but make sure your app builder offers the method of generating revenue that fits your needs.
Bonus tip: always keep the end-user in mind
Like GoodBarber, your end user should always be at the center of your app development process.
Your every decision, from selecting features to designing the interface, should revolve around providing value to your end users.
A few tips to achieve this:

✔️ Make sure that your app is intuitive and easy to use. The design should provide easy navigation, clear sections, uniform style elements etc.
✔️ Use features to keep your users engage. Nothing like a relevant push notification to nudge your users back to your app
✔️ Ask for feedback and make the necessary changes. Your users will appreciate being listened to and still stay loyal to your app.
✔️ Ensure that the user experience is seamless and consistent throughout your app.

Your app will only be successful if you create it with the end user in mind all along. Don't hesitate to add a section simply to collect feedback or for users to share content.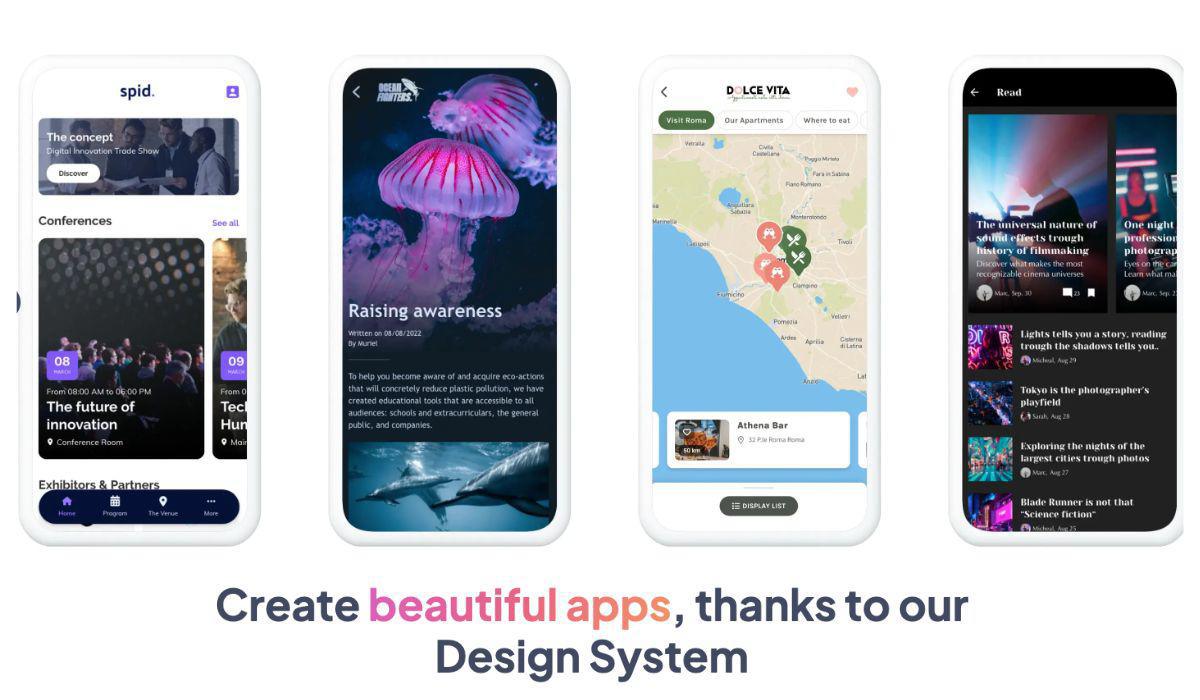 Why choose GoodBarber to build your app?
It's not all to read about all the tips and best practices if the platform you're using doesn't meet your needs.
GoodBarber is the best solution for anyone looking to create a beautiful, feature-rich app without having to write a single line of code. With our no-code app builder, you'll offer your users the best experience on mobile.
Design
: GoodBarber puts the user at the center of the design process. It's the first App Builder to have created a
Design System
, a set of rules applied by default to every page you create in your app. Thanks to the design system, you maintain visual consistency across all the pages of your app: good space management, a clear hierarchy, and good font and color management in your app. With a large library of templates and themes,
constantly updated
to match the latest design trends, you don't need to worry about creating a beautiful app. We got you covered!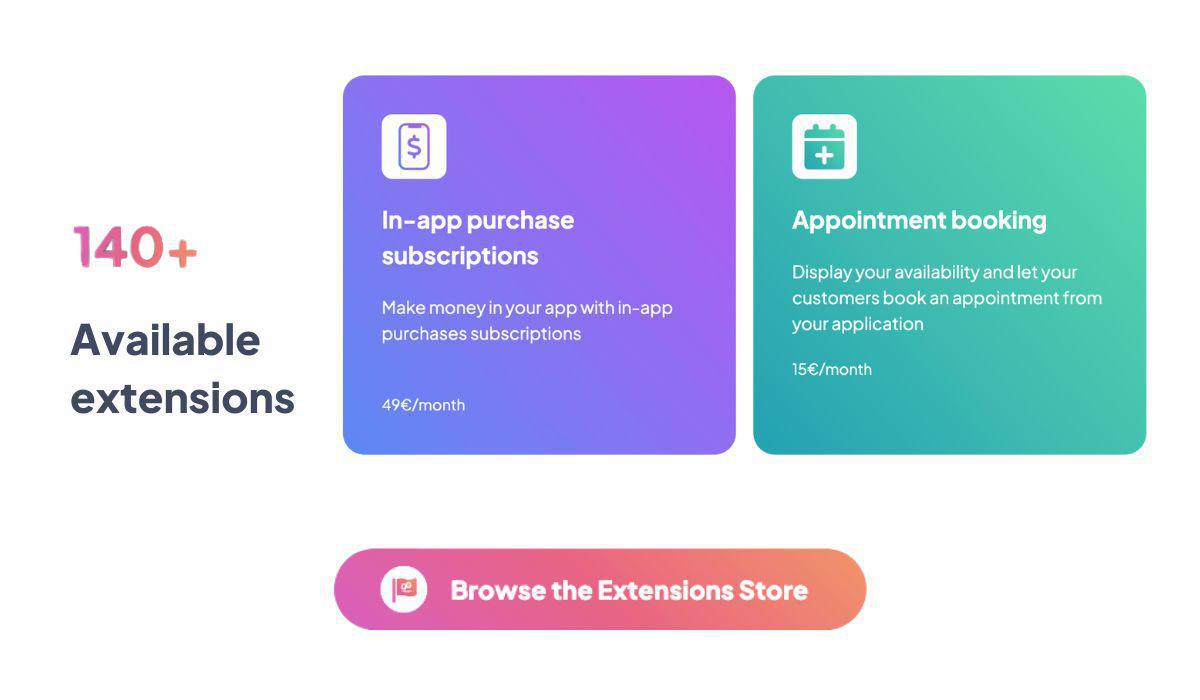 Features:
When using GoodBarber, you'll have access to an ever-growing library of extensions. More than 140 extensions are available (built-in or paid). extensions store more the 140+. Whether you have existing content on third-party platforms (WordPress, Airtable, SquareSpace, …) or you want to achieve more in less time, thanks to Zapier and Make or you want to add an additional feature, there is an extension for that in the
Extensions Store
.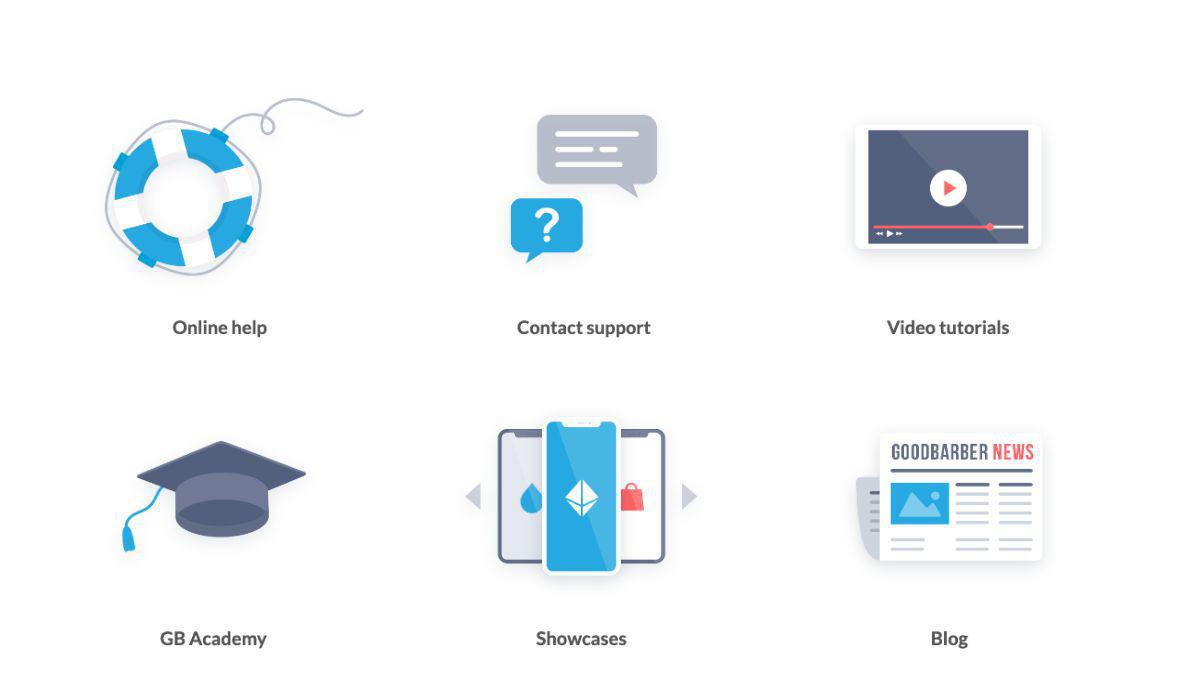 Free resources:
Even though our no-code platform is intuitive and user-friendly, you may have questions or find yourself in need of inspiration. We provide several ways to help you.
Support : Our awesome support is available in 5 languages (English, French, Spanish, Italian, and Portuguese), covering 3 time zones. Our support team is located in 3 countries: USA, France, and Portugal. It allows us to have people continuously connected for 15 hours per day to answer your questions.
Every interaction with the support team is made from your GoodBarber back office, the place where you manage your app. Every request is organized into a discussion thread with a support team member. We think it's the best way to provide good assistance since you can access the history of the conversation anytime, and your ticket can be transferred to other team members. Everybody stays on the same page.
GoodBarber Takes Care service:
We provide plenty of help during the publication process of your app but if this seems still too intimidating, we're here to do the process for you. Our team of experts can take care of the publication of your app on the Stores (App Store and Play Store). You can contact them directly from your app back office.
As we said at the beginning choosing the right platform for your project is one of the most important advice when looking to use an app builder.
You have now our best practices and tips to find the one that's right for you.

If you're ready to start creating your beautiful app, start your 30-day free trial now