The GoodBarber Takes Care service
Written by GoodBarber Team on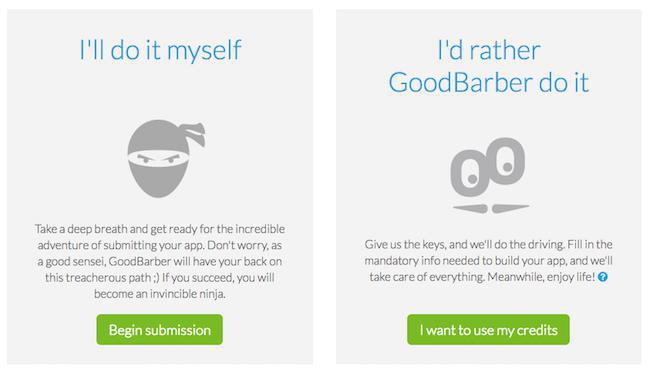 As a GoodBarber user you might already be familiar with the GoodBarber Takes Care option. With this service, GoodBarber takes over the submission process of your beautiful app, using your own developer account credentials.
What's the purpose of GoodBarber Takes Care?
Before we answer that question we'd like to stress the fact that it remains entirely possible to submit your Android app on your own. We provide guided tutorials for the submission of your Android app in the back office of your project. For iOS apps that have never been published in the App Store, it is absolutely mandatory that our team takes care of their submissions and the GBTC service will be automatically applied.***
Back to the GoodBarber Takes Care service! In a nutshell, GBTC means our team will be submitting your iOS and/or Android app on your behalf (your app will still appear under your own developer account(s) in the stores). You may opt for this service for your Android app if you aren't tech savvy and you want to make sure the submission of your app goes smoothly or if you're just looking to save time and don't want to be bothered with the submission process.
***for updates of iOS apps that are already published in the store, or for the distribution of iOS apps outside of the store, it is possible to take care of the publication process on your own.
How does GoodBarber Takes Care work for Android?
GBTC runs on a credits based system. Basically, 1 credit = 1 submission of 1 version of your app (either iOS or Android). If you choose only to publish the Android version of your app, you will pay $50 which includes 10 credits. When our team publishes your app for the first time, 1 credit will be deducted and you'll have the remaining 9 to use for future resubmissions.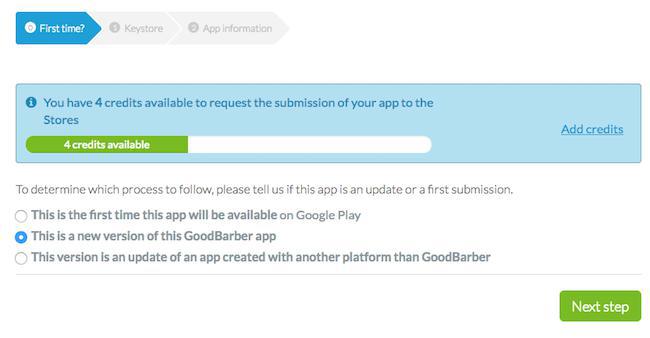 How does submission work for iOS?
iOS works a bit differently. All iOS apps submitted to the App Store are required to pass through a thorough review process carried out by our team. The cost of this is $29 and it includes 4 credits. When your iOS app is submitted for the first time, one credit is deducted and you have 3 left.
The remaining credits you have from both the iOS submission and the Android GBTC services can be used interchangeably. This means, as long as the initial version of your app has been submitted to the store, you're free to use one of the remaining credits from your iOS GBTC to submit an updated version of your Android app, and vise versa.
What about additional credits?
You can purchase additional credits in bundles, at the cost of $50 for an extra 10 credits. These credits can be used for iOS resubmissions, Android resubmissions, or both.

Considering the fact that most of the updates you make from your back office don't require rebuilding and resubmitting your app to the stores (those that appear in green), with $50 worth of credits, you should be set for over a year (only the changes which appear in grey in your back office require you to actually use a credit).

Besides, to engage and surprise users, 3 or 4 substantial app updates are sufficient (to introduce new features for instance). As for bug fixes, don't worry, we've got you covered. In the event that a bug fixed on our end should require that you resubmit your app to the stores, you will be granted a free credit, to rebuild and submit the new version of your app.
Other important information
The GBTC service does not include your developer accounts. You will still need to purchase them directly through Google Play or
Apple
.
Please also note that with the reseller plan, the GB Takes Care option is purchased on a per-app basis, meaning that the 10 credits can be used only for the submission and resubmissions of one app, not across multiple apps.