You may want to create an app for the first time: our advice!
Written by Marie Pireddu on
Considering creating a mobile application for the first time? Wondering where to start? Here are some of the basics you'll want to cover before getting started on your project.
Should I move my business to mobile?
Ask yourself: WHY / WHEN / AM I WILLING TO GO THE DISTANCE?
Nowadays, whether you should
create an App for your business
isn't really a question anymore.
Moving a business to mobile
doesn't concern only big companies anymore. At GoodBarber, we have
schools creating Apps
,
local churches
, salons, coffee shops… An App has become a common and effective way to create awareness, increase consumer loyalty and overall, the value of your brand.
With mobile apps being the top media channel, before the desktop web and television, we are now witnessing a new trend :
businesses going mobile before launching their physical business
. What are the advantages of this strategy? First, an app is an amazing promotional tool. It can also serve as a low-cost test for a service/product. You'll be gaining valuable information on what your consumers want. The number of downloads and user engagement can serve as an indication for estimating the demand. And considering that your business will need an app at some point, why not have one from the start?
As you can very well imagine, it won't suffice to publish your app on the stores. To ensure downloads and user engagement over time you need to keep your audience interested and involved. This will take effort on your end. Consider whether you will have enough time to invest in
promoting your app to make it a success
. This is a time-consuming endeavor, so you should assess before creating your app whether you are willing to commit or not.
What solution to create my mobile app?
Ask yourself: HOW / WHO / HOW MUCH?
One reason which can deter a business, especially a small one from creating a mobile app is the budget.
How much does it cost to make an app
? It depends on your project and the features you are looking for. You can contact an agency, a freelance developer or
go for an app builder
. If you have coding skills, you might still want to consider an app builder, just make sure to choose one which lets you add custom plugins or edit the code somewhat.
It is important that you have a clear vision for your app. Required features, design, user experience, try to encompass the various aspects which go into making an app complete before developing your project. Your vision will determine
which app-building solution you'll choose
to start with.

Now, say you decide to hire an agency. The cost can vary a lot depending on the complexity of your project. Bear in mind that developing an app for iOS and Android are two different projects in terms of coding, which will double your budget if you decide to be present on both platforms. Also, you should take into account the cost of maintaining and updating your app.

An app builder is a less costly alternative that allows you to manage your project firsthand. It's great if you want a sense of control. One piece of advice: pick an app builder which allows you to publish your app in your own name, with your own developer accounts. An investment on your end ($99 yearly registration for Apple, $25 one-time fee for Android) but which makes you the actual owner of your app.
The key takeaways
- Have a clear vision for your project: iOS - Android or both, web app - native app or both, design inspiration, user experience, features.

- Know whether you are ready to commit: building an app isn't just about cost, it also implies spending time promoting it and improving it to keep up to date.

- Pick an app building solution: once you have given some thought to all the above mentioned aspects, it's time to find the solution best suited for your needs.

Of course we are rooting for GoodBarber! But really, what matters is finding the solution which is best for you and your project. Last but not least, don't build an app just to build an app. Build one if you plan on maintaining it.

If you want to learn more about what goes into creating an app, we've got you covered with our free ebook: "The Ultimate GoodBarber Guide". Simply click below to download our latest resource to help you get started ⬇️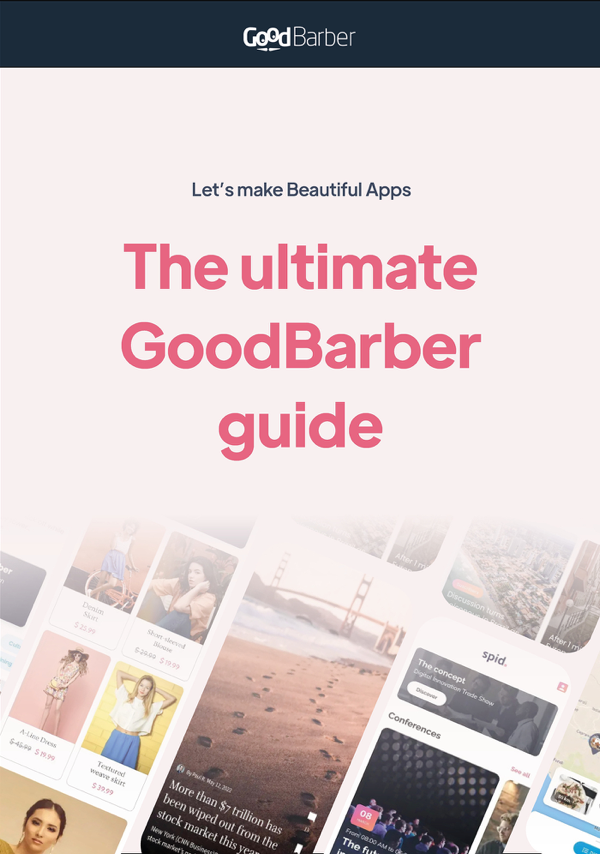 New! The Ultimate GoodBarber Guide
Discover how to create beautiful apps thanks to our eBook.