Optimize your marketing strategy with Meta Pixel & App Events
Written by Marie Pireddu on

In 2022, Facebook, with its nearly 2.5 billion active users, is as much of a social networking site as it is a
sales channel
. The platform allows for more than simple brand-customer interactions—it's one of the best channels for reaching your target audience, especially thanks to the precision of the advertising targeting it offers. Indeed, beyond its huge user base, Facebook has extremely detailed information about its users. This will allow you to target high-potential audiences to promote your products.
While your mobile app remains the best option to sell your products, integrating Facebook as a complementary sales channel will help you reach more potential shoppers.
GoodBarber offers you solutions to integrate your app with Facebook:
Facebook Marketplace
and now
Meta Pixel & App Events
, allowing you to analyze your user's behavior and optimize your marketing strategy.
The Meta Pixel & App Events
extension is available for Content Apps and eCommerce Apps.
Integrate the Facebook Event Analytics SDK into your app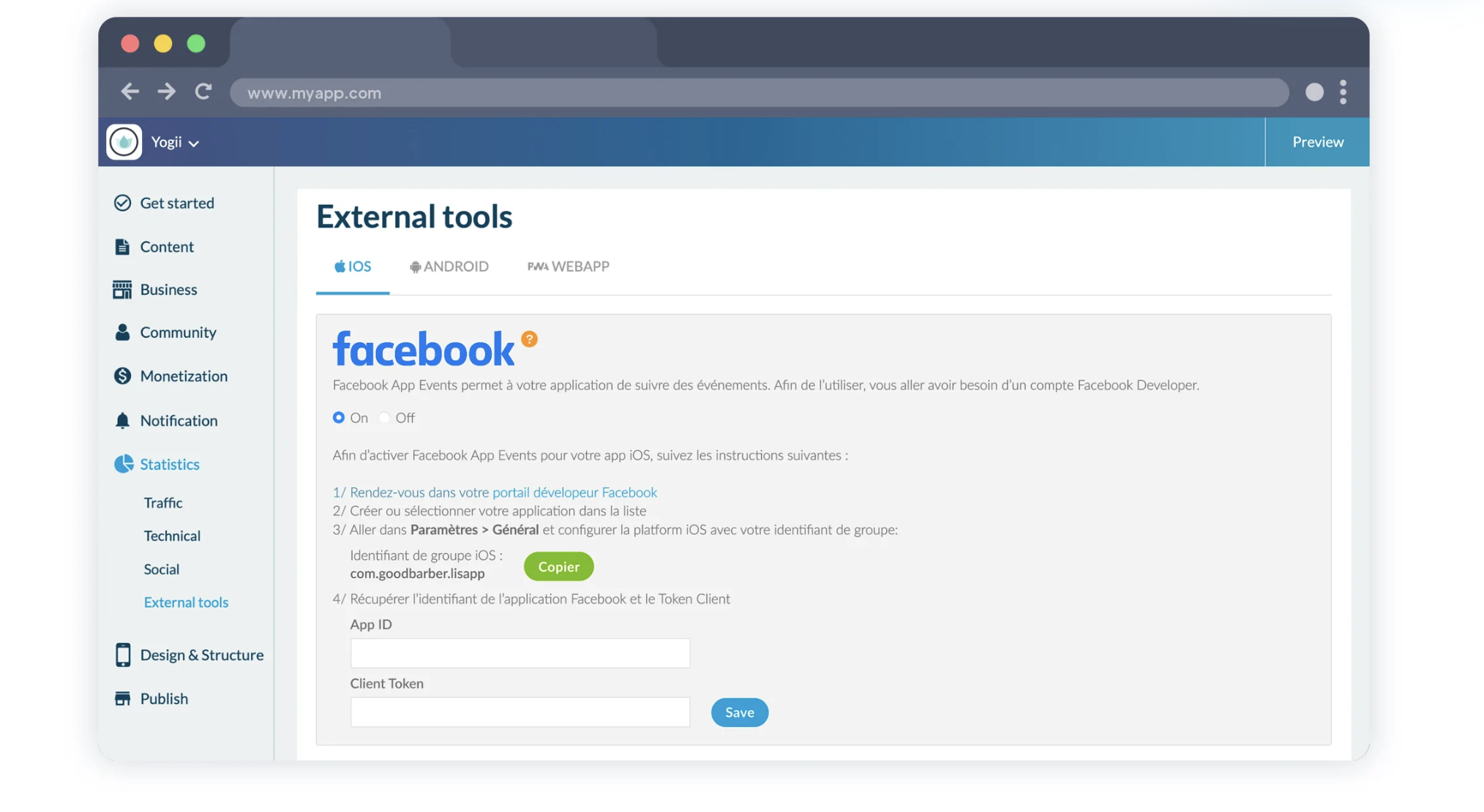 First, note that you must have published your app on the Stores in order to enable Meta Pixel and App Events.
To integrate the Facebook Event Analytics SDK into your native, you must be registered as a Facebook developer. If you haven't done so yet, follow the steps in this
documentation
.
Once registered, you can now add the Meta Pixel & App Events extension from your GoodBarber back office. Go to the Extensions Stores > All extensions on the left side menu of your dashboard.
Then go to

https://developers.facebook.com/apps and follow the steps detailed in this online help for your content app or this online help for your eCommerce app. The process will have to be repeated twice, for iOS and for Android.
After you completed the process, you
must rebuild your app and submit the new version to the Stores.
You will then be able to see your event data in the
Meta Events Manager
Integrate Meta Pixel to your PWA
For your PWA, the process is slightly simpler.
First, install the
Meta Pixel & Facebook App events extension
from your GoodBarber back office.
Then go to
Events Manager
to set up your Meta Pixel. The 2 steps to follow are detailed in this
online help
for your Content PWA or this
online help
for your eCommerce PWA.
Once you've pasted the pixel ID in the field provided in your GoodBarber back office, click the green "Update" button to publish your settings.
The benefits of using Meta Pixel & App Events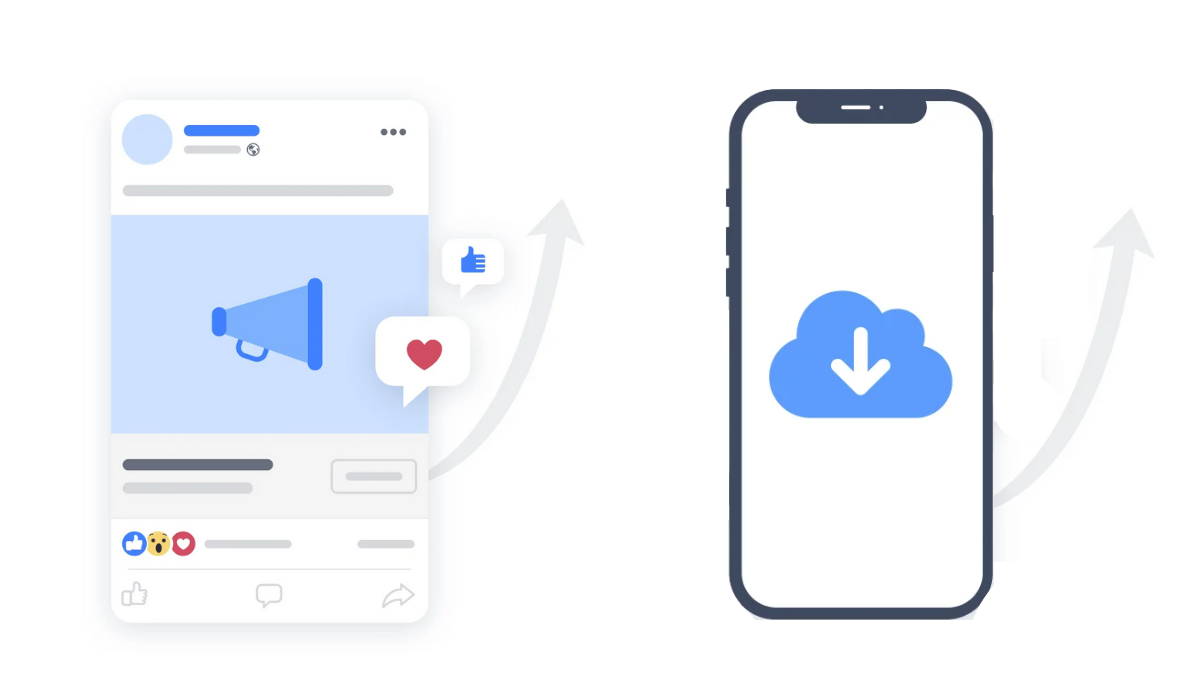 Integrating the Meta Pixel (formerly Facebook Pixel) and the Facebook Event Analytics SDK
allows you to track certain events performed by users in your native app and in your PWA. Some of these events are for example:
- Interactions related to usage, such as the number of app downloads, registrations, and logins
- Events related to purchasing behavior such as checkout, adding a credit card, adding an item to the cart
- Events related to viewing the app, such as reading an article or a video.
Once analyzed, this data allows you to understand the user's behavior and to adapt your different marketing strategies. There are many advantages to this:
Measure the performance of your ads
The integration of Meta Pixel & App Event allows you to measure the performance of your Facebook ads and know exactly the cost of acquiring a new download, a new customer, or the traffic generated by a sponsored post on Instagram. After analyzing your app's event data, you'll be able to tailor your ad campaigns accordingly.
Reach the right audience
Using App Events, you can automatically create Custom Audiences based on actions people have taken in your app. You can then target them with relevant ads when they visit Facebook or Instagram.
Custom Audiences will allow you to:
Target people who are already clients or members, or who have already visited your app and offer them dedicated ads.
Encourage customer loyalty by offering them ads for your latest products, or your best sellers for example.
Exclude your clients from your acquisition campaigns so that they are not polluted by these campaigns that don't concern them.
Increase your app's downloads
Thanks to more impactful advertising campaigns, and directed at the right targets, you have every chance to increase the number of downloads of your app.
Setting up app events enables you to use campaign optimization types such as app event optimization.
App event optimization
is the ability to display mobile app install ads to people likely to take a specific action in your app. For example, if you are looking to acquire people most likely to make a purchase in your app, you can choose to run mobile app install ads that would optimize for the purchases event.
The value of using app event optimization is that, beyond new installations for your app, you will also acquire people who are likely to take a specific action that is of value to your app or business.
Collecting and analyzing your app events allows you to target your campaigns to perfection. By installing Meta Pixel & App Events, Facebook can tell you how many new downloads of your app were obtained from an ad posted on Facebook and Instagram.
Improve your users' satisfaction
In addition to attracting new users with tailored campaigns, the integration of Meta Pixel & App Events allows you to better understand how your app is used. You can then make the necessary changes to ensure the satisfaction of your current and future users. Make the right changes based on the analysis. UX and Design are fundamental aspects of an application: understanding what happens in your app will allow you to make the right improvements. When an app is optimal and designed for the user, the conversion rate increases. An intuitive app and a seamless shopping experience are essential to driving sales.
A mobile app is an amazing tool to drive your business. By combining it with the power of Facebook, you're increasing your chance of success.
But, don't forget, this is an ongoing project. Take the time to analyze your data and improve your ads as needed.
With the right audience and the right strategy, you're on your way to big things.