How to sell on Facebook Marketplace in 2022
Written by Marie Pireddu on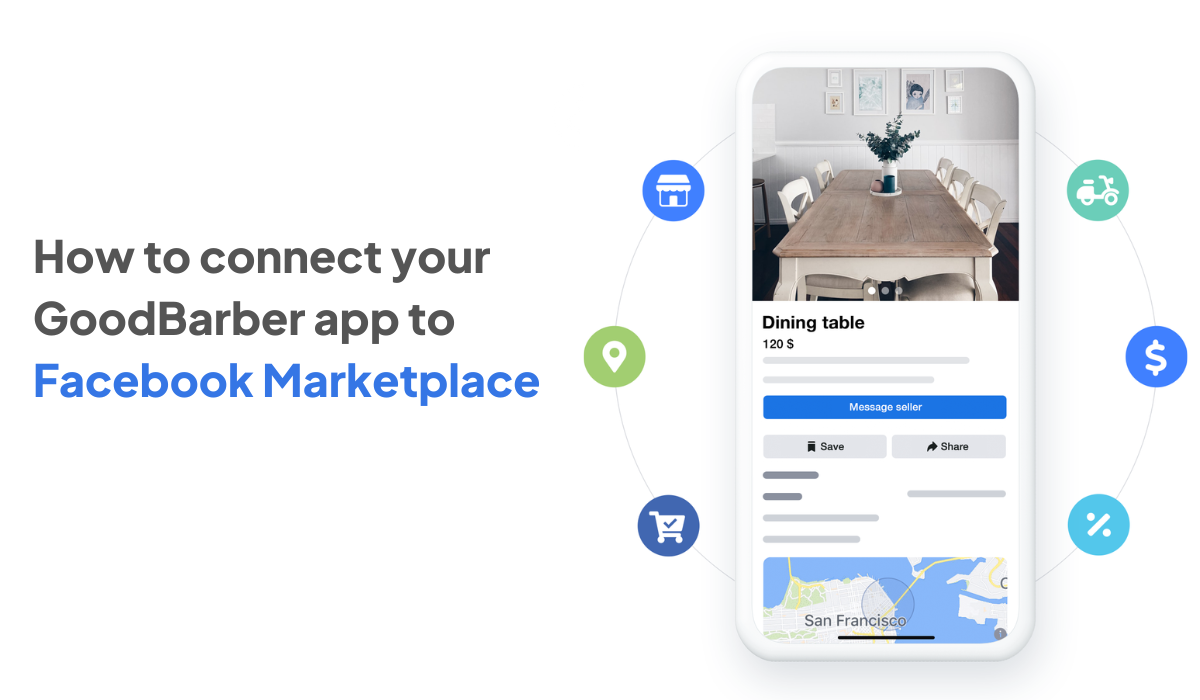 As we know already eCommerce become an increasingly popular shopping choice for many consumers and a true opportunity for retailers.
eCommerce apps have grown quickly and app builders like GoodBarber have helped many small businesses access this technology, usually reserved for large retailers. While a mobile app has many benefits, such as a higher conversion rate compared to websites, it can still be difficult to stand out and get your products in front of a large audience.
This is where social media comes in. Platforms like Facebook have a tremendous reach and many consumers shop directly from their favorite social media.
Connecting your GoodBarber app to Facebook marketplace, with our latest extension, will help your business gain visibility and boost your sales.
What is Facebook Marketplace
Introduced by Facebook in 2016, the Marketplace quickly became a hugely popular platform to sell products, allowing small businesses to reach a large audience. According to
Facebook's Q1 2021 report
, Facebook Marketplace has more than one billion visitors, and nearly three billion users on the site overall.
Facebook Marketplace
connects sellers with potential buyers in their area. There you can buy, sell, and trade items with people in your area.
Facebook Marketplace sets itself apart by offering ratings and public profiles for buyers and sellers. The ratings help both parties feel confident about their transactions. Buyers can use filters for location, category, and price to narrow down sellers for the products they're interested in.
Facebook charges no fees if you sell locally. Businesses that ship nationwide only pay 5% of the transaction value, which Facebook refers to as selling fees.
The benefits of selling on Facebook Marketplace
Increase your brand's visibility
Increasing brand visibility is one of the quickest ways of increasing sales. And Facebook Marketplace can help get your brand and products in front of new shoppers.
Brands are seeing huge results, too. Some report order values that are
66% higher
via Shops than on their websites.
Build stronger customer relationships
Facebook is a peer-to-peer platform, so you have a unique opportunity to build relationships with buyers in real-time.
Sales that start on Facebook Messenger allow you to connect directly with customers. Plus, people are 53% more likely to buy from a business they can message.
(Remember to add the Tawk.to extension to your app to provide the same kind of communication there too.)
Facebook provides customers with suggested questions, but they can also send their own messages to sellers.
Trust factor
Since Facebook is a trusted platform, customer trust will extend to you. They'll feel more comfortable making a purchase knowing it's backed by Facebook. Plus, since the sales process is so simple, there's a higher chance customers will buy on the spot.
Tap into Facebook personnalization
Facebook lets you target people who have purchased from your store or follow your page. You can also reach new shoppers who fit your core audience profiles. The Browse to Buy feature displays relevant products based on the communities that users belong to.
You can also use Facebook ads to target people who have purchased from your store or follow your page. These people are more likely to purchase from you again.
To do this, you could create a lookalike audience or interest-targeted audience in ads.
How to sell on Facebook Marketplace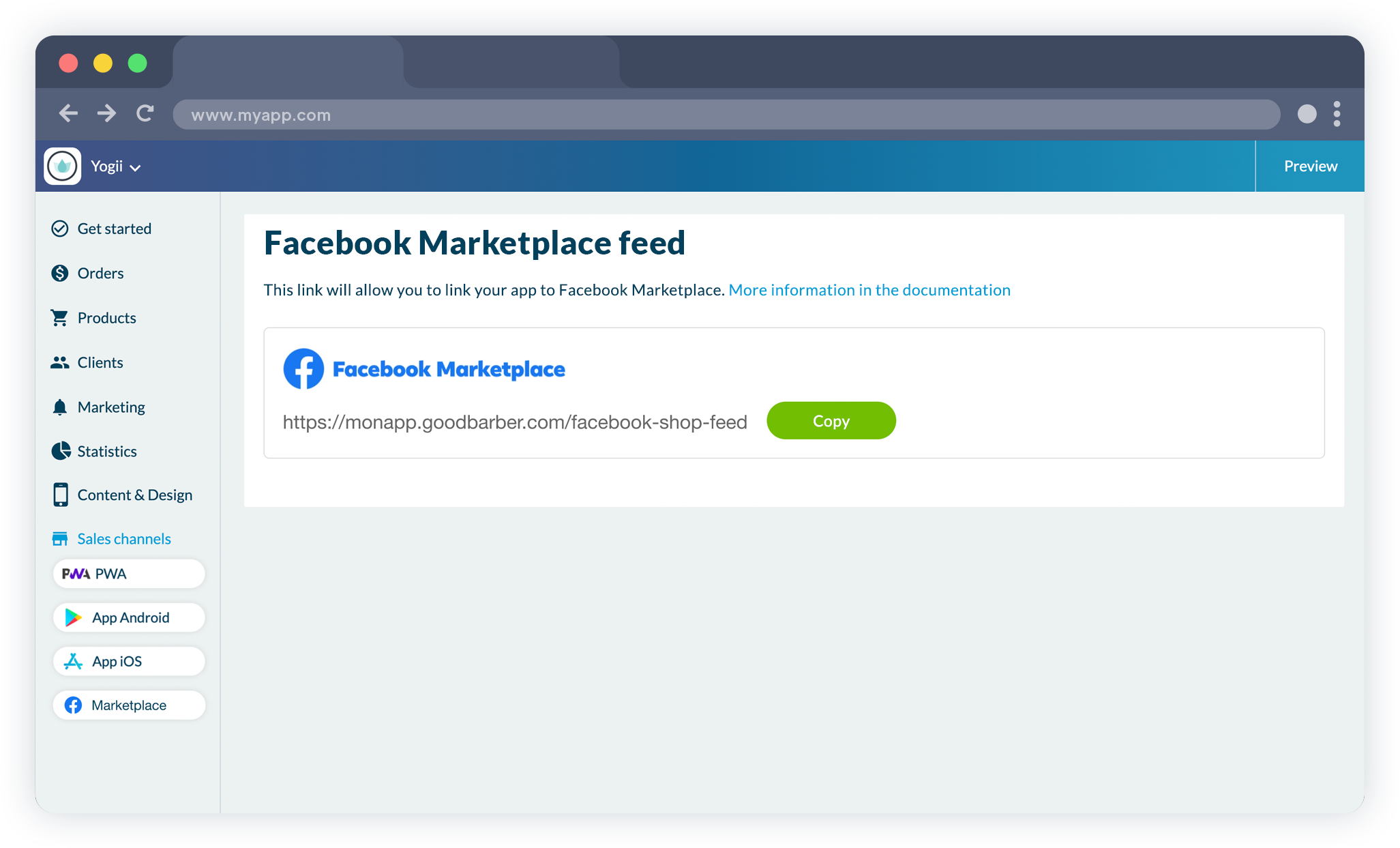 The Marketplace sales channel is a feature for businesses where Facebook will make their
shop products visible on Facebook Marketplace
and allow buyers to check out directly on Facebook. Currently, this option is only available to US businesses, but this could change in the future.
To connect your GoodBarber app to Facebook marketplace:
You'll first need to have a Facebook shop set up. To do so, you first need to create a Facebook Page for your business, if you haven't done it yet. Then create a Business Manager account, so you can assign your catalog to your business.

You can find more info on how to set up your Facebook shop here.
In your GoodBarber back office, install the Marketplace extension . This will add a new section on the Sales Channel menu on the left-hand side of your dashboard. Then connect your GoodBarber and Facebook by simply entering the url provided in your Facebook store interface.
No need to recreate a product catalog
to take advantage of Facebook Marketplace. We
automatically generate a dynamic feed that allows you to synchronize your GoodBarber product catalog
directly with your Facebook store. The feed is automatically updated with all your products, their prices, their stock...
Once you've set up the extension in your app back office,
follow these steps
to sell through the Facebook Marketplace Sales Channel:
Log in to your Facebook Commerce Manager account.
Select your Facebook shop.
Select Settings on the left-hand menu.
Click Business Assets and then select Enable Marketplace.
After you've done this, eligible products from your shop will start to become visible on Facebook Marketplace. Marketplace listings are fed to users algorithmically, so products will show up in the feed of users that Facebook believes will be most interested in them.
Tips to increase sales on Facebook Marketplace
and your GoodBarber eCommerce app ;)
High-quality photos
: you can include up to 10 photos for your products. Make sure your photos are crisp, clear, and with good lighting. If you don't include good photos in your listing, you can bet people will ask for some. Quality photos will show the users all of the key features of your product. They will also allow the potential client to imagine having this product. Your images need to compensate for the fact that your clients are not able to physically touch and see the product.
Engaging descriptions:
Optimize your Facebook listing by including more keywords in the title and description. You need to be as descriptive as possible so potential shoppers know what you're selling based on the title. Then write a detailed description of the product: measurements, materials, and any other things that you might consider when buying something.
You can find further info on how to optimize your product listings in this
article.
Include search tags
: You can include up to 20 search tags in the tag box below every Facebook Marketplace listing form. Use word that a shopper might type in the search bar to find your listing. So, for example, if you're selling a black designer shoulder bag, include tags like "handbag," "designer," "vintage," "shoulder bag" "black handbag" etc. By using them, you make it easier for potential shoppers to find exactly what they're looking for.
Join local Facebook groups:
You should consider joining some local buy and sell local Facebook groups. Typically these groups are situated locally, members often living in a specific city, town, or neighborhood.
They offer an opportunity for small businesses looking to build a more local audience.
Use targeted Ads:
You can advertise your Facebook listings by "boosting" them or moving them back to the top of Marketplace search results. You can choose the budget and duration of your campaign, and the audience you want to target (location, age, interests).
By complementing your GoodBarber eCommerce app with Facebook Marketplace, you're using two of the best eCommerce platform out there. The native offers the best shopping experience on mobile, and the highest conversion rate while Facebook allows you to reach a huge audience.
If you don't have an eCommerce app yet, you can start for free
here
.