View more extensions
Shopify
Convert your Shopify store into a mobile app
Service+
This extension can be installed based on your needs, by the GoodBarber team. Contact us for more information.
Your Shopify store turns into a mobile app
Sell products from your Shopify store with an app for iPhone and Android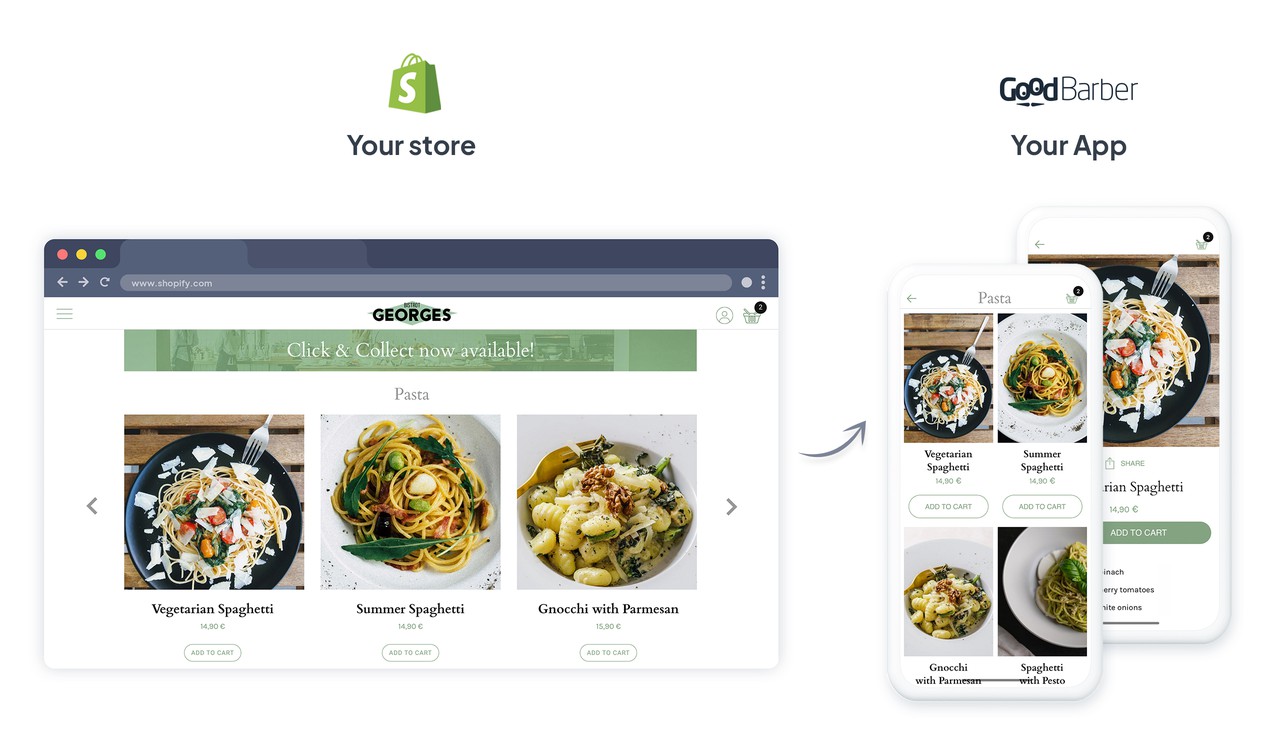 We turn your Shopify store into a native app, taking care of the whole process and offering you a new sales channel available on Google Play and the App Store.
Your eCommerce app ready-to-go
A quick and comprehensive solution to take your store to the next level
Our team will cover all technical aspects and provide you with a fully functioning app, ready for publication, in just 24 hours. Our offer includes:
A beautifully designed app that reflects your brand

Catalog and stock always synchronized with your Shopify store

Continuous updates and maintenance

Submission to Google Play and the App Store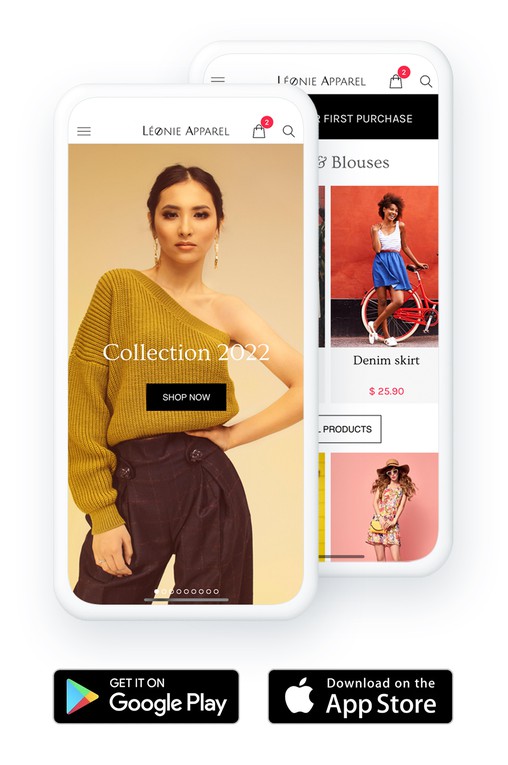 An app that reflects your brand
Our expert designers at your service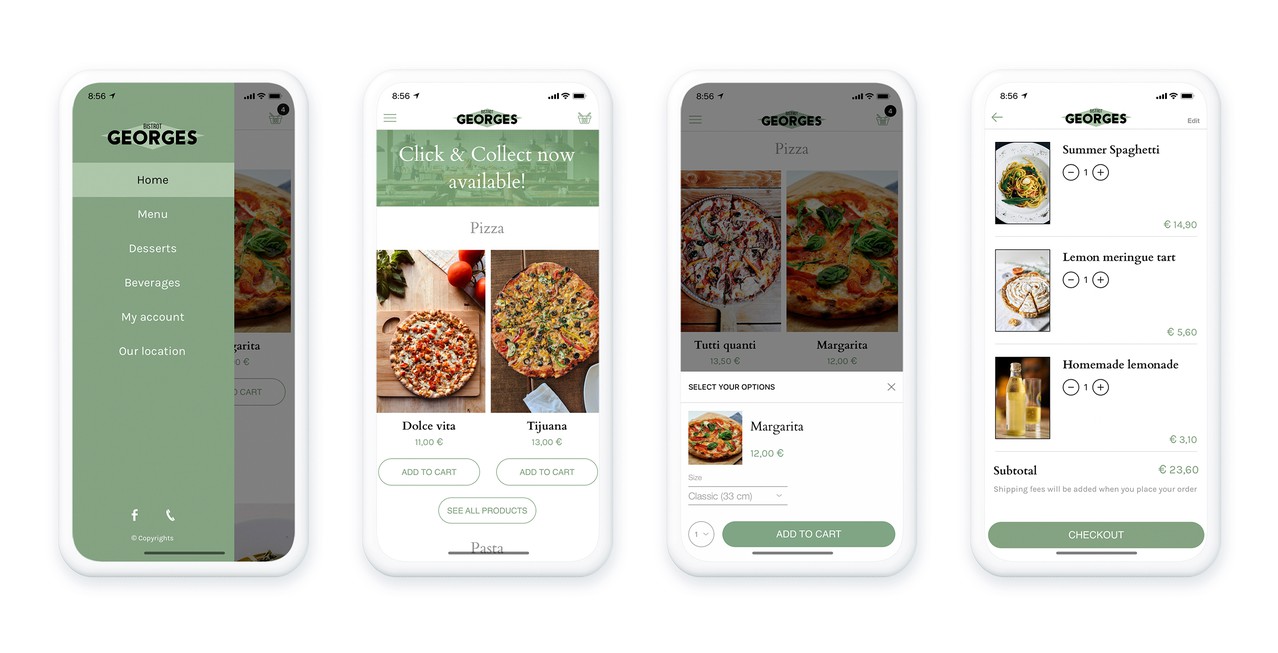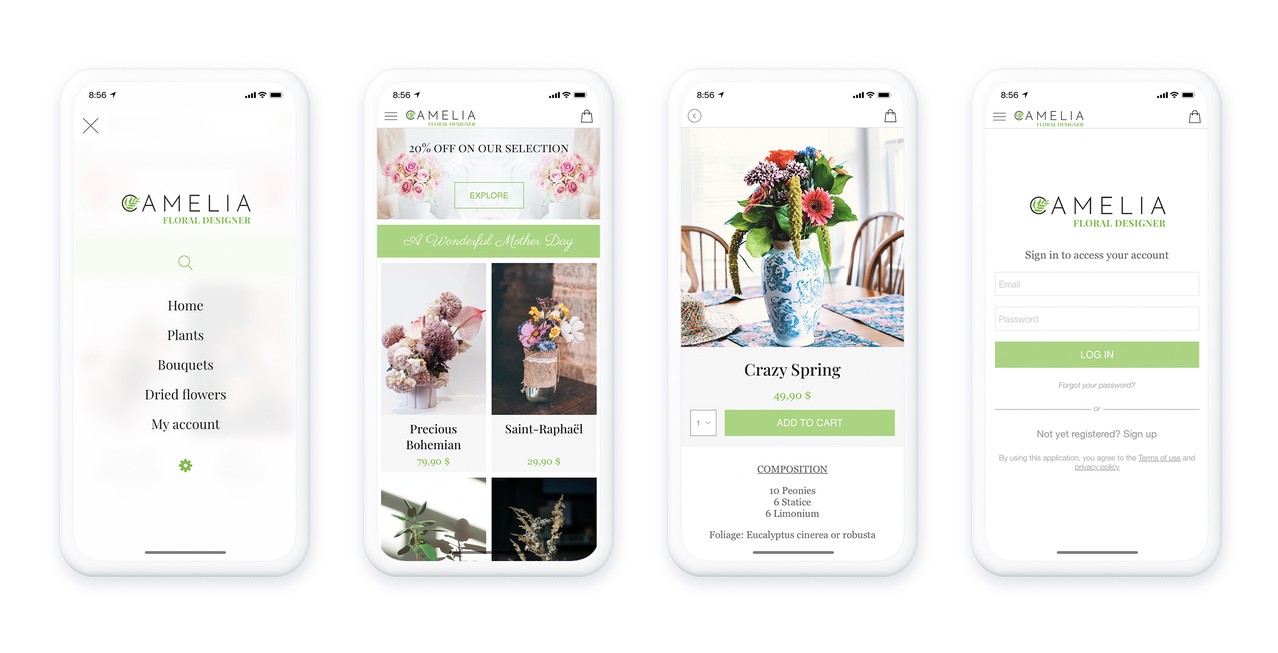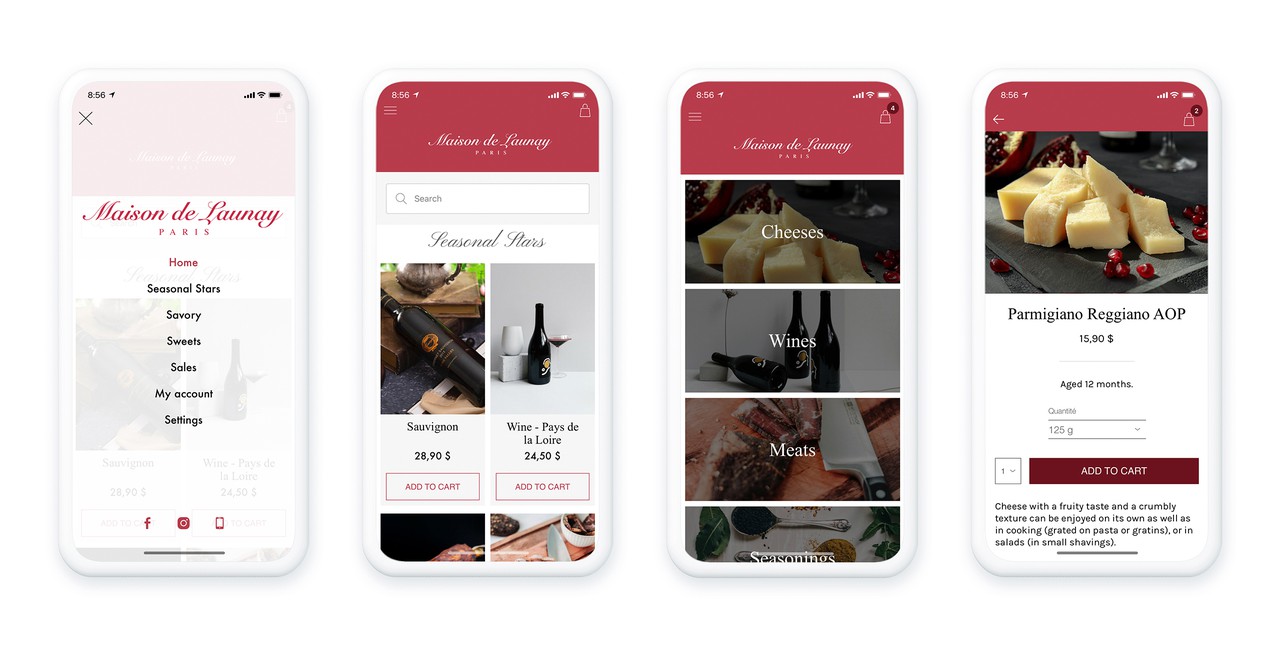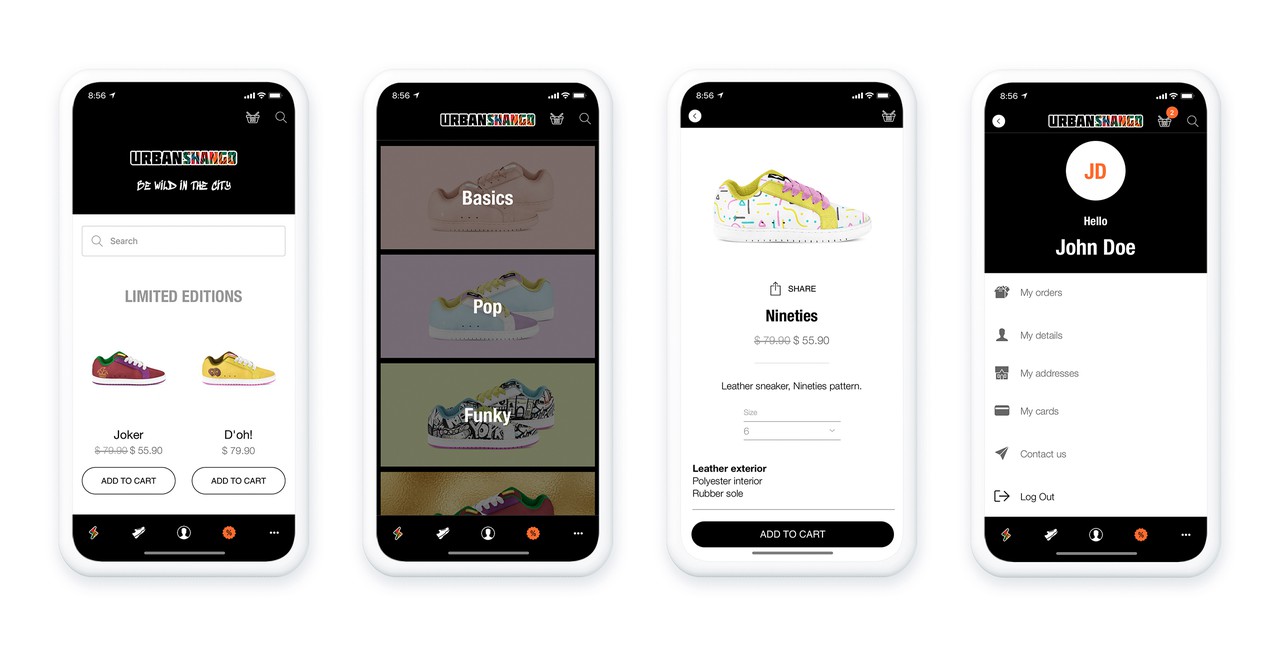 GoodBarber offers infinite design possibilities and a high level of customization. Our team will provide you with an app that perfectly matches your brand and your Shopify store.
All the sales optimization tools you need
All the functionalities that will make the difference and convert visits into sales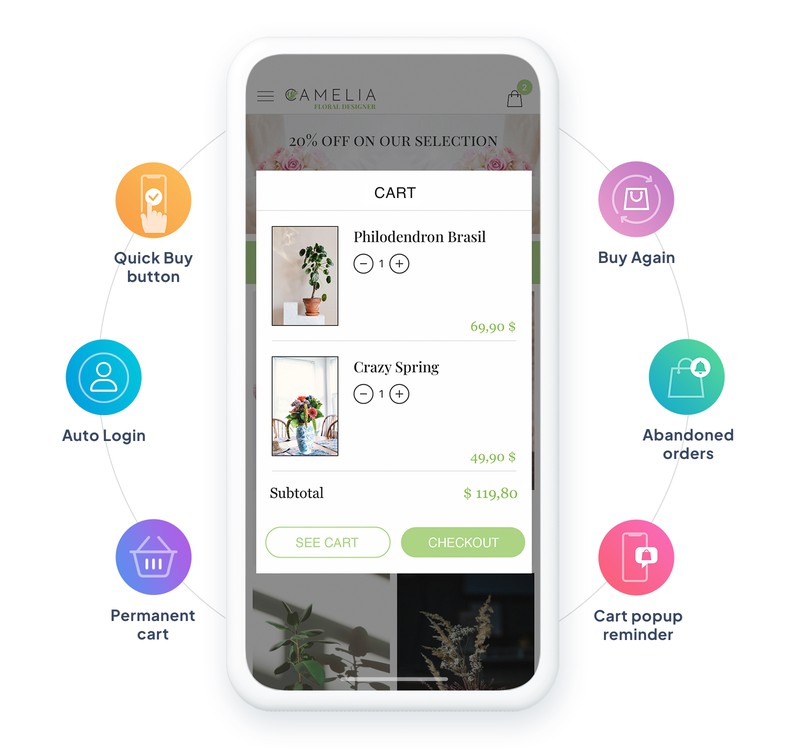 By choosing GoodBarber's native technology, you take advantage of a wide range of features for a smooth user experience and a higher conversion rate.

Abandoned orders: Never lose an order again! Recover by email and push notification clients who have initiated an order without having finalized it.

Cart popup reminder: When a client returns to your app and their cart contains items from a previous visit, a popup is displayed allowing them to directly access the checkout.

Buy Again: Your clients can renew an order with one simple click. The "Buy again" button allows them to add to the cart all the products from an existing order with one click.

Quick Buy button: Your clients can easily add products to their cart from the Home page (product list widget) or while browsing a collection. They never have to leave the page they're browsing.

Auto Login: With integrated login, your customers identify themselves only once. then, they are immediately recognised each time the app is launched. The best way to match their expectations.

Permanent cart: Your clients can keep track of the products they added to their cart. Unpurchased items will be automatically found in their cart for the next visit.
Easy purchases with 1 click-payment
Less friction = more revenue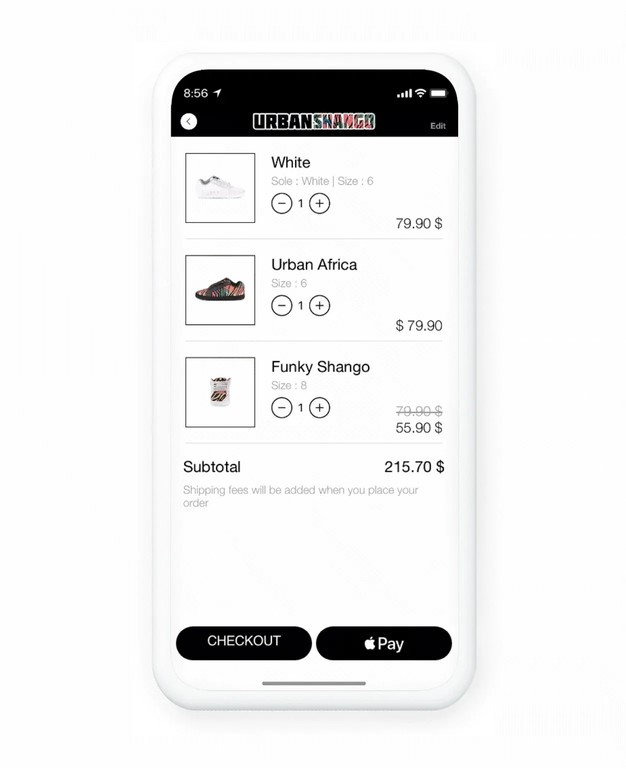 With your mobile eCommerce app, users can pay with face or fingerprint recognition. Apple Pay and 1 click payment options are offered to your customers during the checkout. These features are designed for a seamless shopping experience, leading to more conversions and more revenue.
Push notifications: nudge users to shop
Keep your customers in the loop and spark their interest
Stay in your customers' mind thanks to use notifications. Simply craft a message from your GoodBarber back office and send it to your user base in one click.

Notifications are win-win situation: you promote your business, and your loyal customers are sure not to miss a single deal from their favorite store.

Several marketing campaigns can be imagined with push notifications:
Announce back in stock products

Promote unique deals

Schedule messages to be sent later on

Send notifications to selected clients with customized deals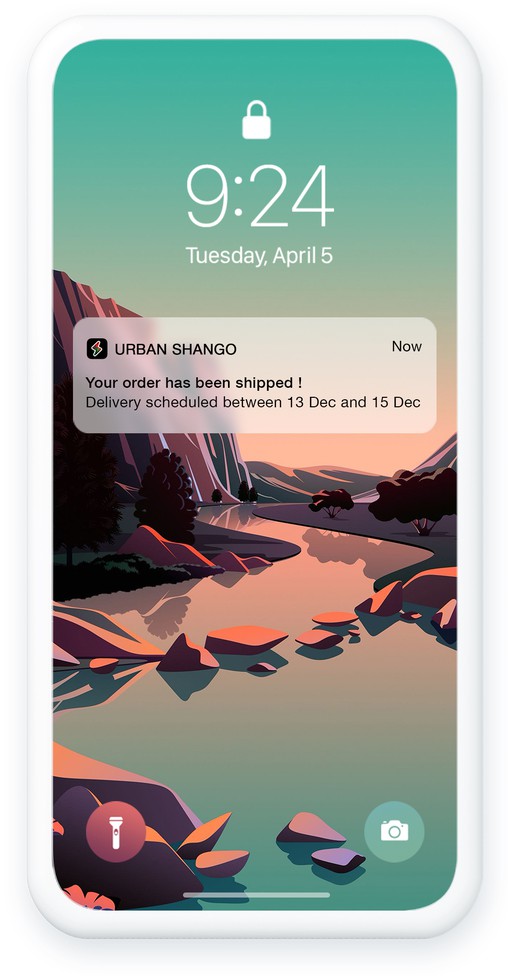 Improve your marketing efforts with actionable analytics
Measure the ROI of your eCommerce app and take better decisions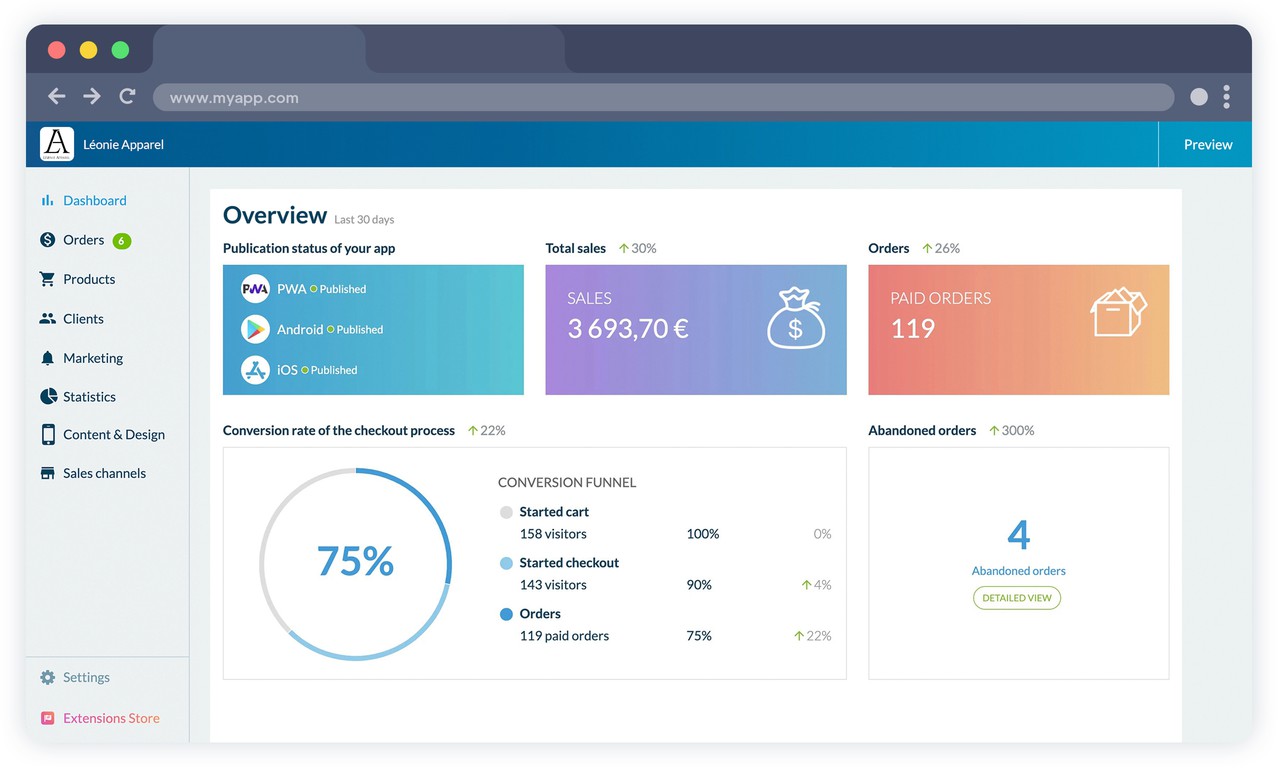 Having a precise view of the value brought to your business by your mobile app is critical. GoodBarber provides you with actionable data to understand how customers spend their time and their money in your app.

Total sales: Instantly view the sales generated by your store. You have a direct view of sales on all sales channels. And a comparison with the previous period.

Number of sales: Track the number of sales over the period. And compare immediately the progress against the previous period.

Conversion rate: Adjust your marketing and store settings based on your conversion rate. The conversion rate measures sales that have been made vs. sales that have not been completed. This rate is compared to the previous period to measure your progress.

Top sellers: Keep an eye on your store's best sellers. This will allow you to monitor the status of stocks. And any marketing actions to be carried out.

Sales by device: Do they buy more from iPhone or Android? Identify the types of devices your customers use to make their purchases. A valuable information to eventually increase your marketing efforts on new channels liked by your customers.
No code app builder: you're in control
GoodBarber creates the app for you but you can edit it anytime ;)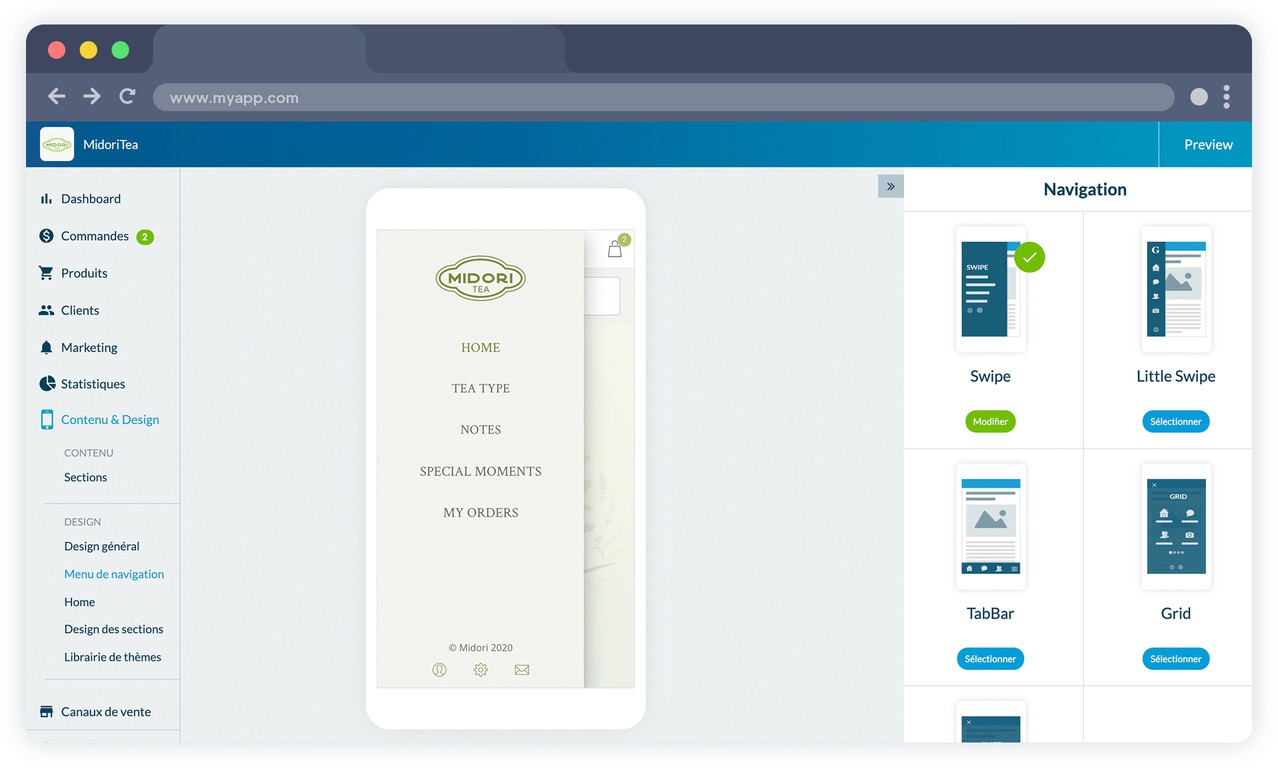 With GoodBarber, no strings attached. Thanks to our no-code solution, you can customize your app anytime you want. It's important to us that you get ready to sell on mobile as soon as possible so our team will setup of your app based on the look and feel of your Shopify store. But we also want you to stay in total control of your app. Who knows better than you what your business has to offer to your customers. That's the reason why you have access to all the features of our no-code mobile app builder to bring modifications to your app if needed. We have a dedicated support team, in 4 offices in 3 countries, and 3 time zones ready to help, in cas you need.
Conversion rate x3
iPhone and Android apps convert 3x more than the mobile web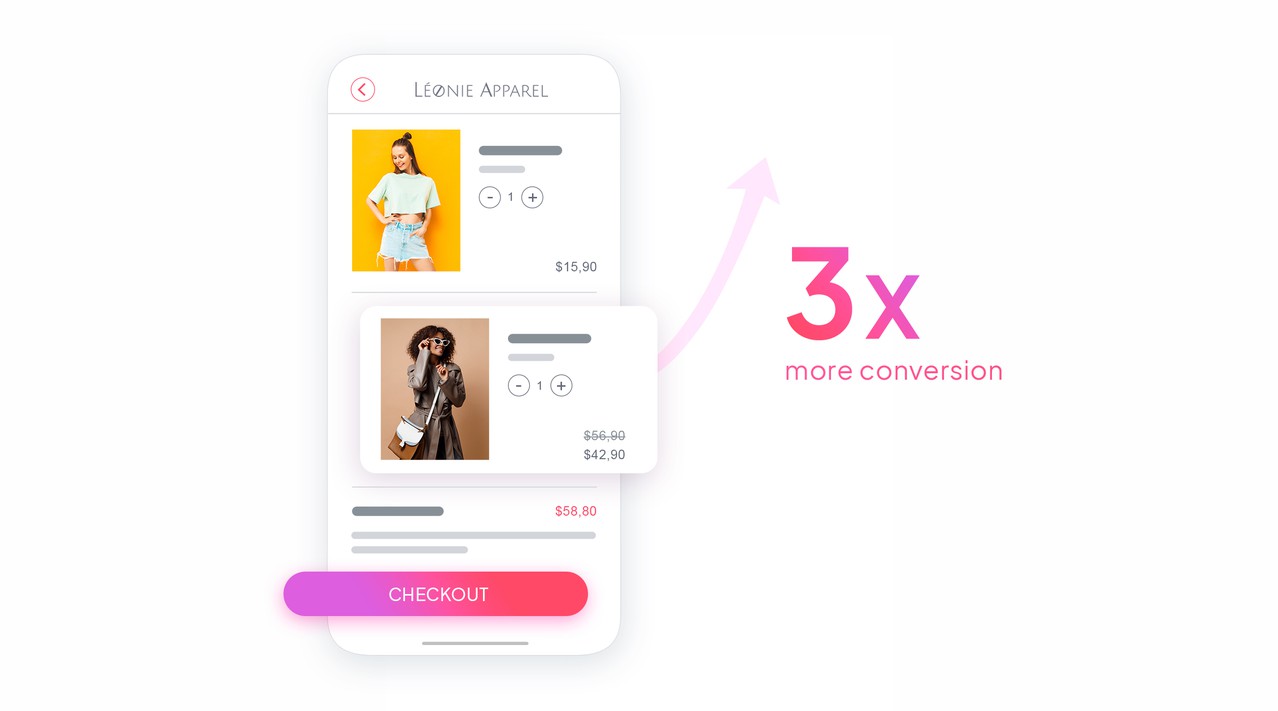 Selling your products on mobile is now a must. In the last year, 78% of consumers used their mobile phones to purchase their products. More than 1/3 of these purchases have been made through a mobile application*. Shopping apps help build client loyalty and offer more convenience, speed, and stored settings.

*Adobe EMEA Consumer Research 2022
How does it work?
Get your Shopify Store app for iOS and Android in only 3 steps
GoodBarber offers the easiest and fastest solution to turn your shop into an app.

1

Connect your Shopify store to GoodBarber

2

We import and synchronize your catalog

3

We design your app to match your brand

Generating your native app would generally take 24h. Once your app is ready for publication, we will guide you through creating your Developer account on the Stores and take care of the submission process.

After the publication your GoodBarber app will constantly synchronize with your Shopify store, and all orders received on the app will be automatically displayed on your Shopify back office.
Shopify
Our team is here to build a solution based on your needs. Enter your email address below to get contacted by our team.
We have received your request. You will be contacted soon.