View more extensions
Push notifications
Send notifications to keep your users engaged and informed
For Content and eCommerce apps
|
Free
Instant and efficient
The best way to communicate with your users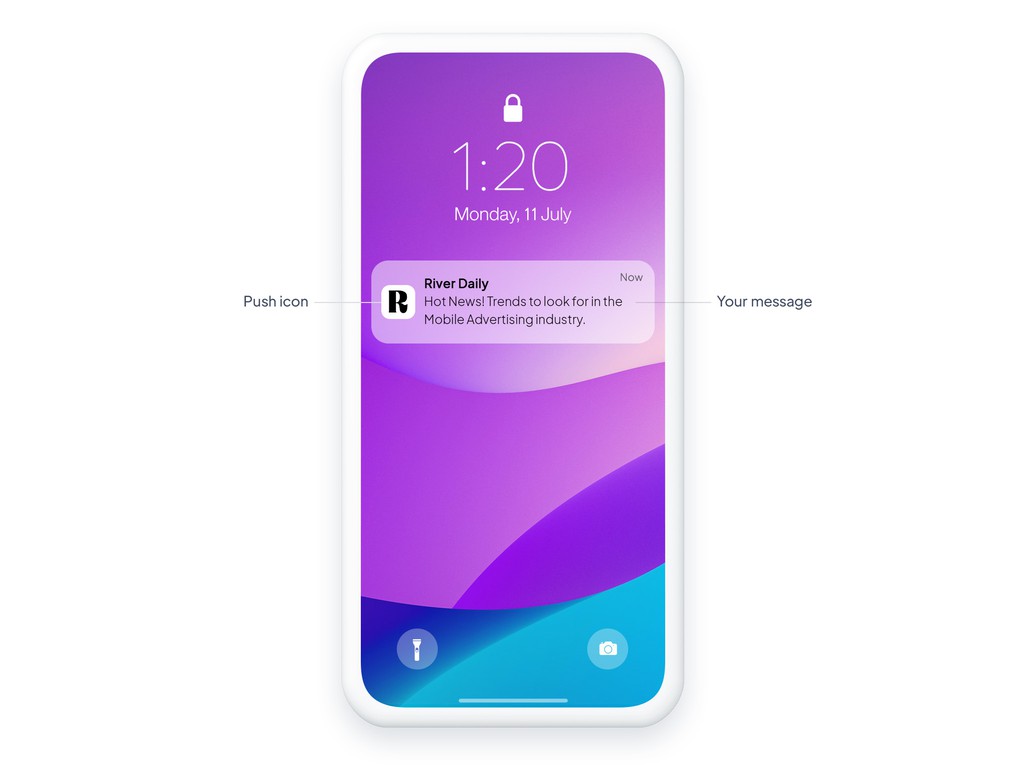 Thanks to instant push notifications, there are no more boundaries between you and your users. Simply write and send your latest news in one click from your GoodBarber back office. In addition to native Apple and Android devices, send push notifications that will be received by your users directly in their web browsers, on mobile, tablet and desktop devices. Web push notifications are compatible with Chrome Desktop & Android, Firefox Desktop & Android, and Opera Desktop & Android browsers, as well as Edge Android.

GoodBarber's push notification system is easy to use, ultra-efficient and secure (anti-flood security prevents the unintentional sending of large numbers of push notifications over a short period of time).
An accessible communication channel
Create your own notifications in just a few clicks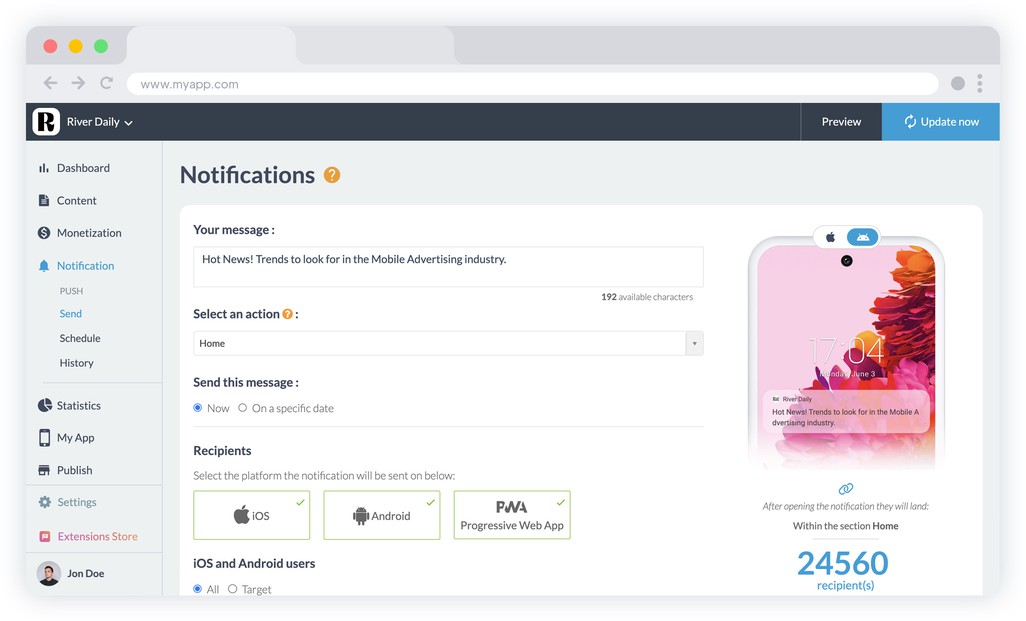 From the dedicated back office page, simply write your message. You define the action that will be triggered when your users open the push notification: open the app, to Home or to a specific section, or open an external link. You can even personalize your notifications by choosing the associated sound, and enabling or disabling badge display on iOS.

While setting up your push notification, your GoodBarber back office lets you view it in real time as it will be displayed on your users' devices.
Target your audience
The right message, to the right people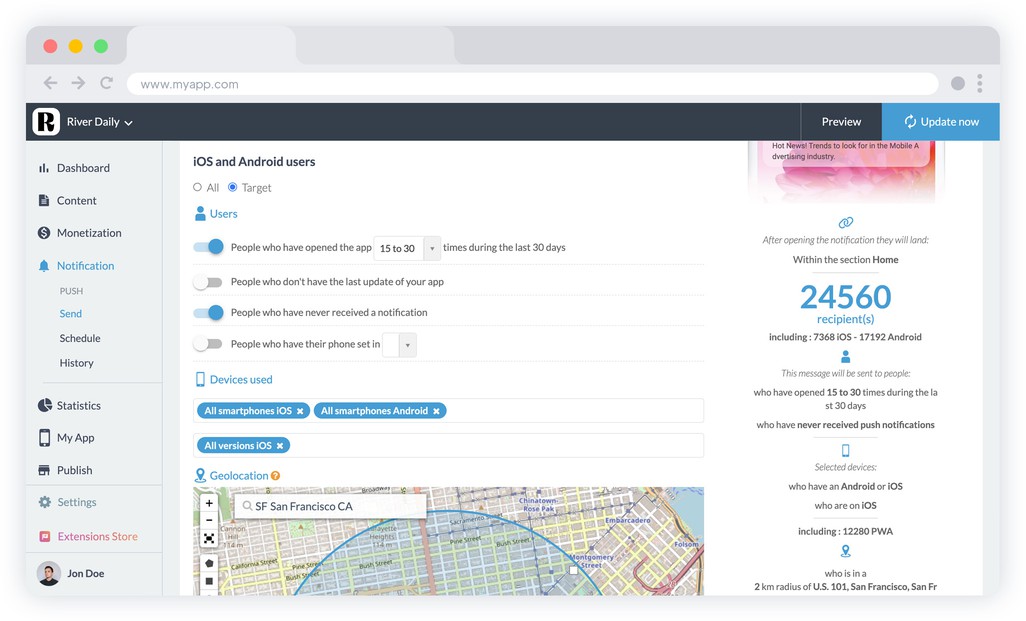 Several options are available to target your audience. Target users who will receive your push notifications based on their behavior: number of times the app has been opened in the last 30 days, app version, or only users who have never received a push notification.

You can also target your users according to the device they use or their geographical location. You can view the number of recipients of your push notification in real time, based on the targeting rules you've defined.
Manual, scheduled or automatic
Define your communication strategy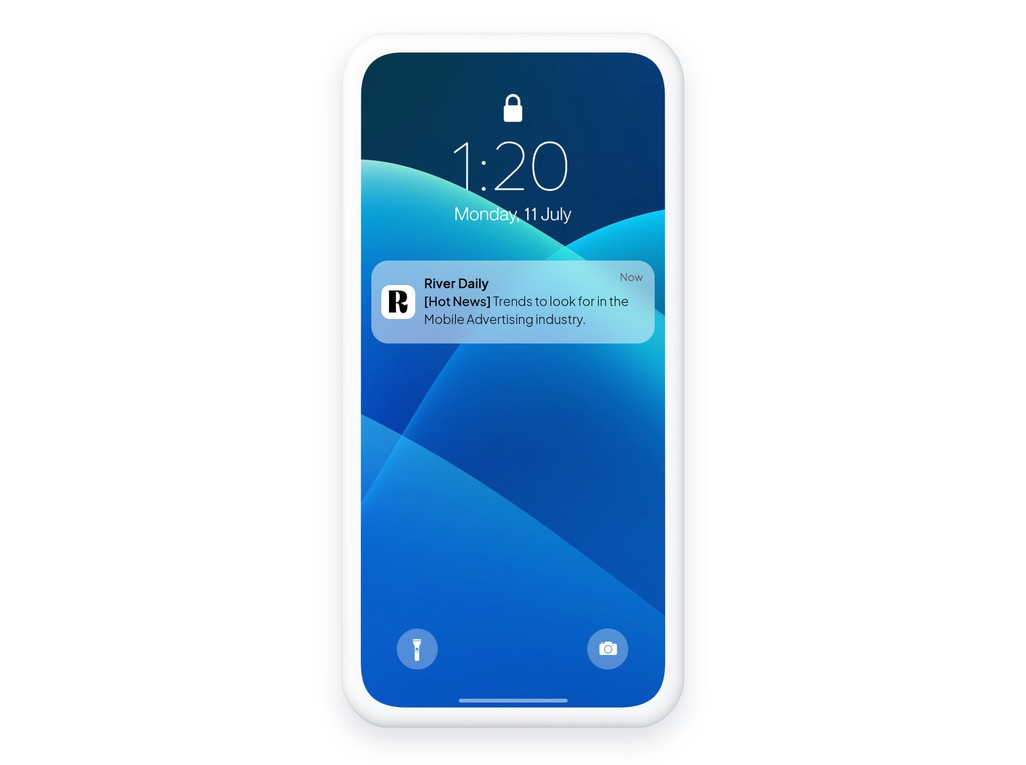 You can send notifications to your users manually to communicate with your audience on an ad hoc basis, or schedule a manual push notification to be sent at a specific date and time. Activate the local time option to communicate effectively with your international users.

You can also create rules for sending automatic push notifications when new content is published in any section of your app. In this case, you can add a prefix to your automatic push notifications and select the times at which your users will receive your notifications: at any time, during defined time slots or for a specific period of time.
Keep an eye on your results
A menu dedicated to your notifications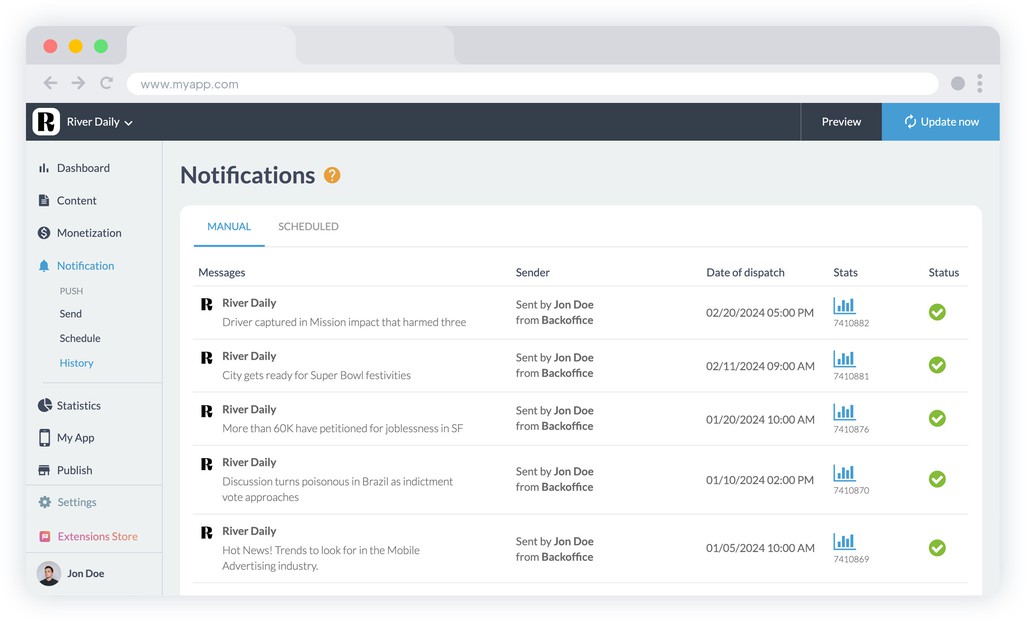 View the complete history of push notifications sent, including title, description, sender, date sent and notification status. To perfect your strategy, analyze the performance of your notifications with statistics on open and click rates.