View more extensions
CMS Map
Display your points of interest on a map
Built by GoodBarber
This feature is developed and maintained by the GoodBarber team
|
For Content and eCommerce apps
|
Free
Showcase your points of interest
Create more than just maps

Create your geolocated maps from your back office
Maps allow you to geolocate points anywhere in the world and attach information to them. It's a great way to create visual lists, to classify places or to help your users to find their way around. The GoodBarber CMS allows you to create geolocalized maps in record time. You display your points of interest in your app and have the possibility to update them instantly. You can sort and classify your points of interest as you wish to facilitate the navigation of your users. By displaying your points of interest on a map, your users can access them at any time and from anywhere, making it easier for them to find their way around. With the In-App purchase extension, you can also monetize your content by making your points of interest accessible only after you have purchased a subscription.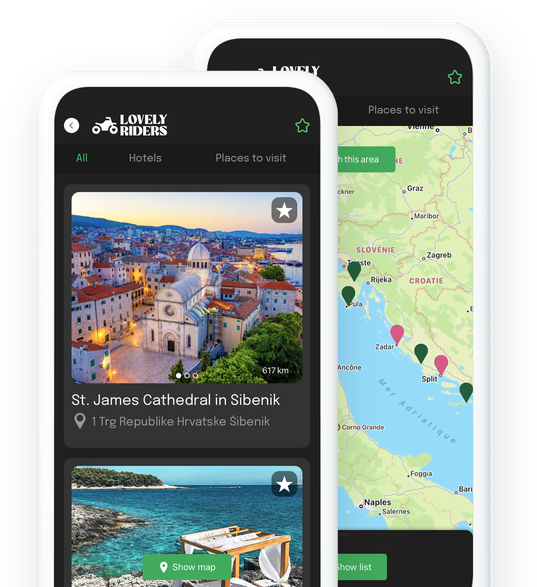 A powerful CMS at your service
Create an unlimited number of points of interest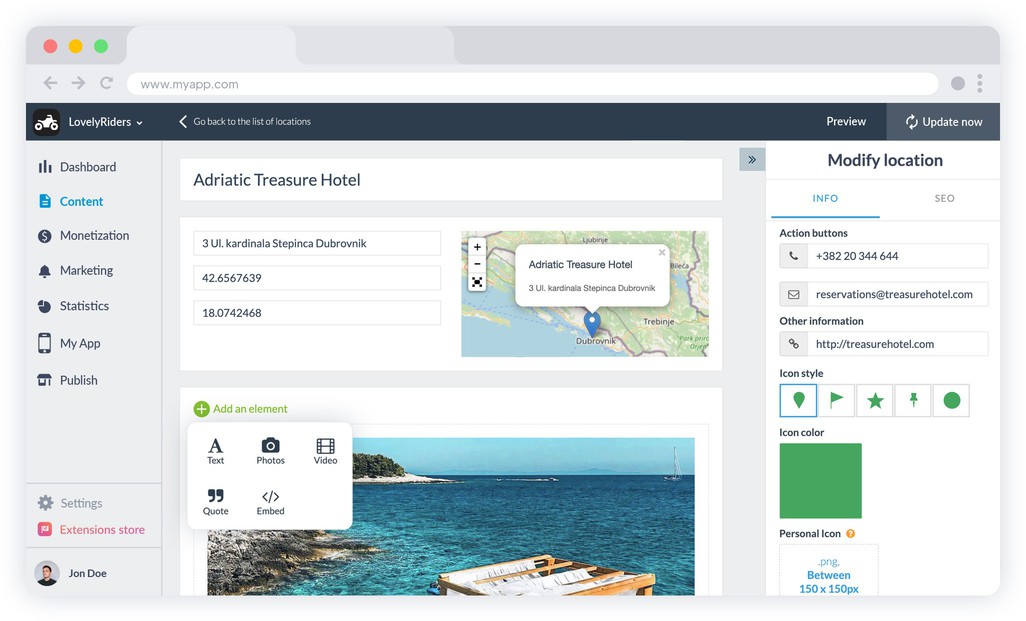 Enriched content


From the GoodBarber CMS, you can create as many geolocalized points of interest as you want, which can then be displayed as a list or a map. After entering its title and its geographical coordinates, you can use different formats to describe your point of interest. Text, photo, video or embed code, let your imagination speak to present your point.
A custom design


To optimize the rendering of your points of interest in map view, you can choose an icon (and its color) among those proposed in your back for each point. You can also upload your own icons and push to the maximum the customization of your map.
A seamless user experience
Offer a complete and intuitive tool to your users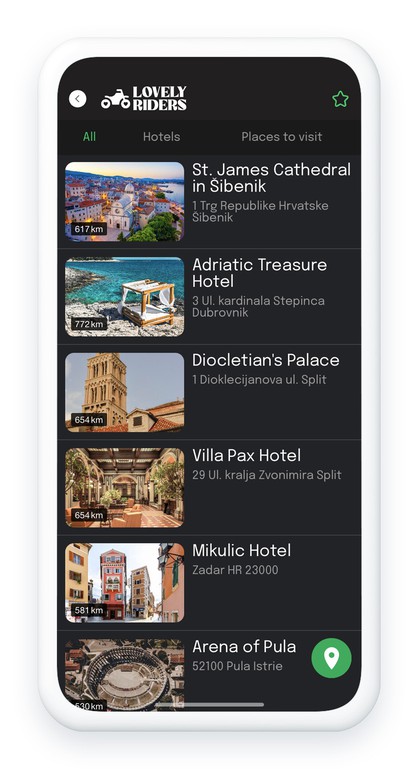 A tailor-made display


Depending on your needs, you can choose whether or not to display your points as a list. If you activate the List mode, you decide if it is displayed before the Map mode or not. You can also decide how you want to sort your content: by date of writing, alphabetically or by number of comments. Finally, you can also create categories to classify your different items.
An interactive content


Thanks to the geolocation of your points of interest, your users can see from the list view the distance between them and each point. The distance unit can be changed directly from the app (km or miles). They will also be able to create routes to your points of interest using external GPS services like Google Maps for Apple Maps.
An easier way to manage your points
Take advantage of a menu dedicated to the management of your content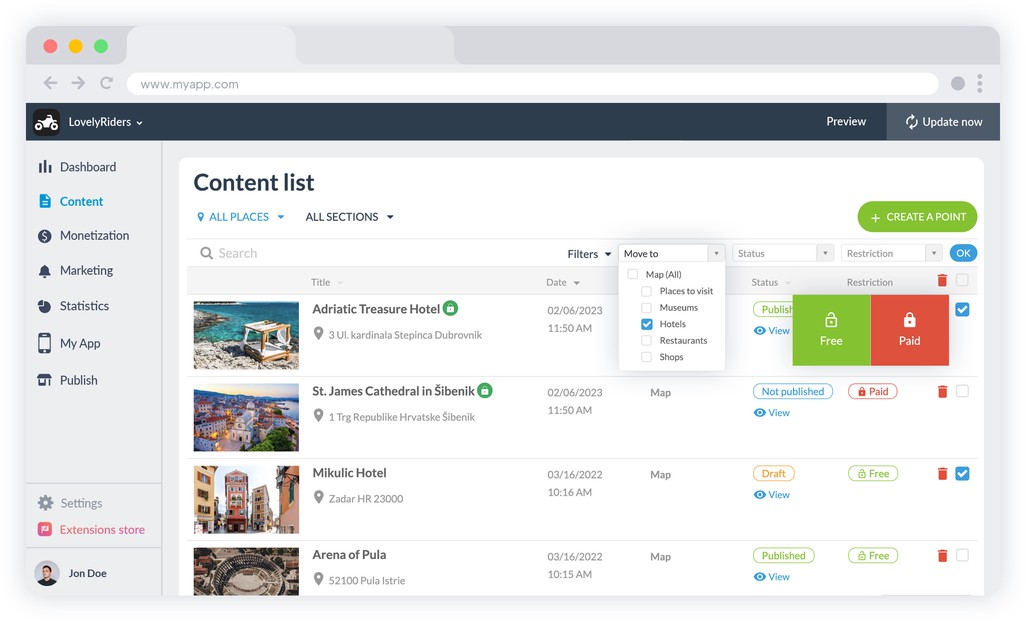 In your GoodBarber back office you have access to a menu dedicated to the management of your contents. You can consult all your points of interest and manage them quickly and efficiently. You can move your points between the different sections of your app and manage their publication status individually or in batch.
A flawless design
Discover our templates to present your points of interest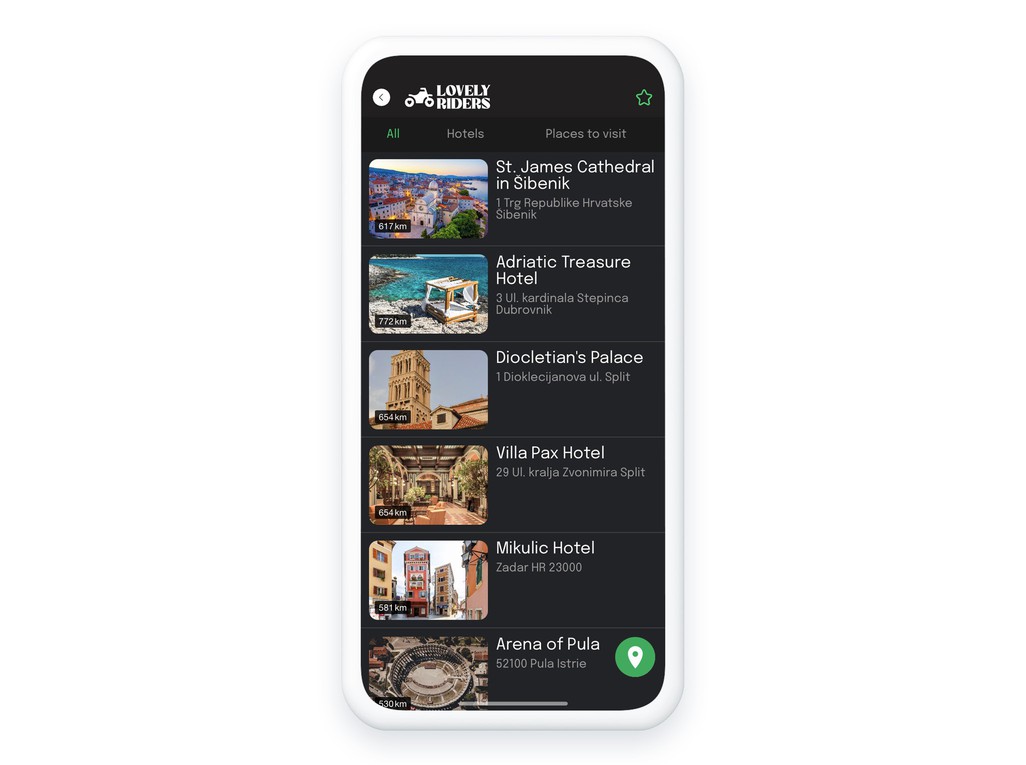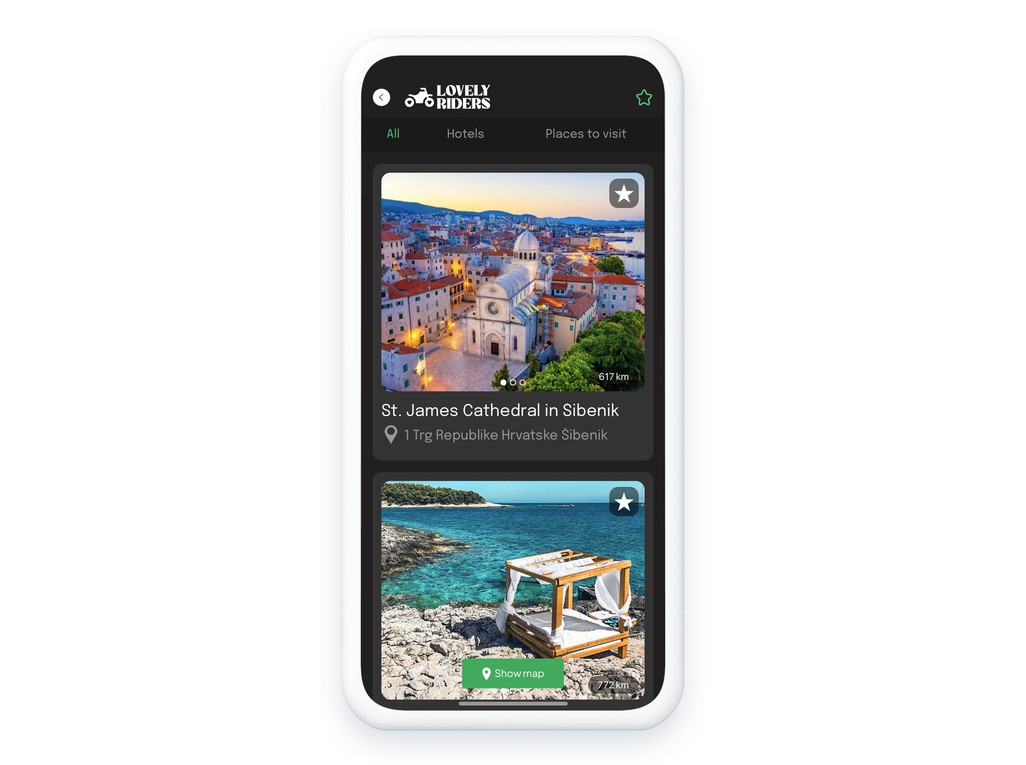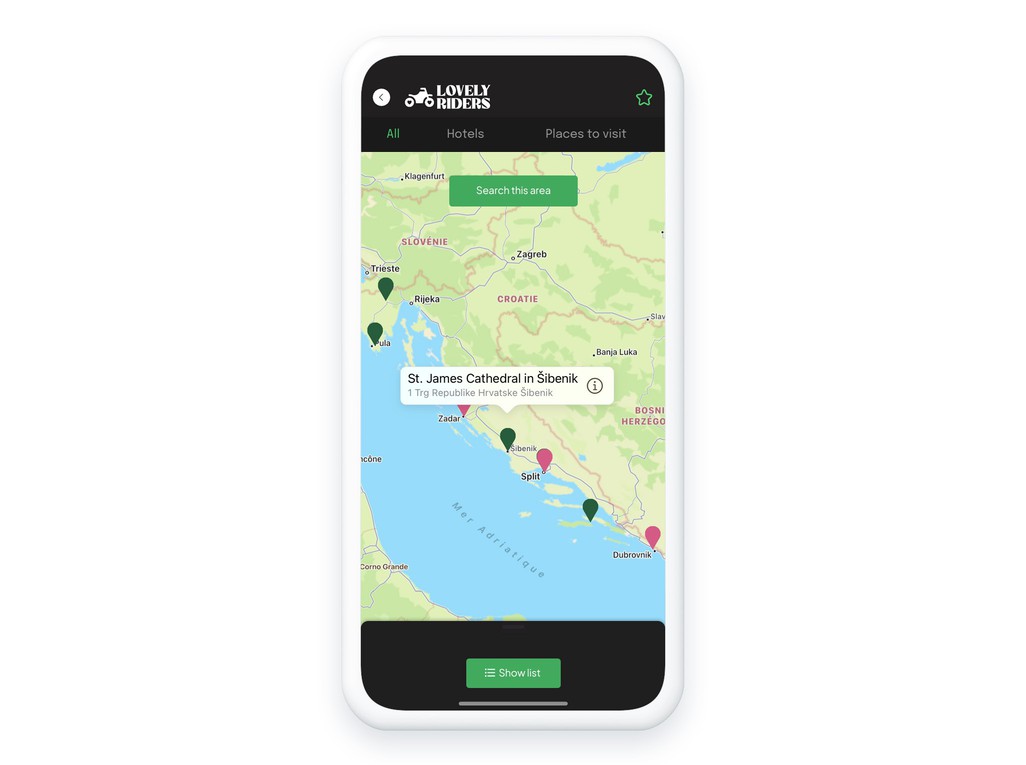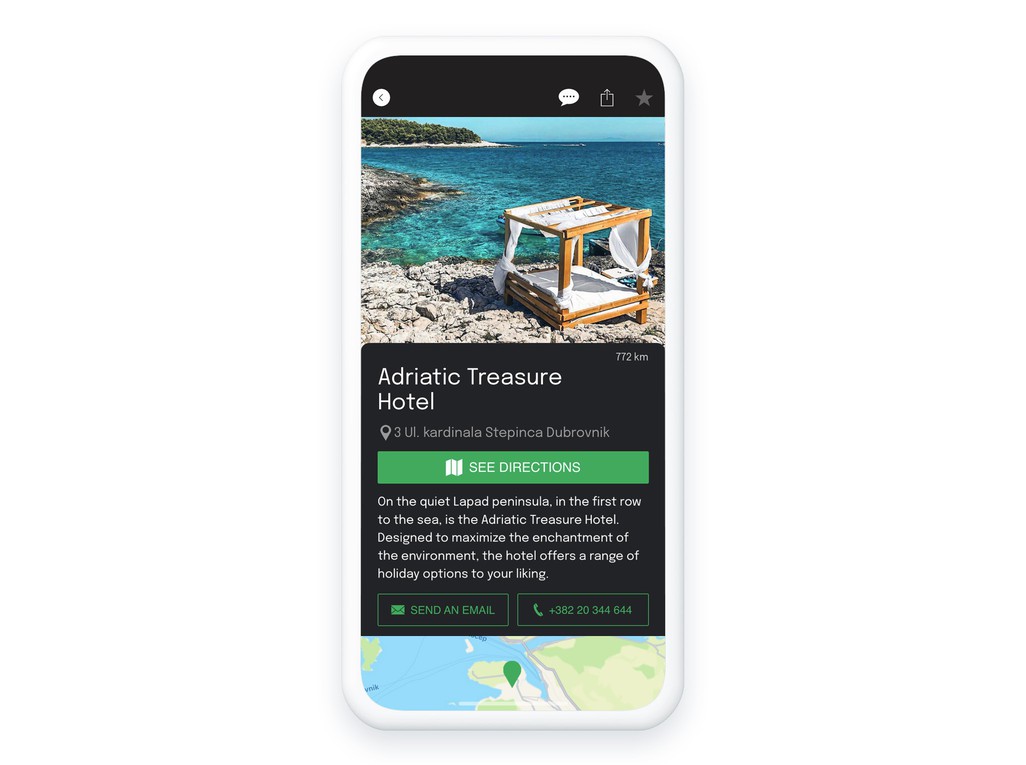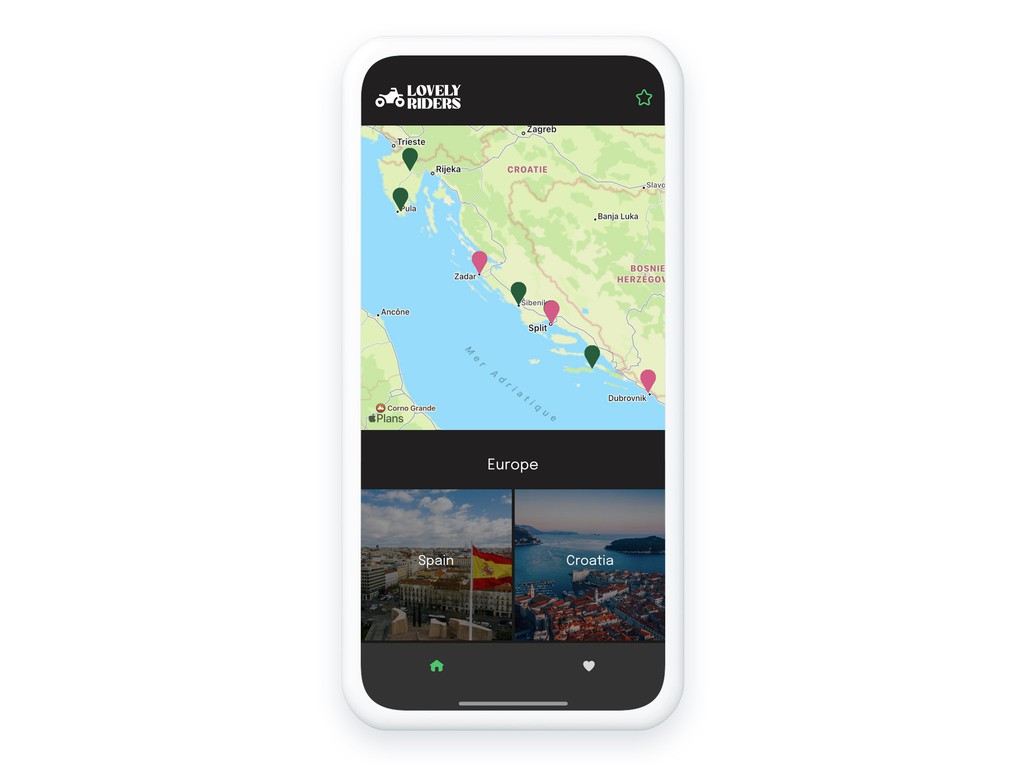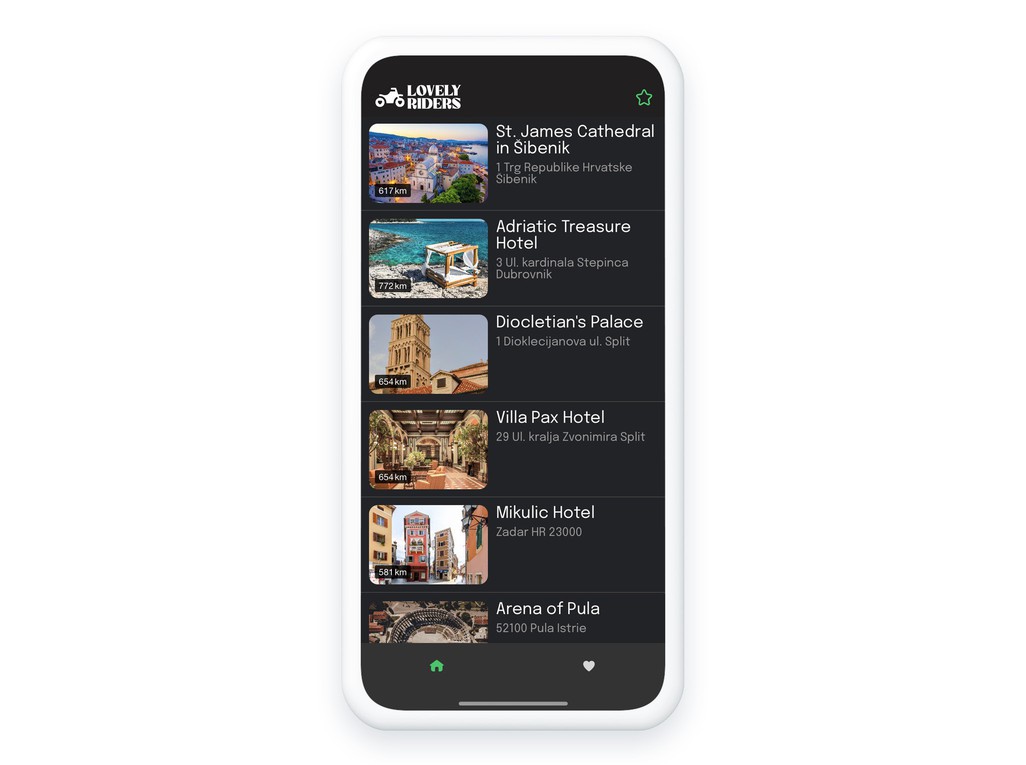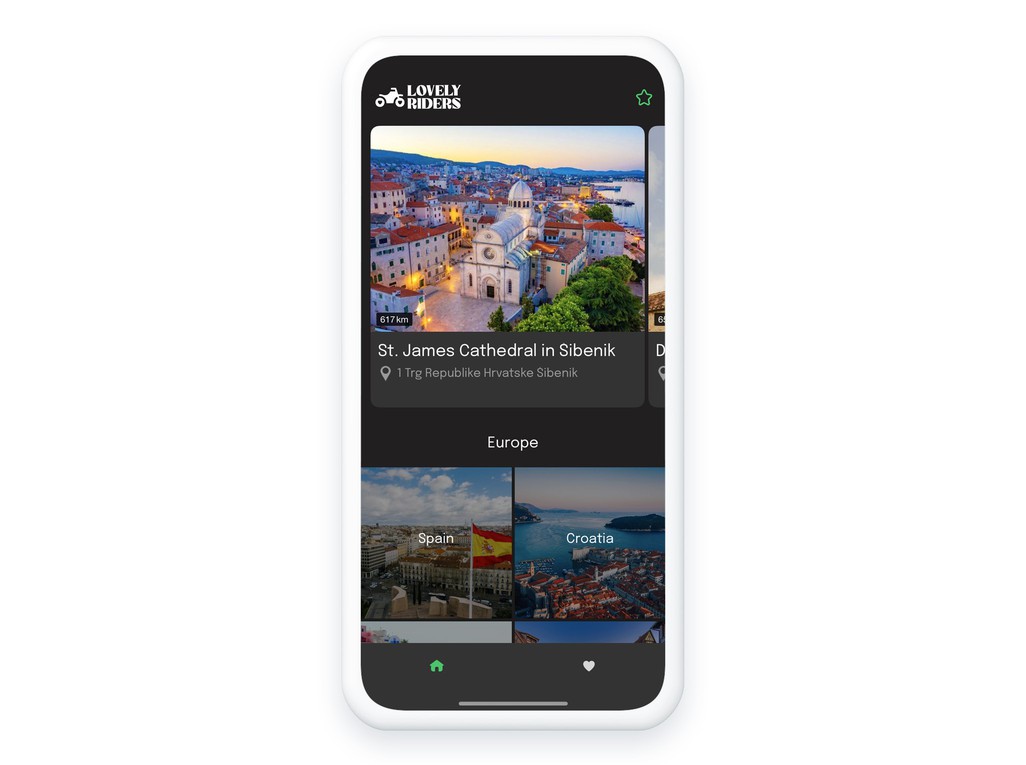 Our designers provide you with several templates to best present your points of interest. You can choose among our list templates, details or widgets, all designed according to the GoodBarber Design System . It is a graphic charter, a framework and a toolbox that guides our designers in an evolutionary way to ensure visual consistency between the pages of your app and a perfect user experience on all platforms.