View more extensions
CMS Agenda
Publish your events in your app
Built by GoodBarber
This feature is developed and maintained by the GoodBarber team
|
For Content and eCommerce apps
|
Free
Increase the reach of your events
Display your agenda and much more

Create your events directly in your back office
If you organize events, it's in your best interest to display them in your app. To ensure the success of your events, you must address certain challenges: describe your event, promote it and, above all, make your audience want to attend and make it easier for them to come. The GoodBarber CMS allows you to meet all these needs with a single tool. You display the information of your event in your app and have the possibility to update it in real time. You can also include additional information such as location details, making it easier to visit. By displaying your calendar details on your app, your audience can access them anytime and from anywhere.
A complete CMS to display your agenda
Show all the details of your events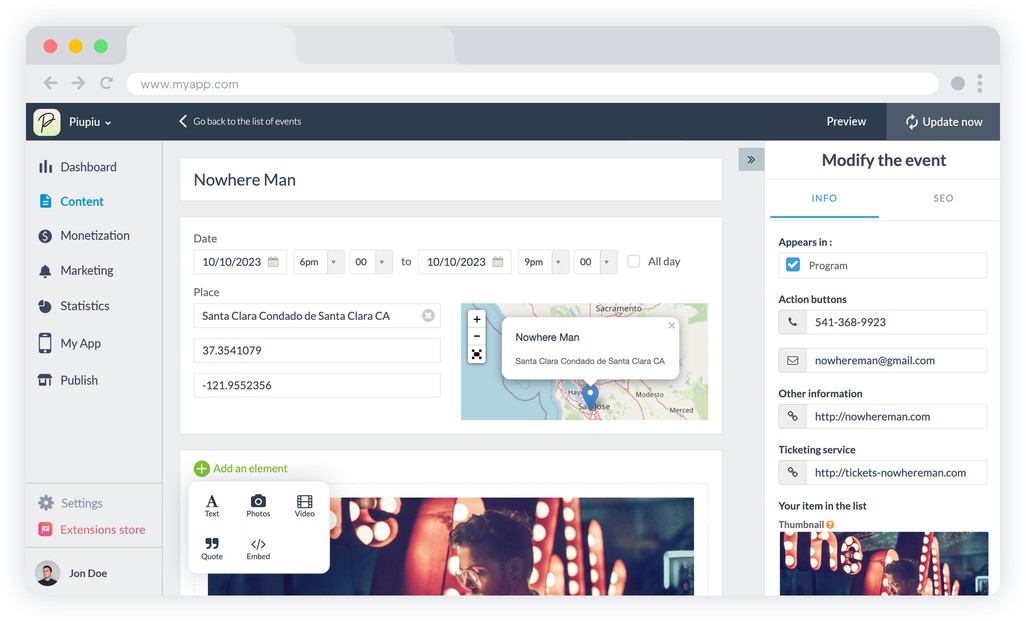 Use your favorite formats

The GoodBarber CMS is very easy to use: you create your events directly from the back office and you share the details of these events with your users. You choose the date, time and address of each event. You can add as much information as you want, in the format that suits you best by adding photos, text or videos to each event.
Action buttons

In the right panel of your back office, you can add additional information and actions that will be very useful for your users: phone number, email, ticket purchase link. Fill in your information, GoodBarber will create action buttons that will be displayed in the details page of your event.
Advanced options for a perfect UX
Small details that will make your visitors' lives easier
It is essential to smooth all the steps that separate your visitors from your event. From the discovery of the event to their arrival, they must have as few obstacles as possible on their way. When you create your events with the GoodBarber CMS, you have several options thanks to which you can guarantee a seamless UX to your visitors.For example, the date and time of events are displayed according to the time zone of the user who consults the contents of your calendar section and you choose the date display format that will be used in your events so that it corresponds to the format your users are used to, thus avoiding any friction. Then, thanks to the geolocation of your events, your users will be able to create itineraries with the GPS they use on their phone. Finally, your users will be able to add your events directly into the Calendar app on their smartphones.
Time zone management

Geolocation & Routes

Add to phone calendar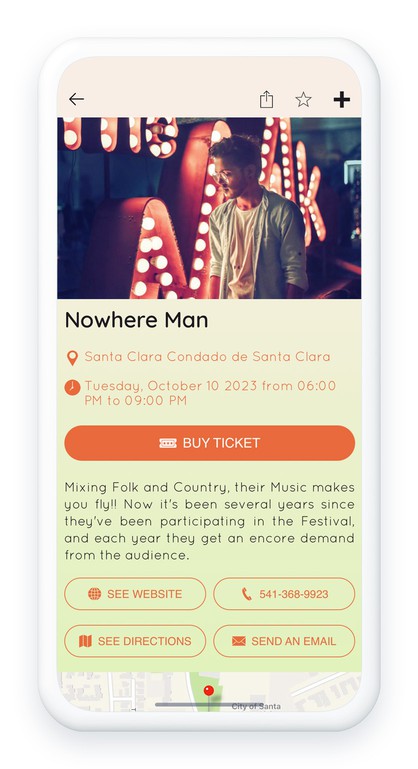 A menu dedicated to your content
Manage your events in the blink of an eye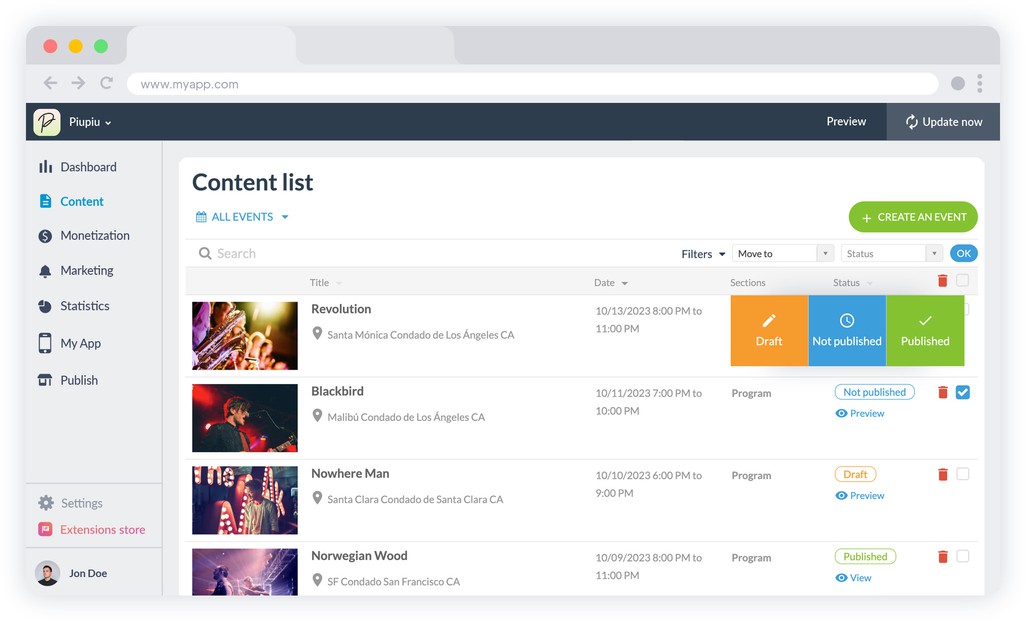 In your GoodBarber back office you have access to a menu dedicated to the management of your contents. You can view all your events and manage them quickly and efficiently. You can move your events between the different sections of your app and manage their publication status individually or in batch.
The best way to present your agenda
Present your events clearly
With GoodBarber CMS, you create a clear and structured agenda. Your events are classified by date and you can manage the display of any type of event no matter its duration: you can display several events on the same day, display the mention Now or the departure time when the D-Day has arrived... You can choose among our 7 templates of details or widgets to display your events. They are all based on GoodBarber's Design System which guides our designers in an evolutionary way to ensure visual consistency between your app's pages on different platforms and an optimal user experience.