View more extensions
Discount codes
Create special offers and boost sales in your online store
Built by GoodBarber
This feature is developed and maintained by the GoodBarber team
|
For eCommerce apps
|
$10/month
|
Fees with the Standard offer. Free with the Premium offer and the Pro offer
A true selling point
Increase the conversion rate of your e-Commerce app by adapting your special offers strategy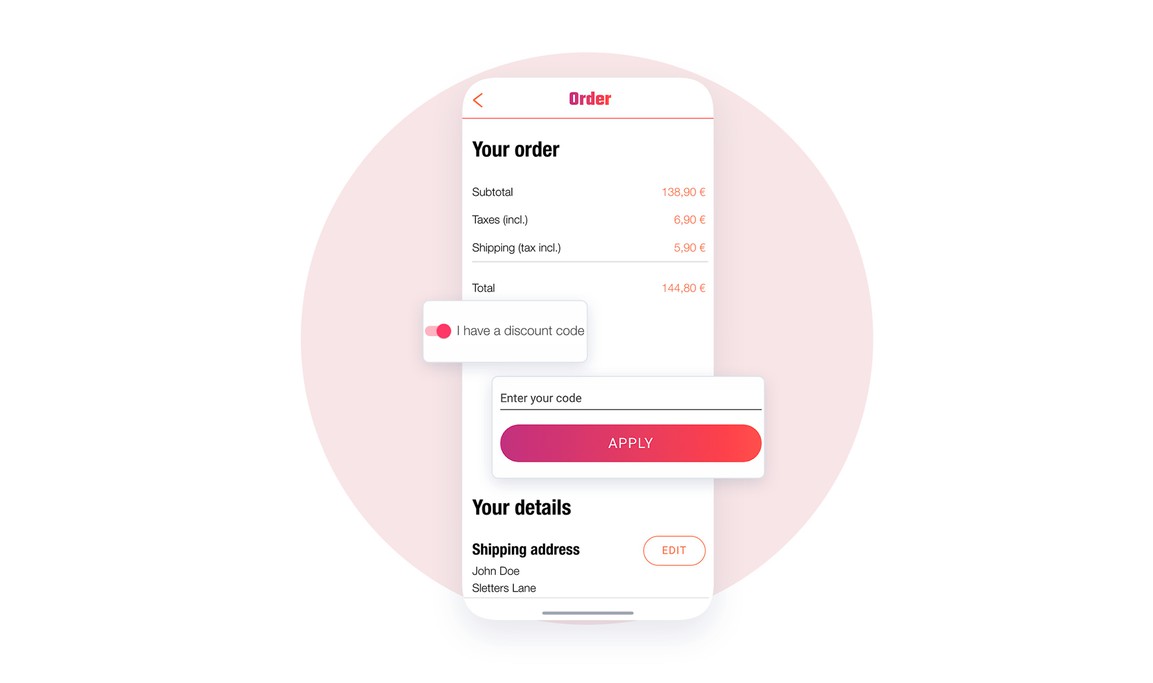 Discounts and special offers are foolproof sales arguments. Thanks to GoodBarber's Discount Codes feature, you can develop strategies adapted to each period of the year, by creating the appropriate discount codes. Offer your users different campaigns: General campaigns over long periods? Discounts valid on all products in your catalog? Exclusive and targeted discounts to specific customers or items? Analyze what works best and boost your sales by adopting the best discount strategies!

Discounts are also a great way for you to establish partnerships, to share your discount codes with a target audience, and to attract new customers to your store.
Tailored discount codes
Create tailored discounts for each of your campaigns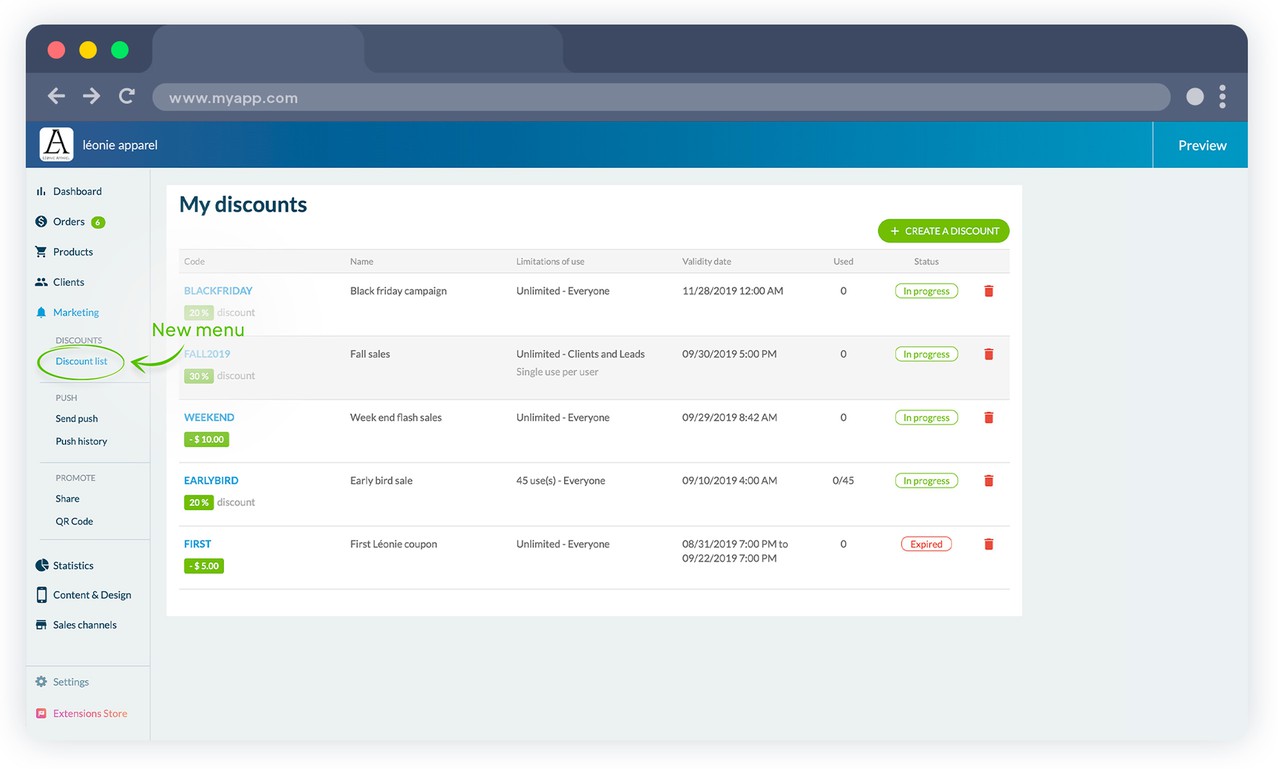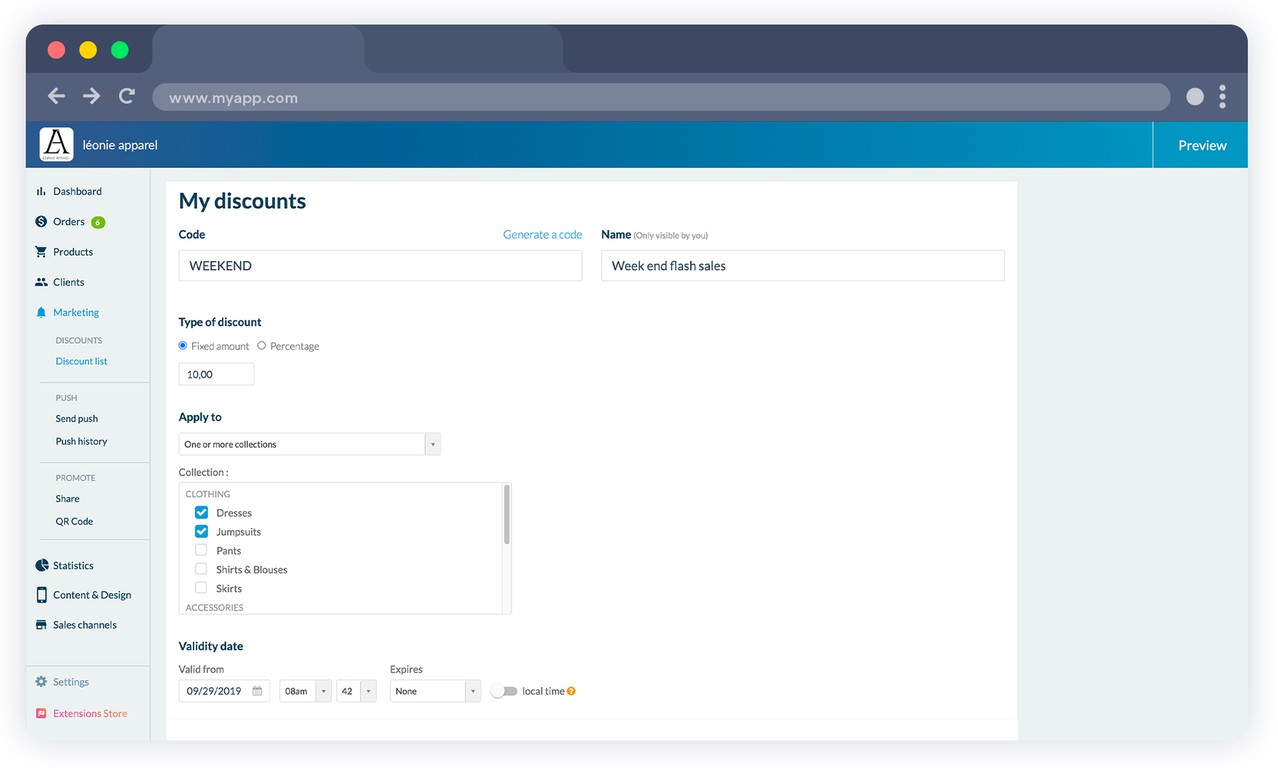 GoodBarber's Discount Codes feature allows you to offer discount codes to customers or leads of your online business. These discounts are adaptable and customizable to all your campaigns.

From the back office of your app, you can create the discount code you want or choose to generate it automatically.

You can choose the value of your discount code, by defining a fixed amount or a percentage. Manage your promotional campaigns as you see fit: you decide the duration of the discounts created, the collections to which your codes are applicable. You can even create specific promotions for a particular product and choose the customers who can benefit from each of your discounts.

Customizable code
Choice of the type of discount
Fixed amounts or percentages
Validity date of the discount

Add discount codes to your e-Commerce app
Create your special offers in only 3 steps :

1

In the back office of your app, create your custom discount codes from the Marketing > Discounts > Discount List menu.

2

Click on "Create a discount."

3

Fill in the fields as you wish to set up the discount you want.

For a detailed step-by-step guide, see our online help