View more extensions
Loyalty card
Create a unique loyalty program for your clients
Built by GoodBarber
This feature is developed and maintained by the GoodBarber team
|
For Content apps
|
$8/month
|
Available from the Premium offer.
How does it work?
Your clients collect points on a card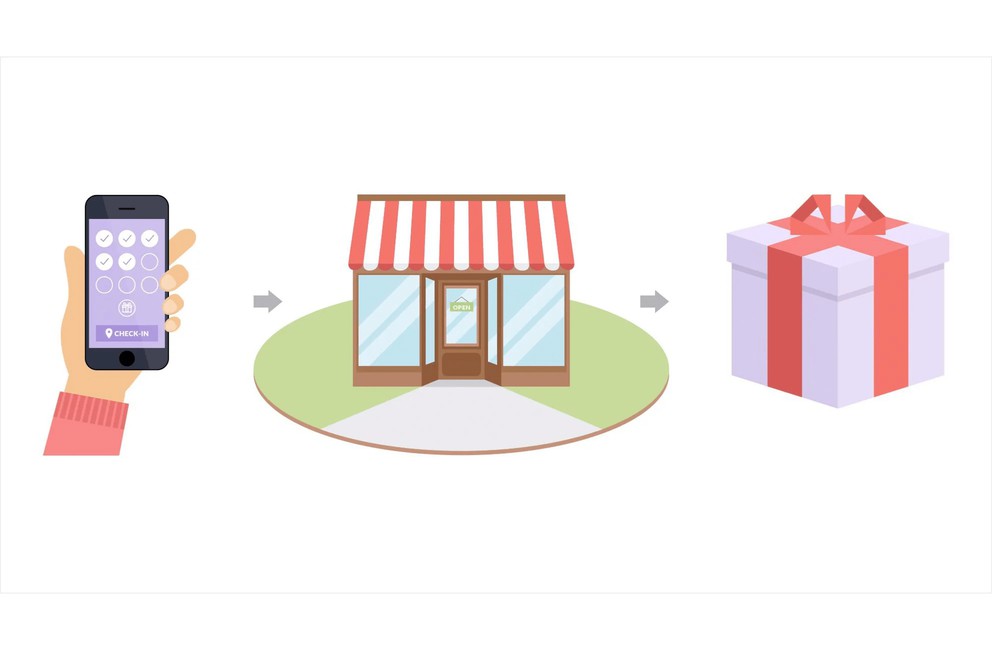 Every time a client visits your establishment or makes a purchase, he earns a loyalty point on his card. Once the card is complete, it's time for you to reward them with a gift.
Who's it for?
A Loyalty Card for every business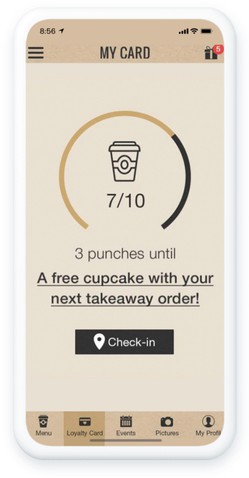 Bluegrass Coffee
*
Food & Drink
The Bluegrass Coffee offers loyalty cards to its clients: after 10 coffees to go, clients get a delicious, free cupcake. A simple yet effective strategy to make sure clients keep coming to the coffee shop!
* This is an example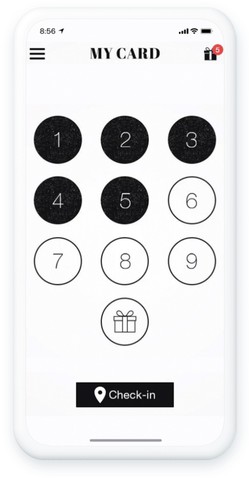 The Happy Moustache
*
Wellness & Beauty
The Happy Moustache relied on a loyalty program to successfully establish themselves in a competitive neighborhood. After 10 visits to the salon, clients get a free consultation with a stylist. A clever way to spread the word and attract new customers!
* This is an example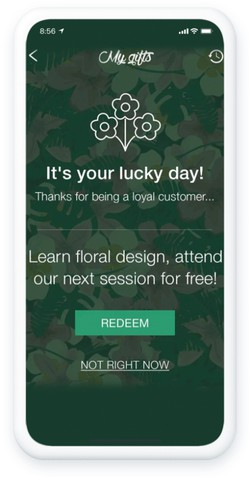 The Green House
*
Shops
The Green House flower shop experimented with a new approach to reward clients: after 10 purchases, each client earns a coupon to attend a floral design group course. The workshops were a success and brought attention to the store!
* This is an example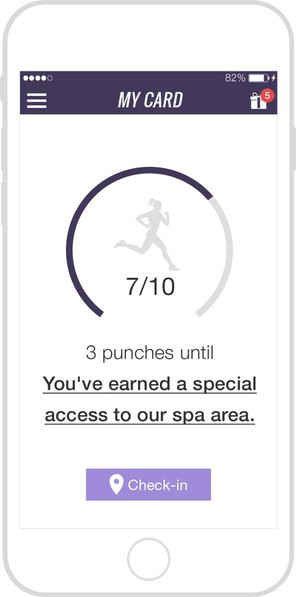 The Fitness Place
*
Health & Fitness
The Fitness Place owners decided to implement a loyalty program to reward their female customers: once the 20 session goal is accomplished, clients earn 2 entry tickets for the club's spa area. A clever way to keep clients coming back!
* This is an example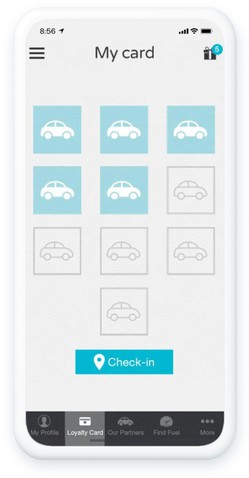 Leisure Cars
*
Services
Leisure Cars came up with a win-win loyalty system: each time a client makes business in a partner establishment, he earns a point on his loyalty card. After 10 points, all additional mileage on his rental agreement becomes complimentary. A cost efficient way to gain visibility.
* This is an example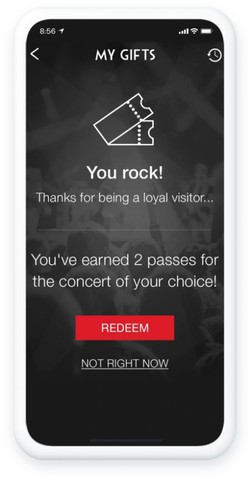 The Ladybird
*
Others
The Ladybird concert hall approach exemplifies how a loyalty card can solve an attendance problem. The most loyal clients are rewarded with 2 backstage passes for the concert of their choice. A good way to drive more public to the shows, on a regular basis!
* This is an example
Create your loyalty card
3 display formats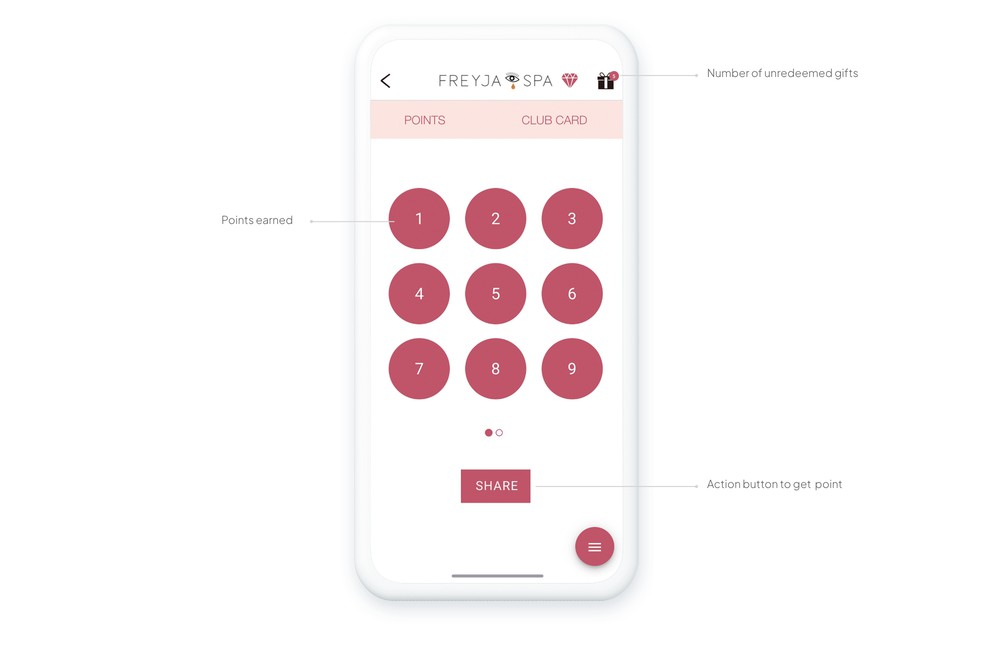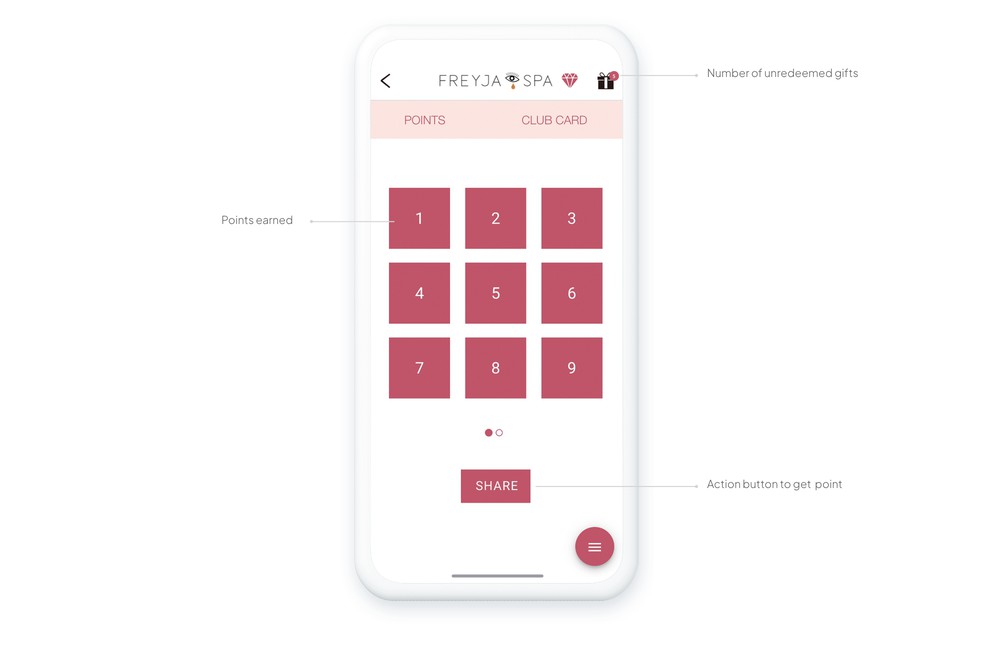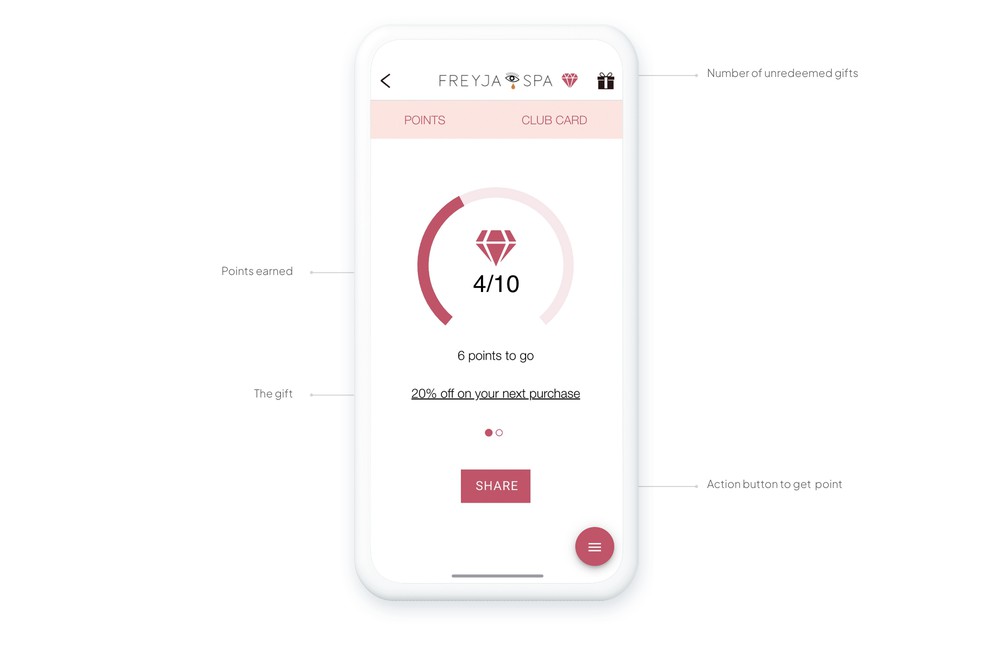 Offer a loyalty card to your users which they can validate according to your criteria.
Select your validation criteria
QR code, Check-in, Sharing, ...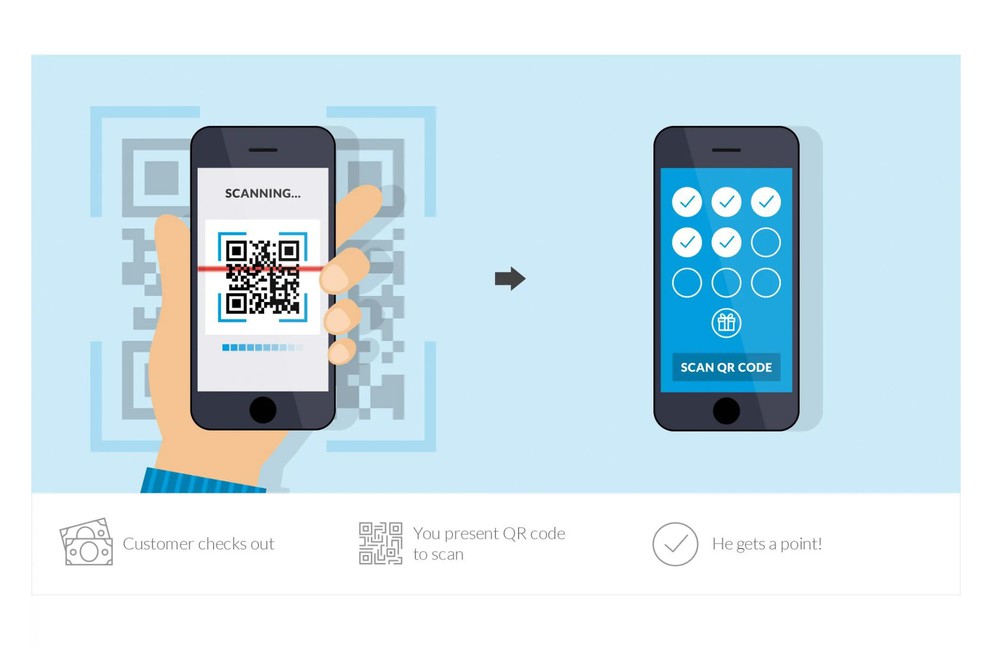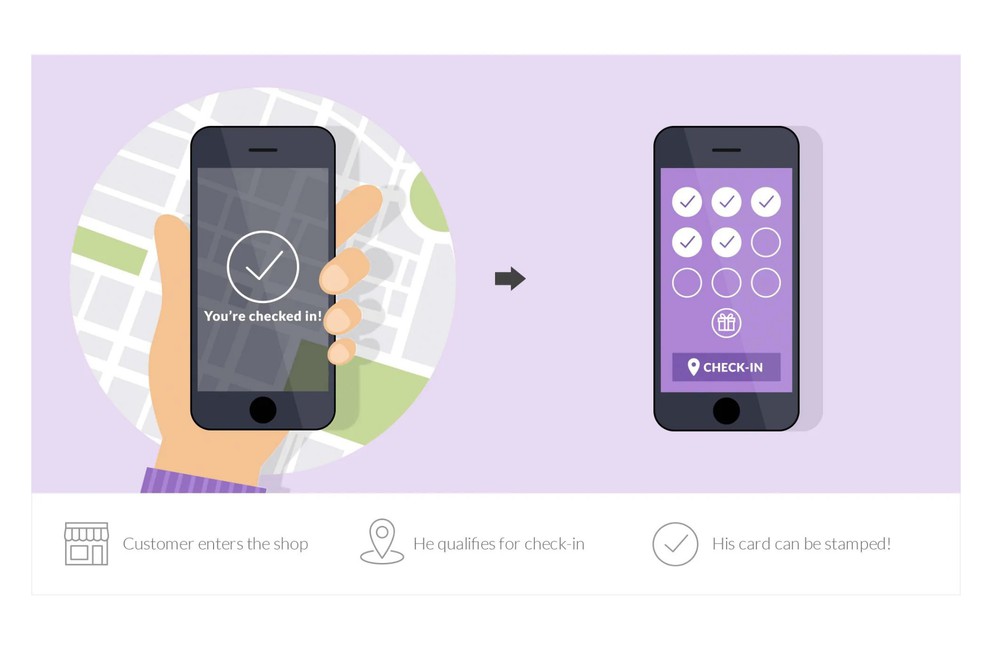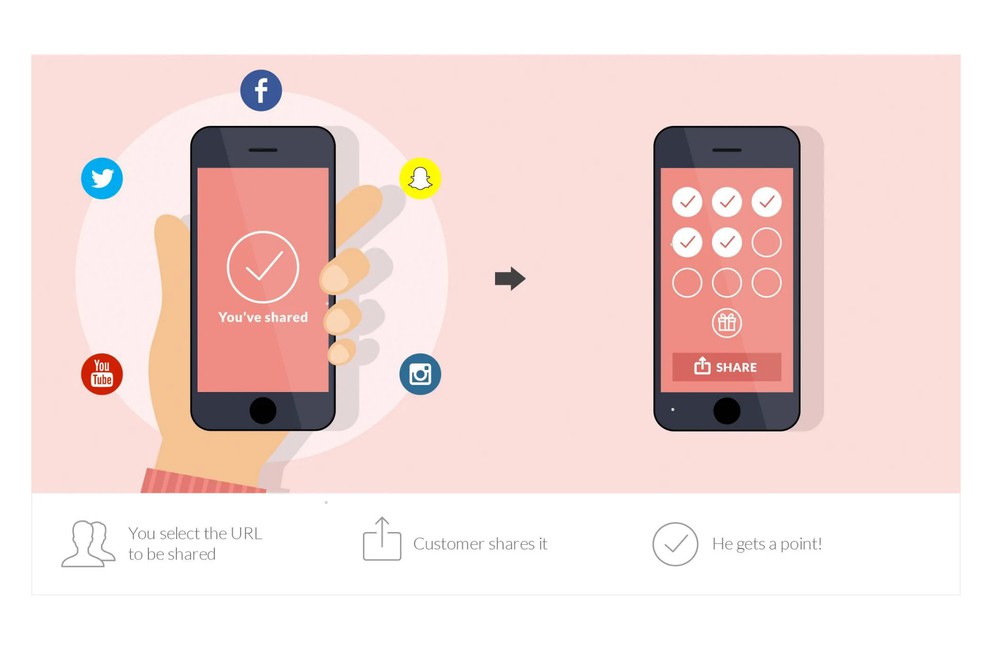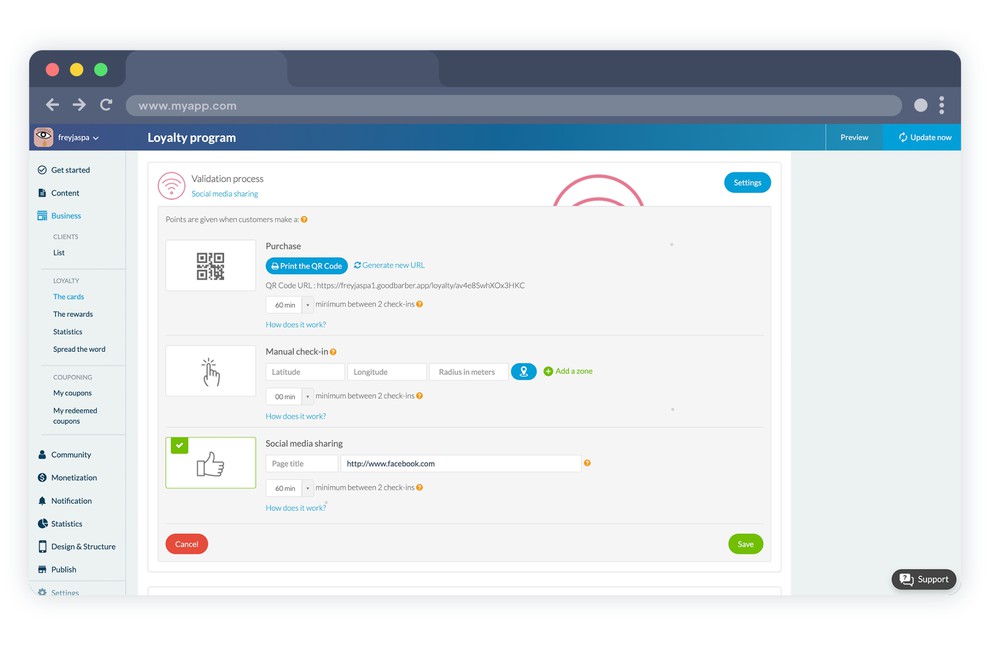 Define an action. Your client performs it. He earns a point on his loyalty card. QR code, manual check-in, social media sharing, you name it.
Offer a gift
Each completed card equals a gift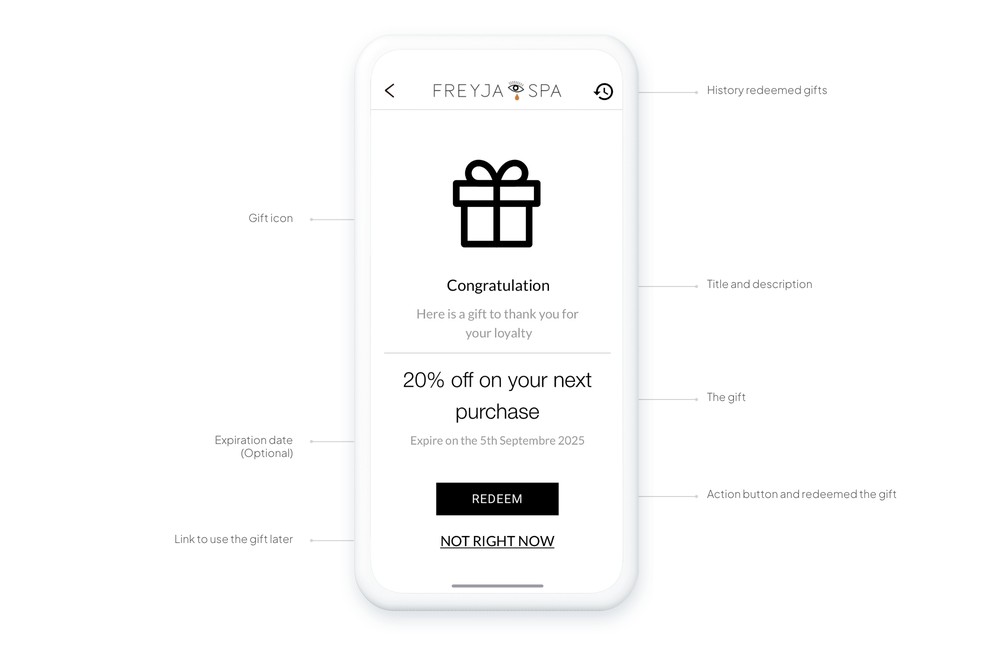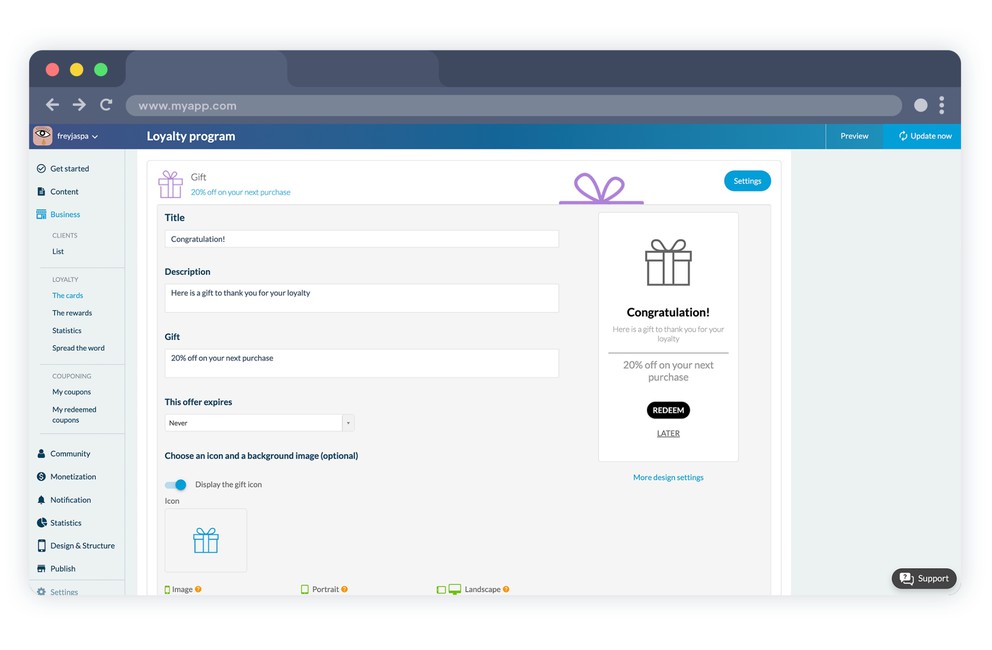 Decide what gift your clients will receive once they earn all the points on their loyalty card. Describe it, design it, choose an icon to illustrate it and pick an expiration date.
Attract your clients
By proposing additional rewards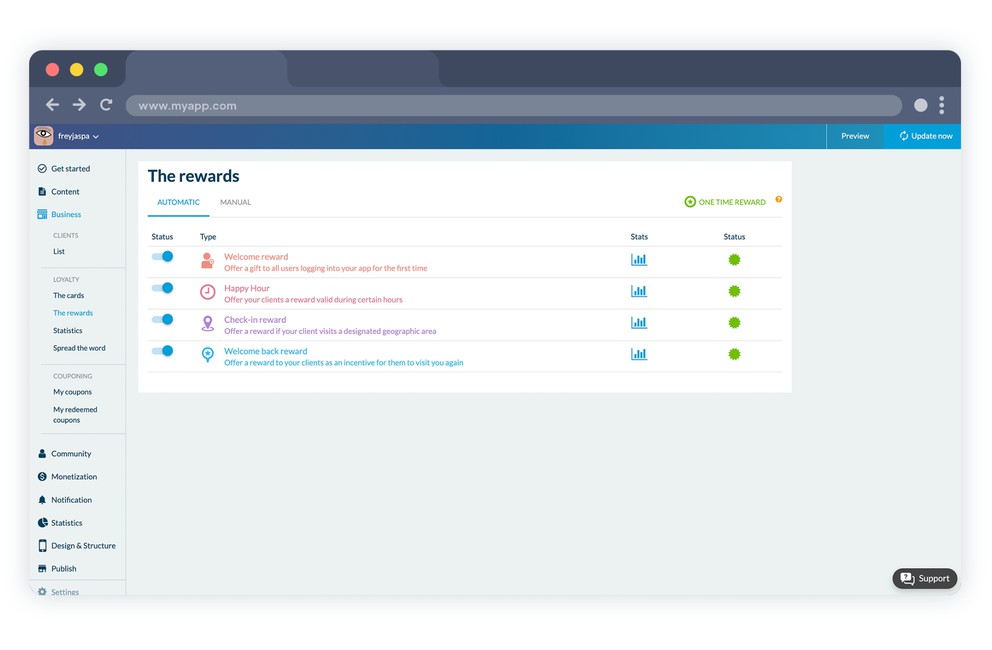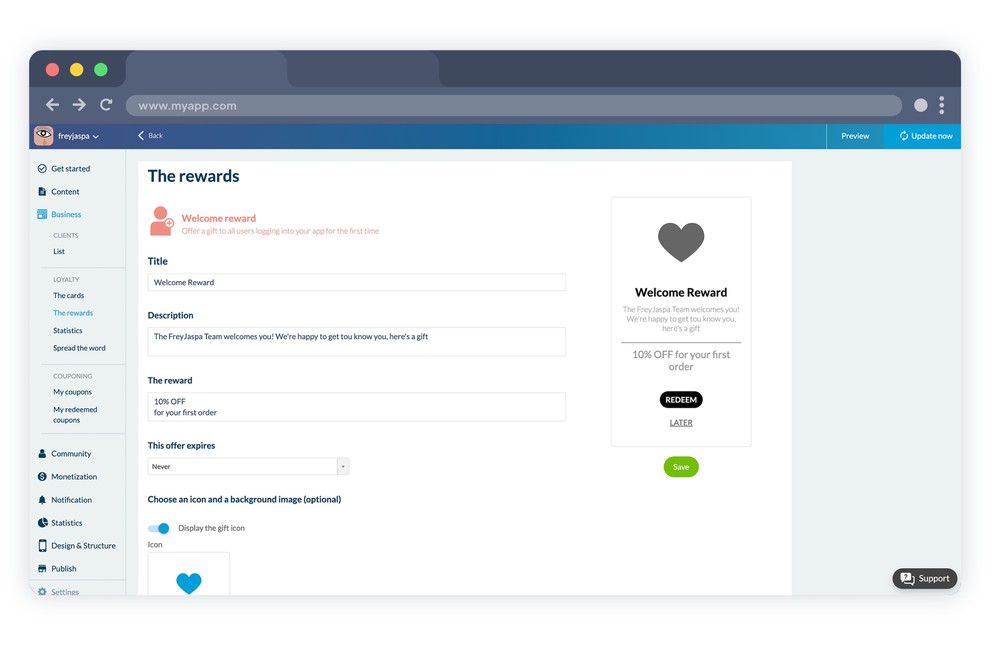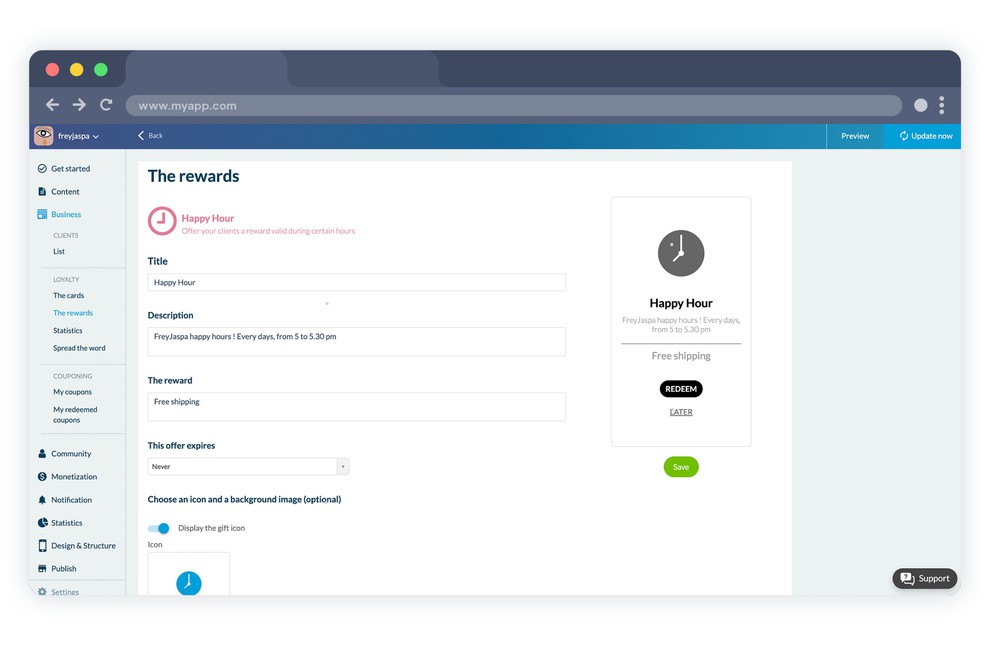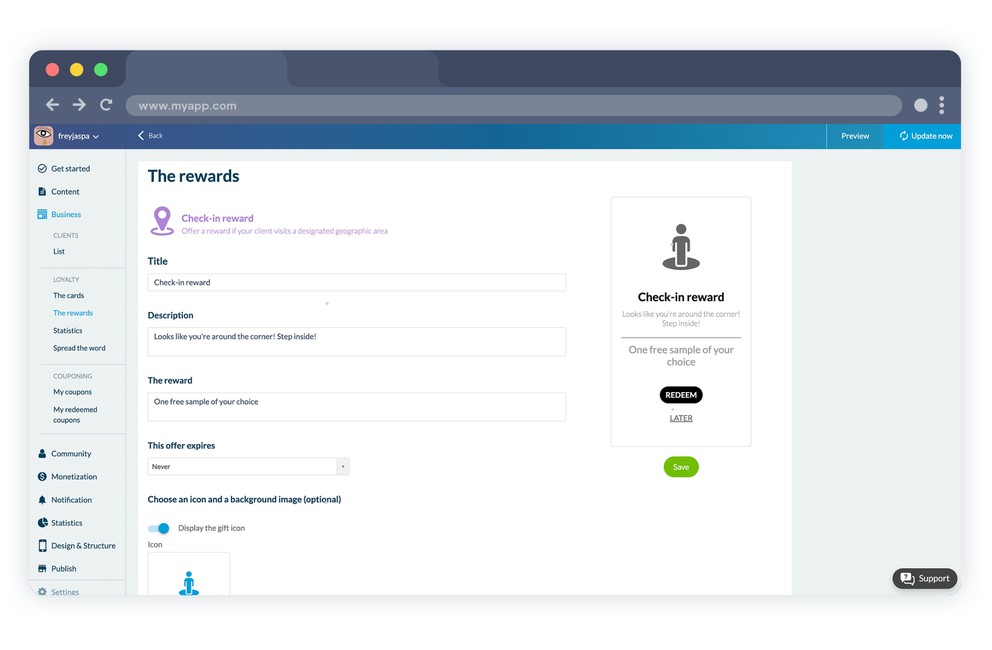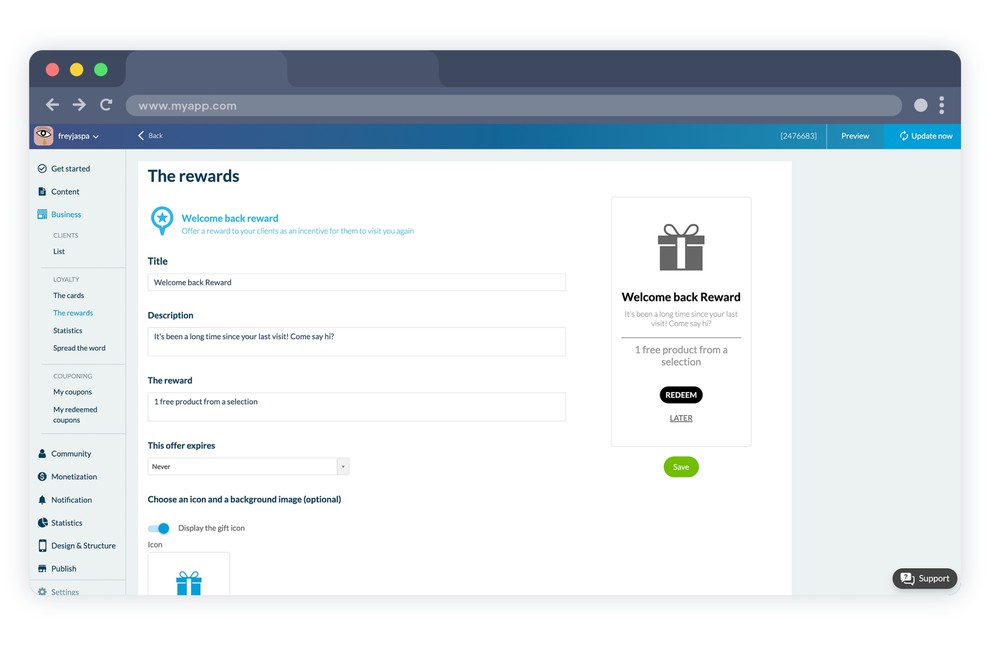 Show your most loyal customers that you appreciate their business with additional rewards. Welcoming a new user into your app, increasing traffic during slow hours, inviting clients to visit you when they're in the neighborhood, they are all powerful incentives to drive more business your way.
Spread the word about your loyalty program
Facebook, Twitter, emails, push notifications...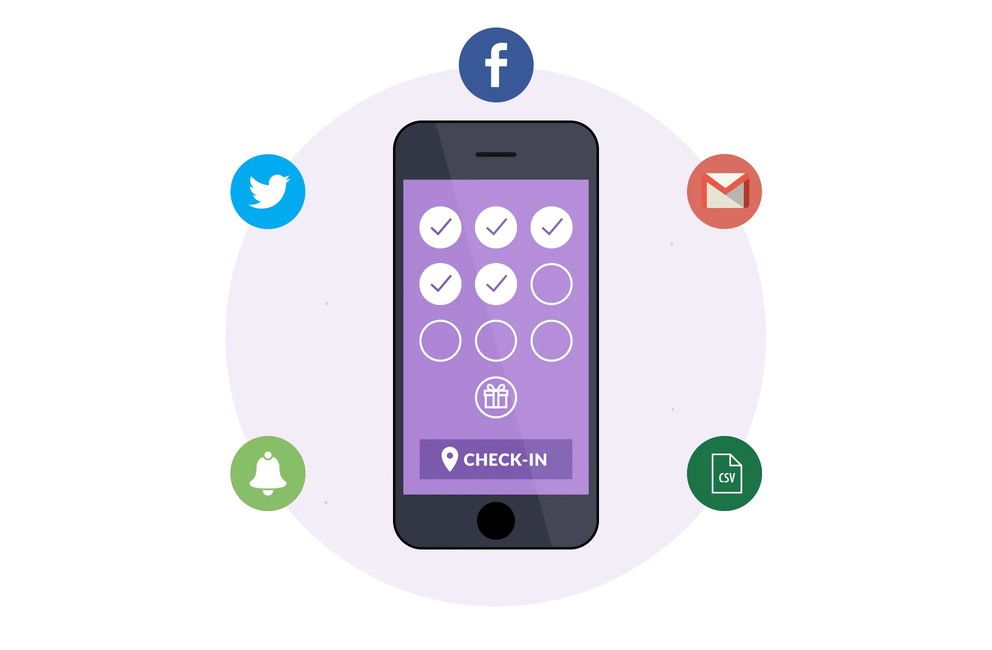 Make use of the different channels available to share your loyalty program with a large audience. Social networks, emails or push notifications campaigns, it will put you on the map.
Analyze and Respond
How much do you earn with your loyalty program?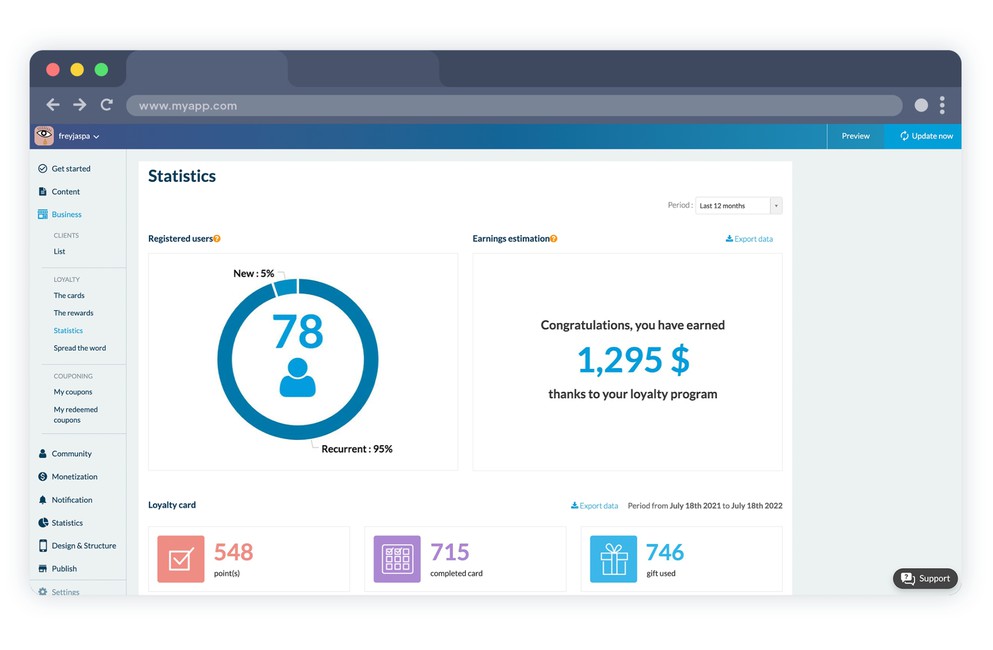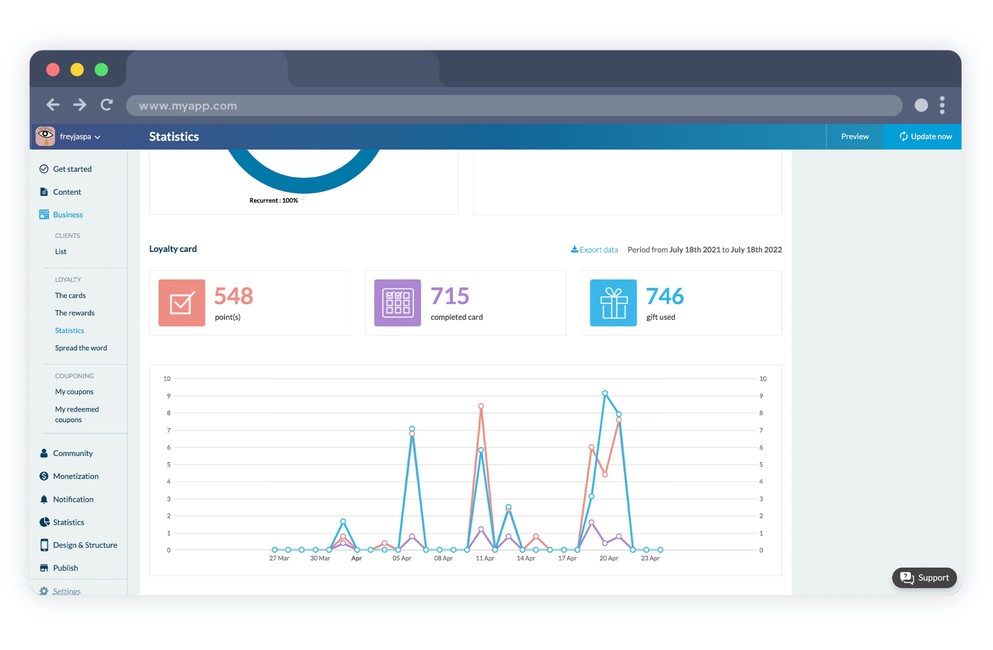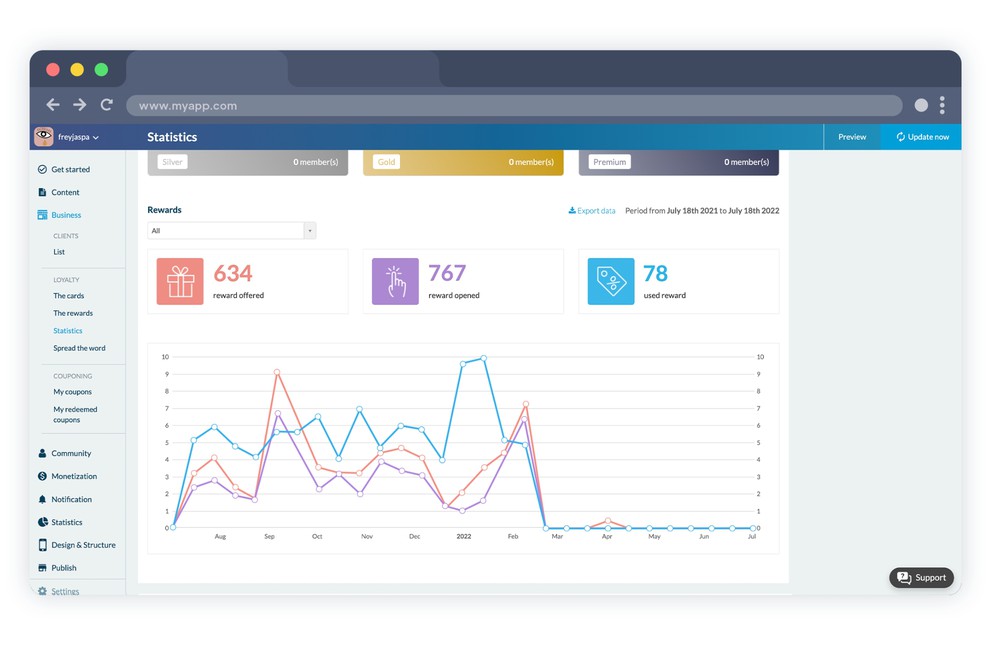 Track the results of your loyalty campaigns. Maximize profits through a dashboard filled with valuable data. Measure your efforts, identify the highest performing and cost-effective campaigns, and adapt your future loyalty campaigns accordingly.