How to make money with an app: 5 proven strategies in 2023
Written by GoodBarber Team on

Discover the top 5 proven strategies to make money with your mobile apps. Then learn how GoodBarber App Builder is a powerful tool for generating the revenue you expect from your apps. Read on to find out more!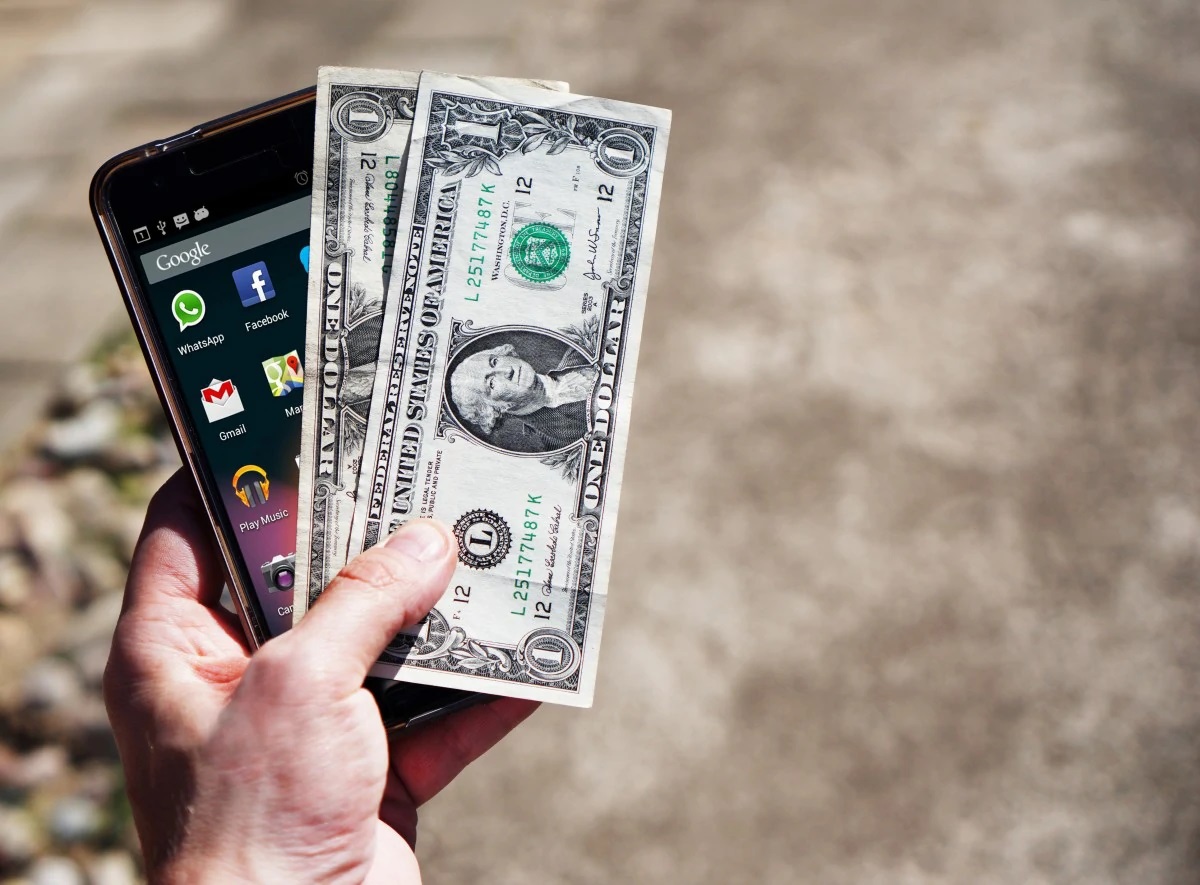 In the competitive mobile application market, users have many options to choose an application that meets their needs. While paid applications are available on the app stores, users tend to go for a free application. According to Statista, as of August 2021, the Android app store and the Apple app store contained only 3.1% and 6.4% paid applications. But having a game-changing app idea isn't enough, as it should generate revenue as well. But how do free apps make money
Making money with an app is now a viable way to generate complementary incomes. GoodBarber App builder makes everything even easier, introducing many features that will help anyone who wants to make money with an app...without coding!
How does a mobile app makes money
You might be wondering how to create an app that make money. While there are so many money-making apps out there, a lot of applications fail due to low revenues. Therefore, if you want to generate revenue from an app, it is crucial to ensure that you have a plan for that.

5 Strategies to make money with mobile apps:

Advertising: generate revenue from ADs
Advertisements are the driving force of the market, as many businesses solely rely on ad revenue. You see advertisements everywhere, and mobile applications are not exempt. You can advertise inside your application and generate revenue. There are several metrics through which income is calculated, but the most common ones are:

Cost Per Click (CPC): You generate revenue every time a user clicks on the ad in your application. Since one click doesn't generate significant revenue, it is computed as cost per thousand.

Cost Per View (CPW): While this model can be applied anywhere, it majorly focuses on video ads. The more users view the video, the more revenue you get.

There are several methods to display advertisements in your application. These include banners ads, native ads, video ads and interstitial ads.

GoodBarber App Builder for Advertising

GoodBarber provides your app with
advanced monetization features
through a large number of extensions, customizable and actionable at will.
Choose from two monetization strategies available in your app making platform. You can make money from your app by placing different kinds of ads. GoodBarber offers you two options:
External ADs: connect to third-party ads networks like AdMob, Ad Manager or Facebook.
You'll be able to activate the advertising networks of your choice, by filling in the necessary information that your networks will provide you with.
For native apps, you can choose the advertising network:
- AdMob
- Ad Manager
- Facebook Ads
For Progressive Web Apps:
- Ad Manager
- Google Adsense
Selling ADs emplacements: It might be more interesting for you to deal directly with advertisers and/or local businesses to sell ads placements in your app: this feature allows you to create your own ads. It's exactly the same principle except that you create your own ads from the Internal Ad Server submenu.
You create your campaign by giving it a title, selecting the platforms on which it will be displayed as well as the display rules for the campaign:
- no rules
- display during a given period
- number of impressions
- number of clicks
For internal ads, if you choose to use limits (duration, impressions or clicks) for your campaigns, once the limit defined has been reached, the next campaign will be used according to the order of priority you chose.
With GoodBarberExtensions for monetization , you can manage your ad campaigns and display a variety of advertisements in your application to generate additional revenue. Connect external advertising networks and distribute ads in your application efficiently.

eCommerce: online sales with a shopping app
After COVID-19 pandemic locking everything down, the need for doorstep delivery has increased. Right from daily essentials to apparel, the demand for new-age items is mounting up every day. As the world adjusts to the new normal, curating an e-commerce web store with your application can help you expand your revenues. You can add a shopping category to your existing application or create a new e-commerce application in order to make additional income.

GoodBarber for eCommerce

With GoodBarber, you can use the best-in-business technologies to build the perfect shopping app for your audience. Get started with the no-code app builder and create excellent e-commerce applications in no time. Built to boost conversion rates, our app maker comes with a wide variety of features , such as auto-login, discounts, push notifications, permanent cart, and more.

GoodBarber is a fully functional Ecommerce App Builder, designed for mobile devices! Deliver the best Customer Experience within a Shopping app: seamless navigation, fast loading, one-click payment, push notifications.

eCommerce apps created with GoodBarber app builders represent the state-of-art of Shopping apps functionnality:

Manage your PWA, Android & iOS Shopping apps from a unique back-office
Benefit from dedicated eCommerce features you will find in our Extensions Store
Connect your Shopify Store with your Mobile app
Simplify your workflow trough your Shopping app with external automations tools: Zapier, Make
Additionally, the features offered by GoodBarber e-commerce apps will help retain your customers and generate recurring deals, as they significantly improve the shopping experience across your apps:
Online Store Management
Local Delivery
In-Store PickUp
Built-in eCommerce payment solutions
In-App Purchases
One of the most potent monetization strategies for applications is in-app purchases. Application developers and publishers offer purchases right in the application to generate revenue. Here are three major segments of in-app purchases:

Consumable Purchases: Consumable in-app purchases are products/services that can be consumed in-app and perish after a set number of uses. For example, in games, users can buy additional lives, in-game currency and more.
Non-Consumable Purchases: Non-consumable purchases are features or services that are purchased for permanent use. These include premium features, ad-blockers, added storage space, and more.
​Subscriptions: Subscriptions are a powerful monetization strategy where users can purchase certain services/products/content for a limited time. These subscriptions can either be one-time or renewable in nature. This helps publishers get revenue while creating engagement from users.

GoodBarber In-App Purchase extension

Basically, users will have the option to pay for additional features, content, or services within an app.
Among the different categories of in-app purchases, the subscription model is the most popular. Indeed, subscriptions offer benefits for both you and your users. They provide you with a recurring, reliable income as well as a more loyal and engaged audience. For your users, in-app purchase offers a great experience and added value without having to leave the app.

Automatically renewing subscriptions: how does it works?
In this model, users are automatically charged each payment period until they cancel their subscription.
Example: a monthly subscription to have access to fully readable news articles .
Monetizing your content by recurring subscriptions allows app users to access an offer as long as the subscription is active. This system offers users permanent access to exclusive content. The subscription automatically renews until the user decides to cancel it. This is a payment method without any obligation, unsubscribing is simple and can be done at any time.

Referral/Affiliate Marketing: brand promotion and partnerships
While many people believe that mobile apps are used to promote/sell one's own products, this is not true at all. Promoting someone else's products or services are a great way to generate affiliate revenue. In general terms, it is similar to advertising but can entail better rewards and partnerships for the app owners. Once a user clicks on an affiliate product and purchases it, you get a share of the sale. Referral marketing is highly scalable and can bring in a constant and ever-growing revenue stream.

As discussed above, with the apps built with GoodBarber, you can sell ads placements in your app: this feature allows you to create your own ads. You'll manage your own AD campaigns with its internal ad server. Manage campaigns, target your audience over various parameters, display different ads and much more with GoodBarber.

Direct Application Fees: freemium apps
To leverage the freemium model, many applications offer a free version with limited features, followed by a second version with full access. The second version is, however, paid. Therefore, users can try out the free version of the application to test the available features and then purchase the paid version if they like the application. However, providing too many features in the free version may become counterproductive, as users will only use the free version, with only a handful of them going for the paid product.
Bonus : App Reseller Busines with GoodBarber !
GoodBarber's
App Reseller Program
allows you to build and sell mobiles apps easily. You are enabled to create an unlimited number of apps and publish them on the Web (PWA), on Google Play Store (Android apps) and on the App Store (iOS apps). You have access to a dedicated management interface from where you build your apps. The GoodBarber brand is hidden from the projects you create and display your brand instead.
Some of the main features of GoodBarber App Reseller Program:
White Label Apps
Unlimited apps
Dedicated Support & Assistance
What type of apps are in high demand?
If you want to reach a huge audience and have every chance of making money with an app on your side, then you want to create an app that would be in high demand and potentially the most popular and used.
Here are the most popular app categories:
Social networks
Food delivery
Transportation
Health care
Games
Read our article to learn more about the
most popular types of apps.
How much does it cost to make an app ?
The complexity of a custom made app and also, obviously, the reputation of the agency make for prices which can range from 4.000 to 50.000 euros. For small businesses it can be quite an investment. Fortunately, the rise of app builders has democratized app development, with affordable and reliable DIY options to create a mobile app online.
Choosing an app builder
App builders
facilitate the creation of an app with no coding skills required. They are also a significantly cheaper solution. For a fraction of the price of working with app developers or agency, you can have your own app and manage it first hand, before and beyond publication.
Conclusions: a flexible app builder to make money with an app
Users are on the lookout for applications that make life easy on all platforms. An application should be user-friendly and shouldn't be riddled with advertisements and in-app purchases to the point that it becomes unusable. The strategies mentioned in this article are the ones that can bring in some serious capital.
So, if you decide to go further with an app-based business you should start by asking yourself: "
how to create my own app
".
And then, if you decide to go with a No-Code solution to make your app without coding, our advice is to choose the most versatile app builder in order to deploy best marketing and sales strategies to make revenue with your app, choose the one that offers multiple features, adapt to all devices (iOS / Android / PWAs) and all kind of business: GoodBarber is made for you!