10 tips to make your App Icon stand out!
Written by GoodBarber Team on
If you don't want to see your app drown in the mundane, check this out!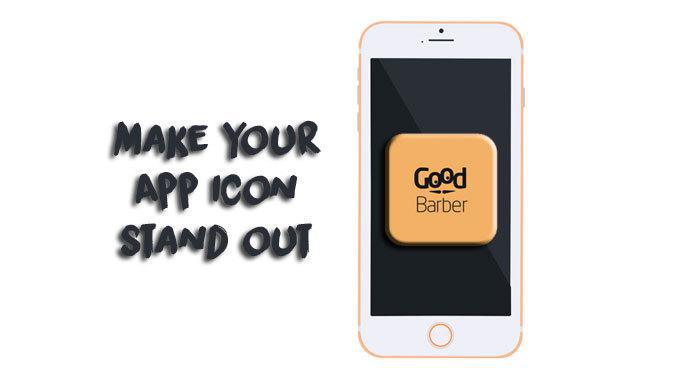 In a world where app downloads are on the rise, you have to be different from other applications out there... and it starts with the design of your app icon! Let me give you 10 tips to improve the design of you app icon and make it stand out!

We all say that it's not fair to judge a movie, a book or a packaging by its cover/design. But even if we say that, it's what we do. If we don't like a cover or if it's less attractive than another one we can just leave it! There are so many choices that we'll stop at the most interesting.

The cover of a movie, for instance, is very important. It's the first connection with the public and it has to convey the atmosphere of the movie with pictures, illustrations, fonts. Everything needs to be chosen perfectly and correctly.

For an application, it's almost the same. With the app icon, you have to make the users choose yours.
1- Good icon = good application
Like we said at the beginning, judging an app by its icon is like judging a book by its cover. You can say it's not the same, but think twice.
For users, the quality of the app icon stands for the quality of the application. You think it's crazy? Check out
this study
. They discovered that users' initial perception of app quality was almost exclusively influenced by icon design : "If it was a poorly designed icon, I'd go right past". Even if you don't believe it, you should be worried about the behaviour of your users, because it matters more than yours.
2- Clear and simple
Your app icon has to represent your brand/website/world.
120 x 120
120 x 120
When users are going to search for an app in the stores, yours has to be
better
and
different
than the others to get their attention.
Use that small window you're given
wisely
.
Reminder, the size of the App icon:
- 1024x1024 px for the
App Store
- 512x512 px for
Google Play
3- You don't need words

Your app icon has to be graphic, it's all about design! So try to use as less words as you can to be clear.
A representative image of your brand/website or whatever can be better than too much information in the same place.
In fact, I'd recommend you don't use words at all or typography. Try to think if there is a way to skip words and create a graphic icon app without text.
Check these examples to see the difference. These apps use so many words, I can barely read what it says.
4- Simple doesn't mean poor

Simple doesn't mean that you have to kick out everything good from your icon.
It's important to have details, they make the difference : shadow, color, highlight, reflections, etc.
Ask yourself this question: If you have to think of one picture/illustration to represent your application, what would it be?
Also, if you really need to include more than one element in your app icon, try to match them together to keep this as clear as you can.
Capitalize on your brand!
5- High quality
When you upload your icon, some stores give you the option to upload a high-resolution icon. Take it!
Quality is pretty important when you will be into the list where a lot of others applications will also be. And you will want yours to stand out more than the others.
Also, users can think that if the quality of your icon is high, your app will be as well!
6- Bright and shine

When users are going to scroll through their apps, you want to see your app icon shine among the others and convince your users that a shining icon = a high quality app ;)
Try not to be like others, too standard. Get out of the shadow and create a beautiful, shining and creative app icon!

Creative details and creative icon just make you want to click and see what it is.
7- Unify your apps

If you have more than one app, strive for unity. Your users will identify you better and it will look awesome on their screen ;)
Also, it's important to keep your universe unified. If you have others services, stick to your universe and change just your services.

Check out the example, same universe for different services.
8- Tests are always needed!
Test your app icon and try to put it in the app store, just for show. You'll see the difference with the other app icons and see if it's recognizable between the others.
It's important to check how your app icon will look in this environment when it'll be contrasted against apps that will be positioned in the same listing as yours.
And try to create something that your users will see at first glance!

Take a screenshot of the stores and put your app icon in the middle of the environment and see how it looks like.
9- Think different
Check the apps that tend to come in the same page that yours in search result.
And as we've said above, see how your app icon looks among them.
Try to create an app icon which conveys "emotions" to your users. Like if they see the app on the store, they'll want to download it, even if they don't know exactly what it is.
An app icon simple enough to be understood and different enough to stand out from the crowd.
10- Don't be standard

Apple gives you the option to integrate the standard gloss in the app icon to make apps look uniform.
Today you can choose this option or not! However, most of the time, app icons look better without this gloss option. If you want to put some effect, do it by yourself.

In this example we can see that, actually, the standard gloss takes away from the design.
Now, it's time for you to get creative and imagine the perfect icon for your Beautiful App.