5 reasons to have a shopping app
Written by Marie Pireddu on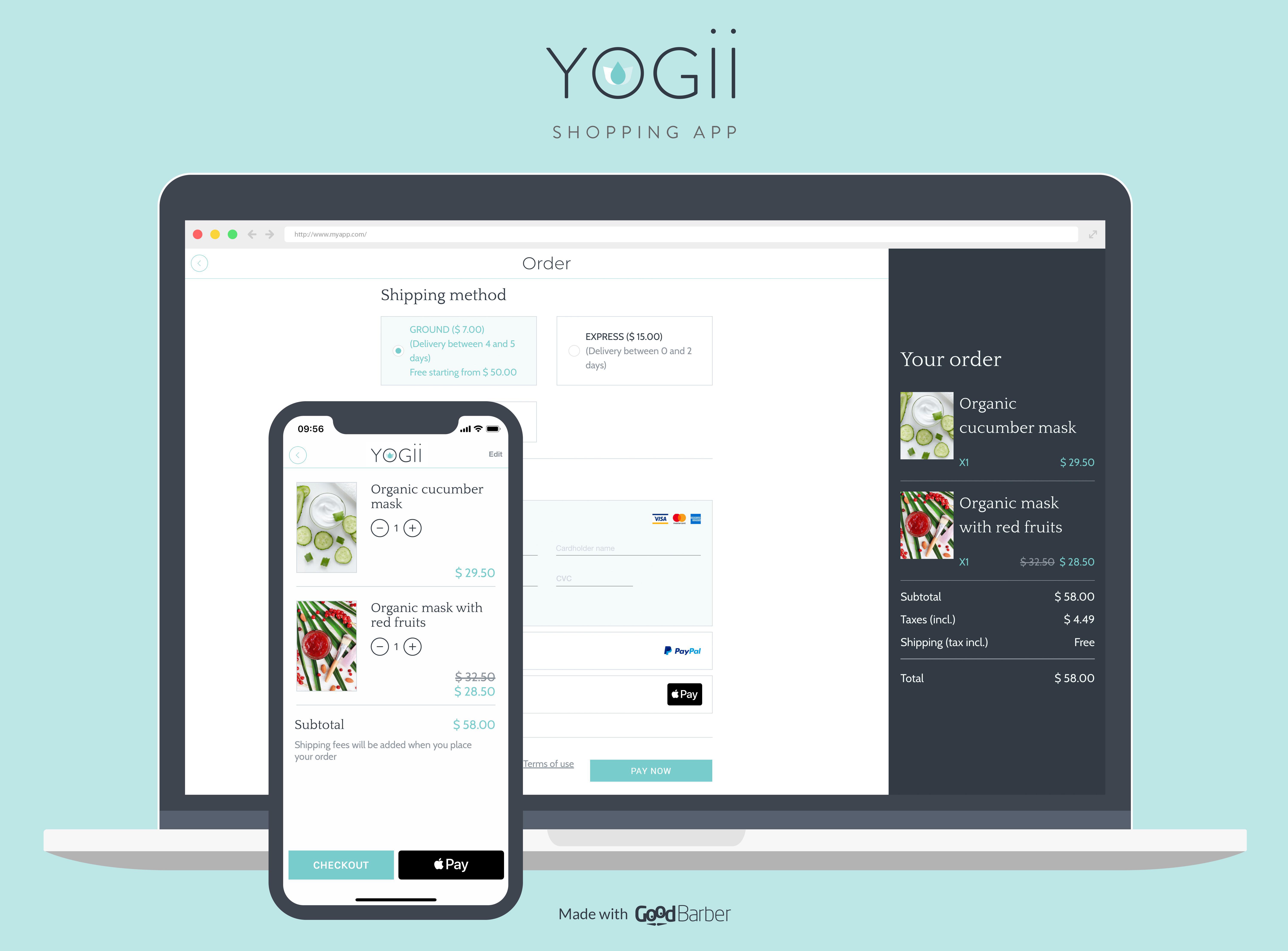 GoodBarber Shopping App is here!
Visionary retailers can now be present on mobile commerce with a
powerful and intuitive Shopping App
.
Mobile sales statistics set new records every year and according to Flurry, shopping apps usage grew faster than any other category of apps. The development of e-commerce business has shaped the online shopping behaviors of both clients and retailers, opening new possibilities for business expansion while offering a smooth customer experience.
Here are 5 reasons why you should start creating your Shopping App today.
1 - Clients prefer shopping apps
According to Criteo, 70% of clients prefer the shopping apps experience. Once a user has built a certain level of engagement with a brand through their site, they will switch to their mobile app for the actual shopping. Compared to the shopping experience on a mobile browser, shopping apps offer more convenience, speed and stored settings. Indeed, no need to remember a URL or to login every time.
Speed is a crucial element too. Apps are generally 1.5 times faster than mobile sites as they don't need to fetch data from web servers.

With GoodBarber Shopping App Auto-login feature, your clients only need to login once and are always recognised when they come back to your app. They can easily resume their shopping where they left off without having to go through the tenuous task of entering their details again.

2 - Increase client retention
Shopping Apps help drive repeat usage and build loyalty. According to
Statista
, 32 % of users returned to an application 11 times and more.
Marketing tools using the phone built-in features offer the opportunity of a more personalized message (push notifications, geolocations, sharing features).
Push notifications are a proven way to engage your clients and bring them back to your app:
they have 50% more open rate than emails
and a 40% click-through rate.
With GoodBarber push notifications you can communicate directly with your clients and offer better deals not available on other channels. When your clients click on the notification they will be sent back exactly to the correct page and will be able to easily resume their shopping.
You're also starting with the advantage that clients who decide to download your mobile app initially show a higher level of investment in your brand. The simple fact that the icon of your shop is already on their phone will make them more inclined to shop in your boutique.
According to
Criteo
, mobile app users are twice as likely to return to your shop within 30 days compared to shoppers who access your website in a mobile browser.
3 - Better user experience

The quality of the user experience offered by a mobile application is one of the main reasons you should build a shopping app for your business. They offer a better shopping experience with an improved UI and added functionality using the native functions of the devices. They allow you to create a more personalized online experience simplifying your clients decision making.
Contrary to a classic mobile web site, an app has a more straightforward approach. With a less cluttered navigation, shopping apps provide an easy and intuitive user experience.
With the integration of the true 1-click purchase, your clients' journey and check out become faster and easier. No longer the dreaded case of the abandoned cart.
With GoodBarber Shopping Apps, you will choose amongst our beautiful themes to create an elegant and intuitive shopping journey. With our preview mode, you can easily view from the user side, all the steps of the journey. To add to the experience, your clients can purchase your products with Apple Pay, by credit cards or PayPal.
4 -Increase conversion rate

Nowadays,
mobile represents 65% of e-commerce transactions.
And retailers who have an app are a step ahead as their app converts 3 times more than their website.
According to Criteo, mobile apps increase the percentage of users who complete a desired action compared to desktop and mobile websites which leads to Shopping Apps converting 3 times more. While a website may help driving initial awareness and engagement, the late stages are better served by an app.
With a more satisfying UX, easy checkout, optimized display and products more easily viewed, your clients will be more inclined to look at more products therefore leading to a higher cart average.
With your GoodBarber Shopping App each of your products benefit from indexation on Google. Each product has a universal link making it possible to search it on the web.
5 - Global presence

Mobile is the
#1 online sales channel
. In most parts of the world, mobile represent more than 50% of online transactions.
GoodBarber Shopping App allows retailers to have a global presence and cover 100% of the market: App Store, Google Play and the Web with a Progressive Web App. You can now compete with the big brands omni presence.
Your PWA benefit from indexation by Google like a website , while your native apps will benefit from the notoriety of the Stores adding to your brand prestige.
Thanks to GoodBarber Shopping App,
Retailers can now conquer the #1 online sales channel
with an all-in-one shopping app allowing them compete with the big fish in their sectors.
What are you waiting for?
Try it for free