Cose Fatte in Casa, an app to rediscover the taste of good homemade food!
Written by GoodBarber Team on
Today we're meeting
Rosa
, the author of the blog CoseFatteInCasa.it, who has decided to make her recipes, hints and tips available on an app, in addition to the web and
socials
! This turned out to be a great decision, given the result it brought :) Only a few days after the launch of the app in App Store it was rated as one of the top new apps!
Rosa, tell us a bit about yourself and your blog...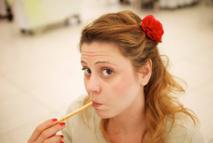 I am a simple girl who is very attached to the values we had in past, which we are losing more and more in the frenetic reality of today. I love good food and when I am free from my daily tasks I like to experiment in the kitchen, having fun with decorations and DIYs.
To me, authenticity is extremely important and I love "cose fatte in casa", homed things. In 2009 I decided to open a blog to share my passion with others, on CoseFatteInCasa.it I write about myself and my experiences.
Why did you choose to create an app? What would you like to achieve with it?
Actually I didn't choose to create an app. My boyfriend Marco takes care of the whole technological aspect of the blog. He is very interested in technology and he makes sure that my blog is always kept up to date with the latest trend.
In my opinion he takes it even a bit too far: I can say without a doubt that my blog is the most advanced in its sector, in addition with push notifications for OSX my blog also has an app both for Android and for iOS.
What is our goal with all this? Definitely to reach as many people as possible. I find that technology can be a very suitable tool to help us go back to our origins and home made food. It may seem paradoxical but it's true, it allows us to be closer to each other and speak about what we want completely independently, with no need of the traditional media.
What is the connection between food and an app?
Food and technology are two closely related worlds. When we want to cook, we browse through a digital cookbooks, using either the web or an app. When we want to show the results of what we made, we take digital foots and share them on the social networks.
I believe that the food segment is very related to technology, much more than other segments.
How did you find out about GoodBarber? Why did you choose it to create your app?
As I said before, it was Marco´s choice. We had already built several apps for iOS before this one but with poor results. Now we can say that we are very satisfied even though we are constantly on the lookout for improvements to make in the future. But we are sure that GoodBarber will be able to keep the pace with our needs.
Do you have any advice for our readers?
I don't have any advice in particular regarding app building.
I have to say, it's so easy to use GoodBarber´s platform that I managed to create my app with just a bit of help from Marco. I can definitely give some culinary advice: Check out my new app and run into the kitchen to create something spectacular that will satisfy not only your hunger but also your interest in technology!
If I may, I would like to invite all the readers to have a look at the app we created and leave a comment or review.


Have fun cooking! ;)