Facebook's f8 keynote: build, grow, monetize
Written by Jerome Granados on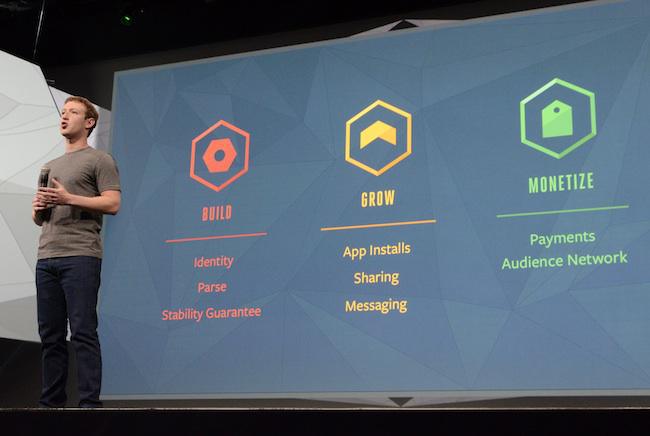 This year's f8 conference was all about helping developers build, grow and monetize their apps.
Facebook's main objective is to become a stable mobile platform for developers to build on top of.
I took the time to
watch the keynote
. It's a 1 hour video. If you have the time, go ahead, it's worth watching it. If you don't, I'll give here the main points covered.
Move fast with stable infra
Do you know Facebook's mantra? It used to be "Move fast and break things", but it's no longer the case. Now it's "Move fast with stable infra".
The "breaks things" meant that Facebook preferred to tolerate some bugs on its platform when exploring new things and developing at a high pace. Facebook is so big now that tolerating those bugs is conter productive and is no longer aligned with its new mission to become a stable mobile platform.
The "stable infra" means that developer will have now :
- API versioning
- 2 years stability guarantee on APIs
- 48h SLA to fix major bugs
That's a good thing. I remember the headaches we had with
Jim
each time FB changed its API overnight :) Well, Jim, will it really be the end of the nightmare? I hope so :)
People first
Facebook wants to give more control to users when they log into a service through FB.
A new "Anonymous login" feature will be available. The purpose is to enable you register to a service with the ease of the FB login button without sharing any of your personal data. Then, if you like the app you're testing and you do want to share data with it, you will be able to.
Privacy is also improved with the regular FB login button. Users will be able to decide which data from their FB profile they'd like to share with the app they are registering to.
That will imply a few changes in your GoodBarber apps, but I don't think it will modify drastically the user experience.
Build
f8 is a conference by developers for developers. Facebook presented tools to help developers build their apps. And they mainly showcased tools from
Parse
, a service they bought 1 year ago.
Parse is for developers what GoodBarber is for content producers.
Here are the 3 products developers can use to build their apps:
- Parse core
- Parse push
- Parse analytics
As GoodBarber users, tools provided here don't really matter to you. In fact, GoodBarber already gives you the features provided by those tools. Parse users need to code to use the features. GoodBarber users access them with a graphical interface.
In this part of the keynote, what is worth keeping an eye on is
AppLinks
. AppLinks is an open source project to build a graph between native apps. Like the URL is used to share any content on the web, AppLinks intents to create deep links for native apps. If widely adopted, AppLinks will make it easy to surf from one app to another, with no friction.
Grow
The set of tools presented in this part of the keynote are really exiting. They will help you to make your app become big.
FB's growth tools are divided in two categories: organic and paid tools.
- [organic tool] Send to mobile
The goal of this tool is to drive downloads and to help discover your native app. People who login with Facebook on your website will receive a push notification with a direct link to download your app.
- [organic tool] Mobile like button
This tool is all about engagement. We have waited for it for a long time. It's now available and will be deployed in your GoodBarber app asap.
- [organic tool] Message dialog
A new way to share content only with some of your friend. Message dialog enables you to share a content from an app by using Facebook messenger app.
- [paid tool] Mobile App Installs Ads
Nothing new here, this is a tool you already use to advertise on Facebook and increase your downloads
- [paid tool] Mobile App Engagement Ads
That's new and really interesting. This tool will let you display ads on Facebook only to people who triggered a specific event in your app. It will make you create even more targeted and relevant ads. There's some work on GoodBarber's side to make it work, since we need to give you the ability to you choose what action must be tracked in your app.
Monetize
Not so long ago, Facebook didn't make any revenue from their mobile app, even if this app was #1 in Google Play and in the App Store. Now, 60% of FB revenue is made with FB Mobile.
Facebook learned 2 things from this achievement:
1/ traditional advertising works on mobile
2/ they had to reinvent how Facebook looked with ads in it
Facebook wants to be the place where advertisers connect to people with more relevant ads.
So, Facebook created the
Audience Network
. You can now put banners, intersticials or native ads in your app, to get ads from advertisers that will use Facebook targeting options.
For you, GoodBarbers, it will be a new external ad network in your backend to select.
New features to come into GoodBarber
We see the light at the end of the tunnel to release GoodBarber 3. The team is doing an amazing "invisible" work to build a new architecture that will power your apps even better. As soon as it's released, your apps will have tons of new features, including those showcased during f8 2014.