GoodBarber's Roadmap: From V1.0 to V1.4
Written by Dumè Siacci on
As promised a few weeks ago, here is the development plan that we're bringing to GoodBarber. What you can expect: new content and design features, an interface with advanced customization for agencies, and the integration of new social features.
One step after another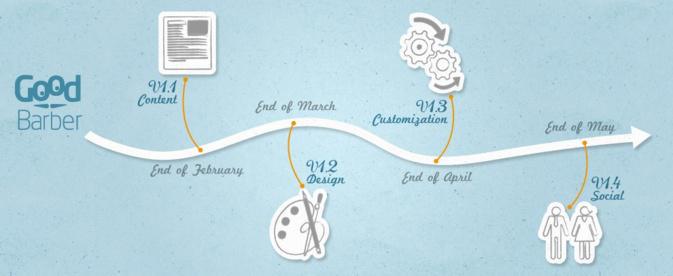 There will be two major phases in 2012. Starting now, and until May, there will be a monthly growth: GoodBarber will evolve from the current V1.0 to V1.4. During the second half of 2012, we'll start moving toward an ambitious V2.0, which we will discuss in due time. The evolution toward V1.4 will keep us busy during the next few months. The changes will focus on content (V1.1) and design (V1.2) features, advanced customization for agencies(V1.3), and social features(V1.4).
Two major technical challenges
In accordance with the culture of
CampusPlex
products, an emphasis is placed on product quality and its ability to offer a user experience that's both rich and consistent with the current needs. For an application like GoodBarber, these issues are at least two technical realities. On one hand, we must assemble teams of web development engineers for each part of the application: the back offices, app preview tool, and content imports (RSS, plug-ins and API connectors to the platforms you use, etc.) On the other hand, the native application development engineers must work at the heart of the system to change the engine that powers applications on your phones and tablets. For those of us who know a little bit about the web, the job is placed in the hands of the wise masters Laurent, Jim, Samir, and Jeff. For the native changes, we rely on fiery Mathieu, Christelle, and Romain.
Developments
Between late February and late March, the following four components will be broken down.
V1.1 – Late February: New Content Features
For the application:
- Twitter: A module for native connection to Twitter
- Link: A module that enables the integration of links to your application
- Podcast: Managing Podcasts in RSS feeds
- Dailymotion: A module for native connection to Dailymotion
For the Web:
- A new content section will help manage your content sources
- The introduction of a new NoSQL database will improve the function of your content imports
V1.2 – Late March: New Design Features
For the application:
- 5 article list syles
- 2 article styles
- 5 TabBar styles
- 30 new fonts
- Diverse background colors
For the Web:
- A new help center
- A new preview tool
V1.3
–
Late April: Advanced Customization Features for Designers
This component is aimed at web agencies, designers, and professionals using GoodBarber to benefit their customers.
For the application:
- Complete customization of the TabBar
- Integrate background images to the application
- Feature for adding custom fonts
- Feature for adding custom separators
For the Web:
- WebApp: A free HTML5 Web version of your app will be available via: http://www.m.mywebsite.com/
V1.4 – Late May: New Social Features

- Improved management settings for social networks
- Possibility for readers to submit content (photo, video) to the publisher via the app
We can bet that these new possibilites will inspire the Wow Effect! :)