Grow your audience with our RSS feed - Video extension
Written by Marie Pireddu on
As we saw in our previous post about the new RSS feed Articles extension, RSS feeds are a valuable tool for content distribution, allowing you to reach a wider audience beyond your app or website. By generating content feeds for different sections of your app using tools like GoodBarber's M-CMS, you can effortlessly distribute your articles on external platforms of your choice. This not only broadens your audience but also simplifies the management of multisite publications.
So, to go hand in hand with the RSS feed Articles, we just released the RSS feed Video.
You can now optimize your time and resources by automatically updating and publishing your videos on all selected platforms. This eliminates the need for manual submissions and frees up time for more critical tasks.
By utilizing this RSS feed Video, you can adapt your publication strategies by integrating your videos into external platforms such as blogs or negotiating a presence on related websites. This strategic positioning enhances your visibility and helps attract a broader audience.

How to install the extension in your app back office?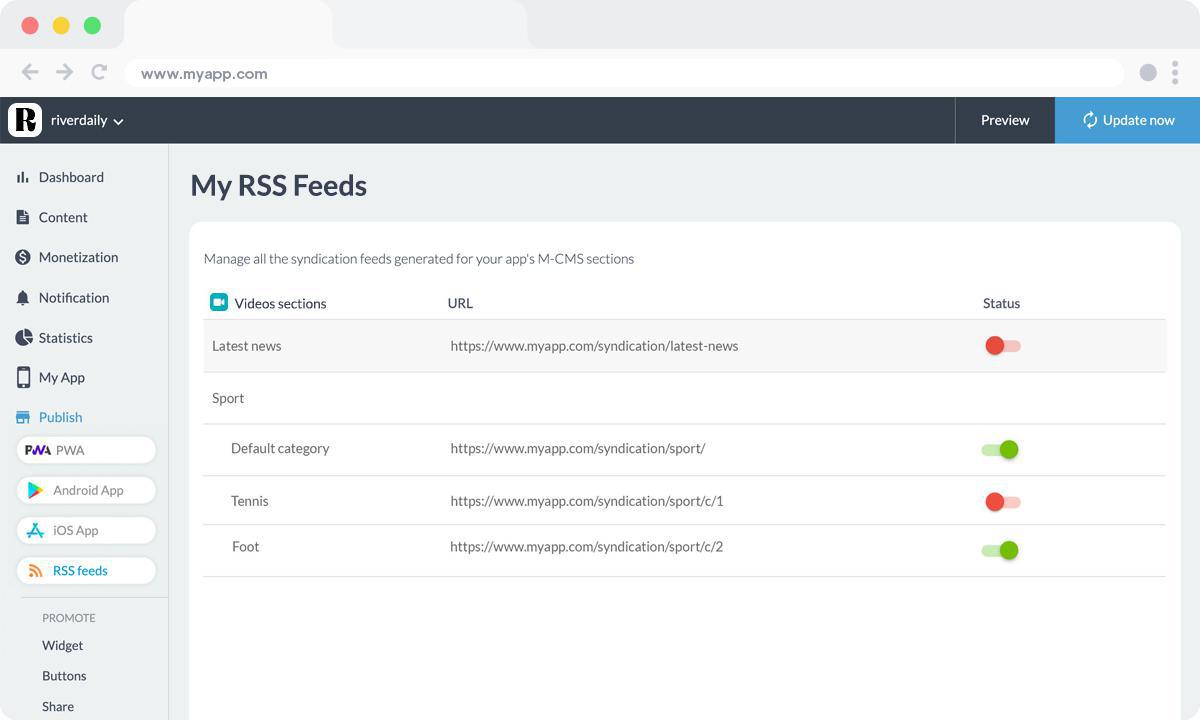 The process couldn't be easier. One click and it's done!
In your app back office, from the Extensions Store, search the RSS feed Video extension and click on "Install". This will automatically create a new menu "My RSS feeds". In this new menu, you will manage all the syndication feeds generated for your app's M-CMS sections.
You can choose the entire video menu for example, or only select certain categories. ( toggle the status switch).
You can now integrate your RSS feed into your own external platforms.
In conclusion, RSS feeds provide a streamlined approach to content distribution, empowering content creators and publishers to expand their reach effortlessly. With the advantages of simplicity, speed, and autonomy, RSS feeds offer a powerful solution for maximizing the impact of your content in the digital landscape.