How Powerful can Facebook be for Your Mobile App Promotion Strategy?
Written by Catarina Crespo on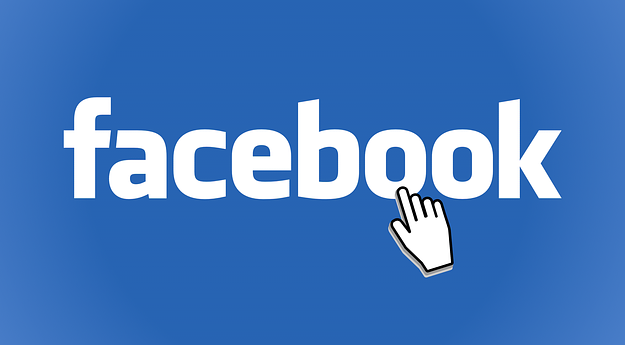 Huge!

Facebook is the largest online social network and according to Facebook stats has more than 1 billion monthly active users. Almost 90% of worldwide active users are using mobile phones to check their news feed, chat with friends and update their Facebook profile.

There is no doubt that Facebook has conquered most of the world's internet users and brings to the table a great opportunity for brands, companies and entrepreneurs to launch their products with a low budget or even, for free.

The mobile apps promotion are not an exception.

In the last two years, Facebook has improved the advertising tools for mobile promotion, becoming more successful than conventional Facebook ads. The variety of advertising formats, the deep segmentation (gender, language, interests, behavior, connections, pages), and the placement of your ads on the News feed helps to increase the number of downloaded apps, the app's engagement and retention of app users.

These facts also contribute to achieve a more relevant position through search tools of Google Play and Apple's App Store. But let's understand how it works in detail.
Mobile App Promotion
There are two types of mobile advertising campaigns on Facebook that can be implemented according to your goals for mobile marketing: App Installs and App Engagement.

App Install is deeply connected to incentivize the user to download the app on online stores by showing the ad of the app with a direct link to the app stores. If you launched your app and if you need more incentives to increase the traffic to the online stores and to download the app, App Installs can help you achieve your goal.
App Installs: How does it work?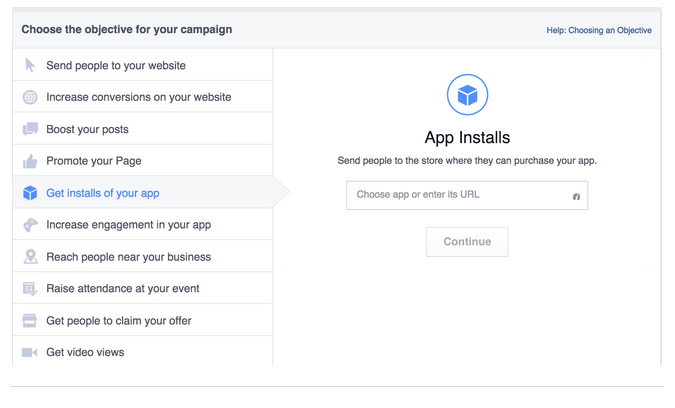 Step 1: Connect your add with the app stores
On the left side of your feed news, go to "
Create an Ad
" and then choose App Installs as an objective of your campaign. Then, copy and paste the URL of the app stores (Apple App Store or Google Play) into the box of our Ads Create tool.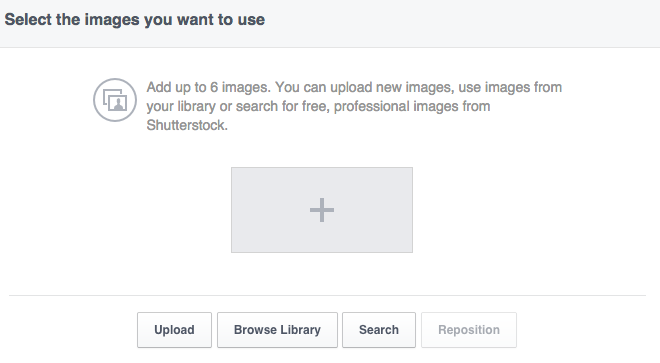 Step 2: Customize your Ad

Build the creativity of your ad by adding a custom message for your audience (add a local text for different countries), and a 1200 * 627 px image. You can add the same image and icon of your app but you can also change it.

You also can use a creative video ad to promote your app, for example a video tutorial of your app or a commercial video. You just have to upload the video, add an image and then the image that you choose will appear with the play button.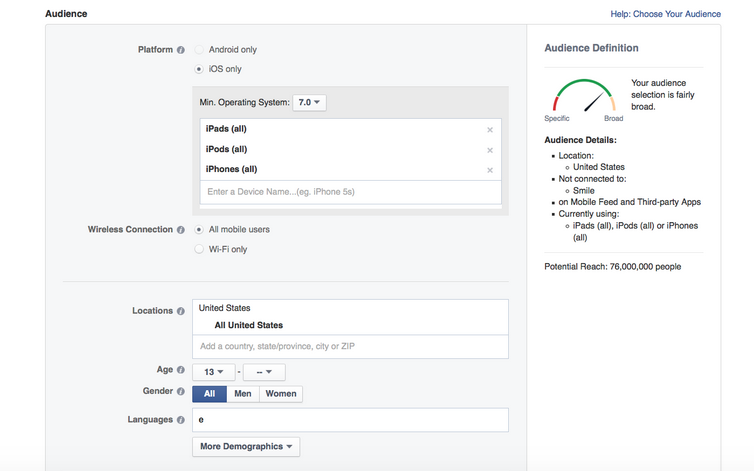 Step 3: Choose a call to action
You can choose a call to action such as "Install Now", or choose another type of call to action such as "Shop Now", "Book Now" or "Play Game".
Step 4: Create your audience
You can customize your audience using CRM data of your followers and fans in order to encourage them to download or engage with the app. Besides, Facebook has excellent targeting options that helps to estimate new audiences through their interests and likes, behavior, location and will help you to promote effective content.
First, select your platform (Android, iOS or Amazon App Store) and then select the specific OS versions that you want to target.
Within Android and iOS, you can also select the specific device model you are interested in reaching. For example, you can choose to reach users with Samsung Galaxy S5, iPhone 5s, Amazon Fire Tablets or an HTC One. You have the option of selecting WiFi-only if you are interested in reaching devices that specifically have a WiFi-only connection.
You can add further targeting options to reach people in the
demographic
, interest, and broad category groups that are relevant to your app.

Step 5: Define a budget and place order

You can set a daily budget or a lifetime budget for your ad. Also, you can define the budget of your campaign choosing the CPC (cost per click) option, through bidding or even automatically. After you get your ad up and running, we recommend that you eventually integrate with Facebook page to take advantage of advanced measurement and optimization tools provided by Facebook Insights.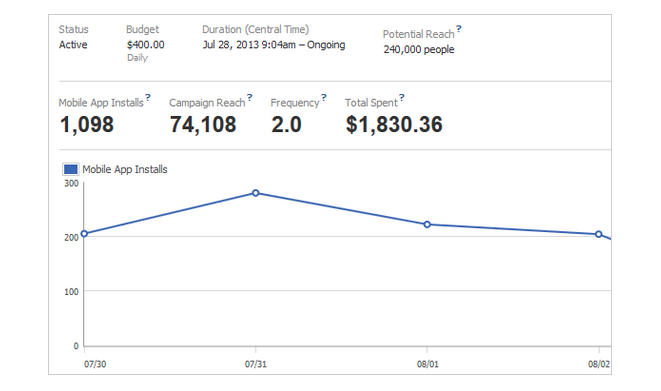 Step 6: Measure your campaign
Now that your campaign is running, you are able to measure the traffic from Facebook. Through
Ads Manager
or
App Dashboard,
you can see data about the number of installs, cost per mobile app install, cost per action, bid to better manage your budget or CPM (cost-per-thousand impressions).
App Engagement: How does it work?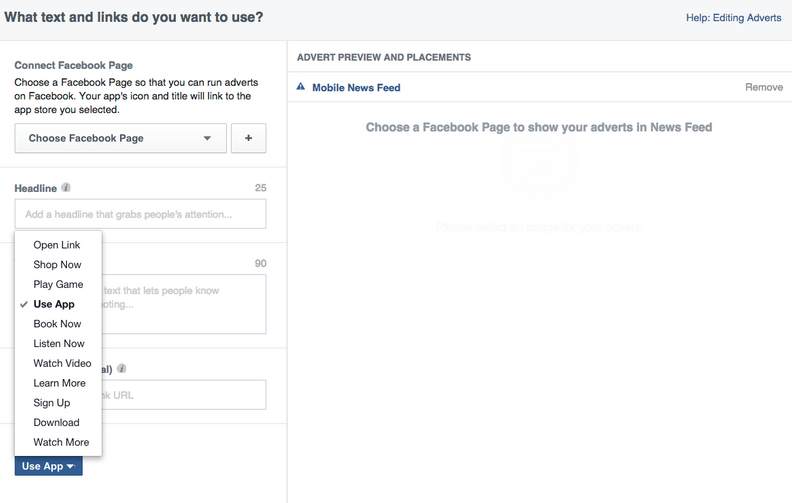 App Engagement incentivizes the costumer to take an action inside of the app. The ad drives the user to a personalized location inside of the app and help increase the app's engagement. There are many options for the call to action according to the goals of your app: "Open Link", "Use App", "Watch Video", "Shop Now", or "Listen Now", but first, let's understand how it works.
Step 1: Create your Ad
You can create your App Engagement Ad through the
Ads Create
or
Power Editor
, then select "App Engagement" as your objective for the campaign or "Get Mobile App Engagement" if your app is both for mobile and desktop, followed by choosing the app that you would like to promote.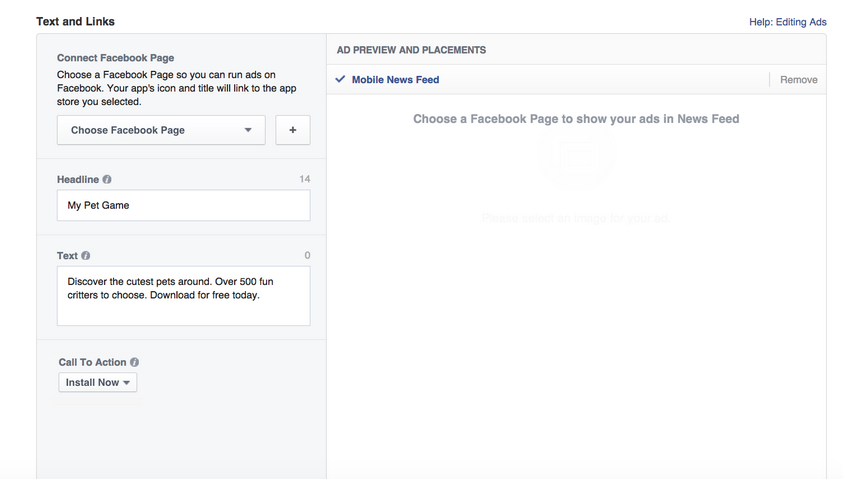 Step 2: Be creative

Upload the images with 1200 x 627 pixels - Facebook allows you to use 6 different types of image to create the campaign.

Then, connect your ad to a Facebook page choosing a Facebook page for your app and customize your ad by adding a Headline, Text (90 characters maximum) a call to action (Use App, Shop Now, Play Now, etc.) a deep link (a URL that points to a specific place in your app) and URL tags. Finally, upload your app icon (75x75 pixels).
Step 3: Customize your audience

If you want to reach the people who have already installed your app, you should check this box.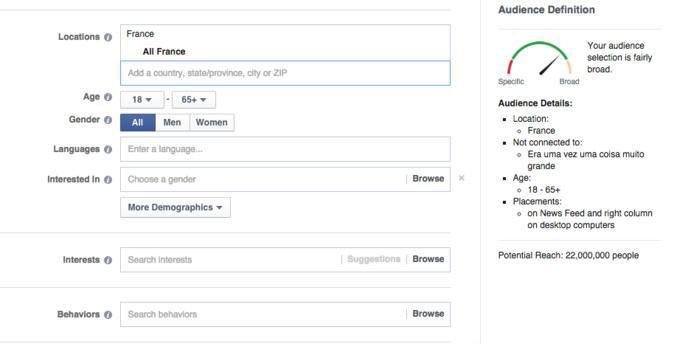 Your app should be connected to the
Facebook SDK
or
Mobile Measurement Partner
account.
If you are not measuring installs or app events yet, or would like to target more than just existing users, you can create a custom audience according to the
information of your user database
and reach your current customers thought their email, phone number and Facebook UIDs (you have already have the privacy permission).
Or you can create your audience defining the device of your audience (iOS, Android, Operation System iOS 6.5, iPod, iPad, etc.), wireless connections (all mobile users, Wi-Fi only), localization, age, gender, interest, behaviors and other social demographic data.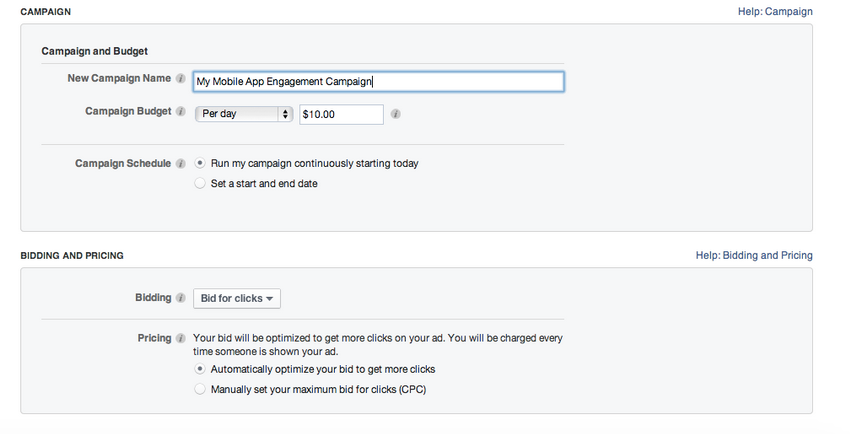 Step 4: Set budget

Now you can define a budget for your campaign (daily or lifetime budget) and optimize it. If you connect your app to a Facebook page, you can take advantage of the analytics and optimization tools that Facebook provides for pages. For instance, it is possible to measure the purchases resulting from your campaign if you have defined a goal for the purchases on your website.

Step 5: Measuring Ads
Once you are increasing the traffic to your app, you can measure the actions of your users resulting from your campaign. You are able to measure the purchases your users make within your app, you can measure any event that is valuable to your business and you can control the evolution of your campaign through the Ads Manager or App Dashboard.
But if you want to measure the actions taken within your app you should integrate
app events for Android
or
app events for iOS
to register the actions of your users.
But take note that before you advertise your product or brand, you should create a good advertising strategy in accordance with the new advertising guidelines in order to avoid that Facebook doesn't give enough relevance to your campaign in the newsfeeds of your audience.

Soon we will give you more details about the New Guidelines for Promotion Posts for 2015.
Stay tuned! ;)