How to create a worship or faith-based app
Written by Marie Pireddu on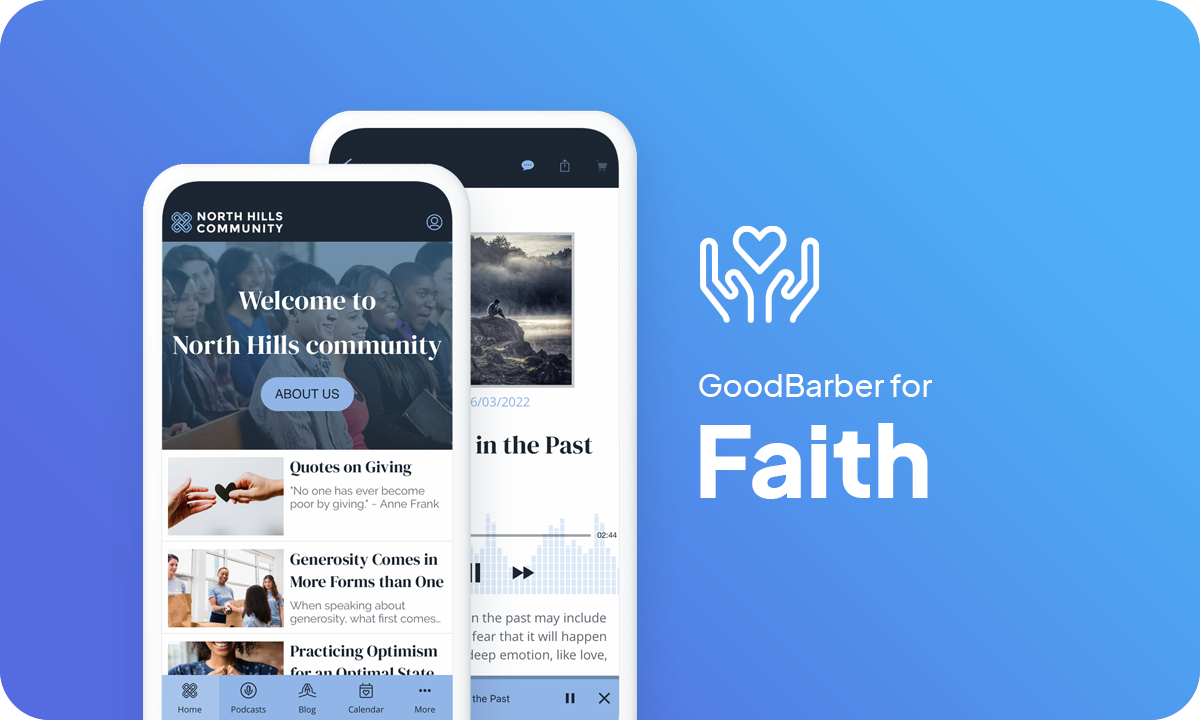 Beliefs no longer have the same place as they used to, and religious affiliation has considerably decreased over the last few decades. Nevertheless, we have noticed a return to spirituality for a few years now: religious or not, beliefs are slowly finding their place in people's hearts. If religion sometimes appears as the enemy of modernity, this is not really the case. For a few years now,
mobile apps have been aiming at modernizing religious practices,
and are in line with their time by using the current codes of digital media. These apps aim to accompany users in their religious practices and in their faith while speaking the language of the 21st century. Creating a
religious or spiritual app
can be the ideal solution to allow your community to cross the ages by using the most adapted communication tools.
Religion and Spirituality: Identifying the new challenges.
New technologies have changed the way we live and behave. Digital technology is now an integral part of our daily lives. Mobile apps have largely taken part in it, integrated to smartphones that go everywhere with their users.

In spite of these modern changes, we can observe a return to spirituality for a few years. Indeed, the problems we are facing, such as the health crisis or the ecological upheavals, for example, push a large part of the population to be interested in religions, or more widely in spirituality and beliefs. According to a Pew study published in January 2021, 28% of Americans said they had regained their faith following the pandemic, while religious affiliation in the United States had decreased dramatically over the past decade.

In the face of this societal evolution, modernity is the real challenge for religious and spiritual communities. It is a hindrance in maintaining the bonds between members of a religious group who share the same beliefs. People of faith need tools to transmit this feeling of belonging, and to maintain their faith and their connection with their community.
Why create a worship or faith-based app ?
The preservation of connections between believers is done through a place of worship, through their practices as well as their convictions and common values. That's why a reflection is necessary to preserve the relationship between human beings and spirituality as we've known it.
Creating a religious or spiritual app
seems to be an
adapted solution to allow believers to keep their faith in a modern and connected era
. Indeed, an app allows users to be guided in their daily practice while responding to new digital issues.
It is a practical, secure tool, and is used by the greatest number of people. An app facilitates the life of its creator as well as its users. Indeed, an app allows a religious or spiritual group, a place of worship, a collective, to
communicate with its followers in a simple and instant way.
In this way, you have the possibility to spread your word, inform your followers thanks to the adapted support, and engage your community more.
In order to meet a need from followers, religious and spiritual offerings have quickly moved to the mobile app market. Religious and spiritual practices need to adapt to a more modern way of life in order to continue to gather their followers. The App Store or the Google Play Store are now full of apps aiming at accompanying believers in their practices. If monotheistic religions are the most present on download platforms, many religious traditions also offer apps for their followers. An app can be suitable for any kind of belief, religious or not. All spiritual practices can be represented through an app and meet their specific needs, there are many applications for fortune-telling or astrology for example.
If you have never created an app, the article on
how to create an app
gathers our best advice to start. Other articles are available on our
blog
to help you as you create your app.
It is now time to start creating your app. Follow the 6 steps below to create your faith-based app:
Create a sober and solemn design for your spirituality app
Spread your word by choosing the most appropriate spiritual content
Gather your religious community with key features
Streamline communication with your congregation and enhance your place of worship
Integrate a calendar with your spiritual app and plan your religious events
Collect revenue on your religious and spiritual app
1. Create a sober and solemn design for your spirituality app
Choosing the Design of your app is one of the most important steps in the creation process. Your app must have a visual identity, and reflect your spiritual or religious universe.

First, you will have to choose the colors of your app. It is possible to apply to your app a theme pre-designed by our design team, by choosing the one that suits you best in our theme library. You have the possibility to modify the theme of your choice by creating your own color palette, or by creating your own custom theme according to your desires!

Go for fairly sober colors to bring a soothing and solemn character to your app. Bright, garish colors do not represent spirituality well. North Hill Community is a religious app that aims to bring together parishioners of a church. The colors chosen for this app are blue and black. The predominant blue is reminiscent of spirituality. It is a very soft pastel blue, reminding the color of the sky. The black is present in smaller touches, to emphasize certain details for example. These colors give the app a solemn and soothing character that perfectly reflects its religious character.

For your design to be impeccable, you must also focus on the structure of your app. It must be intuitive and the navigation must be simple, that's why it is important to structure it properly. The Home of your app is very important since it acts as the home page. It must gather the main elements of your application, and be properly laid out. North Hill Community's home screen has a first Widget linking to the About section, which introduces the parish. This Widget is highlighted with an illustration and a Call To Action button, as it is an important section of the app that provides the user with the necessary information. Then we find the Blog and Podcasts Widgets that offer us an overview of the content of the app, followed by a Newsletter Widget, allowing the user to enter their email address, and collect data. The Home must be optimized, that's why it gathers the most important sections of the application.

The navigation mode chosen for the North Hill Community application is TabBar. It is one of the most used templates because it is permanently present on the bottom of the screen, allowing easy navigation through the icons. This kind of detail is very important. The illustrations, typography, and icons chosen should not be left to chance!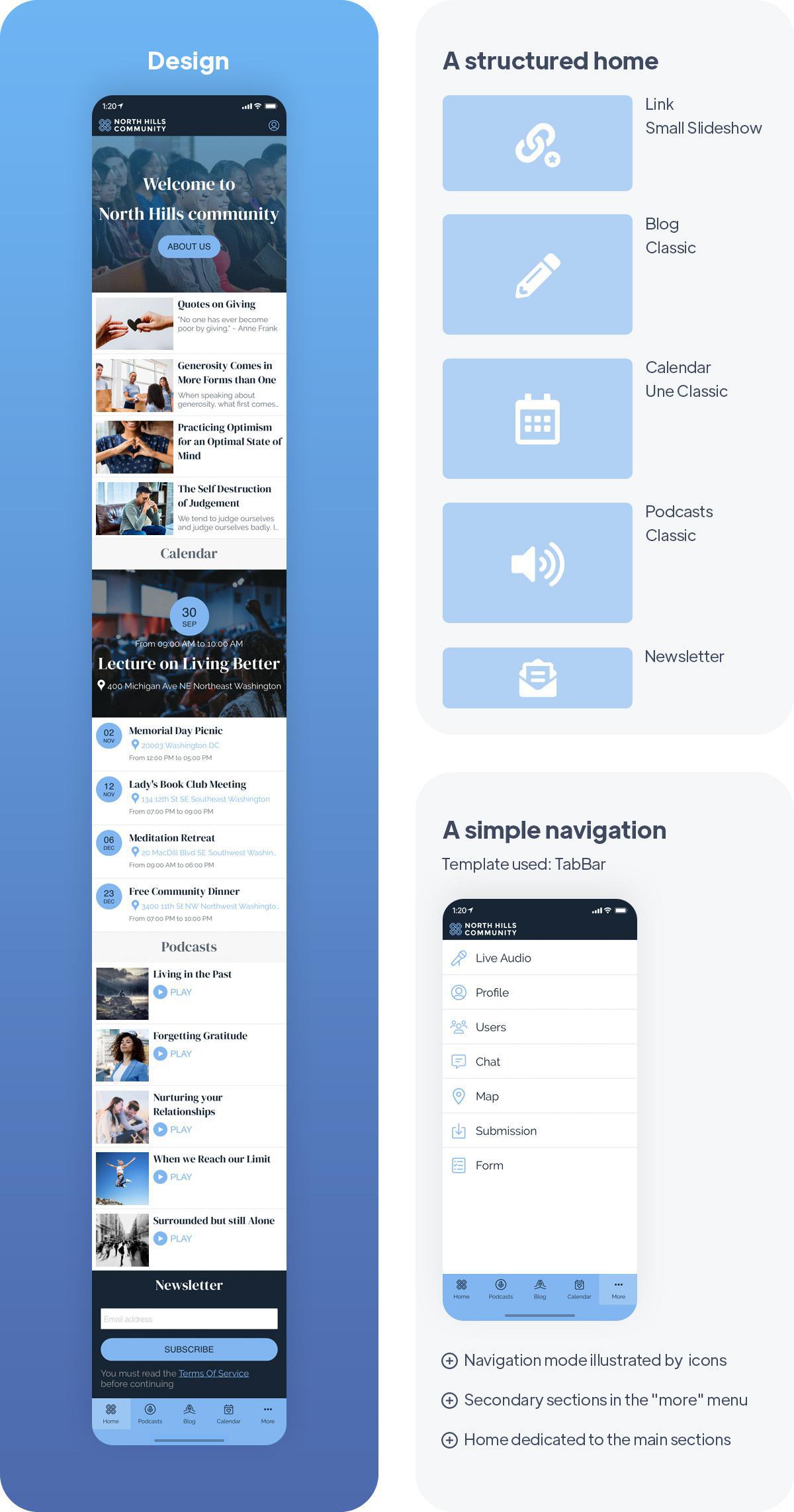 2. Spread your word by choosing the most appropriate spiritual content
Once the design of your app is complete, you will need to focus on the content of your app. Creating an app for your spiritual or religious community allows you to share different resources with your users so they can be informed about the topics you care about. For this, many features allow you to integrate your content through the most suitable media, and on which you feel most comfortable.

If you are more of a writer, you can integrate a Blog Section into your app, which you can rename with the name of your choice. This section allows you to integrate articles in the form of text, to which you can add other media such as images or videos to complete your story. This section is ideal if you want to add historical points, and information, or transcribe religious writings. You can also include spiritual quotes, prayers, or more personal stories such as testimonials or interviews for example.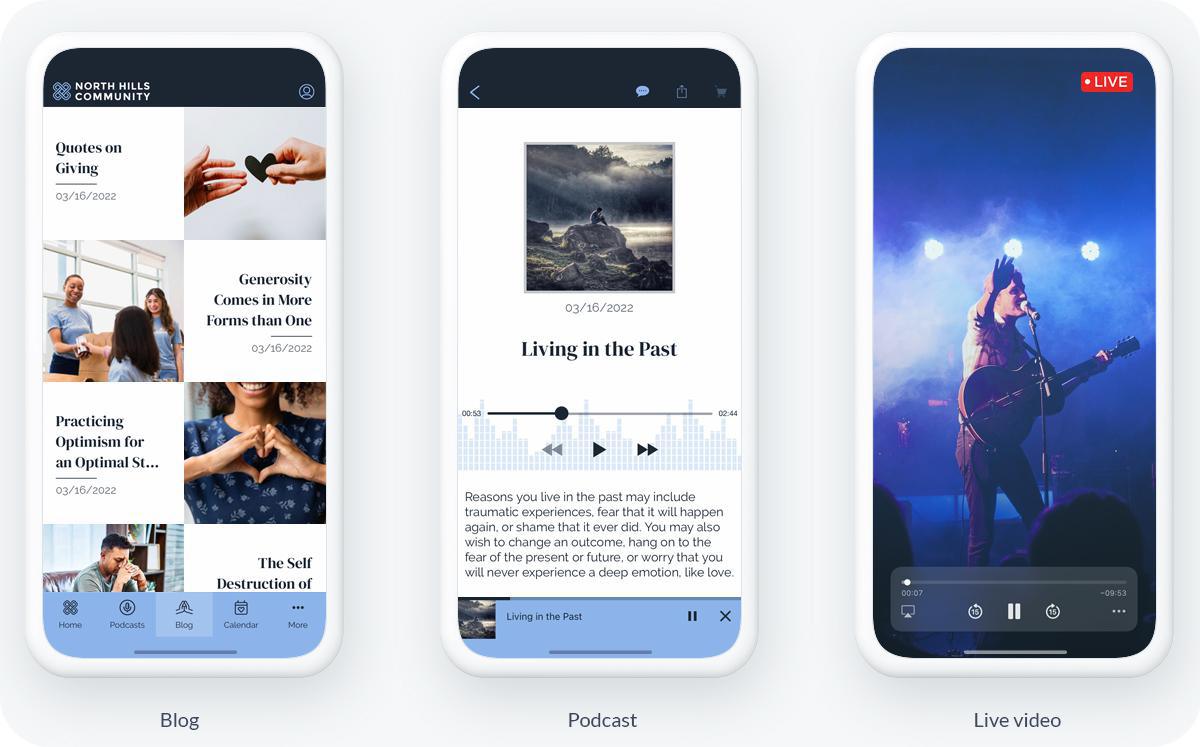 In addition to your articles, it is possible to integrate audio into your app thanks to the Podcast section. This is a medium that has become increasingly popular in recent years and is much appreciated by users. You can integrate audio recordings through which you can tell stories or spiritual and religious facts, or even integrate music. Many religious apps integrate religious songs so that their followers can listen to their playlists directly from their app!
The Video format is also very interesting and allows a more immersive approach. Through a Video Section, you can publish transcripts of your ceremonies for example, so that members of your community who were not able to attend can still view your events. Videos are still the most attractive format and the most popular among users.

Finally, if you want to give your app a truly immersive feel, you can also integrate the Live Audio or Live Video feature, which allows you to communicate with your community live! This is a great option if your community spans different geographical locations, or if you don't have access to a physical place of worship. This way, you can interact spontaneously with your community.
3. Gather your religious community with key features
After having integrated all the informative features into your app, and added your different religious or spiritual contents, it is now time to address the features related to the users of your app. Your app must be a place of sharing, as warm as a place of worship, we must find this aspect of exchange and mutual aid. GoodBarber provides you with many social features that will allow you to maintain the link between the members of your community.

By activating Authentication, your users will be able to access your app with a login. Your followers will have a User Profile, through which they will be able to enter their personal information. You can define beforehand the fields to be displayed on the user profile page of your followers. Detailed management of access restrictions allows you to define which are the public and which are the private areas of your app. Each member of your community will be able to present themselves as they should and meet other users with whom they share the same values.
The Community Extension allows you to view the list of users of your app. The user profile is a Public Profile, so your followers have access to the information of other users, and can create affinities and maintain their ties. You also have the possibility to integrate a Chat into your app to give users the possibility to contact each other. This is a very popular feature that allows you to engage and bring your community closer together. Your followers will be able to build affinity, share with each other around topics that unite them, and learn from each other. It's a great way to get your followers more involved in religious practices and encourage them in their faith. Users who do not wish to be contacted will have the option to disable this feature.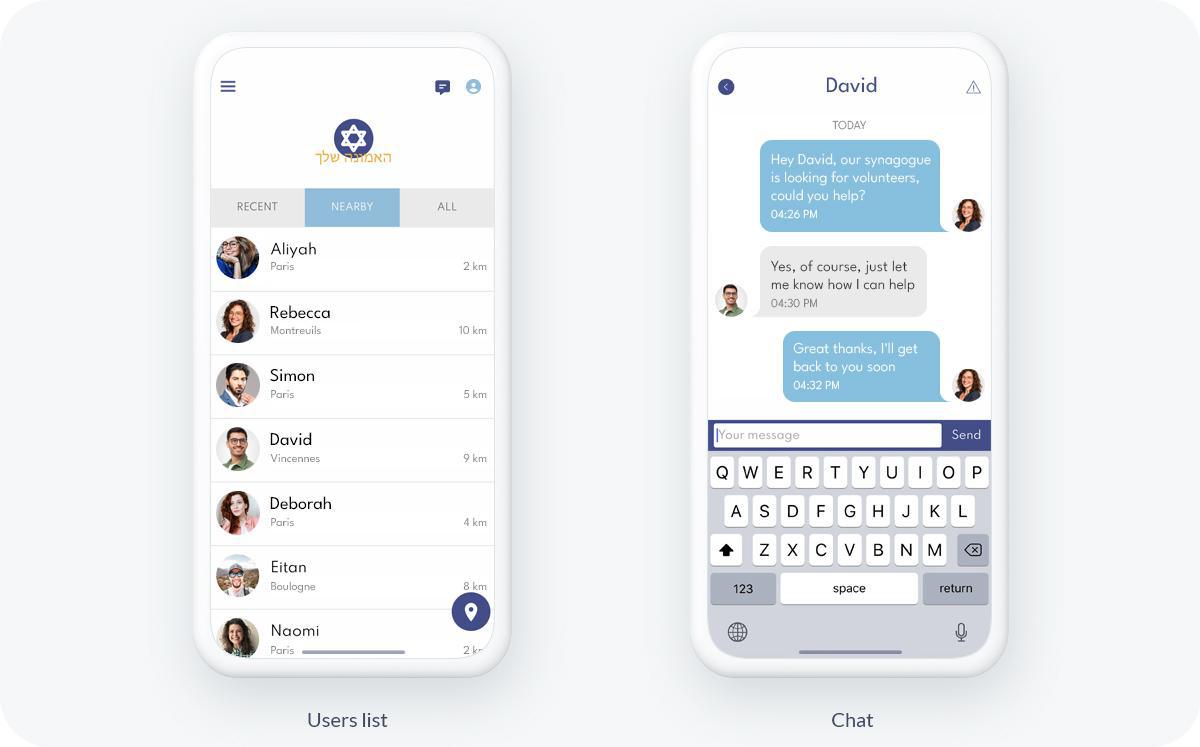 4. Streamline communication with your congregation and enhance your place of worship
Your app is also used to communicate with your followers. You can collect information about your app's users, or allow them to reach you with the right tools. GoodBarber's
Extensions Store
offers many features to integrate into your church or spiritual app to keep in touch with your community.
The Submission Section is a section where users can share content on your app. Texts, images, or videos shared by your followers will appear in the back office of your app, you can then decide to publish them or not.
The Form Section allows you to integrate a form into your app. This way, users can fill it in to answer one of your requests, indicate their personal information, or send you a request. For example, you can create a form for your followers to send a prayer request or a confession.
Push notifications allow you to inform your users automatically according to the events occurring in your app. Schedule your notifications to remind them of important holidays, ceremonies, celebrations, or prayers, or simply to inform them when new content is published.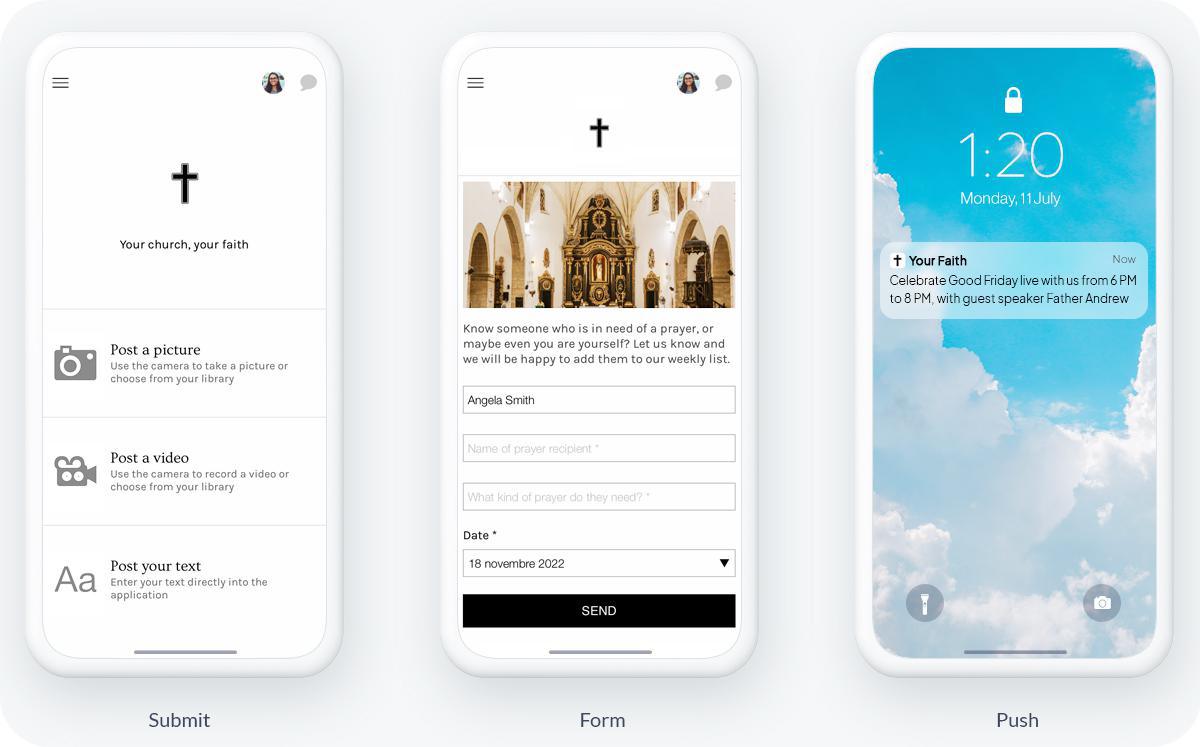 Thanks to the Map section, you have the possibility to promote your place of worship, meeting, or events to your religious or spiritual community. This feature allows you to indicate the itinerary of a place thanks to geolocalized points on a map. You can choose the icons that will appear in this section, and even integrate your own custom icons. This way, your followers will be able to easily find their way around and get to the location as soon as an event takes place.
5. Integrate a calendar with your spiritual app and plan your religious events
A religious or spiritual app must include a calendar. Indeed, many events will take place throughout the year, such as important religious events, celebrations, and masses, as well as other gatherings specific to each community such as meetings, donations, or charity events. You can indicate them in your app thanks to a Calendar Section, which is a customized Agenda in which you can create your events directly from the back office, indicating the date, time, and even their place. Your followers will be able to see all the celebrations, parties, and important dates, as well as the events of your community. GoodBarber allows you to create a Universal Agenda, which means that the dates and times of the created events will be automatically displayed according to the time zone of the user who consults your agenda.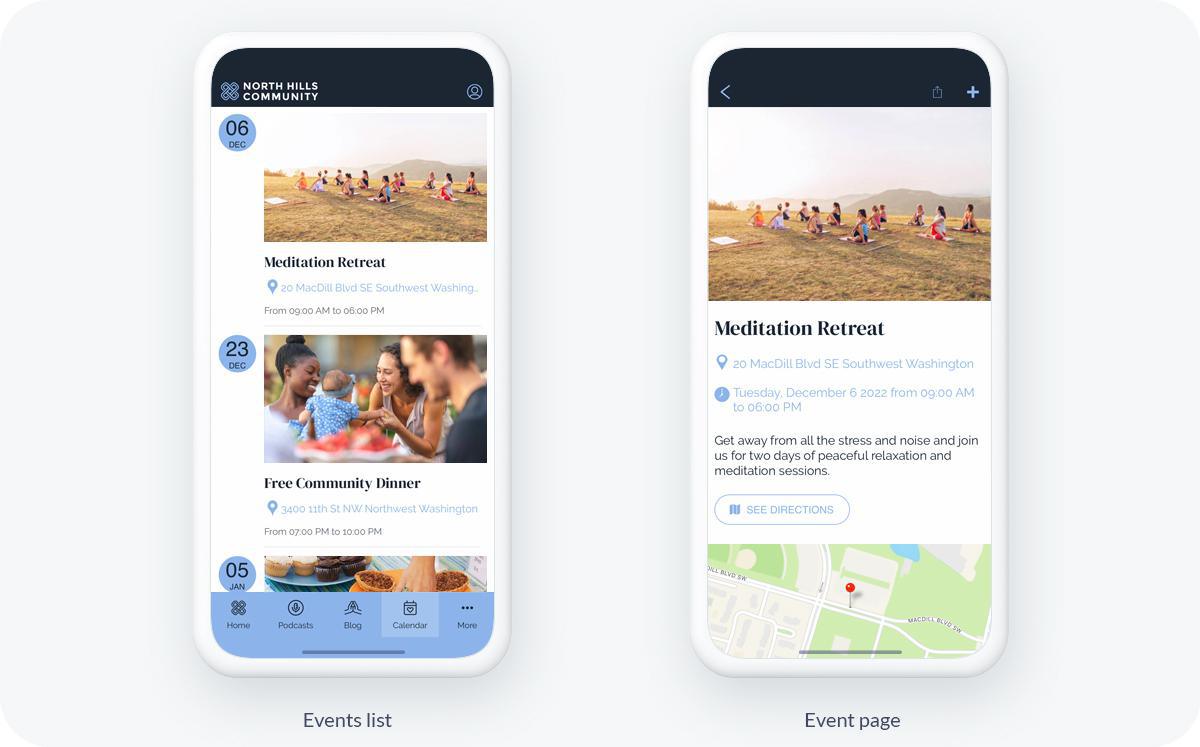 6. Collect revenue on your religious and spiritual app
If you want to generate a profit from your app, GoodBarber offers several ways to monetize your religious or spiritual app.
Integrate Donately to your app:
By synchronizing your
Donately
account with your app, you have the possibility to raise funds in a simple and secure way. The installation of this extension is quick and easy. You will be able to manage your donations directly from your Donately account. With this extension, you will be able to integrate donation forms into your app, as well as collection pages, for an optimal fundraising experience. Whether you're adept at online fundraising or new to it, this extension makes it easy for donors to support your cause.
Sell advertising space to third parties:
Your app has different spaces to display ads. These are banners or interstitial banners. You can connect your app to a third-party ad network, like AdMob, Ad Manager, or Facebook, for example, the ads will be automatically displayed in your app, or sell your slots directly to advertisers.
Charge for your app on stores:
This monetization method represents 35% of the apps available on download platforms. When publishing your app on the App Store and Google Play Store, choose to make your app paid. Keep in mind that each store takes a percentage of your app's purchase, the App Store for example takes 30% of each transaction.
People are more and more interested in spirituality and show a real desire to practice their faith, but do not feel represented by current practices. Creating a religious or spiritual app allows you to address these issues. An app allows you to spread your message to your followers in a quick and easy way. It's an excellent solution to bond and engage your community, and allow it to last over time thanks to adapted communication tools.