How to turn your WordPress site into a mobile app
Written by Marie Pireddu on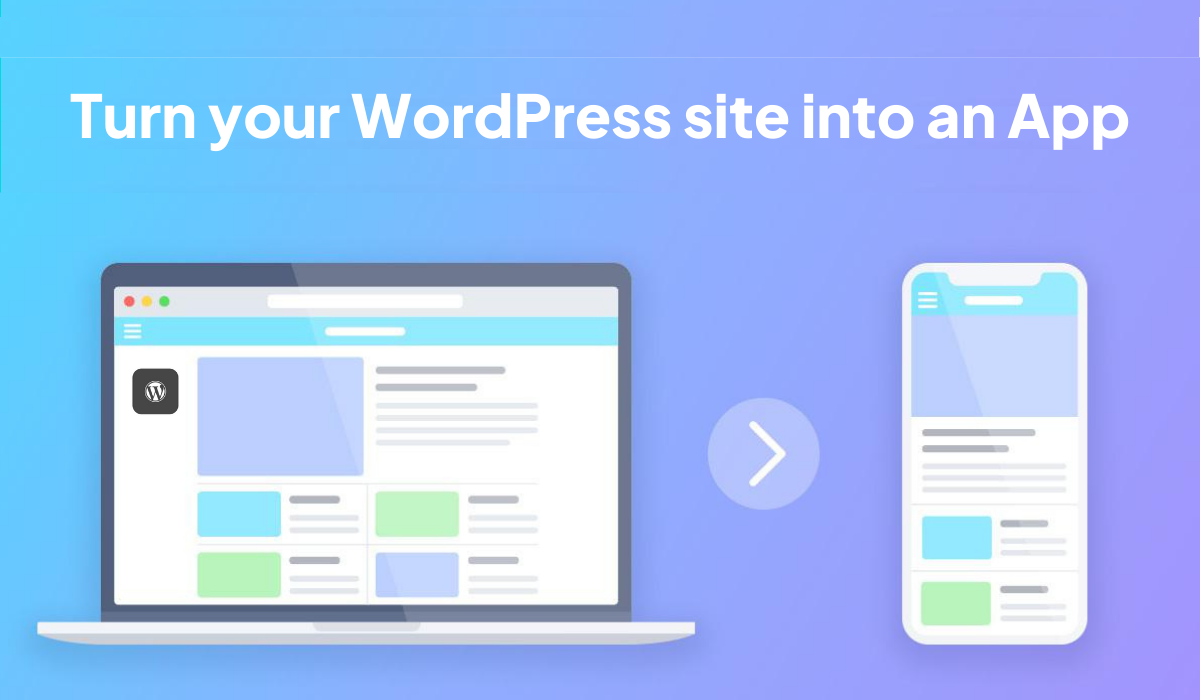 With the majority of people nowadays browsing the web on their smartphones and tablets, responsive web design is a must. However, even with a responsive website, you can't compare the quality of the on-the-go User Experience to the one of a mobile app.
Fortunately, if you're a WordPress user, converting your site into a mobile app is easier than you may think. Thanks to plugins and especially the GoodBarber plugin for WordPress, you can quickly provide your users with a superior mobile experience.
Differences between mobile responsive sites and mobile apps
A study showed that 51 percent of smartphone users say that they find new products and brands by conducting mobile searches. making your content easily accessible for smartphone and tablet users a no-brainer.
However, if you have a responsive website, you may wonder why you would also need an app. After all, an app can be an investment, and you don't want to waste your budget on an unnecessary feature.
But when you look into it, mobile sites and apps serve different purposes. Having both helps you cover all your bases, so you can provide your users with everything they need while also growing your brand.
A website allows you to be available to anyone on the internet, not just to your users. Thanks to SEO, your website is key to ranking on search engines and acquiring new leads. You're also still reaching those users who may not yet be inclined to download your app on their phones. A website will help you gain visibility, build your brand's credibility and establish yourself.
Native mobile apps, on the other hand, are much more effective than responsive sites when it comes to retaining users and increasing conversion rates. Mobile apps convert on average 3X more than a website. Indeed :

Mobile apps provide a better performance, including faster loading speeds.
You can access the native features of the devices such as the camera, GPS, etc...
And the main selling point for marketers: push notifications. They remind users to check in regularly and go back to your app.
Combining the benefits of a responsive site with those of a mobile app gives you the best of both worlds.
With tools like `GoodBarber, you can now create an app easily, without having to write a single line of code and use plugins to convert your WordPress site to a mobile app. There are no reasons not to have both anymore!
GoodBarber WordPress plugin
There are a few options available when it comes to
creating your mobile app
. You could hire an agency but this solution is time-consuming and expensive.
You could hire a freelancer developer which would be less expensive than an agency but will also be time-consuming and expensive.
Then you can go with a
no-code app maker
and plugin route. Platforms like GoodBarber provides you the tools you need to easily create an app at a fraction of the cost and much faster. The good news for WordPress users is the possibility to employ a plugin. With a plugin, the setup is easy and your online presence is synced between your website and your GoodBarber app. Display your full articles, apply content filters to match your blog categories, and enable comments on the articles to build your community.
GoodBarber WordPress plugin
The
GoodBarber Plugin for WordPress
is an extension of the JSON API plugin, a plugin commonly used within the WordPress community.
We have adapted it to safeguard communication between your app and your blog, as well as to allow further flexibility in terms of content synchronization.
The plugin installation is easily done in 6 steps:
Install the add-on WordPress

Login to your WordPress blog admin interface

Add the GoodBarber plugin from the plugin menu

Install and activate the plugin

Copy the GoodBarber Key

In your GoodBarber back office, add a new WordPress section, fill in your website URL and paste the API Key.
If you need assistance, you can refer to a detailed
online help
.
Once the installation is complete, a new WordPress section will appear in your app menu. From this section, you can manage filters to reflect your Blog categories, and customize the design.

`Your WordPress site is now an mobile app for Android and iOS!
The PWA option
Not feeling ready yet to invest in a native mobile app? Then a web app option is the next best thing. With Progressive Web App, you benefit from the best of both the mobile and native worlds.
Much faster to create and publish, the main advantage of a PWA is that it can be added to a user device's Home screen, giving the look and feel of a mobile app. There is no download needed, simply share the URL of your web app, and voila! Your users have now access to the best mobile version of your WordPress site (after a native app ;) )
Conclusion
If you're ready to increase your online presence and complement your WordPress site with a mobile app, test our platform for free for 30 days and
create your app now
!