In-App purchases are here!
Written by Marie Pireddu on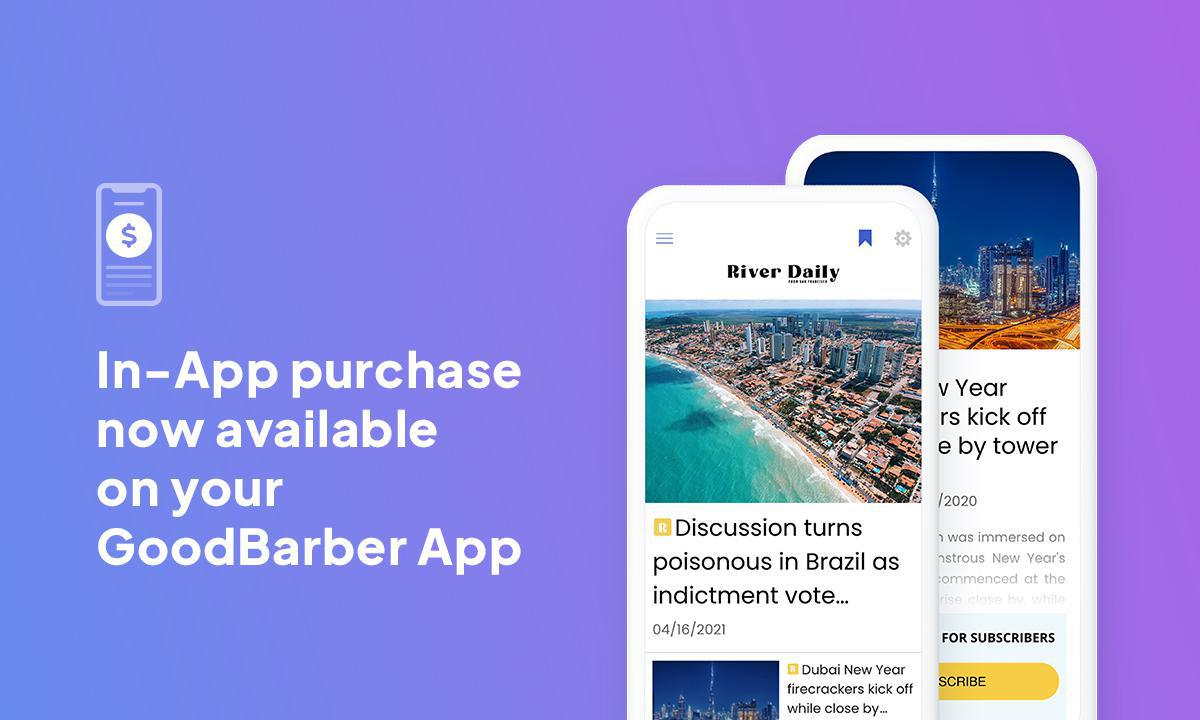 We've been teasing it for a little while now and finally we're very happy to announce that In-App purchases are here!
You can now
offer premium content in your GoodBarber classic apps.
In-app purchases are one of the most common monetization models in mobile apps. Indeed,
users are spending $380 billion worldwide on in-app purchases.
In fact, according to
recent studies,
around 48% of all mobile app earnings are driven by in-app purchases.
In this article, we'll go over a little reminder of what are in-app purchases, which one is available with
GoodBarber App Builder
, and examples of use.
What are in-app purchases
In-app purchases allow you to offer the app for free in the App Store and Google Play. Then, within the app, you can upsell paid upgrades, locked features, and other premium offers.
They apply to digital goods that must be delivered within the app and allow purchases on all devices (mobile, tablet, desktop).
You'll find many advantages to offering in-app purchases in your app. Amongst them, the fact that there is no credit card fee but mainly that for your users, in-app purchase offers a great experience and added value without having to leave the app. No need to enter any card details, everything is linked to their accounts on their respective platforms (iOS or Android).
The main drawback voiced by app owners is the Apple commission. You only retain 70% of your revenue as Apple takes a 30% commission. For auto-renewable subscriptions, Apple's commission drops to 15% after the first year. However, following some backlash, Apple started in January 2021 a small business discount under the
App Store Small Business Program.
As long as the developer earns up to $1M per year, they will only have to pay a 15% commission on in-app purchases, rather than the standard 30%. A few conditions apply:
Existing developers with earnings up to 1$ million as well as new developers are eligible to participate and can qualify for a reduced commission
If the earnings are more than $1 million, then the regular commission applies
If the business falls below $1 million in the future, the developer can requalify for the 15% commission for the upcoming year.
For Android, in October 2021 Google
announced
that they are going to reduce the fee for all subscription apps to 15% from day one of each subscription regardless of the total revenue of the developer.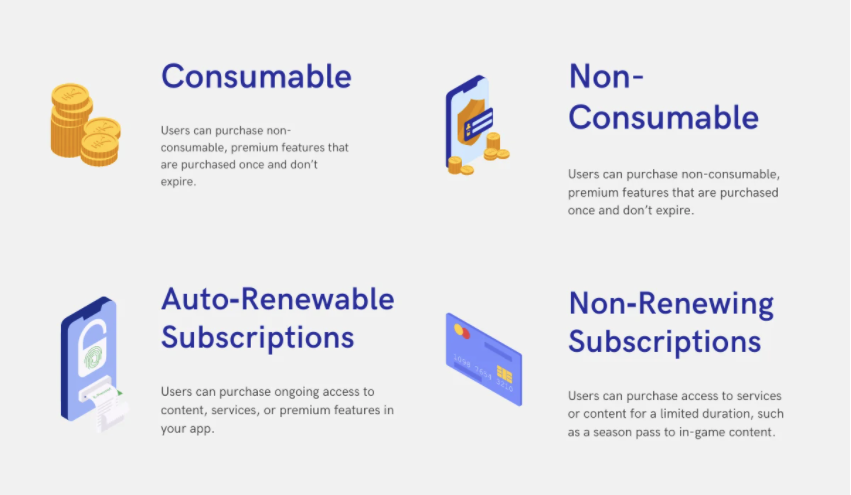 In-app purchases are classified into 4 categories
Consumable: such as additional lives in a game.
Non- consumable: Freemium model: gaining access to VIP feature in a news app or new filters on a photo editing app, unlock additional game levels
Auto-renewable subscriptions: subscription to magazines, cloud storage, weight loss or yoga app. The user needs to cancel to stop the subscription.
Non-renewing subscription: content is offered for a limited time, the user must purpose each time. For example season pass to streaming content
Offer premium content in your GoodBarber Classic app with subscriptions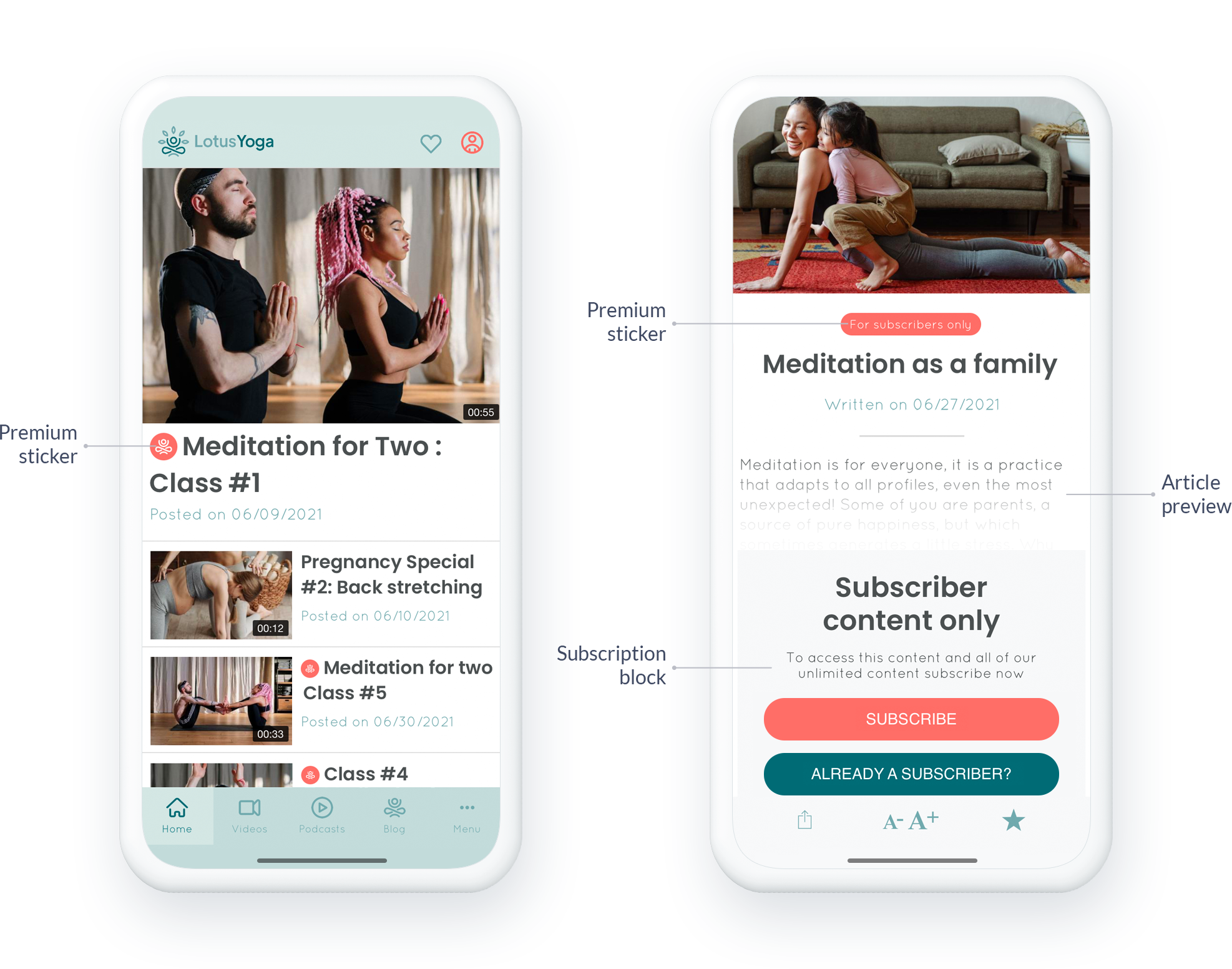 After some research, following your suggestions, and thanks to all of you who replied to our surveys, we've decided to start with the subscription model.
Indeed, this revenue model has become an increasingly popular strategy for monetizing apps.
So what is a subscription-based app monetization model?
The subscription model is similar to in-app purchases as it enables users to buy additional goods, content and features. But instead of giving them the option to buy whenever they wish, subscription model introduces 'subscription periods'. When users have an active subscription, they can use the app's premium aspects, and when that subscription expires, users can no longer use them – unless they subscribe again. With the subscription model, users are able to use a feature or consume content for a predetermined amount of time called a subscription period. It can be a monthly subscription or an annual one. And when that period passes, they are prompted to extend their subscription in order to get continued access to those premium features or additional content.
Benefits of the subscription model:
They've always been favored by the App Store and Google Play. Subscription-based app owners pay less transactional fees to Apple and Google for long-term subscriptions – 15%, as opposed to other models that have a strict 30% fee.
They provide you with a recurring, reliable income.
Users who subscribe a more loyal and more engaged.
You can still monetize your non-subscribed users with Ads (third-party services or GoodBarber internal ads add-on)
How does it work in my GoodBarber App?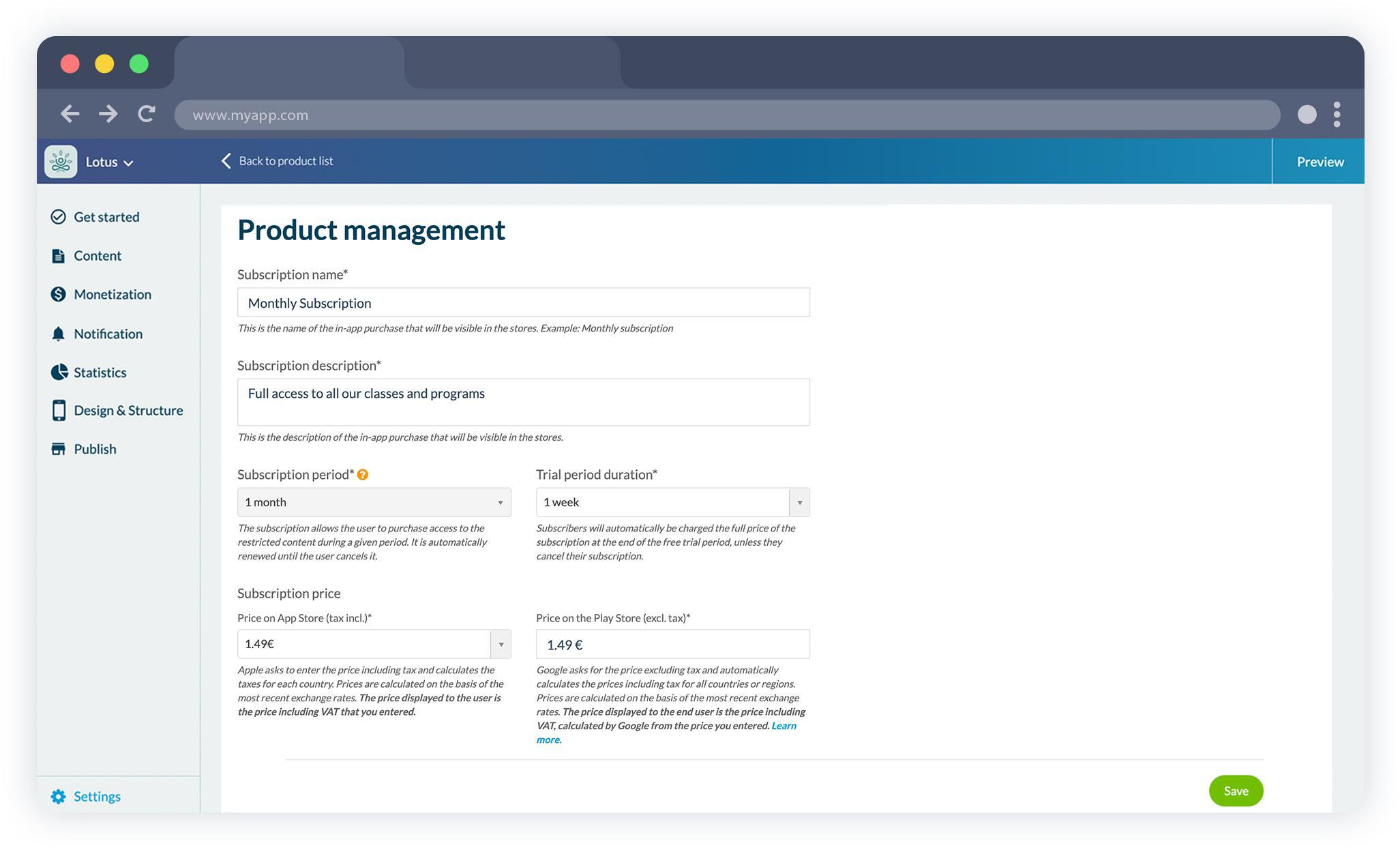 1. From your app back office, install the
In-App purchase add-on.
Note: In-app purchase add-on is not compatible with the following add-ons :
Users

: Authentications, Community, User groups, Chat


Local business

: Loyalty card, Club card, and Couponing




To install In-app purchases add-on, if you have installed any of the add-ons above, they will be deleted from your app.
For further info on migrating your existing users, please refer to this online help

2.
Once you've added the add-on In-app purchase, you will find a "
Settings guide
" page here
Settings > In-app purchase guide > Settings guide
. This page is very important, it will help guide you and allow you to access all settings of your add-on easily, along with different resources.

3. There are several steps to follow to configure in-app purchases. Set them up one-by-one in order. They will be marked as done on your setting guide when completed.
You will need to create the subscriptions you want to offer to your users, a
pply the restriction on the content you wish to make inaccessible to non-subscribers, define the terms of service and your privacy policy, set up the process for creating a client account and customize your emails for your users.
Several online help are available to help you with each step of the process.

4. You'll now find a new Monetization > In-App purchase menu. From this menu, you will be able to manage your subscribers (active and expired) as well as your users (non-subscribers).
Click any user/subscriber from the list to have access to all their informations (subscription details, account history etc.)
Once your users have subscribed to your app via the stores from the native app, they will also be able to log in to your app on the PWA to access the restricted content from the PWA.
How can I offer premium content in my GoodBarber App?
Let's see the examples of 3 types of app: a newspaper app, an online course app, and the app of a content creator.
River Daily is a local Newspaper targeting "traditional" readers who were used to consuming print media but also attracting a new generation thanks to an app. The newspaper decided to diversify by offering different types of content such as articles, short videos, and podcasts. To monetize their app, they decided to offer subscriptions to access certain content.
While the daily news articles and short videos are free and accessible by everyone, their in-depth posts, podcasts and documentaries are only for subscribers. They offer a 7 day free trial to their users to check out the premium content, then they can choose between a monthly or yearly subscription plan.

The Fast Piano app is an online music course, offering both theory and practical exercises. Their monetization model is a bit different than our local newspaper.
While they offer the theory lessons, under articles format, for free, all their video classes to learn the piano are only accessible with a subscription. After a 7 day free trial, if you are interested in learning how to play piano, you can choose between 3 months, 6 months, or a yearly plan.
For a content creator app, like Woody Family, one of the most sensible strategies would be to offer their public content, such as their posts on social media like their YouTube channel, for free on the app. Then create more exclusive content that will be subject to subscription, such as podcasts or in-depth videos, which are generally appreciated by their most loyal followers.
With the new In-App purchase add-on, you have now access to one of the best ways to monetize your app as well as keep your users engaged.
Time to test this feature in your app!
If you don't already have an app with GoodBarber, you can test our tool and in-app purchases for free for 30 days.
Create your app
now!