It's the Golden Age in this Mobile Data world
Written by GoodBarber Team on
The past was dominated by voice. Now we have moved into another decade, where digital services take the lion share of industry revenues.
The mobile analyst
Chetan Sharma
had predicted that voice data would leave space to mobile data, the new big revenue source.
Only during the past year, mobile data service revenues grew by 20% reaching $24.8 billion, and it has become the primary growth driver for US mobile industry.
"Welcome to the Golden Age of Mobile" said Sharma.
He was right! The mobile industry is the most dynamic and exciting nowadays. It has an important role in driving the global economy of a world where will be more cellular subscriptions than humans.
The importance of smartphones can't be ignored. They became the dominant mobile device already in 2012.
The smartphones penetration in the US has now reached 61% according to Nielsen. The last quarter of 2013 saw the recovery of Apple that outdid Android again with 49% share of smartphones sold.
The mobile industry is already worth $1.6 trillion and there are no doubts it will keep growing, making an increasingly important impact on the global GDP.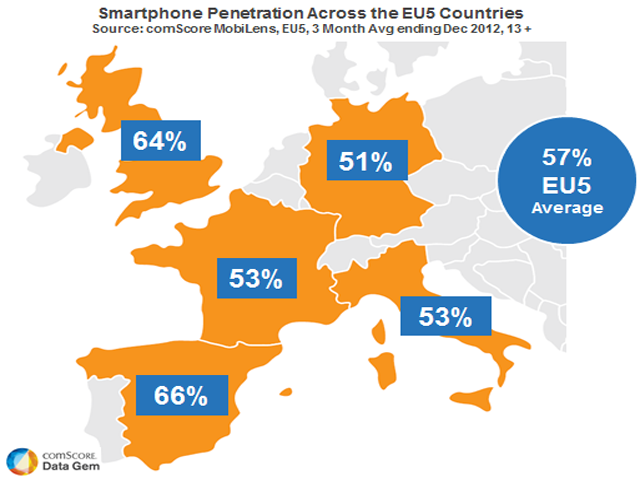 During the last quarter of 2013, more than 50% of the mobile service revenues becomes from data services.
Sharma predicted that in 2014 the US will become the first nation to cross the $100 billion mark in mobile data revenues, followed by China and Japan.
Having a 22% share of the data revenues gives the US quite a bit of leverage over the ecosystem.
As you can see in the image above, Europe is not far behind!
What do people want?
People and operators have started to care only about data, voice is over!
And this not happening only among the youth, it regards people of every age.
A new way of communication came along with this new economy model, and consumers' expectations of how communication take place have changed.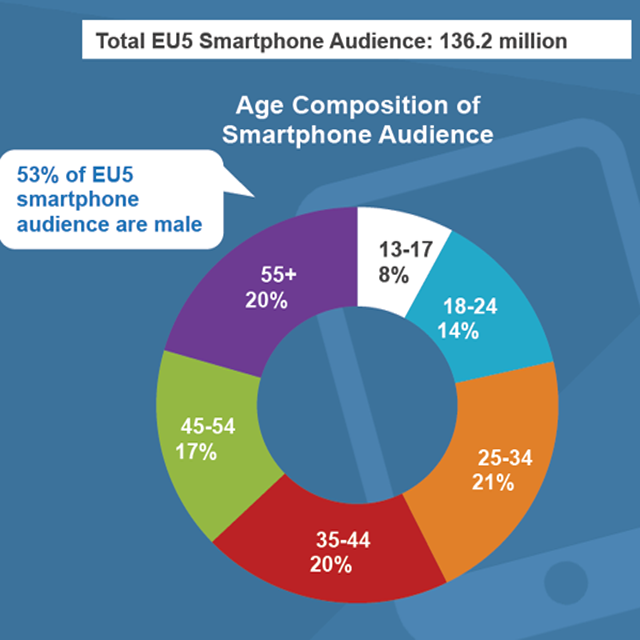 The players that this change has brought, if well prepared, can successfully partecipate in the evolution of this market. We are not talking about traditional players. For example, mobile is contributing $1.24 billion to Facebook's quarterly revenues. One of the new entries in the game is Twitter which is now doing 75% of the total in advertising revenue in mobile. There are dozen of such players and they keep growing.
Are you going to be part of this world?
Of course reaching these numbers can be unimaginable. I know, and you are right!
Here we are talking about the giants of the web. But we are also talking about a new world.
A world where having a smartphone is the norm, not an exception.
A world where people want and need to be informed, and want to know more in every moment and everywhere.
I think you don't need a study to know that mobile data is the present and the future. You already know that, I'm sure!
What you need to think about is how to take advantage of it, for your communication and for your business.
At university I studied advertisement and I remember this sentence: "Television advertisement is powerful because it can enter in the houses of consumers"
Smartphone devices are so much more powerful then a television because they are constantly with your users, in and out of their homes.
Recapping...
We are in the Golden Age of Mobile, where there are almost more smartphones then humans and where mobile data is the primary growth driver in many countries.

And you don't have an app for you business yet!? What are you waiting for??
Don't waste more time. Start to
create your app
, now. And take advantage of all the possibilities that the mobile communication can give to you and to your business.