Making Your Life Easier
Written by GoodBarber Team on
GoodBarber just celebrated its one-month anniversary since opening to the public! Since Monday, November 14th at 5:00 p.m., many of you have tested GoodBarber from all around the world.
We've received your feedback and are pleased to hear that you love our product. Your initial remarks have guided us in making improvements to the back office, and we're aiming for 100% customer satisfaction. Here are a few improvements we've already made, which will make life a little bit easier for you.
In the Store Menu

Now you don't have to rewrite all of the app's general content in order to publish it on the three platforms. For example, once you have filled out the name or the description of the application for iOS, simply click on the small icon on the top right corner of the field, and you can duplicate this entry to the Android Market and/or the Marketplace.
In the same place, the remaining character count is displayed and is updated as you go, which makes it convenient to adjust your wording to fit the required format.
The store pages are now automatically saved, which secures your inputs as you go.
The subscription process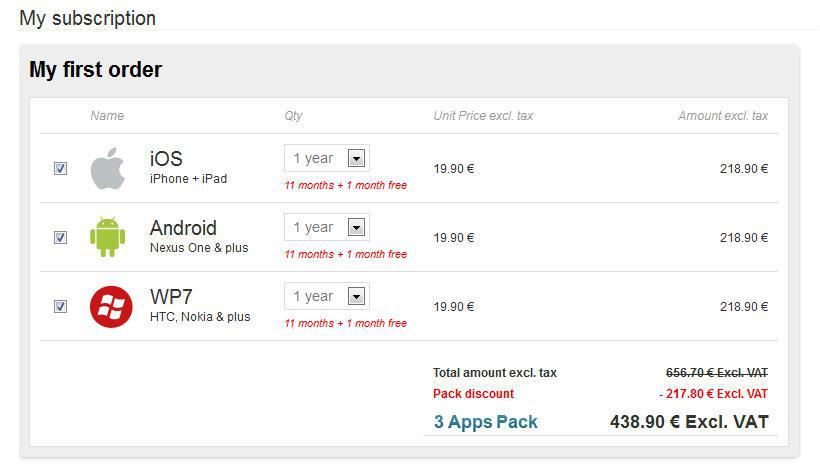 We also cleared up the subscription process. When you subscribe to GoodBarber, you have access to a table that summarizes the subscription you're about to purchase and allows you to edit your choices. You can add or delete a platform and choose the subscription period. The table provides a real-time calculation of your subscription each time you make a change. This new tables enables you to change your mind up to the last minute. Everything is clear and straightforward, with no hidden surprises.
These initial adjustments are just the beginning. Other improvements are already in development. More generally, we are working on a roadmap of developments to bring to GoodBarber. User-friendly design developments are important, of course, but basic features are as well. By February, we will share our complex development schedule to provide you with confidence in our commitment to the growth of this service.

GoodBarber is the best solution for the creation of news oriented mobile applications, and we haven't finished surprising you.