Mobile Navigation Mode - Grid and Swipe
Written by Arianna Testi on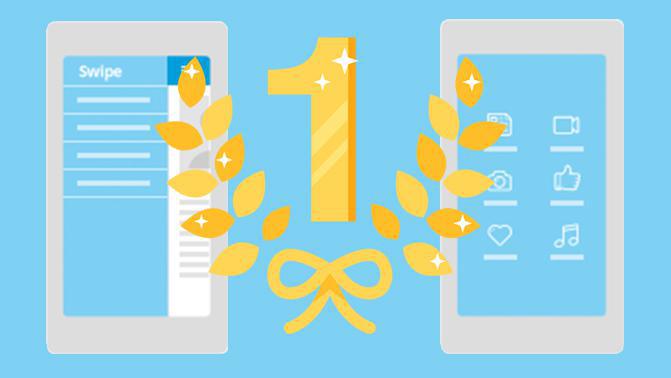 Hey GoodBarbers, today is design day here at GoodBarber so I will take this opportunity to showcase two of the most popular navigation mode templates and the new details we have just released for them.

Ladies and Gentlemen, today's stars are : The Grid and Swipe Navigation Mode!!
Swipe Nav Mode
The Swipe navigation mode is one of the most popular in the mobile app industry.
It's perfect for apps with lots of sections, but for apps with just a few sections it's not usually the first choice, since the menu will be half empty :/

This summer we were really inspired and decided to refresh some elements of this nav mode to make it more flexible for the needs of each user.
Let's take a look at what we did!

1/. First of all we decided to give you the option to not display the menu header, or on the other hand, make it more visible by increasing the font size.
Don't underestimate these little details, they can make all the difference in the end.

2/. The second modification is the option to show the section icons or not. If you have a nice background image, sometimes no extra design element is needed.

3/. There is even news about the font size in the section list. I suppose that if you decide not to display the icons, you might want to increase the space allocated for text, right? :)

4/. This is my favorite update! If you don't have too many sections in your menu, you can center them instead of aligning them with the top as in the standard template. It really gives your app the perfect twist.

5/. Last but not least. For the flat design lovers: the possibility to disable the shadow between the section content list and the menu.

It's true, understanding graphic elements just by reading about them is not so easy. Your eyes need some love too.
So, let's watch this video....
Grid nav mode
The grid was another template that was in need of an update.
The icons were far too small for the large devices we are using nowadays, so we made them bigger in order for them to fit every device size perfectly and make your app Beautiful on every occasion.

And what about the header? It was also too small.
Now you can choose its size on your own, or better, upload a personal logo.

Now, let's check out the video, and see what you can really do with this Beautiful Template.
I'm sure that now you will go directly into your back office to update your app with these new beautiful details.
Best for your work!

Bye bye