New products line, new features
Written by Jerome Granados on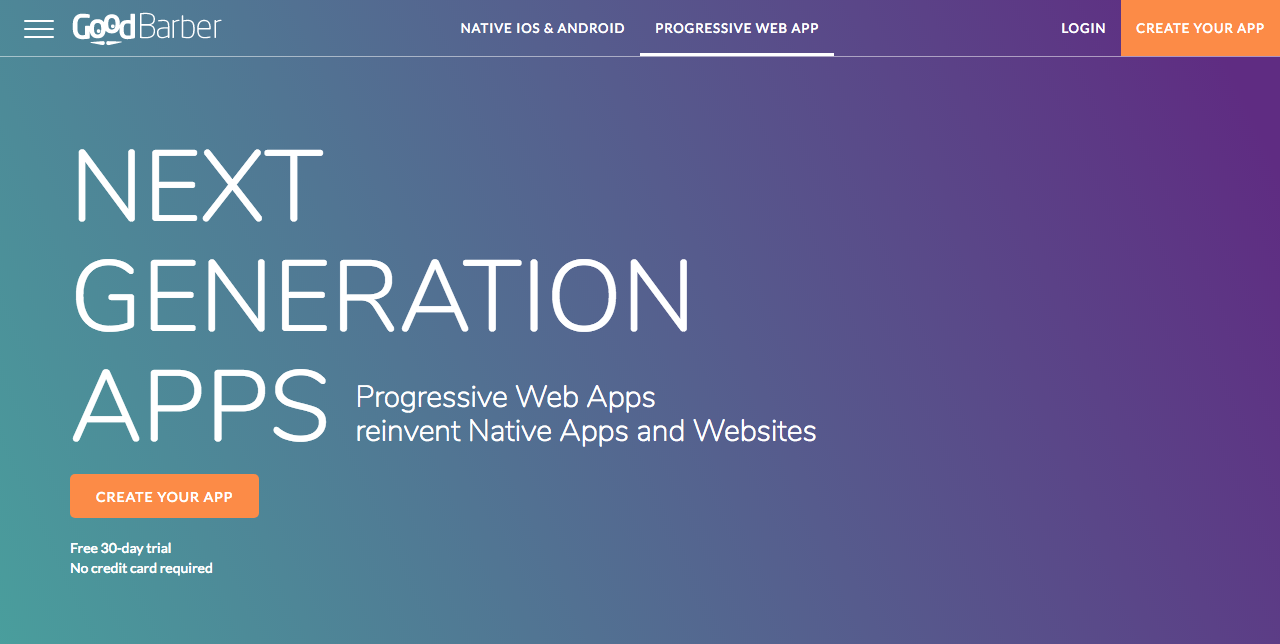 Today we expanded GoodBarber's offer with new subscriptions. They are divided into 2 products lines:
- A Web line, with 3 subscriptions to create Progressive Web Apps.
- A Native line + Web, with 4 subscriptions to create native apps (Android and iOS), as well as Progressive Web Apps.
Progressive Web App plans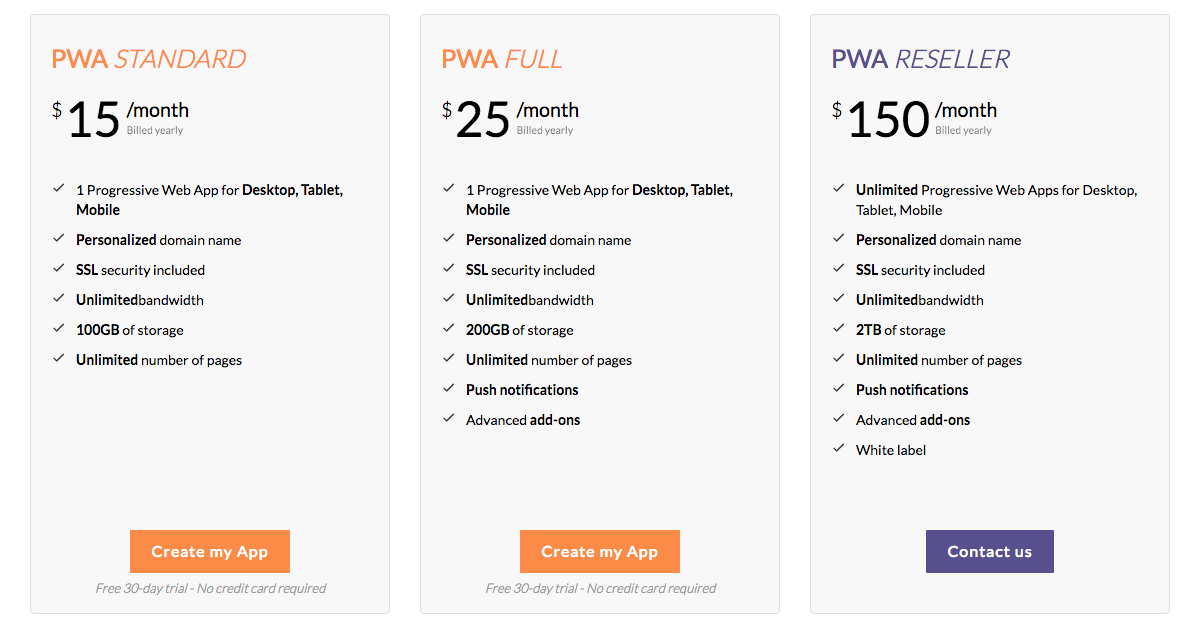 Last April, GoodBarber was the first App Builder in the world to include PWAs in its offer. Today, by creating a 100% PWA line, we offer even more choices to those who, like us, think PWAs are a huge opportunity to give users an app like experience in a browser.
Simultaneously, with the new offer release, we launched new functionalities for PWAs.

Push notifications
With the PWA Full offer, you can send push notifications to users of your Progressive Web App. These notifications can be received in the following browsers:
- Chrome Desktop
- Chrome Android
- Firefox Desktop
- Firefox Android
- Opera Desktop
- Opera Android

Attention: For now, Apple does not support push notifications in any iOS web browser.

Statistics
GoodBarber provides you with traffic statistics for your PWA. They can be found in the Audience Menu of your back office and are directly accessible. No need to go through an add-on installation, like when adding Google Analytics.

Advertising
With the PWA Full offer, you have access to the internal ad network service. This service allows you to display banner and interstitial ads in your Progressive Web App.
In all PWA offers, it is possible to manage ads with external services (Google Adsense, Google DFP).
Android & iOS plans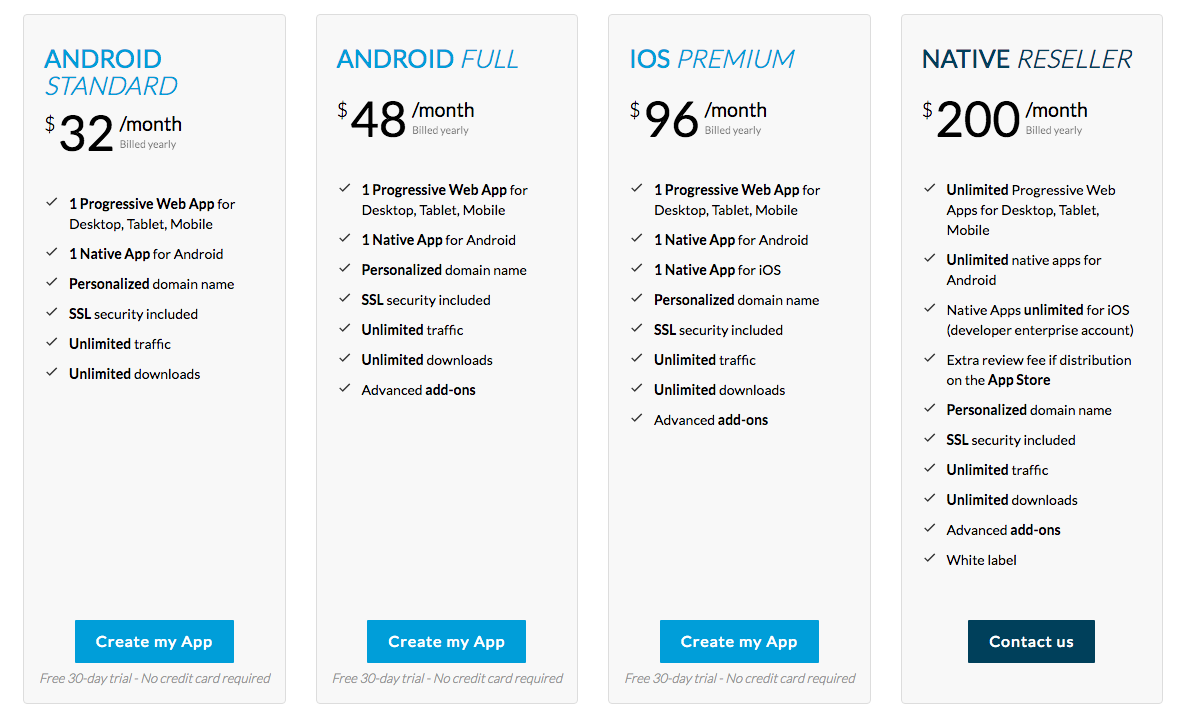 Android, with an 85% worldwide market-share, is undoubtedly the most popular operating system. With this in mind, two new subscriptions, Android Standard and Android Full, will diversify GoodBarber's Android offering.

iOS Premium is the most complete offer in our catalog. It allows you to not only create an iOS native app, but also includes an Android native app and a Progressive Web App.
The Reseller offer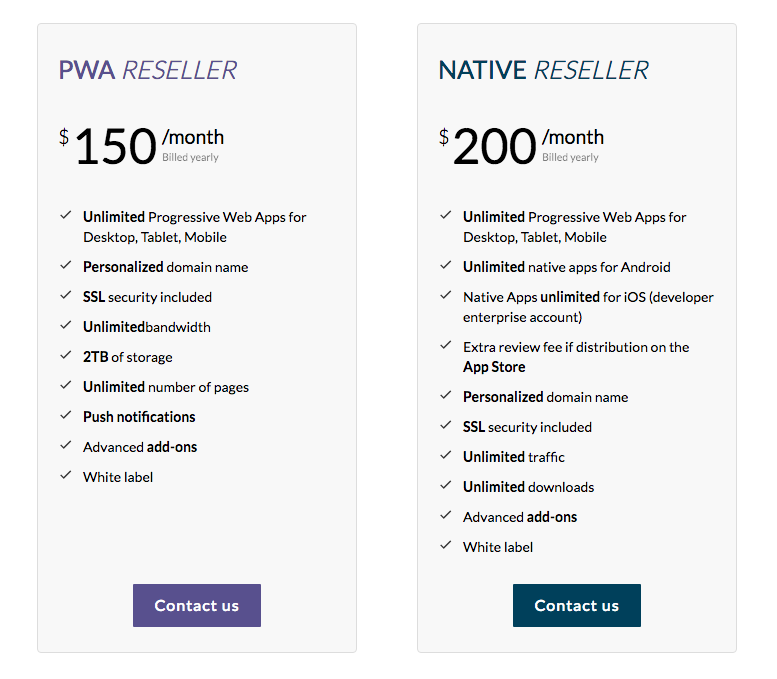 Let us introduce you the Reseller PWA offer! It allows you to create unlimited Progressive Web Apps. The PWAs created will benefit from all the functionality available in the PWA Full offer.

With the Reseller Native offer, you can create unlimited native apps (Android & iOS) and PWAs (iOS apps to be distributed in the App Store incur additional costs).
Distribution in the App Store
Following the introduction of
Apple's 4.2.6 guideline
, starting on September 25th 2017, all iOS apps intended to be distributed in the App Store will be subject to a mandatory review carried out by GoodBarber. This applies to all apps that were not published in the App Store before September 25th 2017.
The review fee is included in yearly iOS Premium subscriptions. For monthly subscriptions, this review will cost $290 if the app is successfully validated by our team, your iOS app will then be published on the App Store.
The review includes a thorough check by GoodBarber. If necessary, the team will provide a list of recommendations in order to maximize your app's chances of publication in the App Store. The team will then generate the app and send it to Apple.
New offers effective date
These new rates will take effect on September 25th 2017 for all users not already subscribed to an offer.
Subscriptions purchased before this date don't change.