Resellers: How to sell a tourism app
Written by Ghjuvan Simeoni on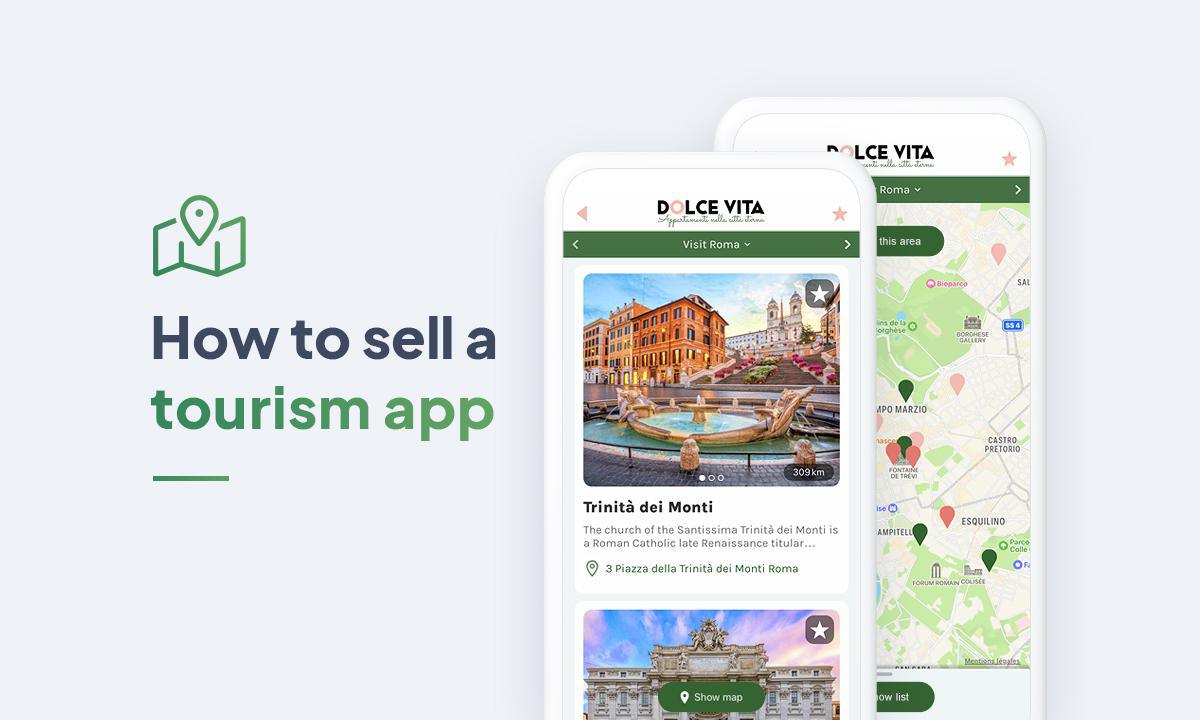 The reseller program allows you to create unlimited apps to be published on three different platforms: the web with a Progressive Web App, the Google Play Store with a native Android app and the App Store with a native iOS app.

With more than 500 features and 140 extensions, GoodBarber allows you to target a wide range of customers, with content management apps and eCommerce apps. Today, we're going to take a look at how to sell a tourism app. Gone are the days of paper tourist guides! To ensure that visitors have the holiday of their dreams, you need an app.
1/ Identify potential customers
When it comes to creating a tourism app, the targets are many and varied: tourist offices, travel agencies, cities, regions, islands, tourist destinations. For every place to visit, there can be a mobile app. It's up to you to be as visible as possible in order to make contacts and attract customers.

2/ Key features
To win over the customers we mentioned earlier, you need to know and master the key features to use for tourism apps. Here are the main features to use:

GoodBarber CMS: Map
Use the GoodBarber content management system to allow your customer to add points of interest on a map. Adding one or more map sections to your customer's app can be very useful for a tourism app. Indeed, the map lets you display points by adding images, a description and all the info you need to describe the places you're visiting. This is the section to use first and foremost for a tourism app!

Discountcoupons
By forming partnerships with local businesses, you can offer your users special discounts in a win-win situation: the presence of discount coupons in your app will help to raise its notoriety. Local businesses will be delighted to promote their products or activities to your users.

Pushnotifications
With push notifications, users are alerted to the latest news. It's a great way to stay in touch with your user community and increase user engagement with your customer's app.
Instant publishing
When your customer publishes new content in their app, or makes a last-minute change to existing content, it's automatically updated. In this way, users can access updated content in real time and benefit from the destination's latest tourism news.

Content accessible offline
Travel can be associated with a weak or missing network. Don't panic: your application content can be accessed offline, i.e. with a weak connection or even without an Internet connection. The app's caching system has been optimized to guarantee optimal app operation even with a poor connection.

In-app purchases
Sell in-app subscriptions and give the most engaged users access to exclusive content to discover the destination of their dreams in an even more exciting way! In addition, this feature enables your customer to earn money with their app, thanks to user subscriptions.

Internal or external advertising network
You can use this feature to display advertising in your app and generate revenue in this way. To do this, you can rely on external tools such as AdMob or AdManager, using the external advertising network. Alternatively, you can give customers the option of creating their own advertising campaigns using the internal advertising network. The campaigns are then created directly in the GoodBarber back-office and distributed to the customer's app.

3/ Selling points
Here are the arguments you can put forward to convince your customer of the usefulness of an app for a tourist guide:

Accessibility
The app offers a convenient and accessible way for visitors to discover all the tourist attractions of your customer's destination. They can access important information on their phone, wherever they are, and thus optimize their travel experience.

Completeinformation
Your customer's app provides detailed information on sights, events, activities, restaurants, accommodation and much more. This gives users a complete overview of everything the destination has to offer, making it easy for them to plan their trip.

Personalization
Your customer's app allows users to personalize their travel experience according to their preferences. They can create personalized itineraries, add favorites, receive recommendations tailored to their interests, and receive notifications of events and special offers.
Easynavigation
The app features integrated mapping and navigation functions, making it easy for users to get around the region. They can find precise directions to tourist sites, use geolocation to discover nearby attractions, and avoid navigation problems.
Real-time interaction
Your app allows users to share their experiences and interact with other travelers through commenting and sharing features on social networks. This helps to build an active community of travelers.
Promote the destination
With its app, your customer offers a tool for promoting the region in an effective and targeted way. It can highlight special events, promotional offers and important tourist information to attract visitors and encourage local tourism.
Not a reseller yet? Create a test version here:
https://www.goodbarber.com/create/reseller/