Resellers: How to sell an app for an event
Written by Ghjuvan Simeoni on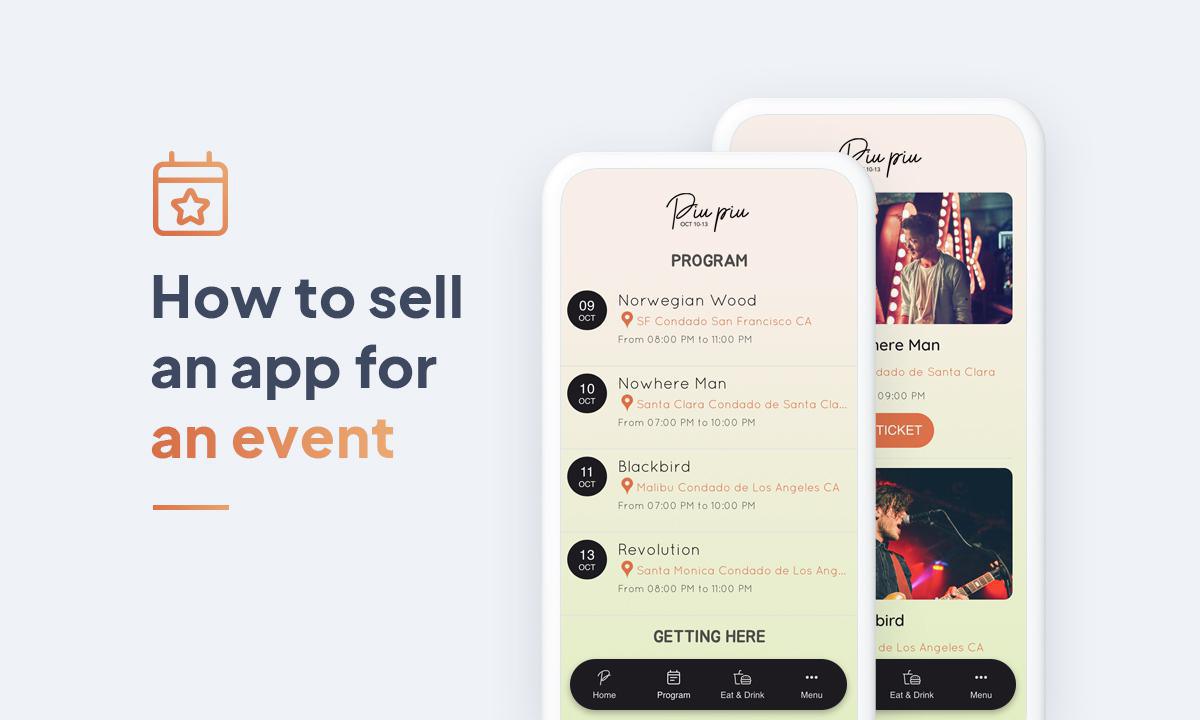 The reseller program allows you to create unlimited apps to be published on three different platforms: the web with a Progressive Web App, the Google Play Store with a native Android app and the App Store with a native iOS app.

With more than 500 features and 140 extensions, GoodBarber allows you to target a wide range of customers, with content management apps and eCommerce apps. Today, we're going to look at how to sell an app for an event. For a trade show, concert, or any other event, a mobile app is a great way to make your customer's event a success!
1/ Identify potential customers
When it comes to creating an app for events, the targets are diverse and varied: festivals, trade fairs, concerts, trade shows, sporting events, ceremonies. Each event can have its own mobile app. It's up to you to be as visible as possible in order to make contacts and attract customers.

2/ Key features
To win over the customers we mentioned earlier, you need to know and master the key features to use for event apps. Here are the main features to use:

CMSAgenda
GoodBarber's content management system will be particularly useful for your customer to add and manage one or more agendas within their app. He can then add the program for the event for which the app is created. We offer different event display templates, with an option to view the program on an interactive map. You can also enter a link to purchase tickets for each event on the program.

Userlist
Your customer can give users the option of registering on their application, with an email address and password. In this way, the customer can access the list of users registered with the app, as well as information on their profile. It is also possible to configure the app's registration form. On the user side, with the community extension, each user will be able to access the list of registered users of the app. This will be useful for identifying event participants and, if necessary, getting in touch to obtain useful information.

Usergroups
In the same way, you can give your customer the option of creating user groups to better organize the event in advance between speakers, guests, organizers, etc. This information can also be made available to app users for optimal information sharing between all event stakeholders.
Built-in chat
If requested by your customer, you can also add a built-in chat feature to the app, enabling users to interact with each other. At a trade show or conference, chat is useful for encouraging exchanges and interactions, and enabling the audience to benefit from the event.

Liveaudio
Broadcast live audio from a conference, concert, or show, so that users who couldn't make it to the event can enjoy it too! They can do so directly on their mobile using your customer's app.

Livevideo
Broadcast live video footage of a conference, concert, or show, so that users who couldn't make it to the event can enjoy it too! They can do so directly on their mobile using your customer's app.

Internal or external advertising
You can use this feature to advertise in your app and generate revenue. For this, you can rely on external tools such as AdMob or AdManager, using the external advertising network. Alternatively, you can give customers the option of creating their own advertising campaigns using the in-house advertising network. Campaigns are then created directly in the GoodBarber back office and distributed to the customer's app.
3/ Selling points
Here are the arguments you can put forward to convince your customer of the usefulness of an app for a successful event:

Before the event: inform
You can offer to create an app for your customer's event, with the aim of informing as many people as possible in advance. Communication is increasingly taking place on social networks, but also via apps, as users are getting more and more information via their smartphones. Having an app linked to your event is your guarantee of maximizing the number of participants and sharing the right information at the right time for optimal organization.

During the event: animate
Use the app to animate the event: you can send push notifications on the day to guide participants or offer to broadcast the event live in video or audio. In this way, all users, including those who can't make it on-site, will benefit from the program. So your customer stays in touch with their audience, even those who are remote.

After the event: taking advantage
Once the event is over, use the app to broadcast replays, videos, and photos, and share this content with users. For future editions of the event, you can collect feedback from participants using one or more of the form sections. This will enable your customer to improve and make their event a success year after year.
Push notifications
With push notifications, your customer can stay in touch with their community of users and increase engagement in their app and maximize the success of the event.
Earn money with your app
The use of internal or external advertising will enable your customer to generate money from his app.
Not a reseller yet? Create a test version here:
https://www.goodbarber.com/create/reseller/