Resellers: How to sell an app for employee communication
Written by Ghjuvan Simeoni on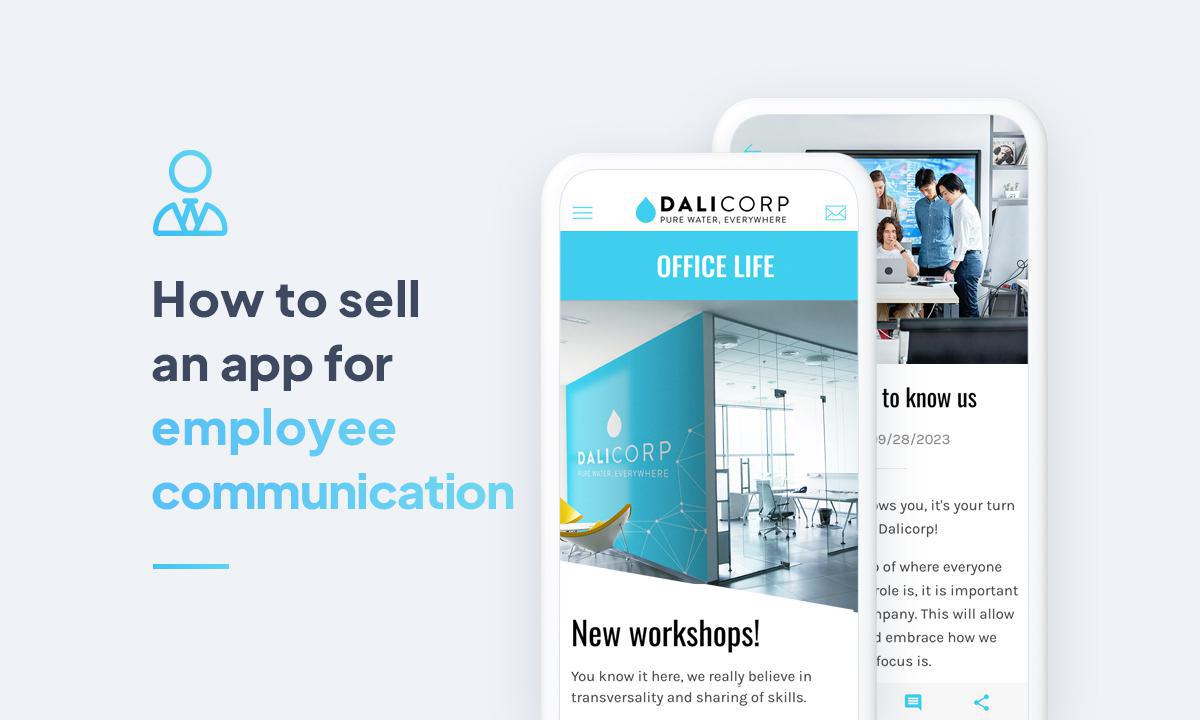 The reseller program allows you to create unlimited apps to be published on three different platforms: the web with a Progressive Web App, the Google Play Store with a native Android app and the App Store with a native iOS app.

With more than 500 features and 140 extensions, GoodBarber allows you to target a wide range of customers, with content management apps and eCommerce apps. Today, we will see how to sell an app for employee communication. This can be a very useful tool to enhance information sharing between employees.
1/ Identify potential customers
Every company can be interested in owning an app for employee communication: services, consulting, Human Resources, IT, etc.
2/ Key features
To win over the customers we mentioned earlier, you need to know and master the key features to use for employee communication apps. Here are the most important features to use:

Authentication
With this extension, your customer's app allows users to create their account with a professional email address and password. By registering on the app, they can be assigned to a group (marketing team, HR, consultants, etc.) and access exclusive content. Your customer can let employees create their own accounts, or create their own profiles to keep control over who is registered.

Community
A registered user can consult the list of other app users. This enables them to identify all the company's employees, find out which team they work in and get in touch with them. With this feature, your customer has a directory in their app. An essential tool for internal employee communication.

Chat
Thanks to the Chat, users can send messages to each other securely within the app.It's a good way to centralize communication and encourage interaction between employees. With chat, they'll be able to bond more easily and work more efficiently. For example, they'll be able to organize meetings much more easily.
Users groups
With the user groups feature, each person registered on the app can be assigned to a team. Example: marketing team, customer support team, HR team, etc. Each team has its own section in the app. This ensures efficient organization and communication: the right information is delivered to the right team. This feature also enables push notifications to be sent to a specific group of users. So your customer can communicate with the relevant team via push notifications!

GoodBarber Content Management System
Thanks to GoodBarber CMS (content management system), your customer can deliver quality content to app users. These can be articles, meeting reports for example, or information posts for employees. Your customer can also broadcast videos: filmed meeting or workshop reports, employee testimonials, practical guides for new arrivals, etc. The CMS can also be used to manage events. Employees will thus have access, via the app, to the company's complete calendar and upcoming milestone events. In addition, your customer can give collaborators access to the app's back-office to form a real editorial team responsible for producing and publishing content.

Form section
A form is useful for collecting information or requests from employees. This is a listening feature that allows your customer's audience to express themselves by answering surveys, suggesting ideas for the company or communicating with human resources.

Submit section
A submission section allows app users to send documents or content to the app administrator. These can be text documents, photos or videos. In this way, processes will be facilitated.

3/ Selling points
Content available on smartphone
One app = 3 publishing platforms.Your customer's content will be accessible on the web with a PWA, but also on the Android and iOS stores with native apps. This ensures that content is available to as many employees as possible. If your customer wants the app to be accessible only to employees, the progressive web app can be restricted by a password that your customer will communicate to employees. For native versions of the app, it is possible to publish the app privately. In other words, it will not be directly available for download on the Stores. A download link is generated, to be shared only with employees.

Pushnotifications
With push notifications, your customer can stay in touch with their audience and send notifications to specific groups of users.

Internalcommunication
An app to ensure effective communication between the company and its employees, to support new arrivals or trainees, to disseminate company news and make useful information more accessible to employees.
Communication between employees
An app to help employees get to know each other better, identify the teams that make up the company and get in touch with each other to work together more efficiently and with greater commitment.
Convenience
A corporate intranet limits access to information, since not all employees are behind a desk with a computer. With an application, the company can communicate with its teams anywhere, ensuring that its messages reach them directly on their smartphones.
Not yet a reseller? Create a test version here:
https://www.goodbarber.com/create/reseller/