Resellers: How to sell an app to a radio station
Written by Ghjuvan Simeoni on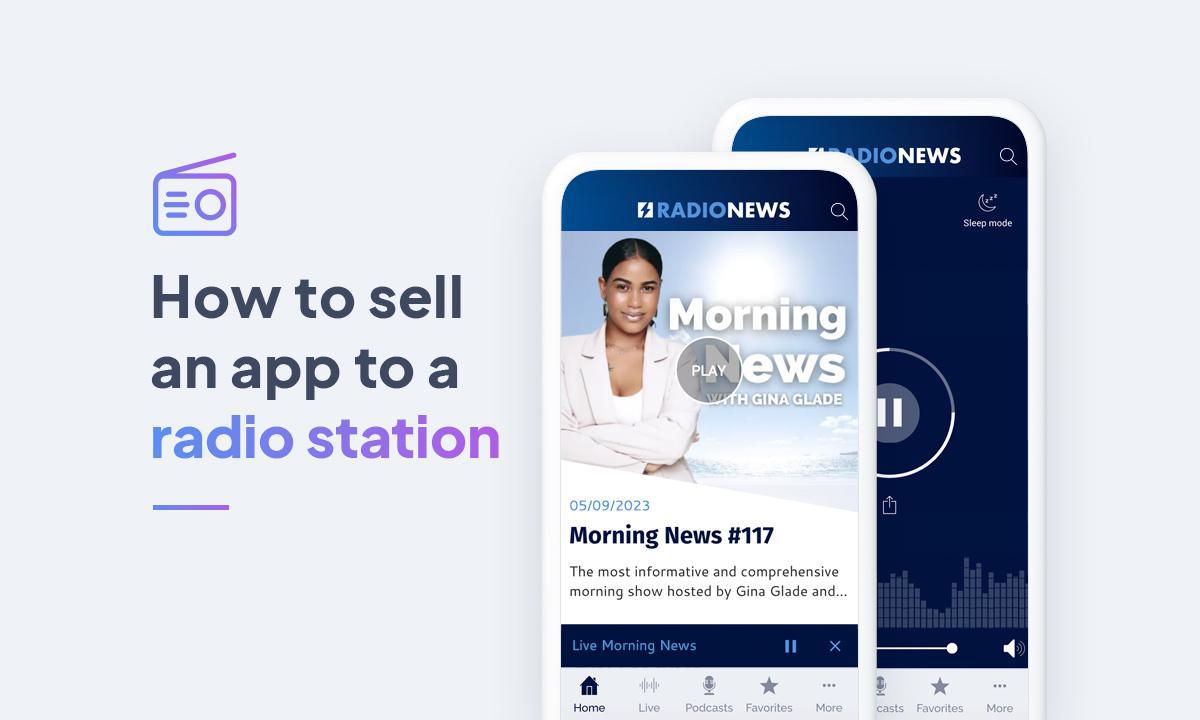 The reseller program allows you to create unlimited apps to be published on three different platforms: the web with a Progressive Web App, the Google Play Store with a native Android app and the App Store with a native iOS app.

With more than 500 features and 140 extensions, GoodBarber allows you to target a wide range of customers, with content management apps and eCommerce apps. Today, we're going to look at how to sell an app to a radio station.
1/ Identify potential customers
Music Radio
Sports Radio
Wellness Radio
Culture Radio
Radio Politics
History Radio
2/ Key features
To win over the customers we mentioned earlier, you need to know and master the key features to use for radio apps. Here are the main features to use:

Liveaudio
Offer your customer the possibility of broadcasting live radio broadcasts using GoodBarber's Live audio. All they need to do is provide the feed for the broadcast, and it will be accessible live in your customer's app.

Livevideo
Offer your customer the option of broadcasting live video broadcasts using GoodBarber's Live Video. All they have to do is provide the feed to broadcast the show, and it will be accessible live in your customer's app.

Podcasts
Use the GoodBarber CMS to broadcast your customer's podcasts or pre-recorded shows in their app. Podcasts can be organized into categories within the app. What's more, if a podcast is set as a favorite by the user, then it can be listened to in offline mode, without an internet connection.
Background audio player
This is an ideal feature for app users, enabling them to switch from one app to another on their mobile while continuing to listen to a radio program.

Sleep mode
This feature allows you to pause a program and resume it later.

Advertising
You can offer your customer the possibility of displaying ads in their app. They can rely on external advertising agencies such as AdMob or AdManager, or create their own ad campaigns. This can be a great way to generate revenue from your app.

In-app purchases
Your customer can also sell subscriptions within their app. These can be used by users to unlock access to special programs or particular podcasts that your customer has defined as "paid", i.e. not accessible until the user has subscribed within the app.
3/ Selling points
Listeners prefer a mobile app
One strong trend is that listeners now prefer to listen to the radio on their mobile. After all, they don't just listen to the radio in the car, but also on public transport, during a sports session or even at home. That's why a mobile app is so important to your customer. Your customer's radio is at the fingertips of users.

More than a radio
Of course, the primary purpose of a radio app is to broadcast programs or podcasts. But an app is much more than that: it's a formidable marketing tool. It allows your customer to share content other than podcasts, such as articles or videos. It's also an excellent way of building a special relationship with listeners by sending them push notifications.
Generate income with your app
Your customer can earn money from their app by advertising or selling subscriptions, for which they are free to set the price and duration (monthly, yearly, 6 months, etc.). The monetization argument is essential.
Not yet a reseller? Create a test version here:
https://www.goodbarber.com/create/reseller/