Resellers: How to sell an app to a religious community
Written by Ghjuvan Simeoni on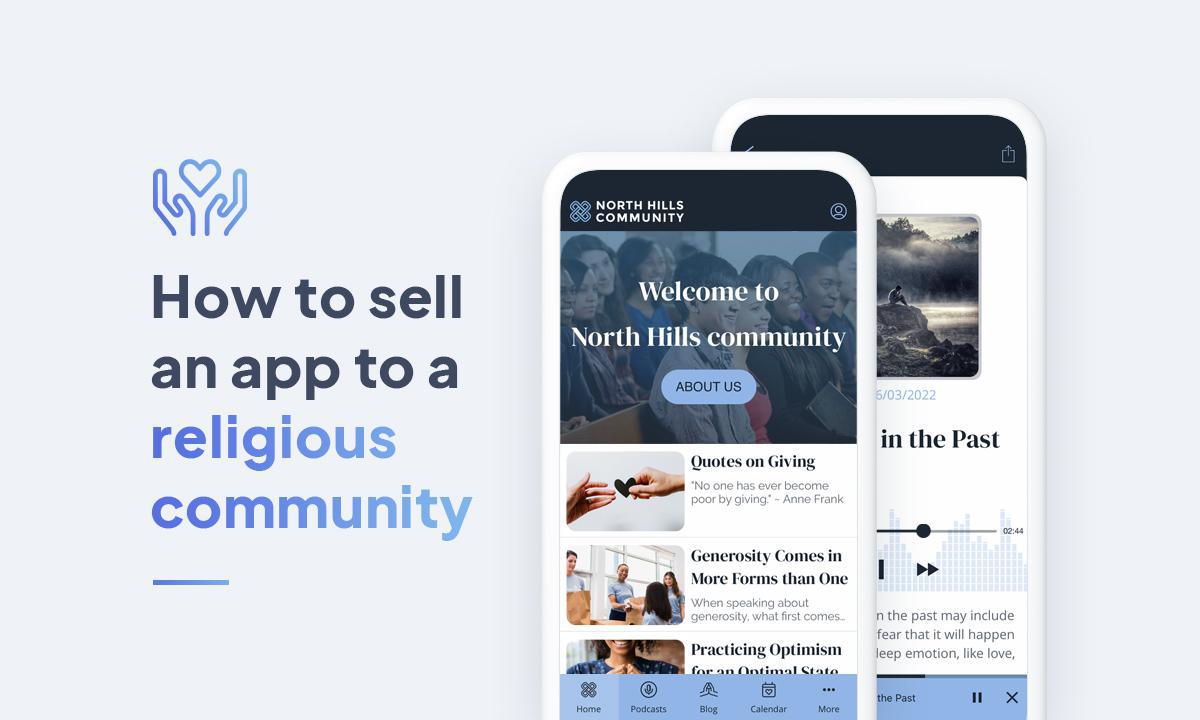 The reseller program allows you to create unlimited apps to be published on three different platforms: the web with a Progressive Web App, the Google Play Store with a native Android app and the App Store with a native iOS app.

With more than 500 features and 140 extensions, GoodBarber allows you to target a wide range of customers, with content management apps and eCommerce apps. Today, we're going to look at how to sell a spirituality app for a religious community. There's nothing like an app to bring together and engage a community!
1/ Identify potential customers
When it comes to creating an app for spirituality, the targets are many and varied: religious communities, churches, mosques, synagogues, and so on.
2/ Key features
To win over the customers we mentioned earlier, you need to know and master the key features to use for apps aimed at religious communities. Here are the main features to use:

CMS Podcasts
Use GoodBarber content management system to allow your customer to add audio files to their app. Adding one or more Podcasts sections to your client's app can be very useful in the context of a spirituality app. Users can listen to their favorite podcasts in total freedom, while enjoying the benefits of an impeccably designed player for an optimal user experience.

Live video
The Live video (or audio) functionality enables your client to stream a live broadcast. Particularly useful for sharing the live stream of a religious ceremony or sermon with users, and encouraging moments of meditation and prayer even from a distance.

YouTube, Video, WordPress Connectors
Our connectors enable your customer to synchronize existing content on other platforms directly within their app. In this way, all available content is present in a single app. If your customer has a YouTube channel to broadcast videos, adding the YouTube connector will enable access to the videos on the channel directly from your customer's app.
Automatic push
As soon as you add new content, such as a podcast, an automatic push can be sent to all or some users, according to rules that your customer can predefine. Sending automatic pushes gives your customer peace of mind when a prayer session begins: users are informed immediately and can log in to the app to participate.

Donations
We'll soon offer the possibility of receiving donations within the application, based on third-party platforms such as "Buy me a coffee" or Donately. This will enable your customer's funds to grow faster.

3/ Selling points
Here are the arguments you can put forward to convince your customer of the usefulness of an app for a religious community:

Accessibility
A mobile app gives the religious community easy access to teachings, sacred texts, prayers and other religious resources wherever they are, whenever they want.

Better organization
An app can help organize religious community activities and events, such as meetings, celebrations, seminars, spiritual retreats and so on. It can also send reminders and notifications so that no one misses out on important information.

Additional resources
The app can provide additional resources such as guided meditations, religious songs, inspirational quotes, religious festival calendars, prayer schedules and more. This can enrich the spiritual practice of community members.
Optimal communication
The app can facilitate communication within the religious community by offering features such as integrated messaging (chat), user groups, enabling members to exchange ideas, prayers and stay connected to each other.
Receive donations
The app can be an excellent way of increasing community funds to finance projects (spiritual journey, restoration of a sacred site, etc.).
Not yet a reseller? Create a test version here:
https://www.goodbarber.com/create/reseller/