Resellers: How to sell an app to schools
Written by Ghjuvan Simeoni on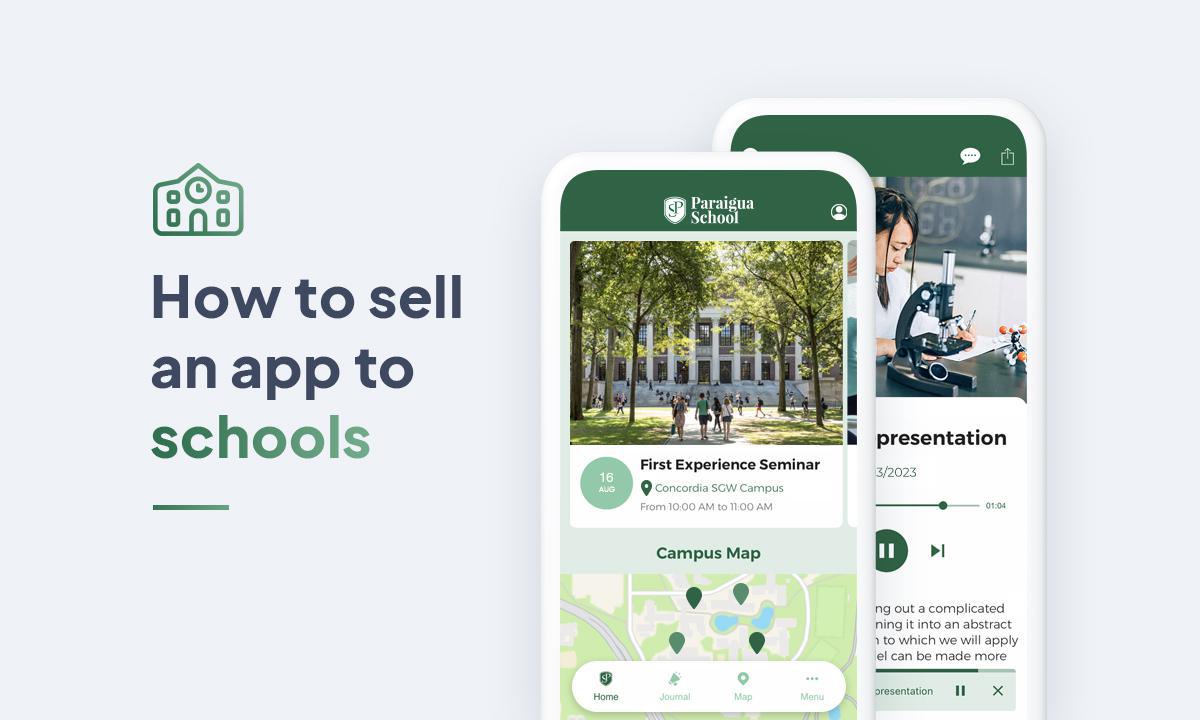 The reseller program allows you to create unlimited apps to be published on three different platforms: the web with a Progressive Web App, the Google Play Store with a native Android app and the App Store with a native iOS app.

With more than 500 features and 140 extensions, GoodBarber allows you to target a wide range of customers, with content management apps and eCommerce apps. Today, we're going to look at how to sell an app for a school.
1/ Identify potential customers
Schools
High schools
Universities
2/ Key features
To win over the customers we mentioned earlier, you need to know and master the key features to use for apps for schools or universities. Here are the main features to use:

Calendar
As the app's creator, you can use one or more Agenda sections in the GoodBarber CMS to publish your school's upcoming events. In this way, all app users - students, parents, teachers - will have access to the agenda that sets the pace for school life (educational meetings, conferences, class councils).

User groups
Use the user groups feature to assign each new user to a predefined group. In this way, each user will be able to view content adapted to the group to which they belong.

Interactive map
To share points of interest relating to the establishment with their users. The entire community will be able to consult the school's list of points of interest on an interactive map featuring a fabulous design. Ideal for easily finding the location of your school's campus(s)!
Push notifications
Push notifications will be particularly useful for your customer to alert users to facility news! Whether it's an event, a graduation or an information meeting, push notifications are a great tool for keeping in touch with users. What's more, with the user groups feature, a push notification can be sent to a specific group.

Instant messaging
You can offer your customer the option of adding chat to their app. With this tool, users will be able to converse with each other and obtain information from the educational community, for example.

Form and submit sections
The addition of a form can be used to gather information on user profiles. You can also use a form to conduct a poll or survey to find out respondents' preferences, so you can adapt your training offer, for example. In addition, adding a submission section allows users to send you documents (photos, videos or text documents).

3/ Selling points
All the latest school news in one app
There's nothing like an app for communicating with community members and sharing news about your establishment. The vast majority of users now consult news on their mobile. This is even more true of young people and students, who use their phones even more. Having an app can be a huge asset in strengthening the link between the school and its students.

A public agenda
All the school's events in one app, accessible to all: the best way to make every school event a success!

Course and conference materials
On its app, your customer can share courses or lectures with their users in the form of videos, podcasts or articles. In this way, the school can ensure that a lecture reaches as many members of the school community as possible. It's also a way of sharing knowledge with those who weren't able to attend. Even if the absentees are always wrong ;)
The school spirit in an app
Finally, with GoodBarber, you can create an app that looks and feels like your school. Take advantage of the hundreds of possibilities offered by our platform to provide your customer with a memorable design that perfectly matches the school's identity. The app will ensure the continuity of the website on mobile, in perfect harmony with the school's visual identity!
Not a reseller yet? Create a test version here:
https://www.goodbarber.com/create/reseller/