SEO & Progressive Web App
Written by Marie Pireddu on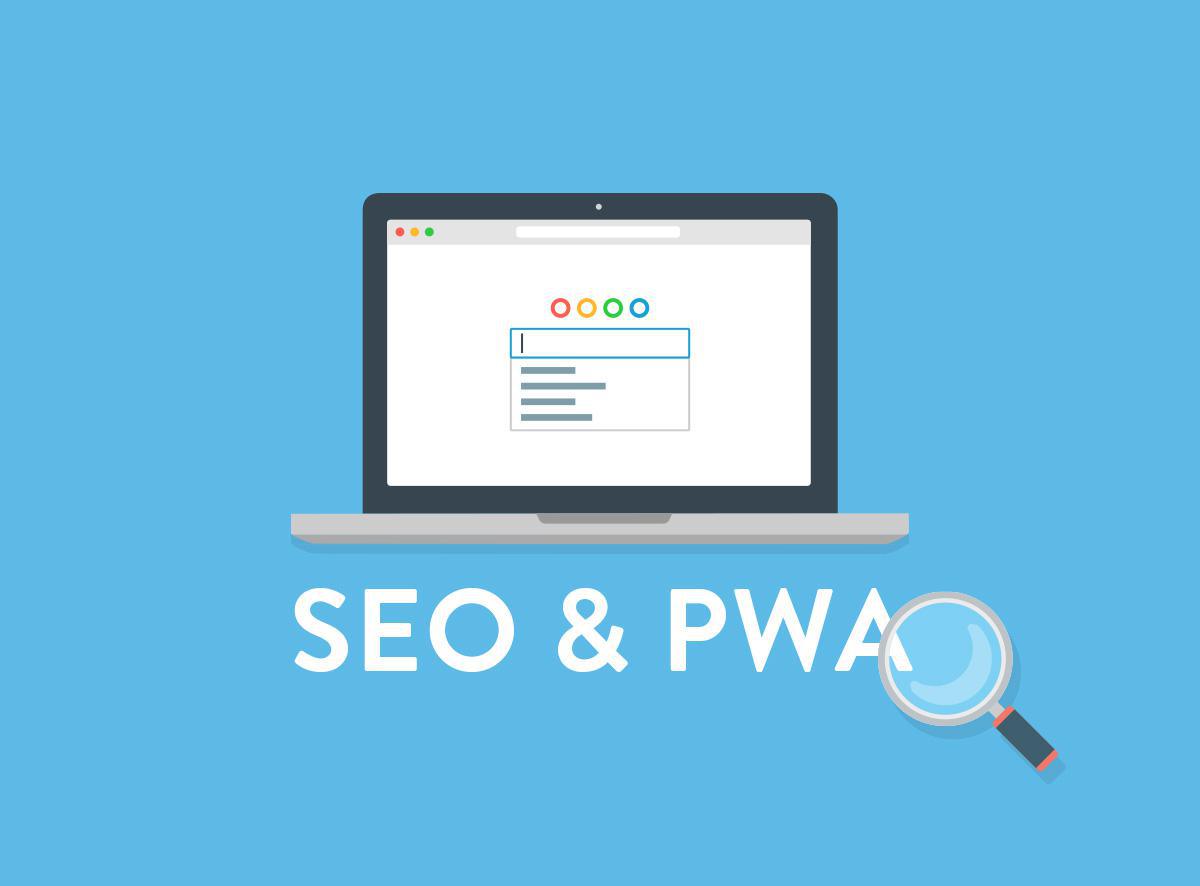 What is SEO? SEO stands for Search Engine Optimization, which is the practice of increasing the quantity and quality of traffic to your website through organic search engine results. Simply put, it's increasing the likelihood to drive more unpaid traffic from search engines, which results in attracting visitors who are genuinely interested in the products your offer
Having good or favorable SEO means that your Progressive Web App comes up as one of the first results returned by the search engines when someone types the keywords you're aiming to be positioned around.
How does it work? When search engines turn up results, they are based on 2 elements :
- Indexing
- Algorithms

To make up their index, search engines use indexation robots. These robots (bots) browse the web and collect information about the websites visited (content, links, activity, etc.).
Information saved in the index is then used by algorithms. For each request, they calculate and return the list of the most pertinent sites. There are many settings taken into account in judging the level of pertinence. Certain ones are of a technical nature, others are editorial, and some are related to various links that link sites together.

When optimizing SEO for your Progressive Web App, there are 3 aspects to consider : technical, editorial and link building
1. Technical: Your PWA must be correctly indexed by robots
The crawling accessibility of your progressive web app is the base of all your SEO efforts. The technical structure of your PWA has a crucial impact on its performance and there are some prerequisites for your site to be visible and indexed.
With SEO and technologies constantly evolving, staying up to date is hard work.
It is GoodBarber's job to keep up with the constant innovations and improving the performance of your Progressive Web App. One of the best advantages of using our App builder ;)
A . GoodBarber takes care of the technical stuff
Whether you're using the
Shopping
App platform or
Classic
App platform, GoodBarber provides you with a
source code that is optimized to be indexed by bot
s. Some key technical elements include:
HTTPS: how does a SSL certificate helps?

Since 2014, HTTPS has become a signal in Google algorithm. Google prefers https site and Chrome warns users when a connection is not secured.
If your have a Shopping PWA, remember that 84% of people will abandon a purchase on a site if it's not secured.
With GoodBarber, all your PWA's pages are served over https by default.
Speed: Google and users have come to expect content to load fast. If your PWA doesn't meet these expectations, your clients will quickly move on to another shop and your ranking will suffer.

GoodBarber Shopping Apps AMP ( Accelerated Mobile Pages) helps deliver content to mobile users a greater speed.
Optimized page compression : Images are one of the main reasons for slow loading pages. In order to minimize bandwidth consumption and reduce loading time, GoodBarber developed a dedicated algorithm to manage the compression of images.
CDN: Each static asset of your PWA (Javascript code & images) is distributed over a content delivery network (CDN) using the HTTP/2 protocol. Anywhere in the world, your PWA will load quickly.
Server Side Rendering: Your GoodBarber PWA runs javascript code on both the server and the client's side. The first request made by the browser is processed by the server. It's called Server Side Rendering (SSR). SSR is good for SEO purposes because bots can index a fully rendered page.
Schema markup: how content is structured so search engines have a better understanding of the content on your pages and enable special features to accompany your pages in the SERP (rich snippets).
B. and gives you the tools to do more on your side.
GoodBarber gives you the opportunity to customize parts of the code that will allow you to improve the indexation of your content, on your targeted keywords
There are various options that provide you with all you need to be perfectly indexed. In your app (Shopping or Classic) back office you will be able to customize key elements for your SEO.
A title tag is an HTML element that specifies the title of a web page. Title tags are displayed on search engine results pages (SERPs) as the clickable headline for a given result. The title tag of a web page is meant to be an accurate and concise description of a page's content.
In your GoodBarber back office, the information provided in the title tag field allows you to fill in the browser title for a given page. The content in this tag is taken in the search results—it can be the name of your site, the name of each product page, collection etc. We recommend to choose a title that's less than 70 characters so that it's not truncated in the results.
The purpose of this content is to provide a description of your PWA. The content in this tag describes your PWA in the search results. Search engines such as Google often display the meta description—typically up to 160 characters long—in search results where they can highly influence user click-through rates.
Take the time to write your meta description. It serves as the promotional text for your Progressive Web App. Write a compelling description using important keywords.
Do not duplicate your meta descriptions. It is important to have unique descriptions on each page.
Shopping App: each product has a meta description and a rich snippet to preview how it will be displayed on the search engine
Classic App: each of your CMS sections (articles, videos etc) has a meta description.
You can rewrite the URL of a web address to make it more attractive, more readable, shorter... Basically, offer the user a URL that makes sense.
URL slugs are the end of the URL of a specific page on your Progressive Web App.

Why do URLs matter in SEO?
There are 3 main reasons:​
Improves user experience, by providing a clear idea of what the page is about
Rankings : in addition to providing more explicit URLs for your visitors, editing a slug helps to improve your Search Engine Optimization.Indeed, search engines take into account the content of the web address in their algorithm. With a custom slug, the page address contains keywords that will improve indexing and the visibility of your page in search results.
Links: well written URLs are more user friendly and can generate more clicks when shared as a link in social media, blogs etc...
From your GoodBarber back office you can edit and customize the default slugs of any page of your PWA (Shopping or Classic).
Remember not to use accent, space and special characters in your slug.
​
Keywords are the words and phrases that people type into search engines in order to find what they're looking for. You want your keywords to be relevant to what people are searching for. The keywords you choose will determine which kind of traffic you will get.
We recommend that you use targeted keywords on each page of your PWA (in your product descriptions, articles, titles etc)
But be careful, while keywords are important, stay away from keyword stuffing. By overusing keywords you are spamming your content and Google may think that you are trying to trick the system, which is definitely not a good thing!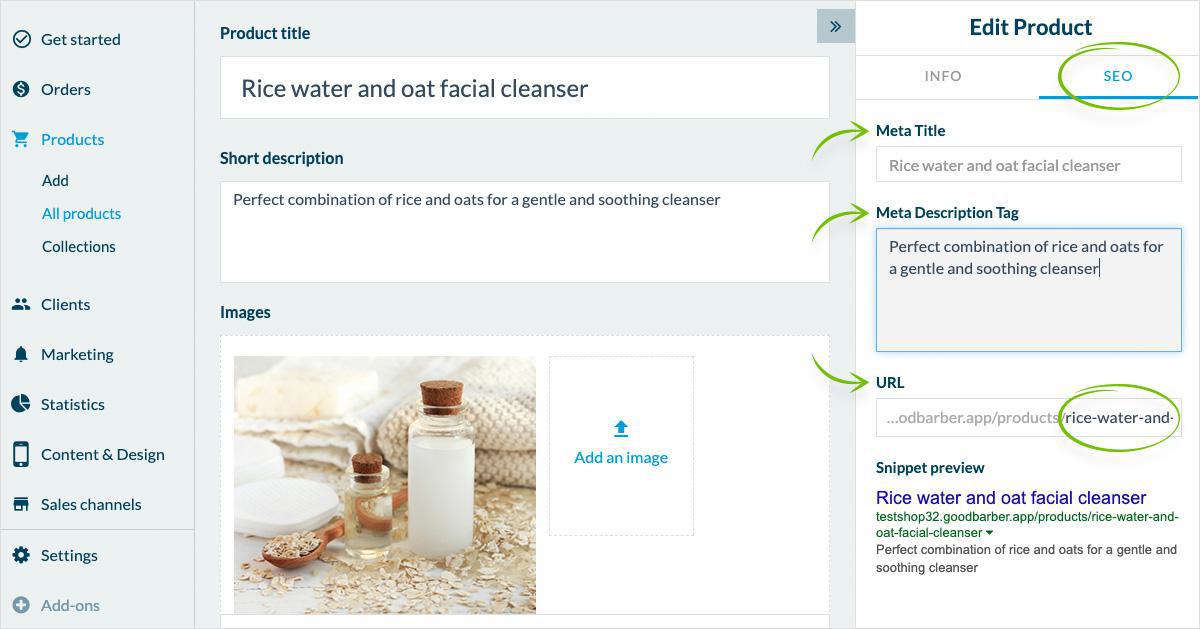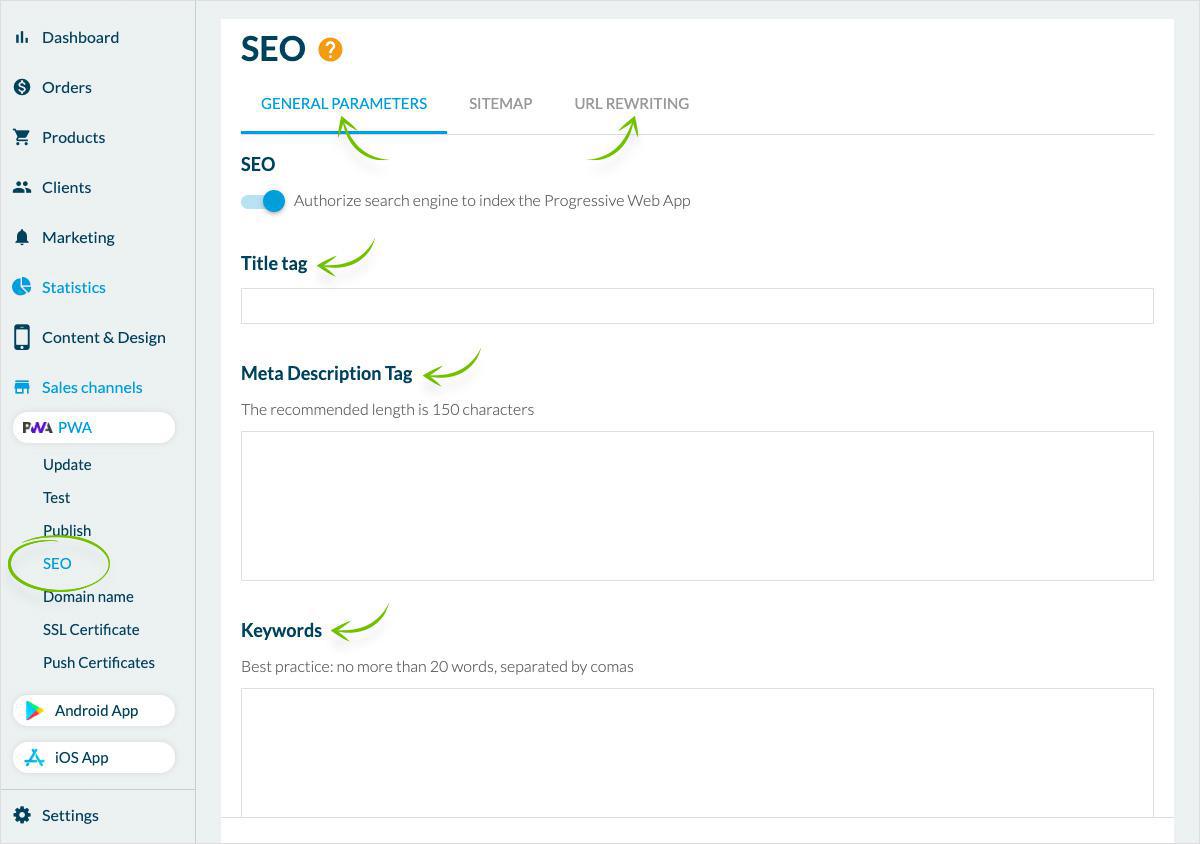 2. Editorial: Write quality content and update regularly
Quality content: The content of a page is what makes it worthy of a search result position. It is what the user came to see and is extremely important to the search engines.
It is therefore important to write quality content, pertinent content that answer a demand from potential users.
Keep in mind that you're writing for people and not for robots
. Don't make the mistake of writing sentences that are difficult to understand or unpleasant to read just to get in as many keywords as possible.
Write for your audience, to answer their needs. Users want to have access to the info they are looking for and quickly.
- Shopping app: your product description is your content. Be creative, this is the opportunity to address your audience and use relevant keywords.
- Classic app: this apply to all your content: articles, videos etc...
Other benefits from quality content:
- Good content is more likely to be shared and will help you with link building.
- It will also lower the bounce rate. If you content is well written and relevant, chances are users will stay longer on your page.

Regular updates: Content freshness is an important criteria for search engines when determining pertinence. You should regularly write and make as many articles as possible publicly visible (accessible to search engines), using keywords around which you want to be positioned. Remember that robots give priority to the first 100 characters in an article.
To summarize, if you're putting fresh, unique and relevant content out there, people are more likely to read it, engage with it and share it. And most importantly, the right kind of people too. This in turn will increase your brand's exposure, build up readers / clients' trust in your business, and ultimately improve your search engine rankings.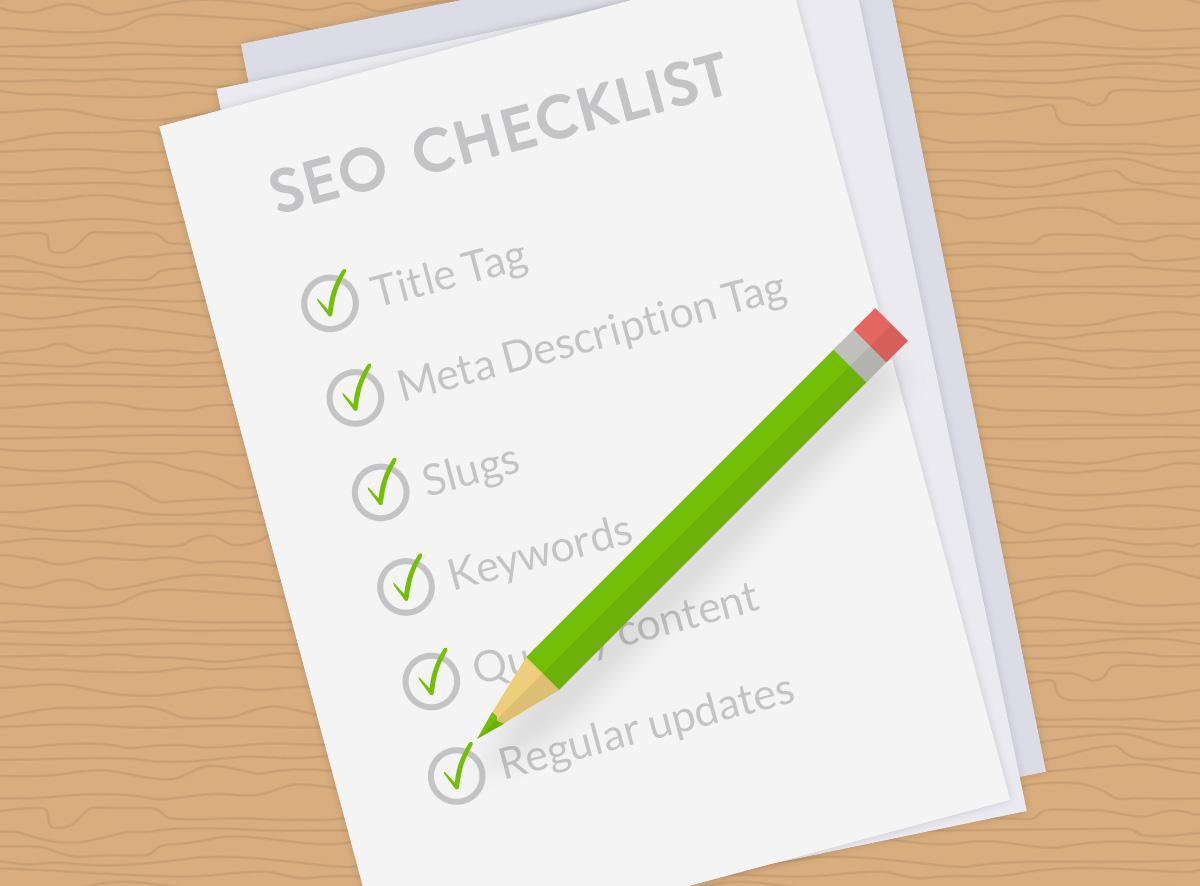 3. Link acquisition: backlinks from similar sites
Backlinks are links that are directed towards your PWA. Also known as "Inbound links" or "incoming links". The number of backlinks is an indication of the popularity or importance of the PWA.
Try to obtain as many links from other sites as you can. If other sites point towards yours, this is a very good indicator for search engines that you have pertinent content and a sign of confidence from other sites.
Links coming from websites of the same activity sector are preferable.
4. Mistakes to avoid
The 3 aspects noted above are important That being said, technical aspects are not everything. To differentiate yourself from competitors, original, high quality content must be produced to capture an audience. If the content is pertinent, your audience will naturally make links to your PWA.
SEO takes time—it's not an overnight process. It will take a few weeks before you start to appear as a result in primary search engines. Seniority of a PWA also plays a role in algorithms, which means priority is given to older PWA.
Be wary of tempting offers that promise you first position in Google. These techniques that aim to trick search engines (black hat SEO) are severely punishable and can eventually lead to total index exclusion. You should, therefore, avoid being part of directories, content farms, etc.
The benefits of having a PWA can greatly impact your business and be a great ally to your Shopping App. With good SEO, you will benefit from Brand awareness, reaching new audiences at the different stages of the marketing funnel, to possibly lower paid search cost.
GoodBarber gives you all the tools necessary to achieve good SEO and generate more traffic for your Progressive Web App, allowing to efficiently promote your business.