The QR code : an underrated marketing tool
Written by Muriel Santoni on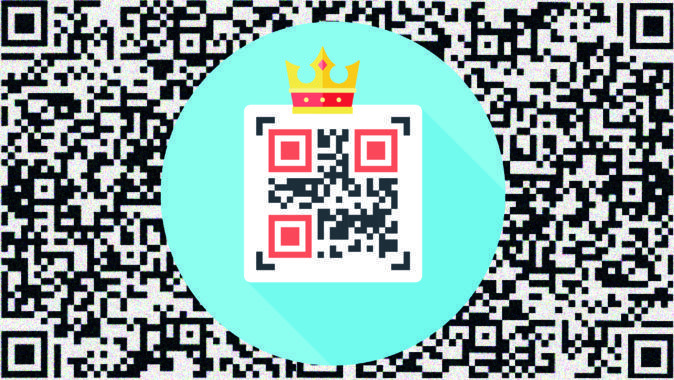 A few years ago we unveiled a new native function that can now be a part of your apps:
the QR code reader
. Far from believing that the future of the QR code is bleak, at GoodBarber we like to think that the best is yet to come for that feature. When used properly, and that's exactly what we are here to teach you, it can really work wonders for your business.
Let's get into it.
What is the QR code?
The QR code comes to us all the way from Japan where it was invented back in 1994. If that two-dimensional barcode was first intended for the automotive industry, it quickly became popular worldwide and within a variety of fields along with the rise of the smartphone era.

In a nutshell, the QR code (Quick Response) is in fact a two-dimensional barcode with 100 times greater storage capacity than a regular barcode. Once scanned by a smartphone, the code unleashes all the information it contains. With that brief description you can already imagine the possibilities hidden within that tiny tool which deserves more attention than it gets given the super-powers it possesses. A Hulk in the making if you like :)

The QR code is one of the most powerful marketing tools in the mobile sector. It is an excellent way to connect the off-line and on-line worlds.
Why is using the QR code so powerful?

The QR code is:
Universal: compatible with any smartphone the QR code can reach a very large audience.
Flexible: QR codes are easily customizable in terms of design and can contain a very large array of content. They can be displayed both materially or online. The possibilities are endless.

Cost efficient:

creating a QR code is, most of the time, quite simply… free.

Engaging for the user:

the QR code is a good way to grab the attention of your targeted users and engage with them. Furthermore, its convenience of use allows quick access to the stored information. Its very nature is engaging.
Trackable: last but not least, the QR code can be used as a tool to collect precious information and to thus track the turn out of your campaigns. For example, you can learn how many times the code was scanned, where, trace a purchase… The perfect way to keep track of your audience's behavior!

I wasn't kidding when I mentioned the possibilities of the QR code and how resourceful it was! Of course, there's a catch: a few golden rules you will have to follow in order to make it truly efficient.
What is it really for?
As you might have grasped my now, there's countless ways to integrate the QR code into your marketing strategy. It can allow users to perform a variety of actions.


It is the most common use of the QR code. The QR code will hold a link to more information about the product, company or special event, etc. This use could, for instance, be implemented in museums, allowing visitors to get information on any given piece of art via a dedicated multimedia device.


The perfect cross-channel example
. Take, for instance, a showroom which allows for clients to see, touch, even give the products a try, and then to order them online directly, thanks to the QR code. This makes for a great user experience (digital purchase, fast action), but is also a great asset for handling stock ;)
One could very well imagine the same principle for restaurants. Why not come up with a paper menu displaying QR codes enabling clients to order their meal beforehand.

Another widespread use of the QR code and another two-way street use:

- For the user: great ease of use

- For the seller: no more need to come up with additional material to display discounts. The QR code can very well be displayed on the product itself or the receipt for instance, bearing in mind the possibilities in terms of consumer behavior analysis which will enable you to adapt your strategy in a very reactive way.
But also…
There are many other ways to put QR codes to good use: entering a contest, making a phone call or sending a text/email, playing a video, sharing on social networks, setting up a meeting, geolocating a place, options are countless! The key is, once again, to be inventive.

Just imagine… « Thanks to one small QR code I could know the menu of the day of my favorite FoodTruck, be able to locate it and even place an order, all the while remaining at my office desk. That's just one example out of many! »
Convinced yet? I warned you, the QR code is small, discreet yet super-powerful! To make the most of it, you simply have to identify all of its many possibilities and be C-R-E-A-T-I-V-E!
It is the perfect tool to connect both the physical and digital experience of the user. With the combination of it and your Beautiful App, success is bound to be within your reach!
BONUS:
Here are a few inventive uses of the QR code to spark your imagination.
Boosting sales during lunch break...
An interactive CD cover...
An admittance stamp for an exclusive party!
Translated by Isabella Leland